October 15, 2023"Miami was brunch, New York was cocktails," says Vicente Wolf. The designer — an inveterate globetrotter — isn't talking about his hectic travel itinerary. Instead, he's referring to two different apartments he created for the same clients, an empty-nester couple who split their time between a 3,500-square-foot prewar apartment on New York's Fifth Avenue facing Central Park and a 5,000-square-foot oceanfront flat in a building just north of Miami Beach with architecture by Renzo Piano.
It might seem like a snap to design for longtime clients with whom you've developed a strong relationship. But the second project hardly designed itself. The homeowners "have evolved," says Wolf, "and so have I.
Although Wolf responded to that evolution with a different design for Miami, several threads run through both homes, which he designed five years apart. Both have neutral architectural envelopes that serve as backdrops for a collection of works by such prominent contemporary artists as Olafur Eliasson, Sarah Morris, Shirin Neshat and Robert Motherwell.
Both also display the designer's signature eclectic mix of contemporary furnishings and global antiques. (Wolf's style is wonderfully in evidence throughout his most recently released book, Vicente Wolf: Creative Interior Solutions, published by Rizzoli, with text by former Elle Decor and Architectural Digest editor in chief Margaret Russell.)
Along with the aesthetic evolution Wolf cited, the homes' very different locations and functions contributed to their distinct characters.
The New York apartment was ready for some dramatic changes, with the clients' children having flown the coop to attend college and start families of their own. "Once the kids were gone," says Wolf, "the couple wanted an apartment that had a sense of glamour, with shimmer and lightness." In other words, they sought a truly adult residence, just for them, that eschewed the usual provisions that designers make for families: durable fabrics, easily cleaned finishes, workhorse furniture and the like.
Wolf's first order of business was to collapse the apartment's three bedrooms into a single luxurious primary suite. The second was to emphasize the original architectural envelope — designed in high Art Deco style — while also modernizing the design to feel clean and minimal.
In the dining room, for instance, he retained the Deco-style moldings and trims, then gave the space a heightened sense of metropolitan swank by adding a coat of white lacquer on walls and ceiling to reflect the energy of the city outside.
Wolf also selected high-gloss white for the ceiling of the living room. (You can see the glow of car lights bouncing around at night, he notes.) Here, however, he designed a more contemporary architectural envelope, with no ornate cornices or window trims, and recessed baseboards. Keeping the moldings in the dining room, a smaller space, gave it a sense of formality as well as intimacy. In the larger living room, intimacy was created by designing separate sitting areas for smaller and larger gatherings. Forgoing trim emphasized the openness of the room, which enables it to accommodate this subdivision.
Wolf reused many of the owners' own furnishings, refreshed with new upholstery, and then combined them with additional finds. In the living room, he deployed his signature mix of eras, styles and places of origin, here including an 18th-century Rococo armchair, a 17th-century walnut Flemish armchair discovered on 1stDibs, a custom daybed and a modern Warren Platner chair.
Extending his combinatory practice to artwork, he juxtaposed two 18th-century sandstone torsos from Thailand (which came from this own VW Home) with the couple's colorful painting by Marcello Lo Giudice. Wolf designed the coffee table to look like a forest in order to reference the CP views.
The apartment contains an abundance of pairings of ancient and antique items with contemporary furnishings and art. In the foyer, a dense rice paper construction by Zhuang Hong-yi hangs above a reproduction of a 19th-century Italian-style wrought-iron curule seat. The breakfast room's tulip-style table, Verner Panton for Herman Miller chairs and 1790s neoclassical Italian settee all sit under an Artemide Pirce pendant designed by Giuseppe Maurizio Scutellà in 2008.
The one intensely colored space in the home — the library, which Wolf coated in a rich periwinkle-blue lacquer — traffics in similar eye-catching contrasts. Here, a Pierre Paulin Ribbon chair for Artifort and Wolf's own clean-lined, gently barrel-backed Thom chairs keep company with a salmagundi of objects including Vuvi masks from Gabon, Thai Sawankhalok celadon vessels, an Anita Huffington torso sculpture and Sukhothai-period (13th- to 15th-century) pottery from Thailand. When you look around the room, your eye "travels from place to place," Wolf says, describing the effect of this freewheeling mélange of cultural artifacts.
While the Fifth Avenue apartment was transformed into an adults-only retreat, Wolf and his clients conceived the Miami one as a place for family and friends to gather. Its public spaces, therefore, were crafted to accommodate entertaining. "It's all one big, sprawling room, including a kitchen, dining room, living room and family room," says the designer, who aimed to give each area a distinct personality while making them all flow together.
He achieved this principally through a unified palette. Wolf drew his color scheme from the apartment's views, which meander from ocean to beach to intercoastal waterway. Pale watery blues and beige sand tones move through the enormous open plan in subtle gradations that delineate individual areas while maintaining a sense of connection.
The building, despite its curvaceous exterior, contains mostly orthogonal interiors. "I like breaking the lines of a room that is so square," says Wolf. He did so in the living room by selecting furniture with rounded silhouettes, including a sinuous sofa, Brazilian designer Ricardo Fasanello's 1970s Esfera lounge chair and Platner Easy chaiRS from 1stDibs.
In the library, under mid-century chairs and a macassar ebony Art Deco desk supported by a Pierre Fournier des Corats equine sculpture (all from Galerie Canavese), Wolf laid a cowhide rug. "It's a way of bringing a more organic form into a space," he explains.
Although it contains fewer international artifacts than the Manhattan apartment, the Miami home boasts some standouts. These include an Ashanti stool in the family room, an Egyptian stool in the living room and a mother-of-pearl-inlaid Syrian table in a guest room. In the dining room, a Turkish lantern, Indonesian shell necklace and Cambodian gong are displayed on a drop-leaf table, which has the same proportions as the main dining table so the two can be put together for large family gatherings.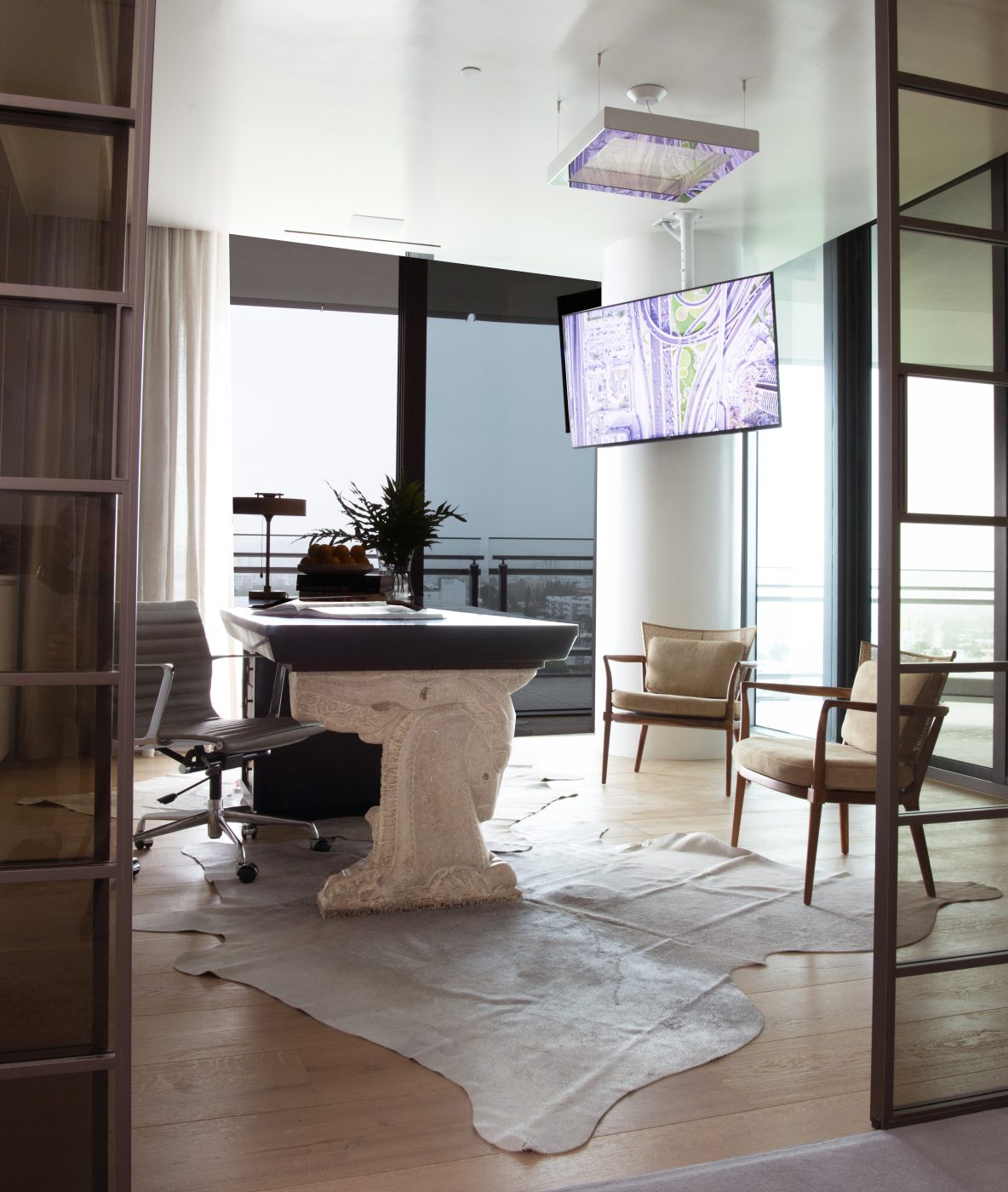 Generally speaking, the furniture in the Miami home is more loungy and comfortable than stately and period, although there are glamorous elements that elevate the laid-back mood. Case in point is an Osvaldo Borsani dry bar of wood veneer and parchment whose base sports dolphin figures that, Wolf says, struck him as a luxuriously witty tongue-in-cheek gesture obliquely referencing the locale.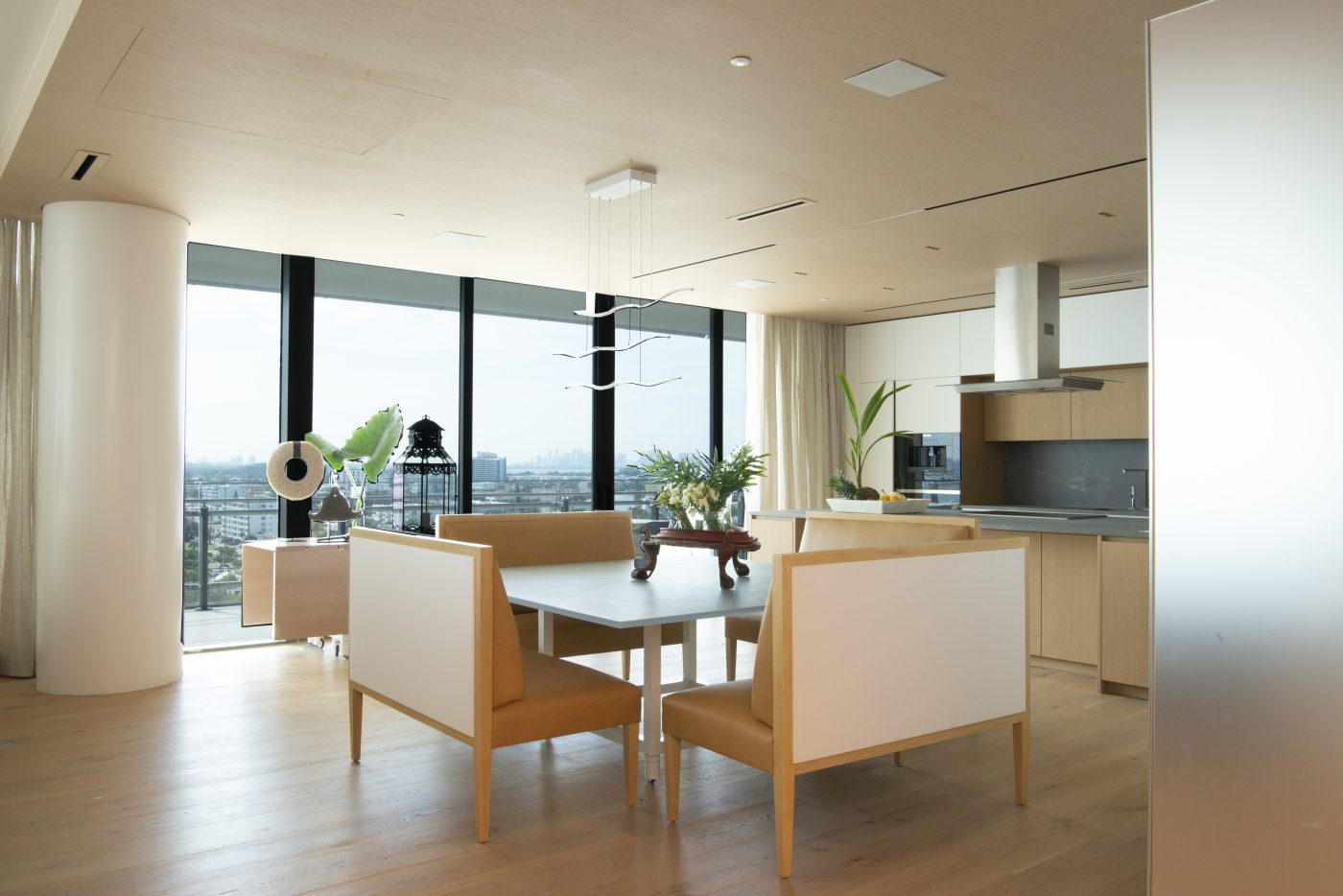 As in New York, one space departs from the Miami home's neutral palette: a guest room with walls of Granny Smith–colored grasscloth and a green rug. When a space is secluded or isolated from the rest of a residence, as this one is, Wolf says he likes "to create drama by bringing in color and using it in various gradations on floor, ceiling, walls and windows."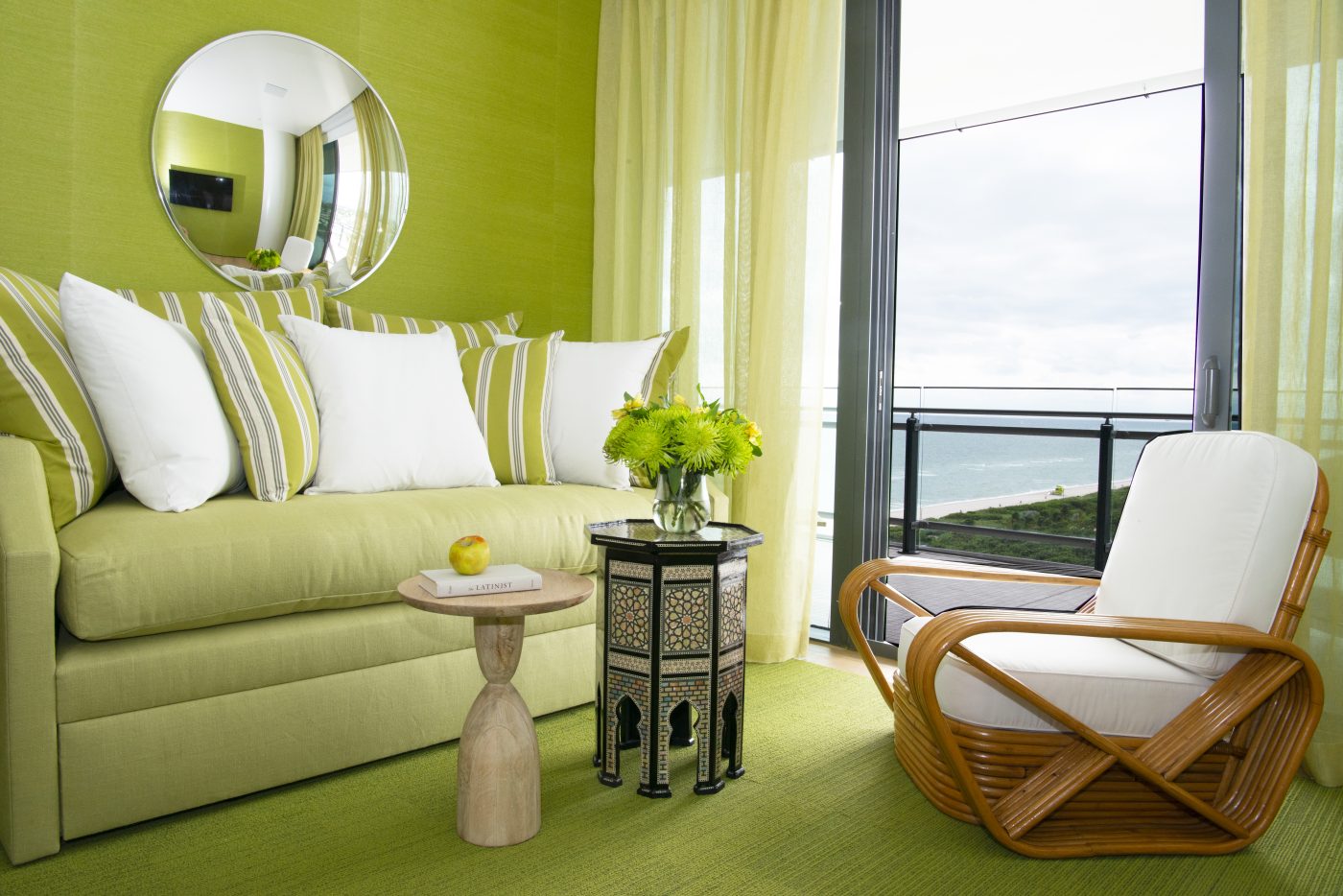 For the primary bedroom, Wolf moved back to a soothing monochromatic palette, creating a lively conversation between periods and genres. Swedish Gustavian chests from the 1850s serve as nightstands, while at the foot of the bed, Jan Ekselius's zigzagging chaises and footrest, from about 1970, offer a stark sculptural contrast to the romantic chests.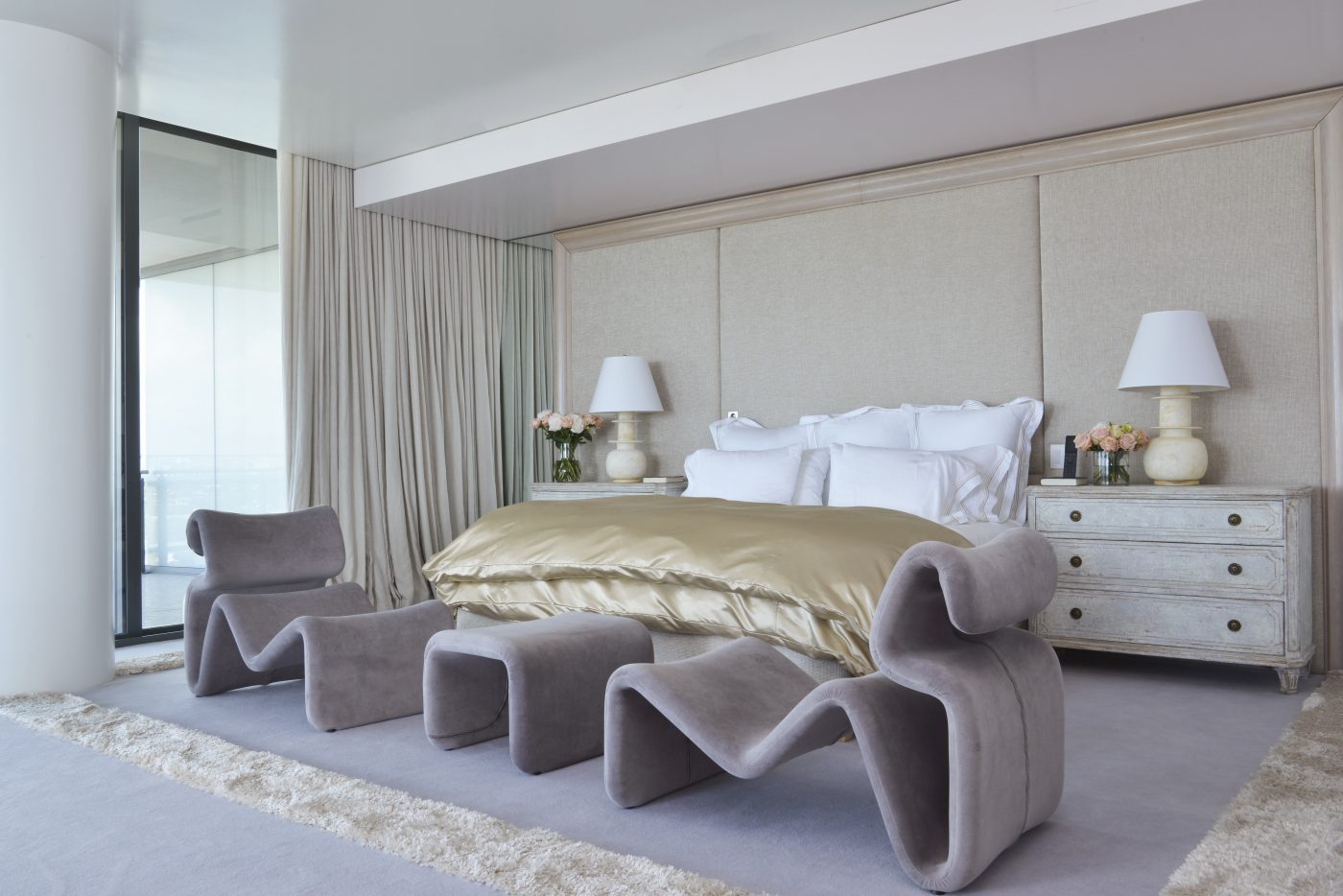 In the end, both apartments are all about balancing elements — antique with modern, European with African and Asian, right angles with curved ones, masculine forms with feminine. Wolf achieved this careful equilibrium using a different style in each home. He simply dressed Manhattan in a little black cocktail dress and heels and Miami in beachy cover-ups and sandals.
Vicente Wolf's Quick Picks