May 21, 2023Keren and Thomas Richter didn't take a traditional route to interior design, and the stylish, inviting rooms they create are all the more refreshing for it. Rather than studying the decorative arts or working in the field in the lead-up to starting their firm, Thomas worked in telecommunications and film animation in his native Germany; the Vienna-born, Northern California–raised Keren, meanwhile, earned a degree in art history before producing commercial illustrations and set designs for such brands as Sephora and Vans.
When the couple, who happened to have identical last names, met in Berlin, in 2011, friends teased them that they should get married. And they did.
It was while renovating their own Brooklyn apartment and helping friends do the same — always on shoestring budgets, often spray-painting and repurposing thrift-shop furniture — that they began toying with the idea of launching a design business. When, in 2014, an acquaintance asked if they knew anyone who could decorate the Williamsburg branch of a European hotel group, Keren blurted out, "Us!"
Although they didn't get that hotel project, within a week they had conceived a name for their studio: White Arrow (inspired by Thomas's favorite childhood book, Robert Louis Stevenson's The Black Arrow). They then launched a website and created the logo they use to this day.
"There are some advantages in coming to interior design from left field," Keren says. "We weren't always sure how to do things, but we knew what we wanted a space to look like." Adds Thomas, "In the beginning, we really had to think on our feet to get things accomplished, and sometimes, financial constraints can be a great creative boost."
Today, their firm has developed a signature house style informed by the couple's unique aesthetic blend. Melding the European élan of Thomas's background with Keren's Bay Area indie spirit, they create expressive interiors showcasing an eclectic mix of vintage finds and contemporary furnishings — which have earned them a number of plum commissions.
Among these are the New York showroom of the red-hot fashion label Khaite, installations for the influential design blog and dealer Sight Unseen and model apartments in the luxury Brooklyn Point condominium tower.
Their decoration of a Williamsburg townhouse, built in 1899 and recently revamped by a developer, perfectly encapsulates their winning style. The clients wanted to instill warmth and a more relaxed atmosphere in the masculine, industrial-feeling 5,000-square-foot, five-bedroom residence, whose window frames and exterior had been painted an austere black.
In the kitchen, the designers removed the upper cabinetry, replacing it with more-casual open shelves. In the living room, they paired a sprawling custom-made sectional sofa with leather-and-oak swivel chairs of their own design and hung a charming puzzle painting from BBDW between a pair of modern sconces by Allied Maker.
Vivid contemporary artworks, including a portrait painting by Alex Katz, adorn the stairwell leading to the upper floors. On the third level, the designers painted the walls in a double-height lounge area a seductive shade of mauve, installing a pair of voluptuous sofas by Dooq to help get the party started. "This is more of a fun, take-your-shoes-off space where you can relax and entertain after work," Keren says.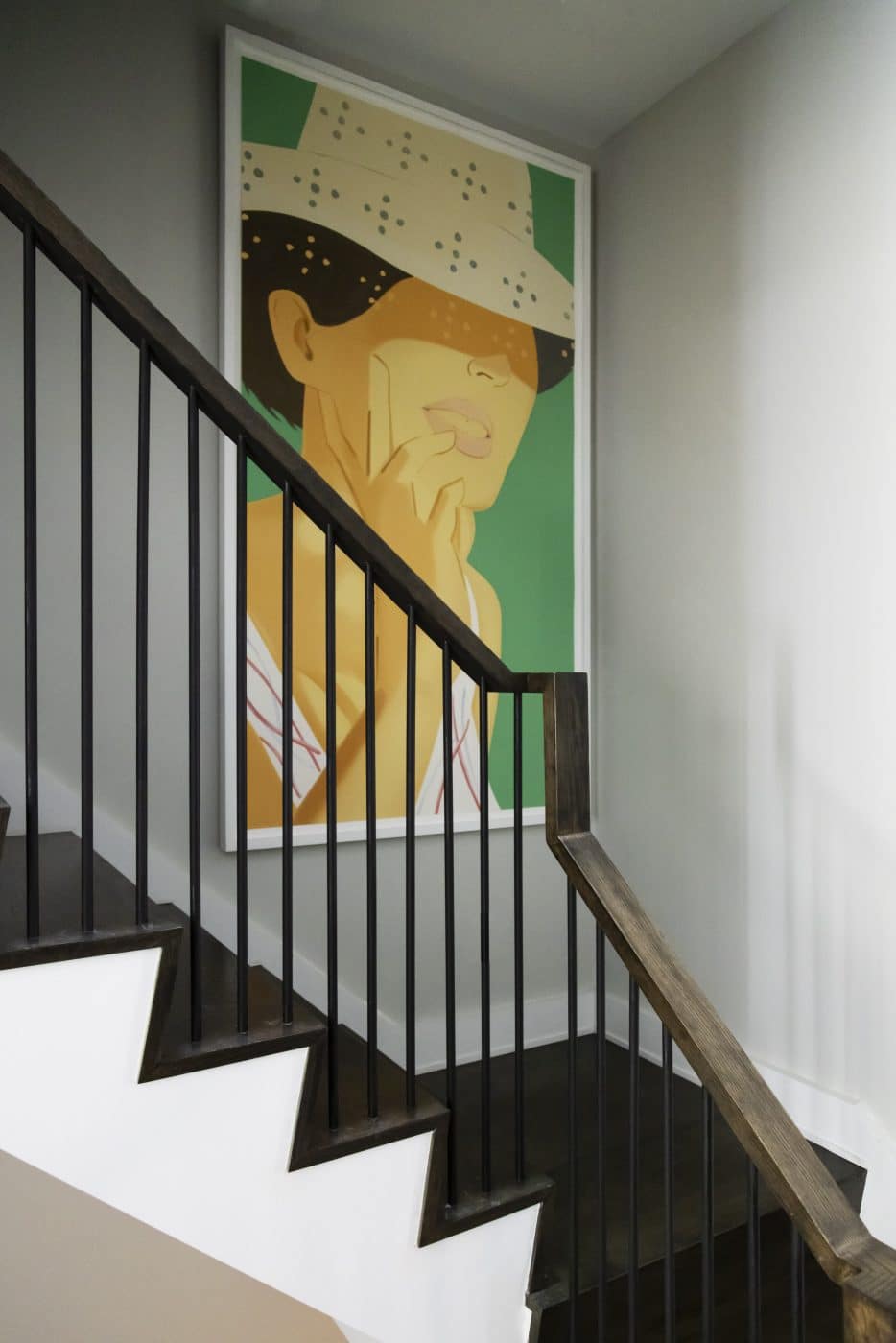 Entertainment of a high order was the brief for the interiors of a Soho loft, previously an industrial-style photography studio. The owner, a composer, told the Richters that he wanted a grand living room where he could host performances, as well as a professional recording studio, within the 5,000-square-foot, three-bedroom apartment.
"The client came to the table with a lot of inherited antiques and artworks, and he very much appreciates European pieces with history," Keren recalls. "We wanted to give a classic, gentlemanly feel to this space."
Wide-plank bleached-wood flooring was deployed throughout, and arches were added for a bit of Old New York glamour. In the spare dining area, a Georgian-style table is paired with antique chairs upholstered in an elegant floral. The main bedroom features a hand-painted four-poster bed crafted in Venice below an alluring Fortuny pendant light that hangs from the 12-foot-high ceiling, while satin curtains billow at the window.
The recording studio, meanwhile, evokes an English library, complete with built-in bookshelves, vintage leather club chairs and an antique fringed velvet armchair. The powder room's vivid botanical wallpaper plays up a 1960s Italian blue-glass mirror the designers found on 1stDibs.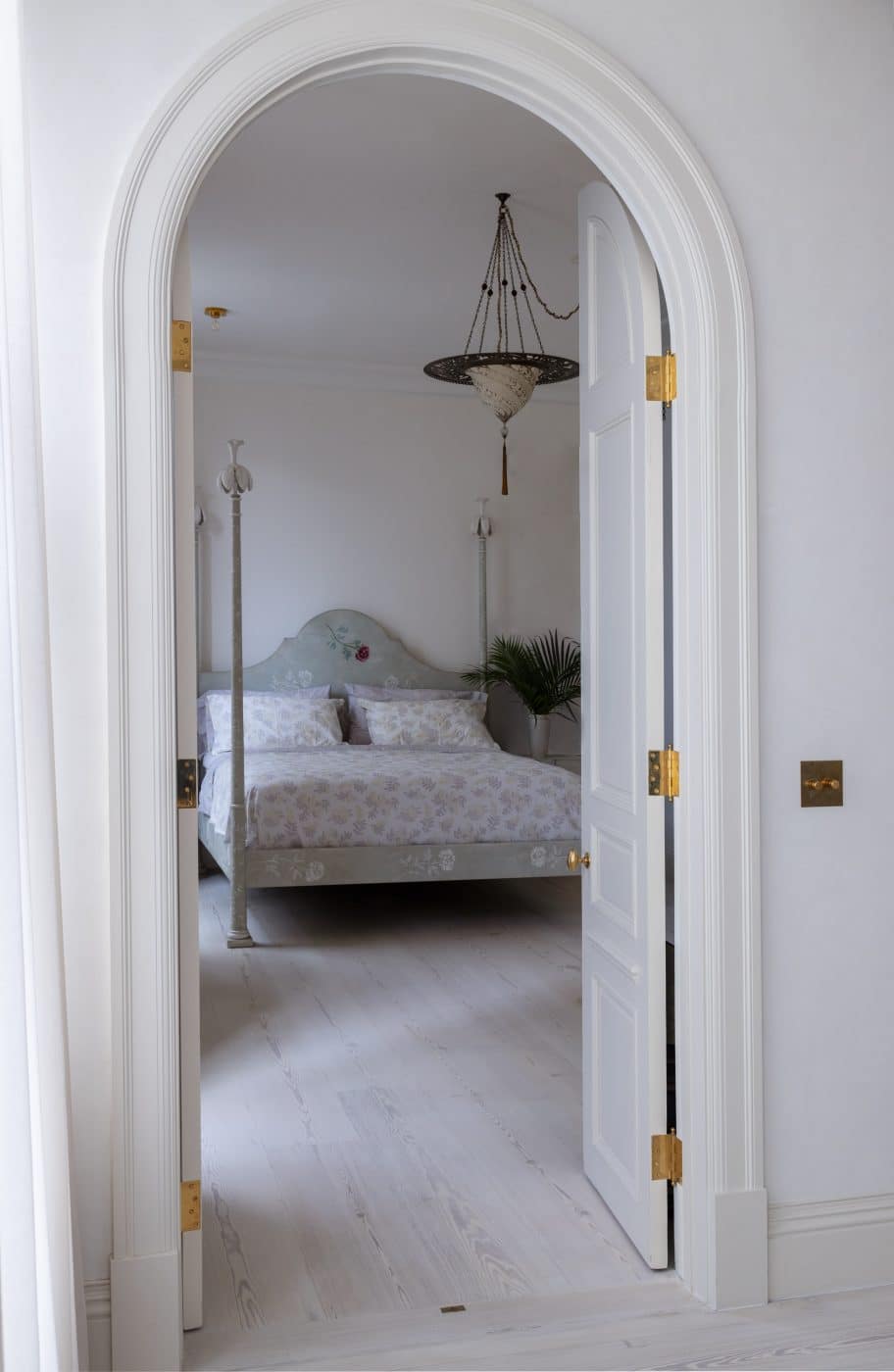 "We wanted it to feel very well-appointed, sophisticated and refined," Thomas says of the overall design, "as if the home had always been like that."
"There's a grandness and romance to the place," Keren adds. "It feels as if you've left New York and been transported somewhere else to relax."
It's always interesting to peek inside the homes of designers to see how they craft comfort for themselves. When the Richters aren't working at their studio in Brooklyn, they're taking it easy with their two young daughters in Pound Ridge, a woodsy hamlet in northern Westchester County about an hour's drive north of New York City. Getting the house in order, however, was anything but easy.
They bought the 1850s clapboard farmhouse, situated on five bucolic acres, in an estate sale in 2017. Of course, a historic house comes with upkeep headaches, and this one hadn't been renovated for many decades. They had to redo the foundation, restore the exterior and replace the roof, the septic system and all the wiring. 
The house's character — some of it original, some of it imagined and embellished — informed their overall vision for the interiors. To these vintage inspirations, they added vibrant paint colors that give the place a fresh, contemporary feel.
They went with a rich, deep blue for the kitchen and dining room, for example, outfitting the latter with a Shaker cupboard, a 19th-century Italian wood table and hoop-back chairs from the early 1900s, which they painted black. A 1950s Gio Ponti armchair reupholstered in a golden mohair joins a custom-made sectional sofa and vintage ottomans in the darkly moody, emerald-green TV room.
Upstairs, the couple's bedroom features a reproduction spool bed below an 1874 horse painting. They went to town on their daughters' playroom, decorating it with a 1940s Italian sofa and Charlotte Perriand–style kids chairs, as well as a cupboard and sconces found on 1stDibs. And they carved out a home office under the eaves of the attic, painting it a studio-appropriate bright white.
"We were very much into honoring the history of that house, but it had to work for a family," Keren says. "The curation of the objects and the arrangement of things are from the perspective of two people who are fairly young. We wanted it to feel like we'd started from scratch."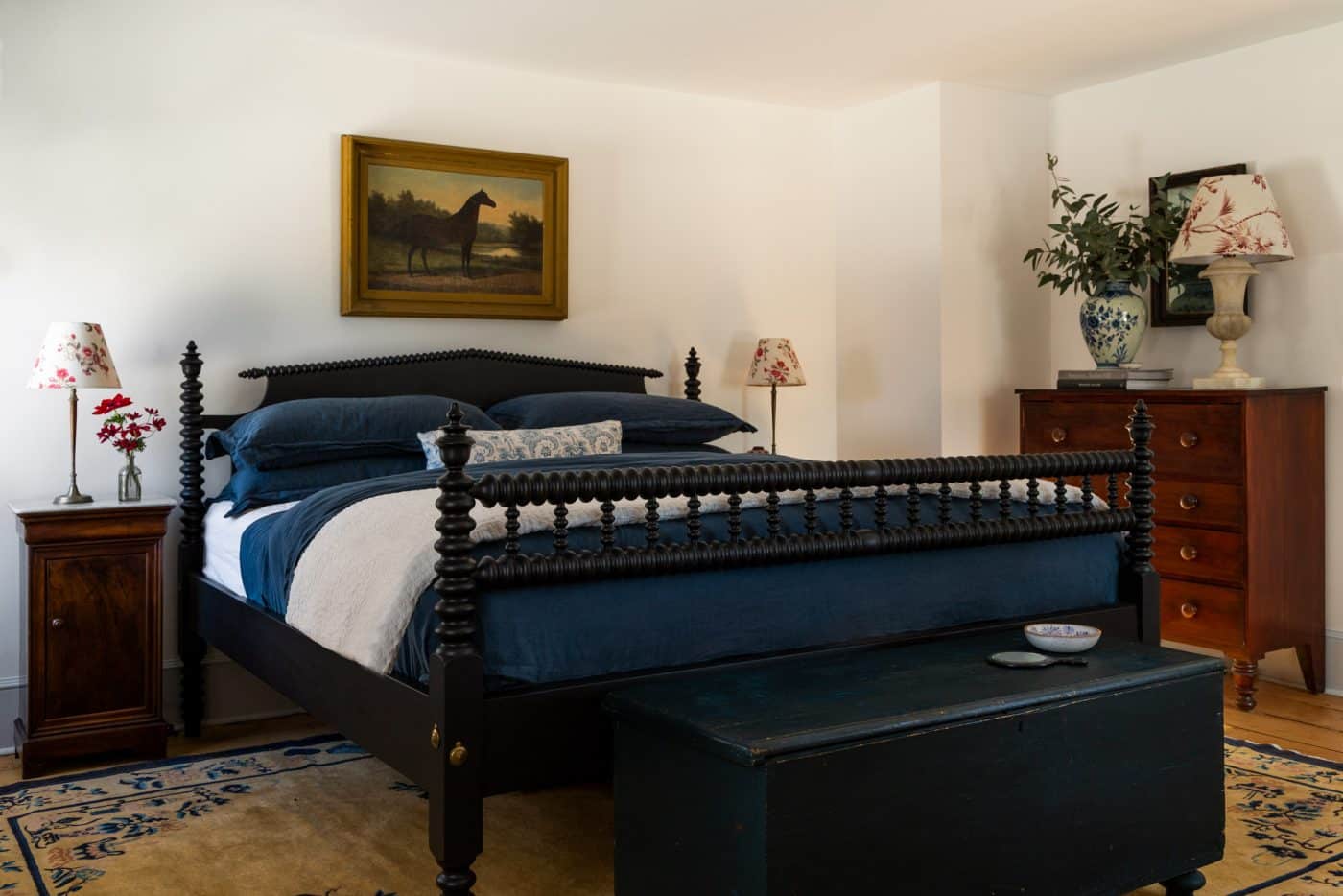 That spirit of starting from scratch helps explain why this design duo is in such demand today. They don't always begin a project with a gut renovation like the one required for their own home, but they do tackle interior design with an inventive, can-do spirit.
"Our best projects are the ones that feel cohesive," Thomas says, "and the results offer a fresh canvas."
Keren and Thomas Richter's Quick Picks