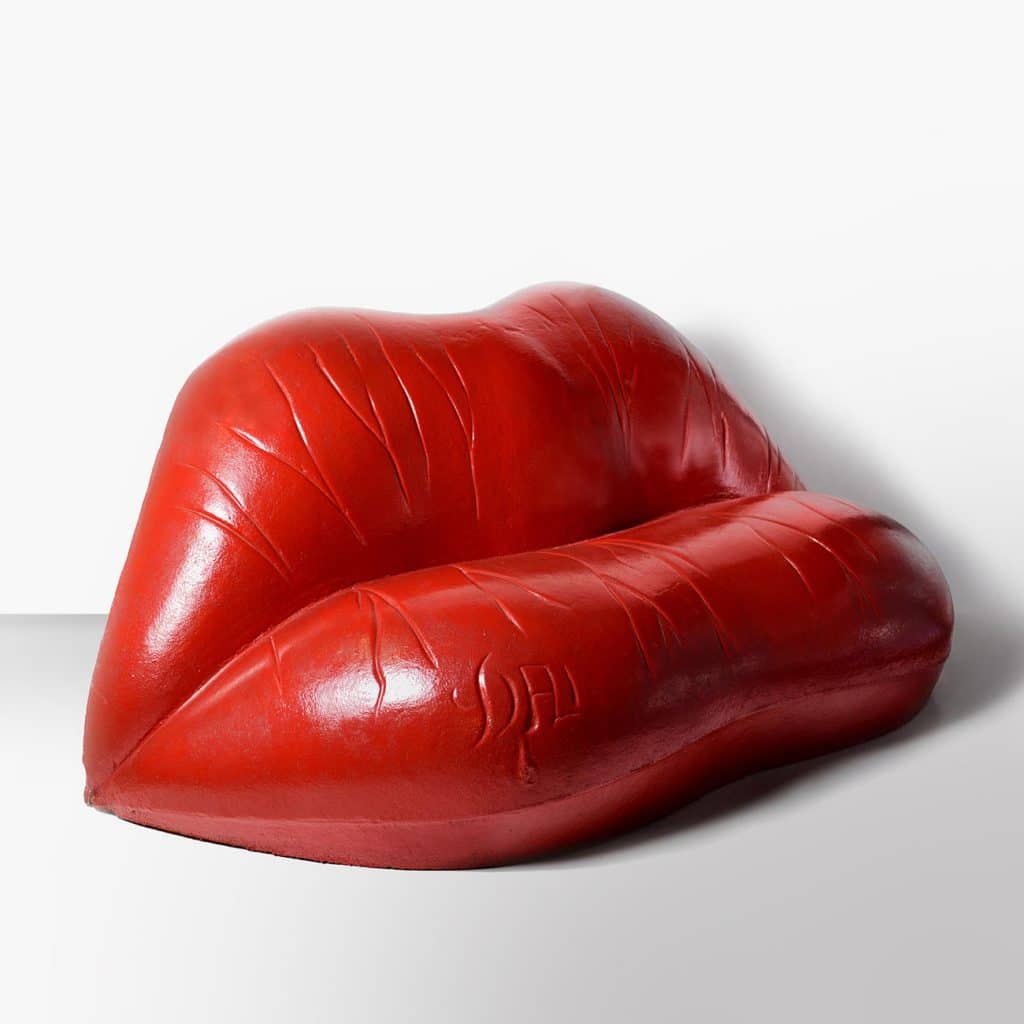 Spanish Surrealist Salvador Dalí (1904–89) was as well known internationally for his outrageous antics as for his highly imaginative paintings, sculpture and photography. His legacy can be seen today in the works of Damien Hirst and Jeff Koons.
The DADA gallery in Barcelona, which sells art and vintage furniture, has listed on 1stdibs a foam prototype of the famous Salvador Dalí furniture piece called, variously, the Salivasofa, Dalí lips and Dalí red lips sofa. It was produced by DB (Design Barcelona) with the help of Dalí's friend the Spanish architect and designer Oscar Tusquets Blanca in 1972, the same year Tusquets Blanca founded DB.
The original plan was to make 300, but that never happened.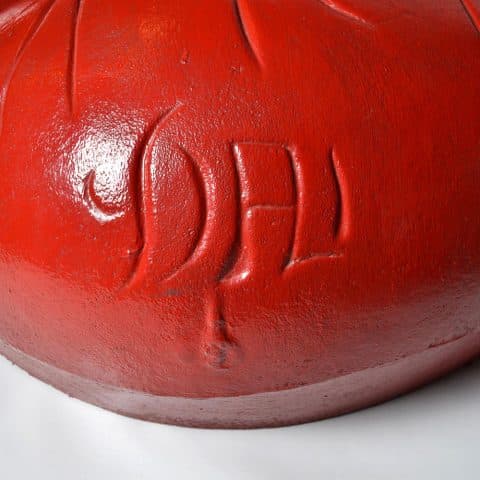 "The one other known existing prototype was put in the Mae West hall at Dalí's Theater Museum in Figueres, Spain," says Adrian Agudo, co-owner of DADA Studios. "But that one is pretty broken because the museum used to let people sit on it."
The Salivasofa has a long history. In the 1930s, Dalí became obsessed with American actress, comedienne and sex symbol Mae West. He associated her lips with sexuality, painting them and celebrating them in his anthropomorphic sofa, of which he had a few models made, some for private clients.
"The Dalí sofa is one of the most original and best-known pieces of furniture of the twentieth century," Christopher Wilk, keeper of furniture, textiles and fashion at the Victoria and Albert Museum, said last year, when the museum purchased a 1938 custom example. "It represents international surrealism in all its glory."
The V&A sofa was one of five commissioned by Dalí's most dedicated British supporter, Edward James, for his Edwin Lutyens estate, Monkton House, in West Sussex, England. James had the design modified to his taste: in green with passmenterie fringes and slightly different proportions. After he died, in 1986, Christie's sold one of his versions for $650,000.
The DADA Studios prototype bears the Dalí signature and has creases in the foam to make the lips more realistic. There are contemporary copies of the sofa on the market, but Agudo claims they are not originals.
"My lips sofa is unique," says Agudo. "It's iconic. And it has a great provenance: It comes from the family who made the prototype. I bought it from a collector and had it authenticated [with DB]." That is why he is asking $739,179.
---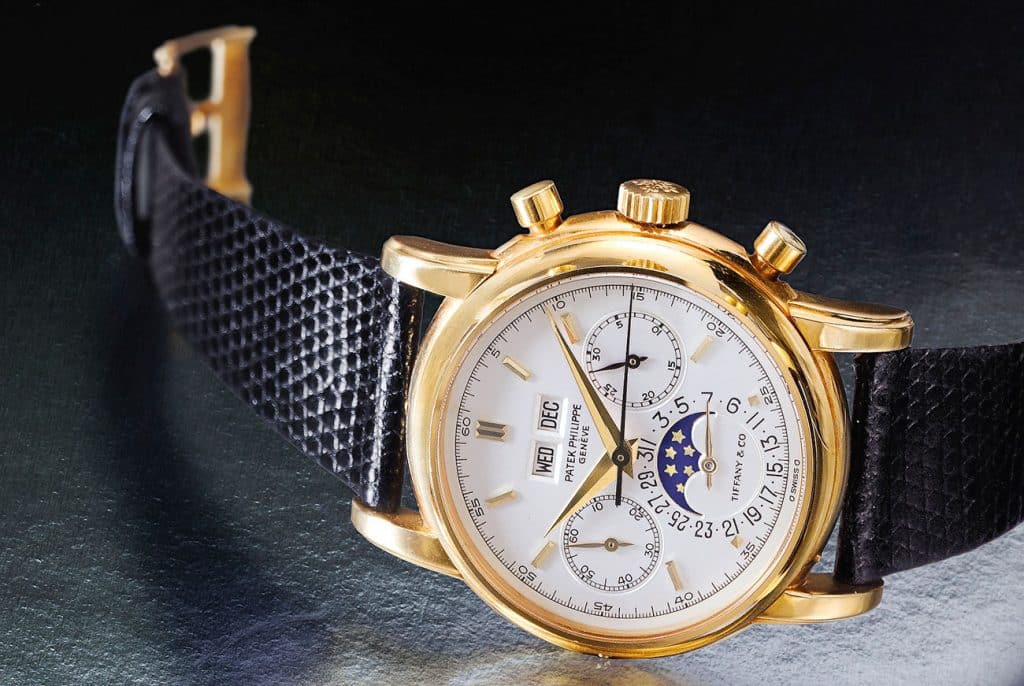 Long a favorite among vintage high-end watch aficionados, Swiss watchmaker Patek Philippe has a sterling reputation, its products synonymous with status, innovative design and superb craftsmanship. They are also known to keep (or increase) their value. At auctions of elite timepieces, Philippe watches usually dominate (the great exception being Paul Newman's 1968 Rolex Daytona, which Phillips sold in 2017 for $17.8 million, a record for a wristwatch at auction).
Among Patek wristwatches, a particular prize is the Third Series Reference 2499, a perpetual calendar chronograph wristwatch with moon phases, a large and handsome face and wonderful proportions.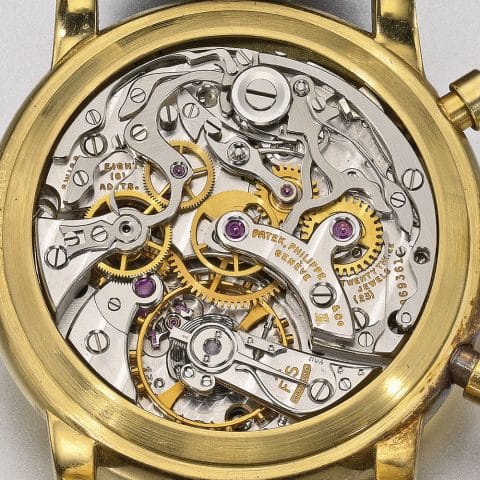 Watch expert Meir Malakov, of Roman Malakov Diamonds, in New York, notes that vintage Patek wristwatches with large faces are particularly popular now, perhaps because celebrities like Brad Pitt, Ellen Degeneres and Rihanna seem to prefer them.
Patek produced only about 10 Ref. 2499 watches a year, beginning in 1951 and ending in 1986, for a total of 349. A 1984 model retailed by Tiffany & Co. went for $800,000, not including the premium, at Sotheby's in 2019. In 2012, Christie's Geneva sold one for $3.6 million to music icon Eric Clapton, who also happens to be a serious watch collector. Clapton's is one of only two with a platinum case; the other is in a museum.
Roman Malakov is offering on 1stdibs a 1968 yellow gold example, retailed by Tiffany & Co., of the Patek Philippe Third Series Ref. 2499 wristwatch with a perpetual calendar chronograph and dial showing the phases of the moon in royal blue. The firm is asking $1.5 million.
Meir Malakov, who has been following the model's auction records closely, explains why. "Patek Philippe keeps demand high and supply low," he says, adding, "It's a rarity to have two signatures on the face, both Tiffany and Patek Philippe, and that adds considerably to its value."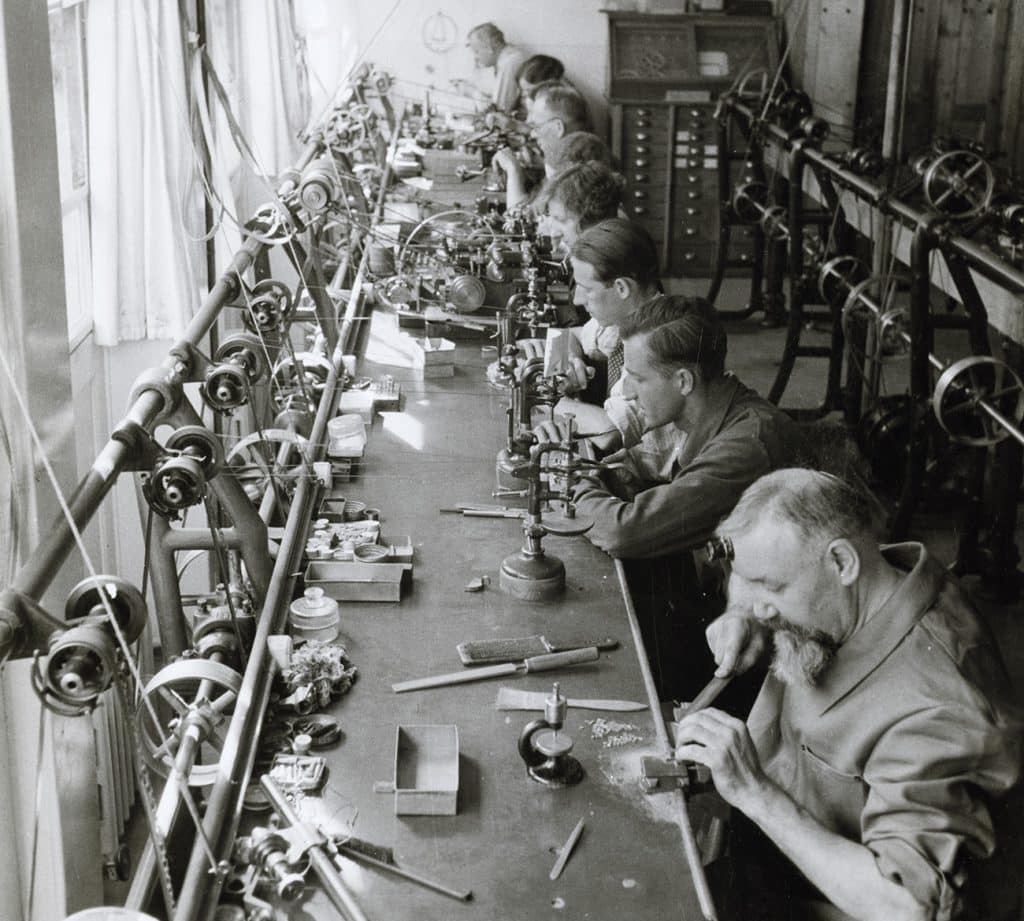 Malakov also notes that it retains its original wristband, which is important.
He cannot reveal who previously owned the watch but says it was a corporate lawyer "who worked with Steve Jobs."
The Ref. 2499 model was made in three series, of which the last is the best, according to Malakov: "When it comes to manufacturing, it is state of the art, better than the First Series and Second Series. And the earlier the year, the better. Our watch was purchased at Tiffany's in 1968. The watch that just sold at Sotheby's for $800,000 was from 1984. That's why our watch is worth more."
---
The Stern Pissarro Gallery, in London, is selling on 1stdibs the romantic and very moving Homage au passé ou La Ville by Russian-French artist Marc Chagall (1887–1985). The oil depicts an artist, whom gallery cofounder Peter Stern identifies as Chagall, in front of his easel, looking not at what he is painting but over his shoulder, at his beloved wife (and muse) of 30 years, Bella, whose face is shown in profile. Behind her is a village in miniature, presumably a reference to Vitebsk, Chagall's hometown in Russia. The artist created the work in 1944, the year Bella died, and he is thought to have added the mourning figure embracing a tombstone in the upper right-hand corner after her death.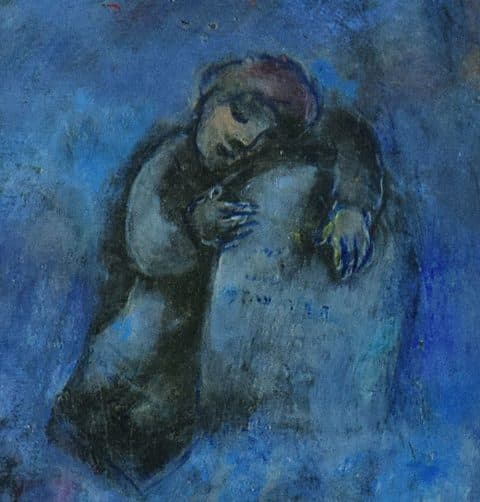 Chagall left war-torn France in 1941 to come to New York at the invitation of the Museum of Modern Art. He moved his family to the Adirondacks, where it is thought he began work on Homage. His wife's death devastated him, causing him to stop painting for a time. He later wrote: "When Bella departed from the world, all was darkness."
The painting is nocturnal, the characters suspended in a sky of blue hues, giving it a dreamlike quality.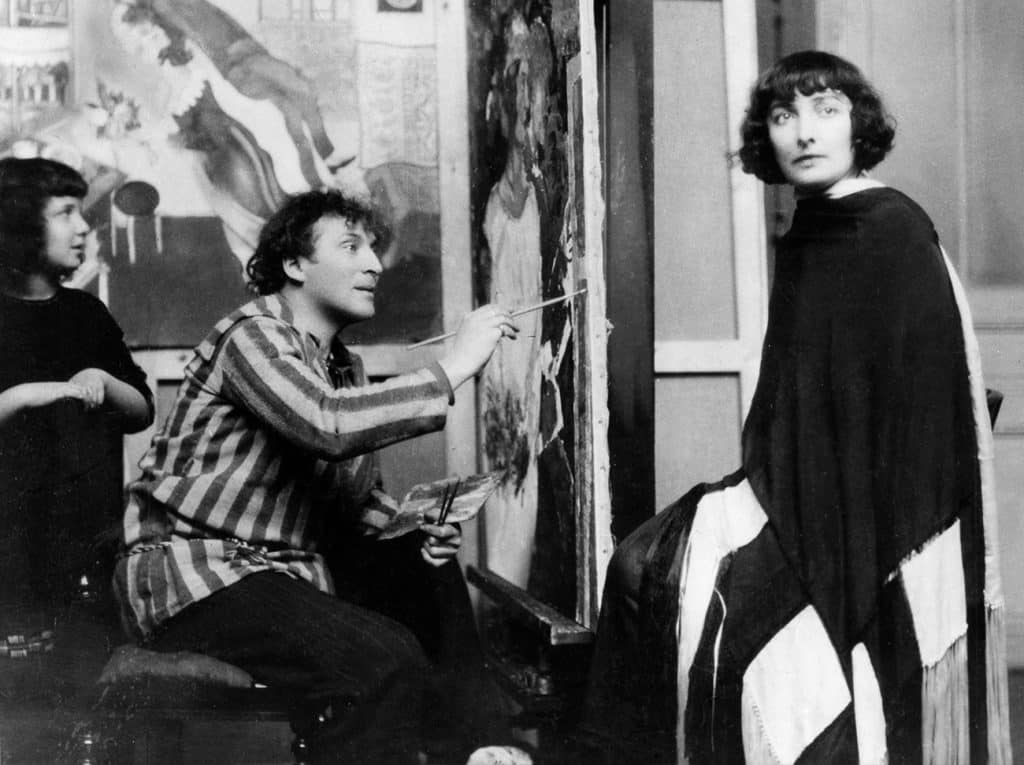 The gallery is asking $2,750,000 for the painting. Why? One reason is its provenance. "It belongs to someone in the public eye, a private collector who acquired it a few years ago. At the time it cost $2.4 million," says Stern, who also cites its large size and the fact that it dates from the best years of the artist's career. "Chagall's paintings from the earlier period have greater value than his late work, and his blue paintings are the most popular," he explains, adding that the sad story it tells is another factor: "Anything with romance always strikes a chord." Finally, the painting has a certificate of authenticity from the Comité Marc Chagall in Paris. "The painting is not a bargain, but the price is correct," Stern says.
---
The works of Paul Storr (1771–1844), one of the finest English Regency goldsmiths, are treasured by American collectors. New Orleans dealer M.S. Rau is offering a spectacular example on 1stdibs, a seven-light candelabrum that can be transformed into a table centerpiece by removing the candleholders and setting a silver bowl on the base.
The workmanship is dazzling and the decoration exuberant, abounding in flora — grape leaves with grapes, laurel leaves with berries, pomegranates, flowers and acanthus leaves — and fauna: lion heads and shell and scroll motifs. The carving of the cornucopias on the base, dealer Bill Rau says, "is ten out of ten." He dates the piece to 1815, although the bowl carries an inscription from 1833. It is a dedication to Charles Napier, a British admiral who fought in both the Napoleonic Wars and the War of 1812, against the United States. In 1831, at the request of Maria da Glória (later Queen Maria II of Portugal), he took command of the Portuguese loyalist navy and in 1833 destroyed the fleet of Dom Miguel, pretender to the Portuguese throne, off  Cape St. Vincent, which earned him the title Count Napier of Cabo de São Vicente.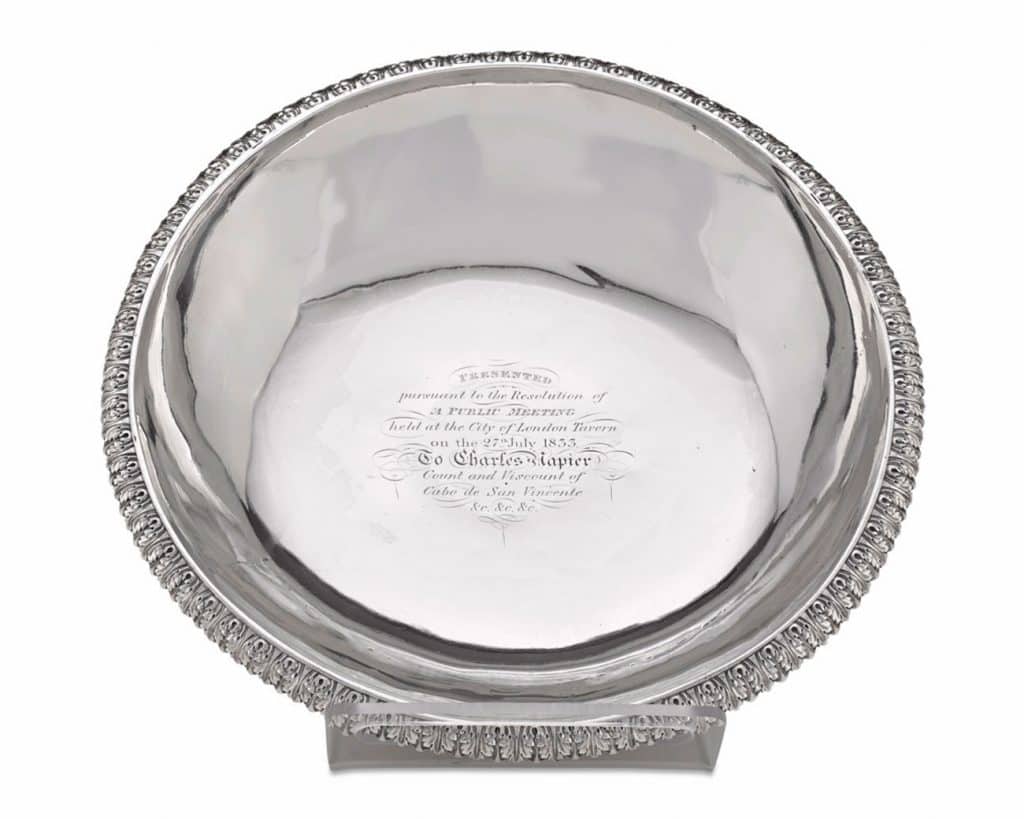 It is unclear who is responsible for the dedication, which reads "Presented pursuant to the Resolution of a public meeting held at the City of London Tavern on the 27th July 1833 to Charles Napier Count and Viscount of Cabo de San Vincente [sic] &c. &c. &c."
Rau justifies the $450,000 he is asking by citing the rarity of pieces of this type —  especially one that retains both its parts — its fine neoclassical style, its noble provenance and its unparalleled craftsmanship.
"This centerpiece is so much better than anything else out there," he says. "It is hallmarked 1815, a magical year. After the Battle of Waterloo, England was the only power in the world. It's the high point of the Regency. It's as if Paul Storr said, 'Let's make something that shows we are the best.'
"Storr was the greatest goldsmith in the world in the nineteenth century," he continues. "In fact, some argue he was the best one of all time."
---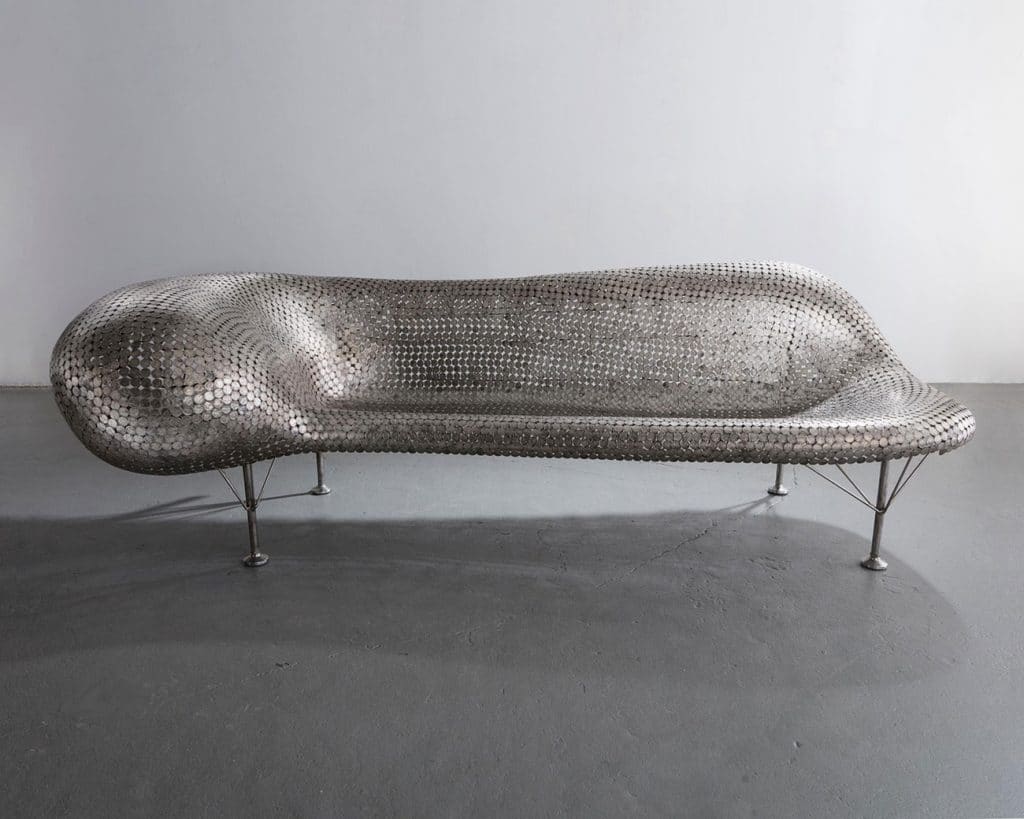 Two months after the close of the first Johnny Swing retrospective at the Shelburne Museum, in Vermont, Manhattan gallery R & Company, which specializes in 20th- and 21st-century design, is offering on 1stdibs the designer's Nickel couch for $250,000. Based in southern Vermont, Swing literally makes furniture with money, welding hundreds of coins into asymmetrical biomorphic seats and couches.
Why coins? "I like the history of them," he writes on his website. "These flat, hard, shiny coins in a circular format, which have been touched, hoarded, traveled and traded for goods and services, are now released from their original burden."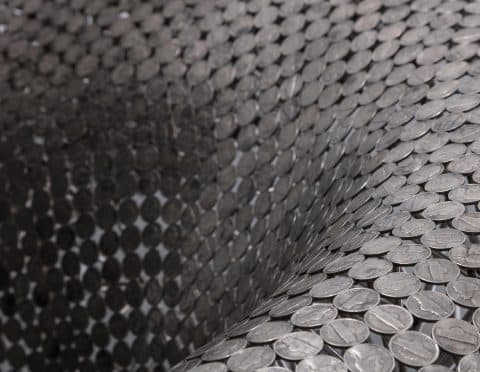 The 7,000 five-cent pieces that go into a Nickel couch come to just $350, but construction entails 35,000 welds and takes more than 300 hours. The laborious monthlong process starts with Swing carving a mold in Styrofoam and making a concrete cast of the seat. Then he welds together a forest of steel struts to serve as legs.
Born in 1961 in Connecticut, Swing attended Skidmore College and the Skowhegan School of Painting & Sculpture, training as a sculptor and later earning a steel welding license. In 1995, he moved to Brookline, Vermont, married, started farming and built himself a proper studio. Two years later, he began making coin furniture. His pieces are now in the collections of such institutions as the Indianapolis Museum of Art, Storm King Art Center and Chatsworth House, in England. They can be seen in spaces ranging from New York restaurants to the Dior boutique in Beverly Hills.
James Zemaitis, a design expert who manages museum relations at R & Company, was at Sotheby's in 2009 when the first Nickel couch came up at auction. He estimated it at $15,000 to $20,000 and was amazed when it sold for more than $100,000.
"Since then, at least six or seven others have sold for more than $100,000 at Sotheby's, Christie's and Phillips," Zematis says. "Swing has had a very consistent track record. There's never been a situation where a piece failed to sell."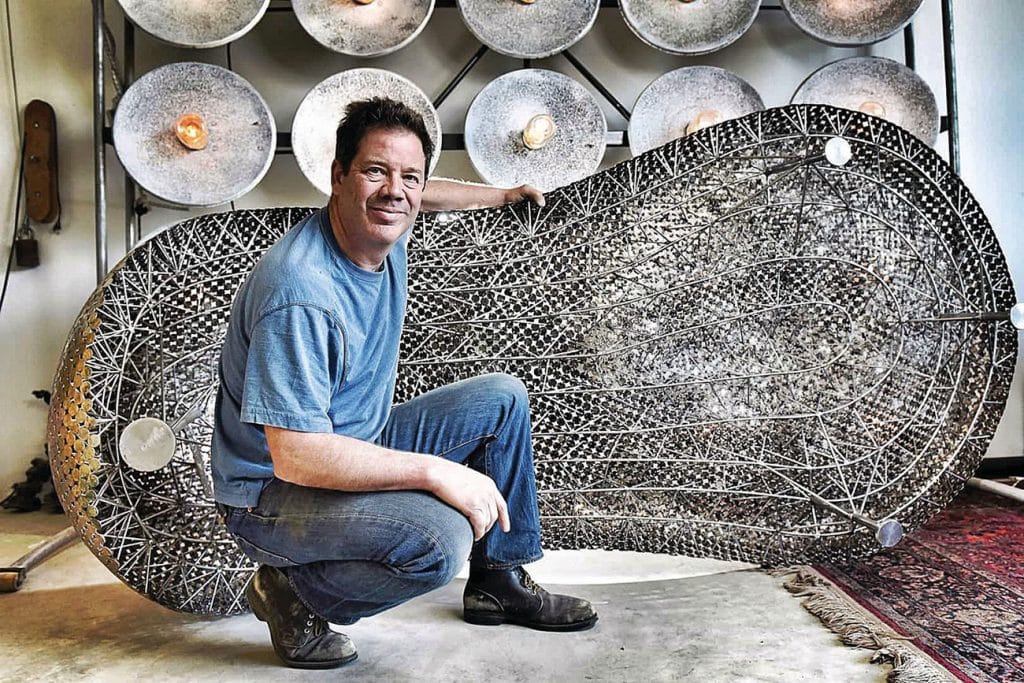 So why is R&Company's example priced at $250,000?
Scarcity. "This couch is number 22 in a limited edition of 25. The edition is almost sold out," says Zematis, noting that Swing recently made a piece with pennies that sold for $250,000. "Our price is in line with what his retail market is — as opposed to the auction house market."
"The demand for Swing's work is outpacing what he can supply," adds gallery founder Zesty Meyers. "We have certain models on order that will take months to make." Meyers sold a Swing piece at the recent Masterpiece Fair in London. "Visitors came by and said, 'This couch looks so elegant. it can't be comfortable,' " he recalls. "Then, they sat or reclined on it and found it very comfortable. It's great when you can captivate people in a way they don't expect."