Addison Industries, Ltd Furniture
Harveys on Beverly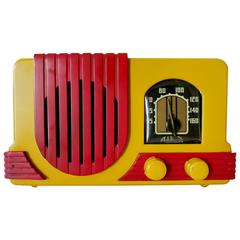 Addison Model Two "Waterfall" Red and Mustard Cata...
Addison Industries, Ltd
Vintage 1930s American Art Deco More Furniture and Collectibles
Bakelite
Catalin Addison A2 "Waterfall" in mustard with red trim Art Deco tube AM radio made circa 1940. The unique styling, bold use of color, and Deco dial make this a truly beautiful radio. T...