Pegaso Gallery Design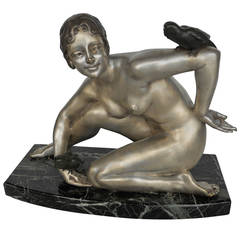 A.G. Rigault Silvered Bronze French Art Deco Sculp...
A.G. Rigault
Early 20th Century French Art Deco More Furniture and Collectibles
Bronze, Marble
An amazing French Art Deco silvered bronze sculpture of a femaie nude holding two parrots. Mounted on a green and black marble. Base. Signed "Rigault" on backside.