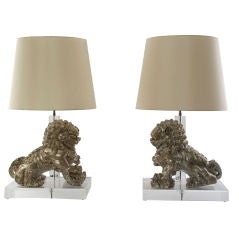 Pair of Foo Dog Lamps
About
SOLD AS A PAIR / $4,000 FOR THE PAIR
+ This pair of temple dogs will protect your home in the most glamourous way
+ Sculptural quality and high visual impact
+ Massive iron "lion" dogs are each unique...male is discreetly anatomically correct(!)
+ Male rest his left paw on a sphere
+ Female's hind legs are slightly raised in a position where she is ready to pounce
+ Oringinal finish on rusted iron was hand painted but in very bad condition.
+ New finish is artisan crafted silver leaf that has been "aged" with a soft brown patina
+ Detail work is amazing. Carving is highly intricate and three dimensional, full of texture
+ Foo Dogs rest on thick acrylic bases and are not attached (cork has been placed under their feet to prevent scratching)
+ Lamps are electrified through acrylic behind each dog
+ Newly added 2" thick rectangular acrylic base
+ Shades Shown: Large Flare & Large Drum in Egg
+ The following are two descriptions of the history of the Foo Dog:
(1) The Foo Dog of Asia has also been called the "Lion of Buddha" and that name is actually much more accurate, since it is a lion and not a dog at all. Known also as Fu Dogs, Fo Dogs, and karashishi (in Japan), they are used extensively in Asian art and sculpture. But the Lion of Buddha may not be Buddhist in origin. The local Shinto religion of Japan, which predates Buddhism, also has a lion protector, with a red head, who drives away evil spirits and brings health and wealth. No matter the origin though, be it Chinese or Japanese, Buddhist or Shinto, the definitive Foo Dog is fundamentally protective, strong, and courageous. It is even said that when they are cubs, their mothers will throw them from cliffs, so that only the strongest survive. Many times, Foo Dogs occur in pairs, placed at gated entrances, for example, seated and yet always ready. The male Foo Dog typically has his mouth open a bit, one front paw resting on a sphere, which is often carved as open latticework and represents both heaven and the totality of Buddhist law. The female has her mouth closed, paw resting on a small cub, typically shown upside down on its back, which represents the earth. In other imagery, the Foo Dog crawls menacingly, up or down an arm or leg. With their pointed ears and their curly but subdued manes of hair, there is certainly a resemblance to dogs. More than likely, it is that resemblance which has caused the widespread confusion about these animals, also known as Chinese Lions and even Lion Dogs. But the resemblance is accidental and due to the fact that virtually all knowledge of actual lions was second hand to the Asian artists who initially created them. Their knowledge was second hand because, although dogs abound the world over, lions have never been native to the orient
(2) Foo Dogs are the ancient sacred dogs of Asia who guard Buddhist temples. The Foo Dog (lion) statues also make a strong statement and adds style to any room, front porch or garden. These dogs have magnificent aesthetic appeal and a rich history of legend and tradition.
Foo Dogs can be traced as early as the Han Dynasty. Their first appearance was in Chinese art, which dates back to approximately 208 BC to about 221 AD. Foo Dogs vanished for nearly 400 years after their first appearance. They later returned in the T'ang Dynasty that was in power from 618 to 917 AD. Foo Dogs were popular because of their meaning. The Lion is a creature of the feline race that is known as the proud master of all cats. Its introduction into Chinese art coincided with Buddhism. The Chinese word for Buddha is Fo, which led to the original title: "Dog of Fo."

There have been other theories that the name developed from the city of Foochow ; however, there is no actual proof of this.

The lion is known as the proud master of the feline race. It is not indigenous to China, although lion artwork and sculptures were imported gifts to the Emperor. Foo Dogs have the appearance of a lion. The lion in Buddhist religion is seen as sacred, and has sometimes been offered to Buddha as a sacrifice. The name given to these guardians originates from China . The Chinese word for Buddha is Fo, which led to the original title – "Dog of Fo".

Some Buddhist deities are occasionally depicted mounted on this beast. It is an emblem of valor and energy, those indispensable complements of wisdom, and embroidered on the court robes of military officials of the second grade.

These "dogs of Fo" or Foo dogs (Buddha's companions) are often placed at the threshold of temples, tombs, and even residences. The Foo Dog was the protector of sacred buildings and a defender of law.

Foo Dog artwork varied. Buddha was sometimes depicted on the back of the great beast, but Foo Dogs are more often displayed in a powerful guarding position. The creature is sometime presented holding a spear in its paw. This was the representation of the peace and serenity the animal would maintain for the sanctuary it was guarding; thus discouraging any wrong doers and demon spirits from entering the place of tranquility.

It is important to point out that the Foo Dog is also known as the Celestial Dog, and the Happiness Dog. The animal is a symbol of energy and value, and is often displayed in a male/female pair.

The Foo Dog pair is usually shown with the male holding one paw on a sphere symbolizing the Earth, while the female holds a cub. They come in many shapes, sizes, different materials, and colors. Their faces have a mischievous and almost devilish look about them; and their eyes are normally wide open with a tiny speck in the middle. This threatening appearance is what gives the idea that they guard against evil spirits.

The Foo Dog is embodied in rich Chinese history and tradition. They are still very popular today, not only in China, but also in other parts of the world. They are fantastic dogs not only infused with artwork – but with meaning.
Details
Dimensions:

Sold As:

Materials and Techniques:

Place of Origin:

Period:

Date of Manufacture:

Condition:

Excellent Refinished Vintage Condition<br /> Please call with any questions.

Seller Location:

Reference Number:

Seller: INV #20562

1stDibs: U0911128389555
You May Also Like
Pair of 1960s Foo Dog Lamps

Located in Pomona, CA

Wonderful pair of Chinese wood

carved foo dogs

. The base is a custom-made wood shape of the foo dogs. The price is for the pair.

Category

Vintage 1960s Chinese Table Lamps

Pair of Carved Wood Foo Dog Lamps by Sarreid

Located in Stamford, CT

A pair of carved

wood Foo Dog

lamps by Sarreid of Spain. Shaped black paper lamp shades with gold interiors. Dogs are seated on black painted wood bases. ...

Category

Vintage 1970s Spanish Chinoiserie Table Lamps

Pair of Vintage Blanc de Chine Foo Dog Lamps

Located in West Palm Beach, FL

Category

20th Century Chinese Table Lamps

Pair of 19th Century Chinese Bronze Foo Dog Lamps

Located in Kilmarnock, VA

A wonderful set of mid-19th century polished bronze foo dog lamps which I used to be incense burners. Bronze was originally gilded and traces of the red bole are visible on the bases...

Category

Antique Mid-19th Century Chinese Qing Table Lamps

Substantial Pair of Carved Stone and Lucite Asian Foo Dog Lamps

Located in Las Vegas, NV

This pair of carved stone and lucite Foo Dog lamps is nothing short of incredible. These lamps are fairly large and heavy. The carved details and lucite accents add lots of depth and...

Category

20th Century Minimalist Table Lamps

Materials

Ceramic, Plaster

A pair of 1950s ceramic foo dog lamps on decorative brass base

Located in London, GB

A pair of 1950s turquoise ceramic foo dog lamps on decorative brass base with orignal shades with adjustable brass shade holders and finials. Re wired with new brass fittings, antiqu...

Category

Vintage 1950s Table Lamps