Aby Rosen is sitting in the Red Room — so named for the round, red lacquer table, designed by William Georgis, that is dominating it — in his RFR Holding offices at Lever House, a mid-century landmark he owns in Midtown Manhattan. Lever House looks across Park Avenue to an even more celebrated gem of the era, Ludwig Mies van der Rohe's Seagram Building, which also happens to be in Rosen's portfolio. The Red Room is outfitted with the trappings expected in a well-appointed conference room — flat-screen TV, Carrara marble counter, black leather chairs. It also bears some distinctly unusual  accessories: two Andy Warhol "Camouflage" paintings and a quirky sculpture by Tom Friedman shaped like a jagged star and made from cardboard boxes of consumer goods, such as Irish Spring soap, Prince spaghetti and Kraft macaroni and cheese.
Rosen, a 55-year-old real estate developer and art investor known for his full head of fluffy silver hair and his heavy-lidded blue eyes, has a particular fondness for brand names, whether on pasta, art or architecture. In addition to snapping up modernist classics, he is often credited with helping instigate the starchitect-condo trend in New York, having tapped Robert A.M. Stern to design an apartment building at 300 East 77th Street in 2000, well before Frank Gehry, Zaha Hadid and Tadao Ando left their aesthetic marks on the city. Rosen, whose holdings reach from the Gramercy Park Hotel in Manhattan to the W Tel Aviv to the Eurotower in his native Frankfurt, Germany, also hired Herzog & de Meuron to design 40 Bond Street, 2006's green glass condominium with the love-it-or-hate-it cast-aluminum gate, as well as Postmodernism's poster boy Michael Graves for the 56-story tower at 425 Fifth Avenue, completed in 2003.
Rosen admits that he was drawn to the selling power of their names, which helped stoke the city's luxury real estate market. But, he adds, "I was always passionate about the design. I never understood why great architects hadn't worked in New York. It's because most of the developers didn't think there was a necessity. I just believe, why not work with a great architect? It doesn't cost you that much more to hire him or her to produce it. If you go really vertical, you have an obligation to leave something nice behind. Once you build more than twenty stories, that building ain't coming down."
When it came to commissioning an architect for his latest endeavor, condominiums at 100 East 53rd Street, Rosen says he entrusted "a small architect called Norman Foster. It is the first building he ever did." Rosen says with a mischievous smile. "No, he's been around a while."
Indeed, Rosen stuck to his formula, turning to an architect who has been awarded both a Pritzker Prize and a knighthood. It's not, in fact, their first project together. Foster, best known in New York for his zigzagging Hearst Tower, previously conceived a controversial tower addition to RFR's 980 Madison Avenue, which Upper East Siders, galvanized by author Tom Wolfe, successfully blocked in 2008. "The NIMBYs in the neighborhood who don't want to lose their views forget that their apartments would have doubled and tripled in value being next to it," Rosen says. "It would have been beautiful, and I still believe that was the right choice."
The first time the developer showed Foster the 100 East 53rd site, the architect "took out his sketchbook and sketched away," Rosen says, in his German-accented English. "Today, the building looks ninety or ninety-five percent the way he originally sketched it, so Norman is very good at recognizing what should go where and contextualizing it."
---
"If you go really vertical, you have an obligation to leave something nice behind. Once you build more than twenty stories, that building ain't coming down."
---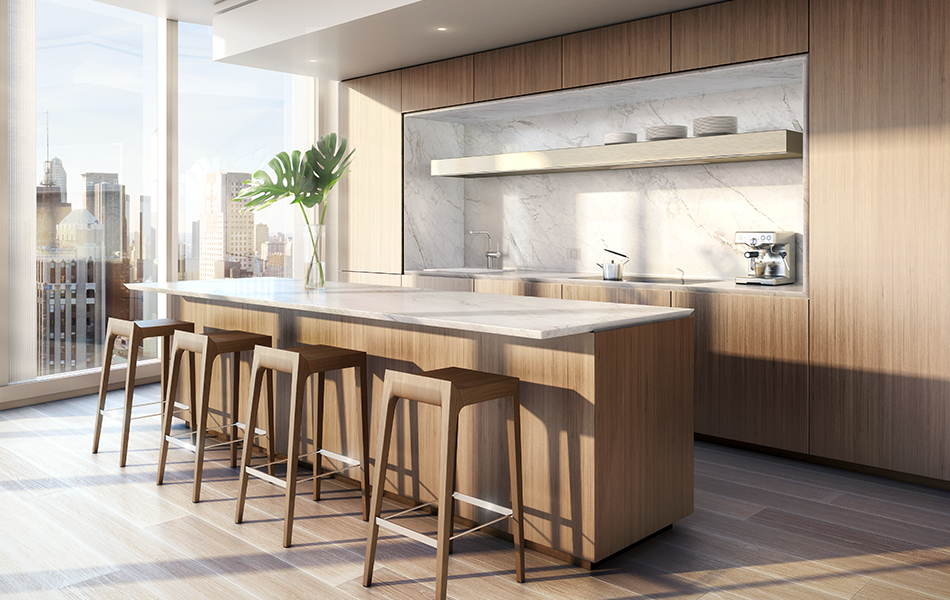 It is not just any context. It is what Rosen likes to call "Architecture Row," in a nod to the Seagram Building and Lever House, which was designed by Gordon Bunshaft and Natalie de Blois of Skidmore, Owings and Merrill, perhaps America's greatest producer of International Style office towers.
Rosen and Foster wanted 100 East 53rd to stand in clear contrast to the Seagram — it's rising directly east of the landmark — both in coloration and geometry. "This is a very bright building, a very light building — deliberately, because Seagram is darker," Rosen says. "It's clean and monolithic. The façade has undulations so you can see it coming in and out. It's not a flat façade. It changes with the light and the sunshine; it changes with the seasons. We wanted it to be a playful surface."
He takes a jab at the competition, including architect Rafael Viñoly's super-skyscraper 432 Park Avenue, a few blocks north. "I like repetition, but 432 Park is too much repetition," he says. "Foster understands the facets and the light and shadows that things throw, and that's why 100 East 53rd is going to be exciting to look at and pleasing to the eye."
The contest, of course, will ultimately play out in the salesroom, which opens this month in anticipation of a first-quarter 2017 completion. RFR sees its primary customers as out of towners looking for a conveniently located, status-symbol pied-à-terre.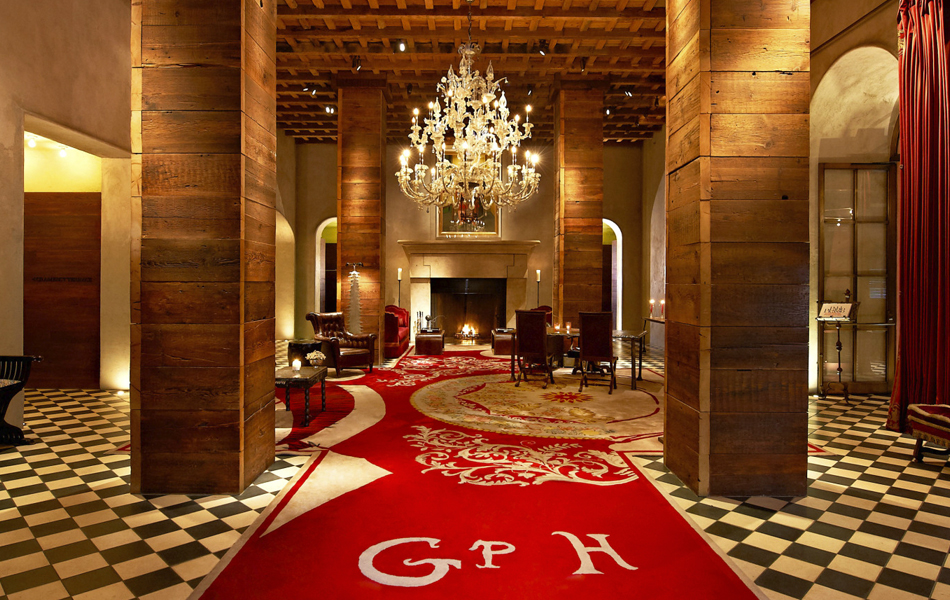 Rosen's product boasts instant credibility: "They know that this is a Foster building in Midtown," he says, "and they know it's good." Not that he's relying purely on Foster. There will also be what he calls a "world-class restaurant" on the second floor designed by a second, yet-to-be-revealed "world-class architect," plus a ground-floor upscale food court. And artist Rachel Feinstein is creating a mural for the lobby.
For the 94 apartments themselves, which range from 1,320 to 6,571 square feet and will be priced from $4 million up, Rosen brought in frequent collaborator Georgis, an interior and furniture designer whose monograph is titled Make It Fabulous and whom Rosen entrusted with his own Upper East Side town house.
Georgis tweaked some of the wood and stone details, going for a warmer tone rather than the sometimes "harsh colors" of high modernism. The idea was to make the finishes work with a wider range of decorating styles and not "rule with an iron fist," Rosen says.
To up the cool quotient, Foster also created a "building within a building," Rosen explains, giving floors five through nine a faux-loft atmosphere, with exposed concrete ceilings and walls. For buyers who want a midtown address but a Tribeca vibe, it's the best of both worlds. "You don't feel like you're living on Park Avenue or the Upper East Side. It's the unit I would buy." Rosen, he makes evident, likes to buy things. "I spend a lot," he says. "I buy furniture and knickknacks left and right. I'm a ferocious collector of everything."
He reconsiders and says that, actually, he has always had more of a dealer's mentality than a collector's. He considers the objects he owns, from his trove of roughly 700 or 800 artworks ("Who knows?") to his seven dinosaur skeletons, not a collection but "inventory."
"I buy, I use, I sell. There's no attachment to it," he says. "I like something; I want to be with it for a while — a month, a year —I'm okay with moving on. I'm not married to any of this stuff. Anything is for sale that I own. I wrap it and ship it and invoice you. My wife, my kids, that's the only thing not for sale."
His lack of seller's remorse took root in his childhood, when he was always happy to make a trade. "I was a very hungry kid to make money," he says. "I bought a bike for a hundred bucks, and if you like that bike, for one hundred fifty it's yours."
Rosen grew up in Frankfurt, the son of Holocaust survivors. His parents tried living in Canada briefly right after the war but returned to Germany. "My dad was liberated in Germany, and my mother was living in Belgium postwar. When you're liberated in a country, there's a certain type of attachment to that environment. Not a good one, a bad one," he says.
It was not an easy childhood, although his father became a successful real estate developer. "My dad never felt great there, but he made money at one point. Then he made more money," Rosen says. In 1978, when Rosen was 18, his parents moved to Israel. "He felt bad about bringing up his kids in Germany. He always said, 'Sorry I did that to you guys.' "
The Rosen home was filled with art, if not to his taste. "They collected a lot of Old Masters and old stuff," he explains. "I call it Jewish Rococo. But it's nice stuff, lots of biblical imagery, heavy gilded frames and landscapes. Nothing wrong with that, but not what I would do."
He made his own first art acquisitions when he was about 13: two Robert Mapplethorpe photographs, one a nude and the other a flower. "I thought he was a great photographer, and I liked photography. It was more affordable than canvas in those days."
Rosen fell hard for New York City when he visited in his youth and moved there in 1987 to make his mark in the U.S. and to party. "When I made some money, I bought some art." As his net worth grew, so did his appetite for big, expensive, brand-name art. "My heart is more sixties, seventies, from Warhol to Ed Ruscha," he says.
Much of it is instantly identifiable, accessible Pop art. "I like that," he says. "If you have to explain to me what it is, it's not good. Not because I can't understand — I do have pretty deep knowledge of the art world — but I like things to be obvious. I like things to have conviction. When Warhol made something, it was his conviction. When Richard Prince makes something, it's his conviction. When Willem de Kooning painted a painting, you knew what the hell it was."
He does, however, invest in some emerging artists. His second wife, Samantha Boardman Rosen, a psychiatrist from an old-money WASP family, lets him do as he pleases — except where the children are involved. "I had a painting the other day that was actually in the kids' quarters, and I wanted to sell it because the artist went through the roof," Rosen says, noting that he paid $10,000 for it two years ago and could now get $200,000. "So I said, 'I'm going to take that painting,' and she was like, 'No way, the kids love that painting.' So I kept it." He pauses. "Next year. I need to teach her to let things go. When a new painting shows up, they'll be excited."
He sees no letup to the current art boom. "Art continues to be a great, desirable asset class — financially, socially, for ego, for money laundering," he says. "It's a status symbol, and you're buying yourself into a group of people who are perceived as some sort of elitist crowd — not that I believe that. But for some people, you show up, you buy a couple million dollars of art, everyone wants to be your buddy. You're invited to lunches and dinners, to museums. People know your name. You get talked about, written about."
Rosen is constantly rotating his "inventory" among his commercial properties and homes in Manhattan and Saint Barths, as well as houses in Southampton and Old Westbury, on New York's Long Island, where he owns Edward Durrell Stone's iconic A. Conger Goodyear house of 1938. Even the bathrooms at RFR are hung with art. His warehouse holds a substantial amount of furniture, as well, which his team uses to furnish condos on the market. "Lots of people have a lack of imagination, as you know, so you give them a little bit of a story," he says. "Our stories are not showroom stories. Our condos look like homes because they have real furniture, from Jean Prouvé to Cavallini."
His ease with moving things about has occasionally drawn the ire of onlookers. When he decided the Four Seasons Restaurant, a landmark designed by Philip Johnson and ensconced within the Seagram Building since 1959, needed a freshening up, many New Yorkers were horrified to discover that his plan included pulling down a Picasso tapestry that Johnson had selected for it. (It now hangs in the New-York Historical Society; Seagram's previous owner, Vivendi,  donated it to the New York Landmarks Conservancy, which in turn gave it to the museum when Rosen rejected its continued presence in the restaurant.) Rosen insists the planned changes are restoring the famed Pool Room and Grill Room to their original state. "We got everything approved other than the hinges on the door," he says.
Like another rich New York real estate developer now frequently in the news, Rosen doesn't mince words. Asked why he decided to sever ties with the Four Seasons and its longtime proprietors, Alex von Bidder and Julian Niccolini, he says, "They're nice guys but they're old and done and they cater to the same clientele. We want to cater to the old clientele but also to a new clientele. You can't just cater to the same old guys eating chopped salad."
The restaurateurs behind the popular downtown spot Carbone will take over the space after the Four Seasons exits next year. While Rosen's at it, he's also overhauling the Brasserie, Seagram's other old standby, with a yet-to-be-announced architect. Shortly after moving to New York, "I went there after a nightclub, ate a burger at four in the morning and thought this was as stunning as it gets," he says. Dismissive of Diller + Scofidio's 2000 redo, he gripes that it "lost some of its personality." He promises the new incarnation will appeal to "high rollers and low rollers" alike.
Rosen says he likes the challenge of remaking a property that has been mismanaged, which is what he asserts he did with Lever House and Seagram, creating, for instance, contemporary-art programs on the plazas. But even those trophy properties are for sale — for the right price. "When you own buildings of that magnitude, you're a custodian," he says. "I do a good job, but I bet you someone else could do a better job. Or might do a better job, let's put it like that."