Our brief is to realize our clients' dreams," says Andrew Sheinman, the founder of the New York–based design firm Pembrooke & Ives, which, over the course of its 30 years in business, has become known for creating luxurious residential interiors in such diverse locations as Manhattan, the Hamptons, Miami and Palm Beach, plus Aspen, the Caribbean and Greece. "We're involved in every aspect," continues Sheinman, "from the master plan to the dishes on the table."
The British-born Sheinman — who just this past spring opened the firm's first satellite studio, in Los Angeles — attributes his early interest in design to his dislike of his school's bland, institutional building and the dreary cubicles in his father's office. His initial foray into the field, however, wasn't related to interiors, but to fashion, working for a bespoke clothier in London. When that store opened a New York branch, in 1979, the ambitious young man crossed the ocean along with it.
Manhattan offered Sheinman opportunities to explore additional forms of design, and so, from the clothier, he moved on to other positions and enterprises, among them managing Sointu, a cutting-edge contemporary design store, and cofounding, with Monte Coleman, a company that made slipcovers distinctive enough to rate a mention in the New York Times. His next step was designing high-end hotel interiors, including the guest rooms of the elegant (now-shuttered) Westbury Hotel. This led to residential commissions and then the founding of Pembrooke & Ives, in 1987. His staff now numbers some 60 employees. A large percentage of the firm's projects are directly run by what Sheinman calls "an incredible group of designers," but he is still closely involved with many longtime clients.
The Sheinman aesthetic, evident in all his firm's projects, is both classic and modern, combining tailored upholstered furniture and custom cabinetry with classic 20th-century modernist pieces and edgy contemporary designs. One exquisite example is an apartment on Manhattan's Upper East Side, whose color scheme Sheinman describes as "monochromatic but with lots of textures." The living room is accented with such 21st-century designs as a mirrored coffee table by John Hogan and Faye Toogood's Roly Poly chair, in bright blue. In the dining room, where a custom cabinet with horsehair-covered doors conceals a pop-up television (the owners and their children are sports fanatics), a light by Lindsey Adelman hangs above the table. In the powder room, an ethereal silvered-glass mirror by Gregory Nangle is mounted on an onyx wall. The overall effect is one of relaxed elegance, mixing high design and comfort in equal measure.
Pembrooke & Ives is also known for designing luxurious weekend and vacation homes, including Sheinman's own house on the Greek island of Serifos, which he bought in 2005. The rugged stone structure — built in the 1990s in the local vernacular style — received a complete makeover, including new windows, concrete floors and a new kitchen with Cararra-marble-clad walls and cabinets and a stainless-steel island. In the whitewashed rooms, comfortable custom furniture blends with vintage pieces like the wood dining chairs and the living room's lounge chairs, all by mid-20th-century French designers Guillerme et Chambron.
Pembrooke & Ives's Founder Brings a Classic and Modern Sensibility to His Interiors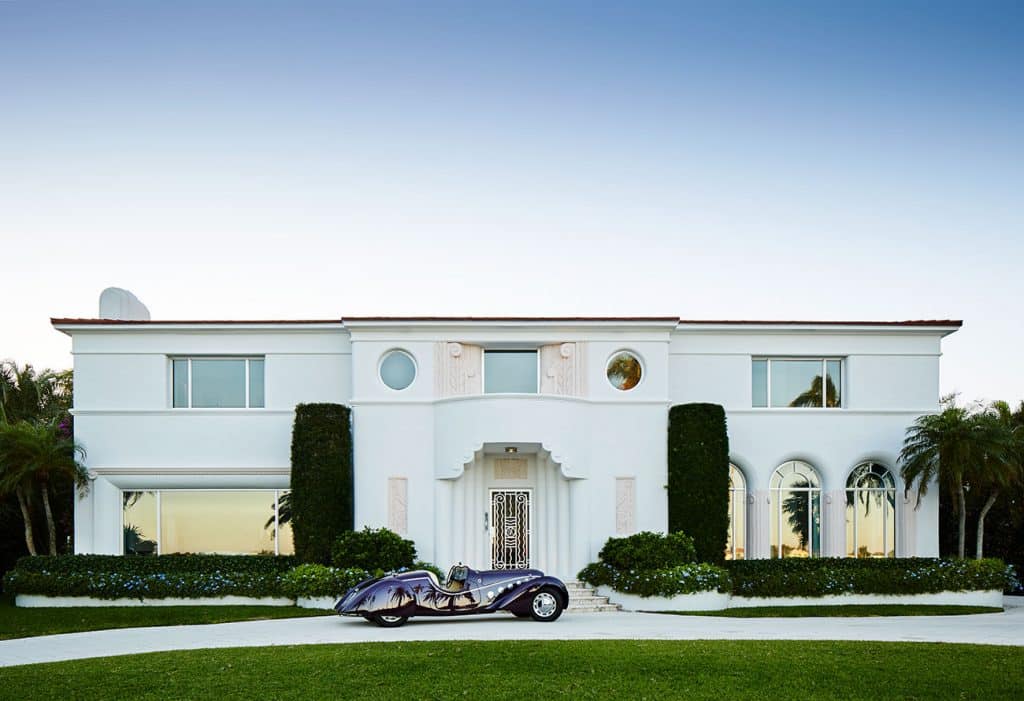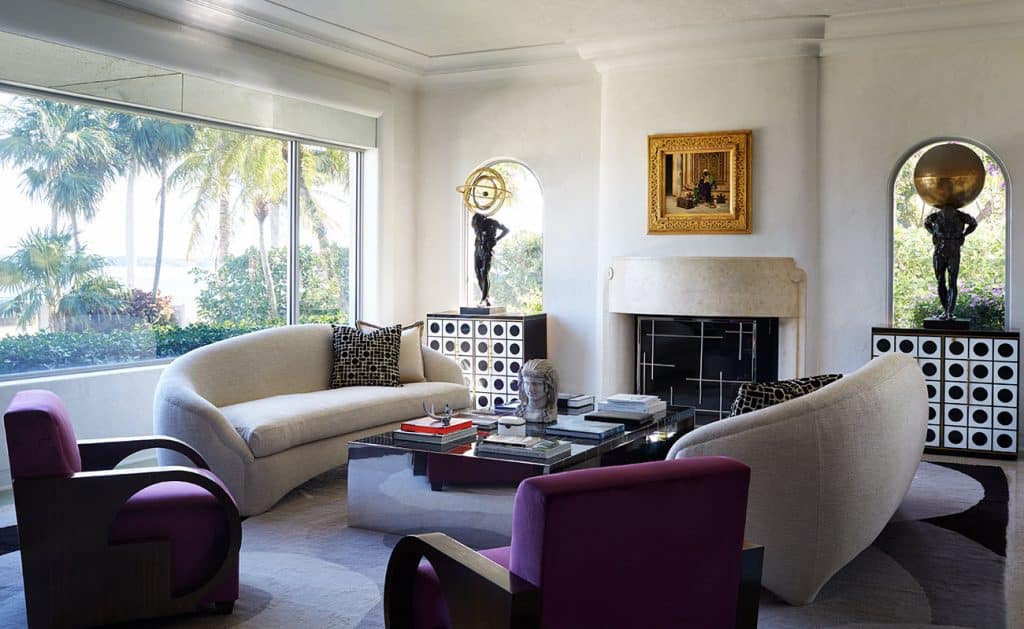 Far removed in distance and style is a sprawling stone lodge in Aspen designed by local architect Charles Cunniffe. Because the owners, a young New York family, use it year-round, Pembrooke & Ives created a scheme that can "serve both winter and summer seasons," Sheinman says, adding that it also lets "the spectacular views take center stage." Cream-colored, plaster-walled interiors provide a backdrop for such contemporary pieces as a Marcel Wanders mirror and Mathilde Penicaud concrete and steel console in the entry and an imposing Frederik Molenschot bronze chandelier in the dining room. The dining table is surrounded by Kelly Wearstler chairs, painted a custom shade of green, and accented by one of Andrea Branzi's Trees cabinets, made from patinated aluminum and a birch-tree trunk.
A spacious home in New York's Hamptons was done for repeat clients who "made a big commitment to contemporary art," Sheinman says, explaining that although Pembrooke & Ives generally works with art advisers, the firm is often asked "for our opinion on whether a piece will work well in a space." Here, a living room wall is adorned with Anish Kapoor prints, while the dining room boasts lithographs by Alex Katz and Roy Lichtenstein, and more artworks hang on the cream-colored, high-gloss lacquer walls of the double-height entry. These homeowners, Sheinman notes, are also "big entertainers," so off the custom-designed kitchen, with its inset floor "runner" of ceramic tile framed with stainless steel, is a spacious porch that serves as a relaxed summer dining room.
The studio dealt with a very different backdrop in a 1937 Art Deco house in West Palm Beach, where Sheinman's team added new and vintage elements that complement the (remarkably intact) existing structure. In this project, as in others, Sheinman says, "we tried to be sympathetic to the architecture. We didn't want to make the building what it isn't." A long gallery with original arched windows and openings contains a trio of custom tables that combine to form a long dining table. A custom rug and sofas with a French 1940s air, along with a pair of Italian Art Deco cabinets from Cosulich Interiors and Antiques, set a refined tone in the living room. A 1970s J. &L. Lobmeyr chandelier hangs in the curved stairwell, and in the kitchen, vintage Deco light fixtures illuminate the new counters and cabinets and a custom-designed table with an LED-illuminated glass top. The result is a space that meets the needs of today's home cook while also evoking the house's design heritage.
In addition to its custom residential work, Pembrooke & Ives has designed a number of projects for developers — among them, the Chatsworth, a renovation of a 1904 apartment building on New York's Upper West Side; and 212 Fifth Avenue, a converted 1912 office building where each apartment has a spacious foyer well proportioned for displaying contemporary art. (The building made headlines earlier this year when Jeff Bezos bought three units, including a penthouse triplex, for $80 million, presumably with plans to combine them.) Currently on the boards is a new residential building at 24 Leonard Street, in Tribeca, as well as country clubs in Palm Beach County and on Long Island and the office's latest venture: high-end senior-living facilities in Washington, D.C.
Sheinman is excited about moving into the senior-living sector, feeling, he says, that "we can make a major impact." Making an impact seems to be a consistent goal of his, regardless of a project's scale. As he explains, "We are fortunate to have smart, sophisticated clients who have a vision and high standards, and they come back to us because they feel heard and because we help them elevate that vision."
Andrew Sheinman's Quick Picks