Throughout the history of civilization, artists have captured in wood, stone, bronze or clay the magical charms of nearly every conceivable creature great and small. Below, we've spotlighted some particularly noteworthy examples from the last several centuries of what we're calling "animalia" (a spin on animalier, the term first used in the 19th century to describe artists casting realistic bronze renditions of animals). As testament to the enduring appeal — and remarkable range — of such material, there's a veritable wild kingdom of animal-themed objets and fine art to be found on the 1stdibs frontier. (For a more focused hunt, we've also created a curated search named — what else? — Wild Kindgom.)
"These are portraits," says Edward Horswell, the proprietor of London's Sladmore Gallery, "a portrait of a specific beast with its own individual attitude, its frequent gestures, bruises and all." Horswell is not talking about a George Stubbs painting of a famous 18th-century racehorse or a Sir Edwin Landseer drawing depicting the Duke of Devonshire's hunting dogs; rather, he's describing the bronzes of Rembrandt Bugatti. The Italian artist worked at the turn of the century, spending hours with his subjects at the zoos of Antwerp and Paris, forging trusting relationships with the donkeys, fawns and even lion cubs that he would eventually sculpt. The result is one of the finest, most sensitive oeuvres of animal sculpture ever produced. When Horswell's parents began collecting Bugattis in the 1960s, he wasn't well-known. ("I remember seeing an invoice for a Walking Panther for three thousand dollars that they sold in the early seventies," says Horswell.) Today Bugatti's creatures command millions.
Animals, be they of bronze, marble, ceramic, or even carved out of whalebone, have always played to an owner's emotions. Both realistic and symbolic, three-dimensional animal renderings crisscross history and continents, from the terra-cotta horses that guarded early Chinese tombs to the lucky walrus amulets worn by North America's native Inuit tribes. Beginning in the 19th century, animal sculpture started becoming not only fashionable, but artistically validated — a trend that continues today.
Purchasing a piece of animalia can be emotional, amusing and addictive. Collectors may buy ancient and antique animalia because of a piece's history, but the initial appeal is almost always the endearing subject. Some buyers collect by species, others by artist, medium or artistic period. "Animal sculptures add warmth to a room," says Alayne Baxter, the managing director of Linda Horn in New York. "They add instant personality and whimsy." Baxter, and her sister, Linda Horn, have been selling animalia for 30 years in their Madison Avenue antiques shop. Among the gallery's specialities are 19th-century Black Forest animals; Victorian terra-cotta animals, especially dogs, from the 1840s through the 1860s; animal-themed antique furniture; and majolica in the form of regal elephants and storks. "Much of the majolica that we sell on 1stdibs these days is going to Germany," says Baxter.
For centuries, artists have used ceramics to recreate the creature kingdom. Bernard Palissy, a 16th-century French potter, cast live lizards, frogs and snakes to adorn his colorful chargers that he then coated in lead glazes. Palissy's work experienced a revival in the 18th and 19th centuries, with artists in France and Portugal firing their own vibrant versions of what came to be called Palissy ware. Stunning examples can be found in New York's Metropolitan Museum of Art and the New Orleans Museum of Art. James Sansum, a New York dealer of fine and decorative art, says he has always been drawn to Palissy ware and, when he can find good pieces, stocks it. "The naturalistic aspects of the pottery appeals to a certain eye," says Sansum, noting that the writer Brooke Hayward, who is an animal lover, has an excellent collection. "It's interesting to see how each century and each country had a different interpretation of the same pottery."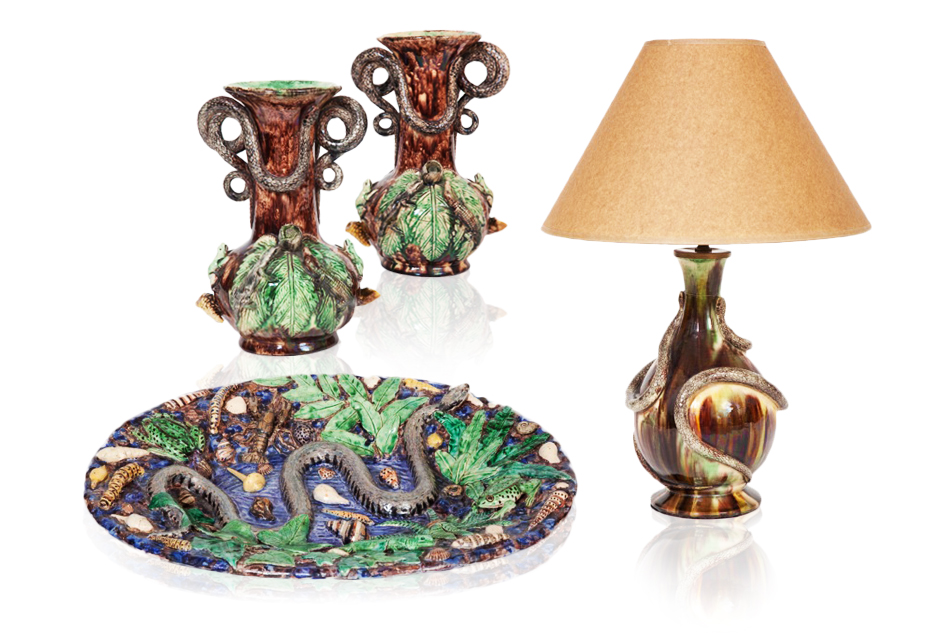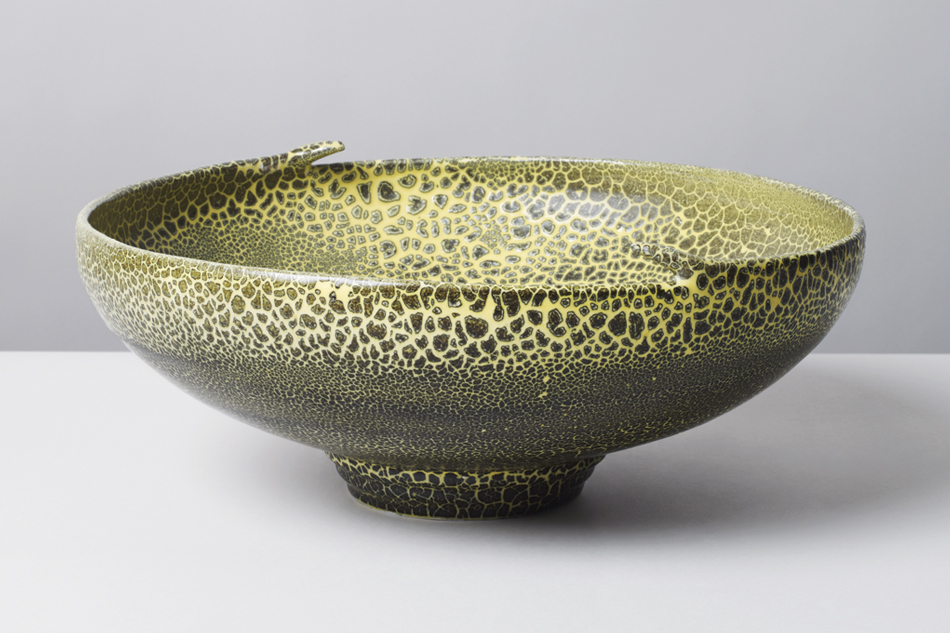 These days, there's another Frenchman who seamlessly glazes clay reptiles and amphibians into elegant lidded vessels. Jean Girel, a Chevalier des Arts et des Lettres, and one of only two ceramicists to be named a Maître d'Art by the French Minister of Culture, made his U.S. debut this summer with his "Bestiaire" series at Maison Gerard in New York. The gallery will be showing Girel's work, all crafted from clay excavated from the hills surrounding his Burgundy home, at the International Fine Art & Antique Dealers Show in New York from October 19 through 25.
Of course, the predominant medium for animal sculpture is bronze, which peaked in popularity in the 19th century, when French animalier artists began casting. Antoine-Louis Barye, dubbed the "Michelangelo of the menagerie," was one of the masters, a self-taught artist who spent hours dissecting dead animals and measuring their bones in the Jardin des Plantes. His bronzes of violent lions, tigers and serpents ripple with realism.
William Secord, a leading dog-art specialist with an eponymous gallery in New York, often has animalier bronzes by Barye, Isidore Jules Bonheur and Pierre-Jules Mene, but also sells American bronzes by William Mackarness, Katherine Lane, June Harrah, Richard Fath, Charles Russell and James Lipton Clark. Secord's degree of canine specialization attracts an equally specific collector. "There are the purebred-dog breeders and handlers who want historic examples of the evolution of their breed — the bulldog, for example, has changed tremendously over the past one-hundred-and-fifty years. Then there are the people who shoot quail and pheasant. They want pointers and setters for their hunting lodges." Secord's annual February gallery exhibition, not surprisingly, coincides with the Westminster Kennel Club dog show.
---
"Every version of every animal is different," says van der Slikke. "That's what makes them charming."
---
It was the newly rich at the turn of the century who inspired the popularity of Vienna bronzes, says Marjolein van der Slikke of the Deconamic gallery in Antwerp. "They needed objets de vitrines for their big mansions in Europe. The cold-painted bronzes were cast, assembled and then finished off like oil paintings by artists in the atelier. Every version of every animal is different," van der Slikke explains. "That's what makes them charming. Especially the birds with their colorful feathers." Vienna bronzes can be diminutive — miniature mice, ducklings, rabbits — or a foot high, as is the case with a pair of mother-and-baby elephants wired as an Orientalist-style lamp from Deconamic.
Artists often focus solely on an animal's head. Milan's wonderfully eclectic Il Segno del Tempo gallery has a selection of animal-head French bookends, made between 1880 and 1930, and ivory, wood and silver walking sticks from 1880 to 1900. Animal heads were also used in the early decades of the 20th century to glamorize automobiles. No less than René Lalique made dramatic hawk, rooster and horse car mascots using his signature clouded glass in the 1920s. London's Pullman Gallery has a stunning collection of Lalique car mascots, as well as those by other artists such as a rare 1923 silvered bronze dog mascot by A.E. Lejeune.
Perhaps the art world's most famous animal head sculptures were those made in the 18th century for the zodiac clock fountain at the Summer Palace, in Beijing. A century later, they were looted by British and French troops during the Second Opium War. Today, the Chinese government is keen to repatriate them and controversy erupts whenever one appears on the market, as was the case when The Rat and The Rabbit showed up in the blockbuster 2009 Yves Saint Laurent/Pierre Bergé sale at Christie's.
Contemporary Chinese artist and activist Ai Weiwei recently made his own monumental version of the Chinese heads, which are on display at the Hirshhorn Museum and Sculpture Garden in Washington, D.C., through next February. A smaller, gold-plated set of Ai Weiwei's zodiac heads, which are similar in size to the Beijing originals, made their debut last December at the Paul Kasmin Gallery in New York. (And in keeping with the animal theme, a few months later Kasmin showcased, for a second time, the whimsical works of French artists Claude Lalanne and her late husband, François-Xavier.)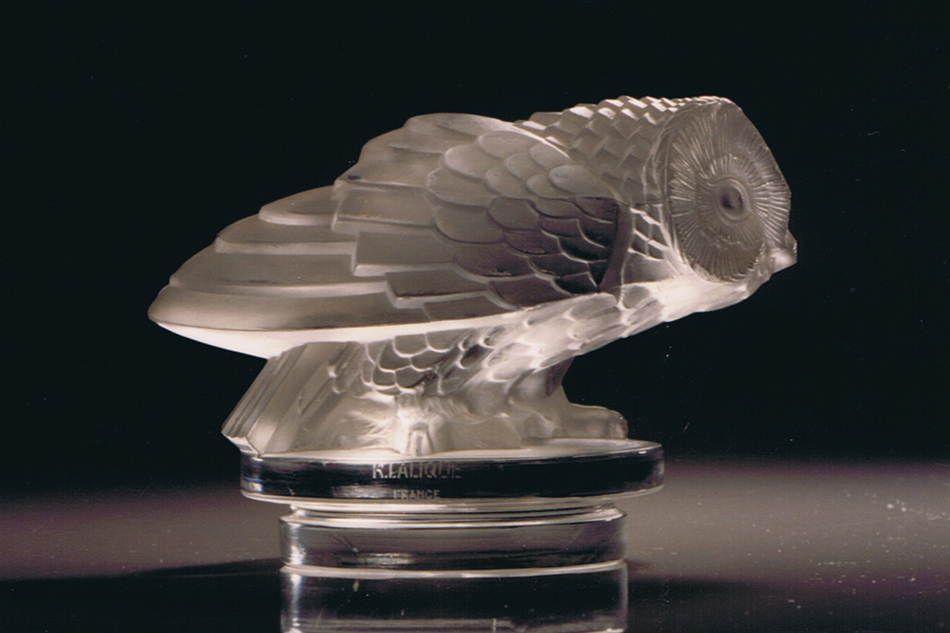 Another contemporary artist who celebrates the expressiveness of an animal's crown is Nic Fiddian-Green, the British sculptor who creates stunning monumental bronze horse heads that are frequently installed in public settings. The United States will see its first when the 34-foot-high, 25-ton Horse at Water is unveiled on August 21 at the Parx Racetrack outside Philadelphia. Like greats Bugatti and Barye, the pieces of Fiddian-Green, who shows at Sladmore, feel incredibly lifelike — likely because he also has excellent models: George, a handsome Cleveland Bay crossed with a Connemara, who possesses the big head of his draft-horse ancestors; and Sebby, an Irish thoroughbred crossed with a skewbald. Both wander the artist's studio while he works.
Meanwhile, the Manhattan transplant Jane Rosen lives on a horse ranch in near isolation in San Gregorio, California (where her closest neighbor is Neil Young). She doesn't ride but rather uses her setting for inspiration. Her haunting, nearly abstract birds and foxes are made of handblown glass and recycled stone from Provence, and echo elements of the Egyptian tomb art she so admires. "Jane's hands are like talons," says Enrica Francescone, the director of the Sears-Peyton Gallery in New York, which represents Rosen. "She works from life. Birds and animals really are her muses."
Finally, from life to death: Is taxidermy art? Frédérique Morrel's version certainly qualifies. The French artist makes life-size gazelle, deer and moose hunting trophies that replicate the animal's original form and have real hooves and antlers, but in place of skin or fur is a riot of vintage tapestry and needlepoint. Morrel's "Noah's Ark" exhibition is up at Los Angeles's Siglo Moderno gallery through August 31, and she also shows with Stephanie Hoppen Gallery in London, which exhibited her work at Art Antiques London in June.
Morrel's creatures also sport anatomically incorrect splashes of whimsy, such as electric blue eyelashes or a red fluff of tail. Yet make no mistake, this is faux taxidermy: "No animals were harmed during the making of our art," says the artist.