April 10, 2022Once a year for about eight years, one of the owners of a townhouse on Manhattan's Upper West Side has asked Ariel Ashe to tackle another room or two. "We've been slowly working our way through the house, undoing the previous renovation," says Ashe, who founded the interior design firm Ashe Leandro with architect Reinaldo Leandro in 2008. "We wouldn't do this now," adds the very in-demand designer, referring to the nearly decade-long project. But "we like the client very much. Plus she's getting more adventurous, and we get to try new things, so it's been fun."
One of the house's most dramatic rooms, the paneled library (featured in this year's 1stDibs 50), had good bones, so Ashe's job was limited to decoration. She hung a painting by Davide Balliano over the fireplace and other unattributed but captivating pieces by the windows. As for furniture, "I've always wanted to do a striped velvet sofa, so this was my chance," she says. (She was inspired by a sofa at Ett Hem, an Ilse Crawford–designed boutique hotel in Stockholm that has become a destination for design aficionados from around the world.) Additional pieces qualified for inclusion if they promised a cozy embrace. Still others made the cut because they picked up on the colors of the trees outside the windows.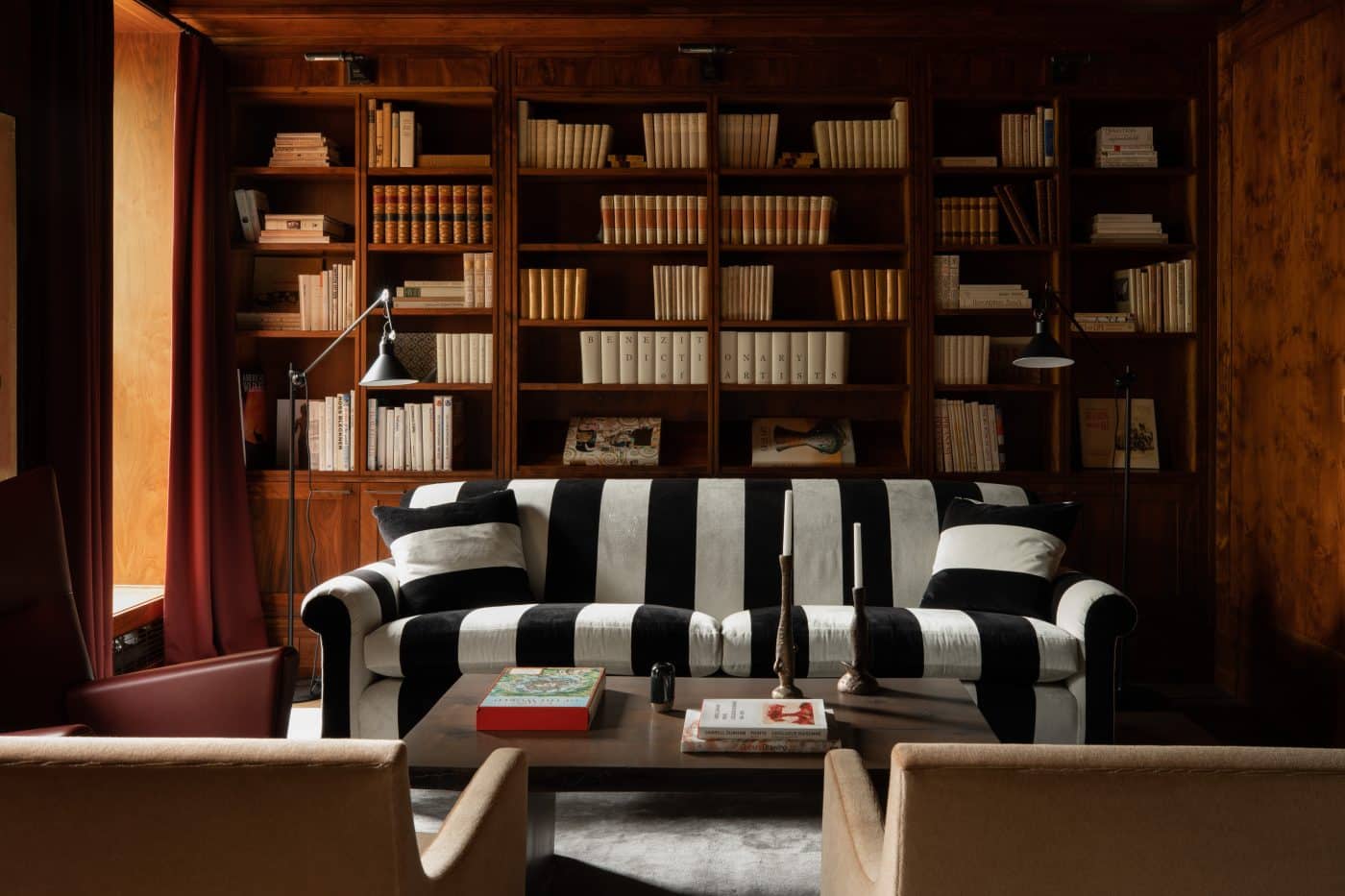 The living/dining room is a double-height space opening to the back garden, with exposed beams and a fireplace that gives it character. Ashe put a light coat of plaster over the brick walls, softening, but not hiding, their texture. She couldn't wallpaper over that texture, so she framed panels of a floral de Gournay wallpaper and hung them. Ashe Leandro custom made the ceiling lights and built the blue-gray banquette. It's one of several pieces in a range of blues, including both aqua and navy, that coexist in the same large room.
In the primary bedroom, Ashe kept the client's iron bed but reupholstered the headboard and added a couple of BDDW nightstands. A Sally Mann photo rests on one of them. The bedding, not surprisingly, is blue.
So are the walls of a guest bedroom, inspired by a space with a checked terrazzo floor that Ashe, a New Mexico native, saw in Milan. She mimicked the pattern in a Rosemary Hallgarten rug. And she kept the top of the walls and the ceiling white to avoid the room's becoming — if it's even possible — too blue. Still, given that the client has four children, a little too much color might be just the right amount. (Ashe and Leandro know that. A whole section of their website is devoted to inventive kids' rooms.)
Overall, the effect is of a house that has grown up over time, which in a way it has. Asked what feels current about it, Ashe responds, "Hopefully, nothing seems current. We were hoping it feels rooted."
Ashe Leandro's Quick Picks