Switching careers is never easy, and success in the new field is certainly not guaranteed. But don't tell that to Andrew Torrey. Thanks to his talent and drive, the New York–based interior designer — who launched his firm, BA Torrey, seven years ago after pursuing public relations, event planning, music management and residential real estate — has been inundated with work. And his projects have been the kind of high-style, high-profile commissions normally reserved for seasoned blue-chip practitioners. An invitation from decorator Jamie Drake to conceive a room for the celebrated Kips Bay Decorator Show House arrived just five years after Torrey established his studio (he made a splash with his sexy, rooftop "After-Party" room), and last year, he debuted his first product line, a collection of striking Art Deco–inspired rugs for Stark.
Interior design "was a business that was right in front of me," Torrey says, explaining his change of field. As a high-end real estate broker, he had staged some of the homes he marketed and recalls "dreaming about what I could do if I was designing these projects" start to finish. One of the most important things he learned from his previous profession — besides how to work with attorneys and financial advisers and manage budgets and clients — was how personal a home is for its owners. That realization helps him keep his ego out of his design projects.
Developing stylish concepts for luxurious contemporary living comes naturally to the Kansas-born Torrey, who credits the creative atmosphere of his parents' landscape and nursery business with sparking his passion for design. Today, he crafts residences with a clean, cool allure. Call it minimalism with a twist. He routinely pairs sculptural furniture with delicate finishes, he says, covering a "muscular" sofa in cashmere, for example, or "mixing wood and silk, stone and metal." But in his ego-free process, such signatures never dictate the design or eclipse the homeowners' preferences: "It's never my way or the highway," he insists. "Projects with really uninvolved clients are the least interesting to me. I want to help them create a home in which they raise their children, make memories and love each and every item."
Torrey has just put the finishing touches on the gut renovation of a London residence and a new-build vacation home in Baja California's Cabo San Lucas, and he's currently conceiving interiors for a Montana retreat, two Los Angeles properties, a home in Denver and a New York apartment. "I travel constantly, and none of it is for vacation," he says without complaint.
One recent commission close to home was the down-to-the-studs transformation of a two-bedroom apartment on Crosby Street in Manhattan's Soho neighborhood into a grand one-bedroom lair for a client who works in fashion. Her sole request was that it be totally dog-proof. To accomplish that without sacrificing style, Torrey paved the floors in ceramic tiles that look just like wood planks and upholstered the curvaceous, inviting furniture he chose — including a sensuous Milo Baughman chaise purchased through 1stdibs from Full Circle Modern — in durable mohair and leather treated to resist stains. In the living room, he accompanied a gleaming floating Paul Evans console (another 1stdibs find, from Oliver Modern) with a burl-wood cocktail table whose already-gnawed look can be touched up if chewed on further by the pets.
He enclosed the bathroom shower in frosted glass so that the space could function as a powder room and the owner "could entertain guests and not have to worry about cleaning up her shower," says Torrey, who also installed a a full bar in the massive dressing area, because "she wanted it to always feel like fun in her closet."
Working on a low-slung mid-20th-century house in Los Angeles's Trousdale Estates, Torrey sought to retain its swank vibe while updating it to suit the style of an über-stylish European couple who enjoy entertaining. "They love pops of bold color and strong lines in the furniture and wanted a contemporary version of a true Trousdale-style home," he explains. The designer sourced choice period-perfect furnishings from 1stdibs, including shapely brass table lamps from 20CDesign in the master bedroom that he paired with a custom-designed headboard upholstered in that 1970s mainstay Ultrasuede. "I started using furniture bought on 1stdibs right away when I launched my business," Torrey says. "It makes it very easy to be an international designer. I can shop the galleries in Paris, Italy and Berlin. It enables me to pull in the best antiques and vintage pieces without actually getting on a plane."
Striking circle-patterned, lacquered-steel screens frame the spacious living area, which holds mid-century Arflex armchairs and a curved Gallotti & Radice sofa covered in a radiant green velvet. The dining room, cast in moody black and red, features Eero Saarinen Tulip chairs surrounding a dynamic pedestal table by Kelly Hoppen. Torrey installed accent lights all over, illuminating everything from the pool and garden to floating shelves and room dividers. He calls the result "Hollywood glamour that feels very sexy at night."
More Interiors by B. Andrew Torrey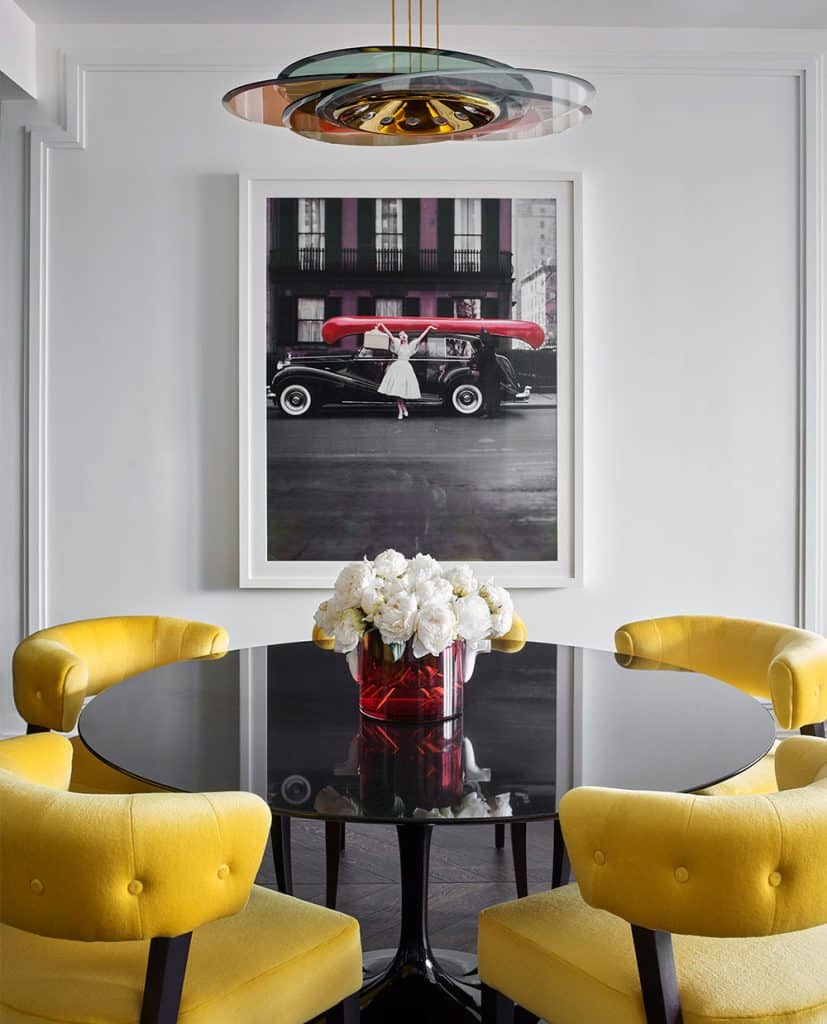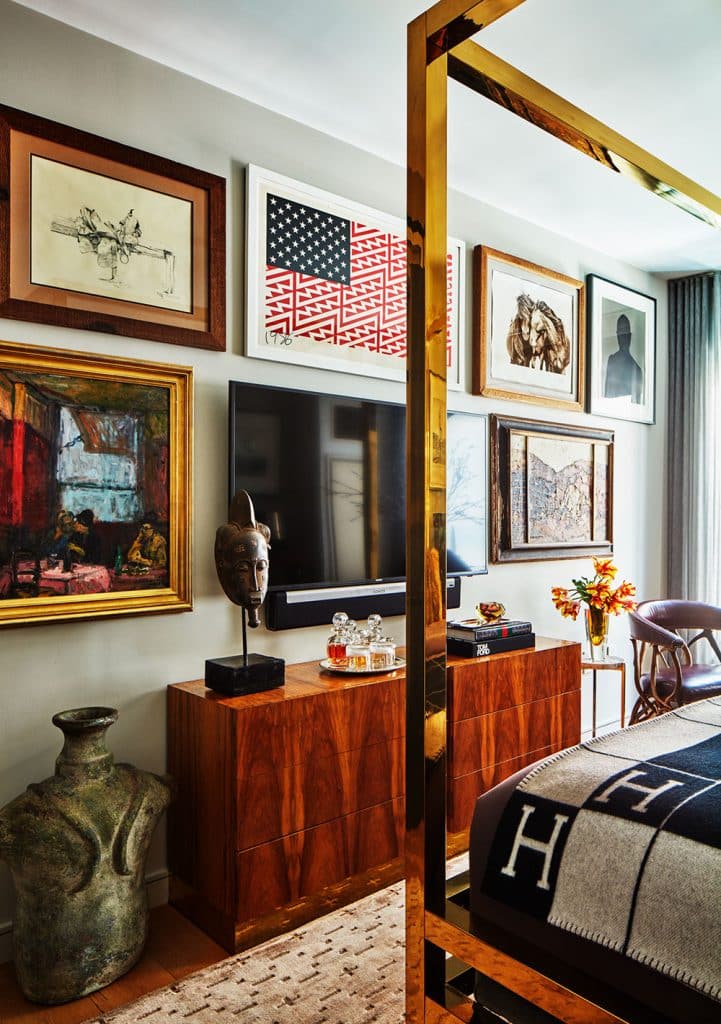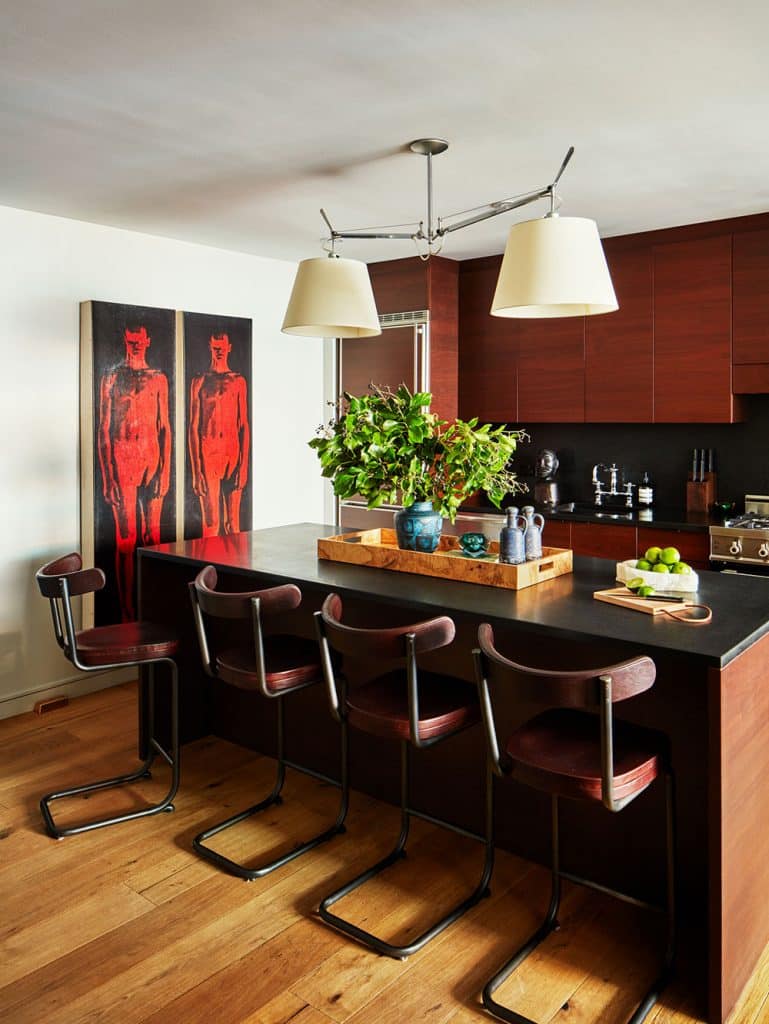 The same couple had Torrey do their Manhattan pied-à-terre in the Art Deco Walker Tower. Here, the challenge was to transform a crisp but plain white box into a welcoming nest fit for world travelers. "It needed to feel like an extremely luxurious, very smart hotel suite," Torrey explains. "Everything is very tactile and warm." For the living room, he designed a plush velvet-covered sofa that he parked beneath a stunning photograph of Kate Moss by Arthur Elgort. The undulating Dakota Jackson Self-Winding cocktail table nearby was another 1stdibs find, from Connors Roth. In the master suite, a shapely custom-made bed, whose headboard embraces nightstands, is swathed in thick, teddy-bear-like mohair, while a vintage Vladimir Kagan sofa — set off by gleaming Milo Baughman étagères — is upholstered in pink velvet. "Everything you sit on is so comfortable you don't want to get out of it," says Torrey. "When the owners get home after a long flight, they feel instantly at home."
Torrey's own residence, a one-bedroom apartment in a clean-lined eight-year-old building in Chelsea, eschews the less-is-more approach he takes with most of his clients. It all but overflows with furnishings and artwork he has collected since his arrival in New York 19 years ago. In the living room, 1960s black-leather swivel chairs by the British firm G-Plan (the model had a memorable cameo in the James Bond movie You Only Live Twice) face a salon-style wall of mixed-media pieces, including works by Pablo Picasso, Tom Wesselmann and Bruce Weber. His bedroom is kitted out with a Baughman nightstand and dresser from High Style Deco. A pair of charming paintings of prized quarter horses, heirlooms from his grandparents' Kansas ranch, brighten a hallway. The kitchen barely looks like a kitchen — it's more like a bar, and that's exactly how he uses it when entertaining friends. "Very rarely do I cook. This is New York City, I order in," Torrey says with a laugh.
"I was nervous about taking on something I loved so much and turning it into a career," he muses about his decision to go all in with interior design. The talented Mr. Torrey has nothing to worry about, however. It may have taken him a few years and extra steps to discover his destined career, but far from dulling his passion, creating interiors professionally has made design even more of an obsession — in the best way  possible.  "It's created a complete monster in me," he says, laughing. "It trumps everything else in my life."
Andrew Torrey's Quick Picks