Ask someone to name a royal residence, and chances are that he or she will mention BUCKINGHAM PALACE. The London home and office of QUEEN ELIZABETH II, the iconic structure also houses the administrative headquarters of the Royal Household. The palace's State Rooms — filled with dazzling collections of paintings, sculpture, objects and furniture — were first opened to the public (during the summer months, when the Queen is not in residence) in 1993 and have attracted more than 10 million visitors since then.
There have been a number of books on the palace over the years, but the designer ASHLEY HICKS's Buckingham Palace: The Interiors (RIZZOLI), with a foreword by His Royal Highness the Prince of Wales, offers something of an insider's perspective. Hicks's maternal grandfather, Lord Mountbatten, was an uncle of PRINCE PHILIP, the Duke of Edinburgh, and when Hicks was a boy, his family would gather regularly in the palace's Centre Room, from which, on special occasions, the Royal Family emerges onto a balcony to greet the crowds assembled outside. This room is decorated in a fanciful Chinese style that — "you can imagine," Hicks remarks wryly — fascinated HIS FATHER, the renowned designer DAVID HICKS.
Ashley Hicks's book, for which he took the sumptuous photographs, also provides readers with a literally different view of Buckingham Palace's interiors: He was allowed to shoot them using, in most instances, daylight only. Not even visitors to the palace see the spaces this way; as Hicks notes, "It's not easy to get the lights turned off." Their transformation by natural light, he adds, "is extraordinary." Working with a digital single-lens-reflex camera and without an assistant, Hicks documented not only the State Rooms but also those — including the Centre Room — in the palace's east wing, which, although not part of the Royal Family's private quarters, are still not open to visitors.
Peek Inside Buckingham Palace's Private and Unseen Rooms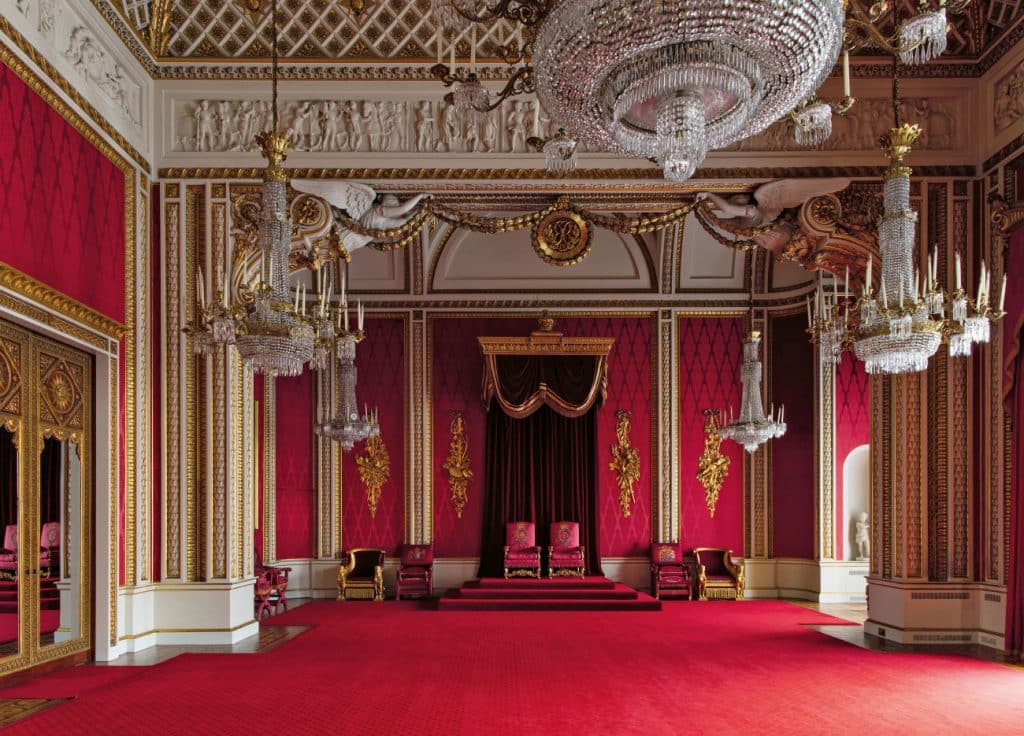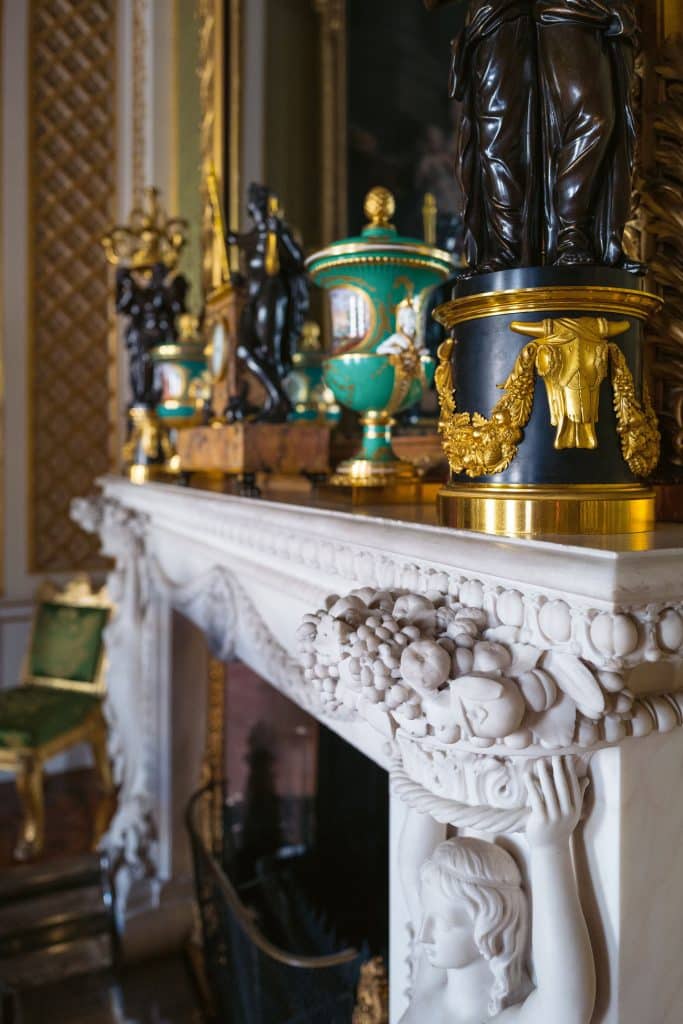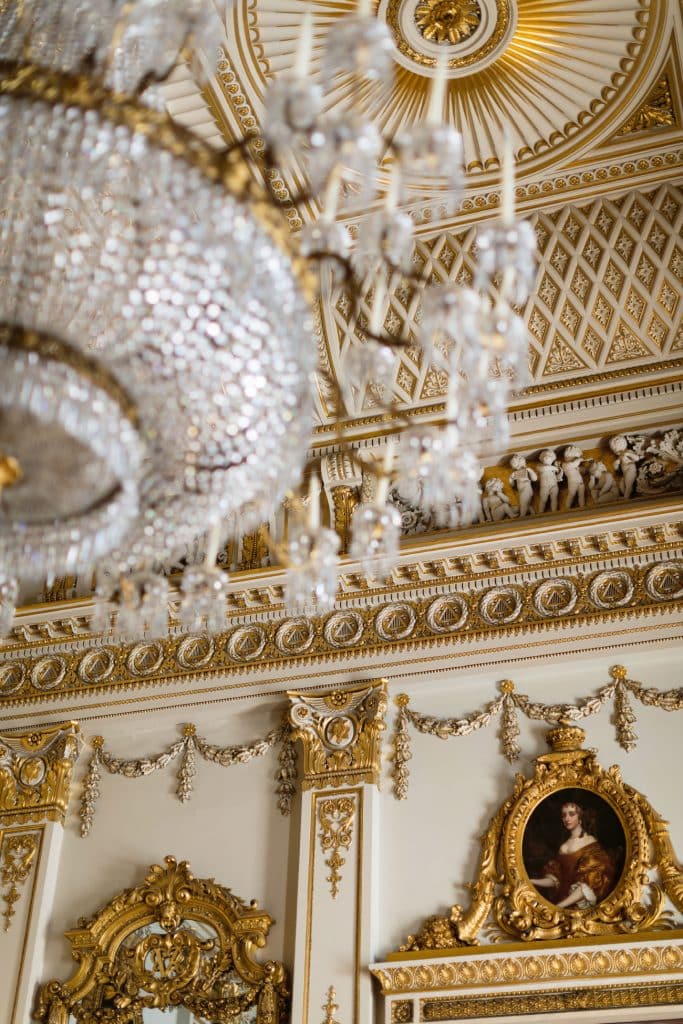 And what rooms they are! From the famed architect John Nash's top-lit Grand Staircase, with its ornate bronze balustrade, to the red-silk-lined Throne Room, which contains Queen Elizabeth II's Chair of Estate from her 1953 Coronation, to the Green Drawing Room, graced by a SÈVRES potpourri vase said to have belonged to Madame de Pompadour and ALLAN RAMSAY's famous coronation portrait of GEORGE III, one hardly knows where to look.
The Picture Gallery is filled with paintings by such artists as Johannes Vermeer, THOMAS LAWRENCE and Thomas Gainsborough. Portraits of Queen Victoria and Prince Albert by FRANZ XAVER WINTERHALTER hang in the Marble Hall, which is also adorned with two marble statues by ANTONIO CANOVA that originally graced Carlton House, the now-demolished London home of King GEORGE IV — known for his sophisticated tastes and free-spending ways — before he ascended the throne, in 1820.
The cast of those who worked on the palace in, successively, Regency, Victorian and Edwardian styles, among others, is lengthy, including such names as ROBERT ADAM, Edward Blore and Aston Webb. It's clear, however,  that Hicks sees George IV and Nash, his architect, as the most important players in its design history. It was this king who turned what had been Buckingham House, completed in 1705 for John Sheffield, 1st Duke of Buckingham and Normanby, into Buckingham Palace, commissioning Nash to give it a major makeover. In spite of subsequent renovations, the architect's handiwork is still visible today in the building's basic outlines and many of its glorious details. (The Music Room, with its Nash-designed SCAGLIOLA columns, painted with a LAPIS LAZULI finish, and suite of 18th-century Jacob furniture, is one of Hicks's favorites.) It was also George IV who, as Prince of Wales and later Prince Regent, was responsible for the many artworks and furnishings that came to the palace from Carlton House, and for the fanciful chinoiserie decor that came from the Brighton Pavilion, which he, with Nash's help, had turned into a fantasyland. The king was constantly redecorating. "He had an eye for talented people and had everyone out buying things for him — even his pastry chef," Hicks explains, adding, "What is really extraordinary is that the last time anyone was really spending and acquiring was George IV." (He died in 1830, before the renovations were completed; the first monarch to move into the palace was Queen Victoria, in 1837.)
These treasures were subsequently repurposed at Buckingham Palace — Prince Albert, for instance, insisted on using them in the East Wing, which was added by Queen Victoria — more as a matter of economy than aesthetics. Hicks says that it was Queen Mary (Victoria's grand-daughter-in law) who eventually "rethought things" more significantly, in the 1910s and '20s, and made some of the rooms — like the Centre Room and the Yellow Drawing Room — "much more Chinese." This was not a complete break with what preceded, he notes, pointing out that the Chinese Dining Room, with its painted dragon on the ceiling and a marble one adorning the fireplace, has hardly changed since 1849, when it was designed as Queen Victoria's Pavilion Breakfast Room.
Hicks — who, in addition to DESIGNING INTERIORS, FURNITURE, FABRICS AND HARDWARE, creates colorful totems made of clay and cast resin that are sold through R & Company— is currently assembling a book for Rizzoli on his own work. Will he also some day produce another volume on a Royal Family residence? That remains to be seen, he says, but "I do love taking photographs."
Or Support Your Local Bookstore
---
Ashley Hicks's Quick Picks on 1stdibs