It took Bunny Williams less than a minute to find the right location for a front door for my 19th-century house, which had two, both in wrong places. That's just one of the reasons I feel so lucky to have met her years ago. We live near each other in northwestern Connecticut and were introduced by a mutual friend, who told me that Bunny worked for Sister Parish. Having only recently moved from England to America and being unfamiliar with the local design aristocracy, I was puzzled to hear that Bunny's boss was a nun.
In the ensuing years, Bunny has not only been a wonderful caring friend but has also taught me a lot about the how-to of gracious living and the pleasures it can bring.  She knows how to shop successfully in Vietnam for hand-embroidered sheets and in India for sublime linen tablecloths, despite sharing fewer than five common words with the shopkeepers. She knows how to apply at home the lessons she learns on her travels: A tour we took of Jacques Wirtz's gardens in Belgium inspired a stunning wall of undulating green in her own. And she knows how to make things happen, both in her interior design practice (31 years old and humming along) and through her endless philanthropic efforts for the likes of the Kips Bay Boys & Girls Club of New York and Women's Support Services, in Sharon, Connecticut, which helps victims of domestic violence and their children. For the latter, Bunny has spearheaded Trade Secrets, which began 19 years ago as a modest charity sale of left-over plants interspersed with a few garden antiques and has grown into a huge annual event that has raised much-needed millions. (This year's edition takes place next Saturday, May 18, and both the cause and the offerings are well worth the journey to Litchfield County.)
Step inside 15 of Bunny Williams's Storied, Sumptuous Homes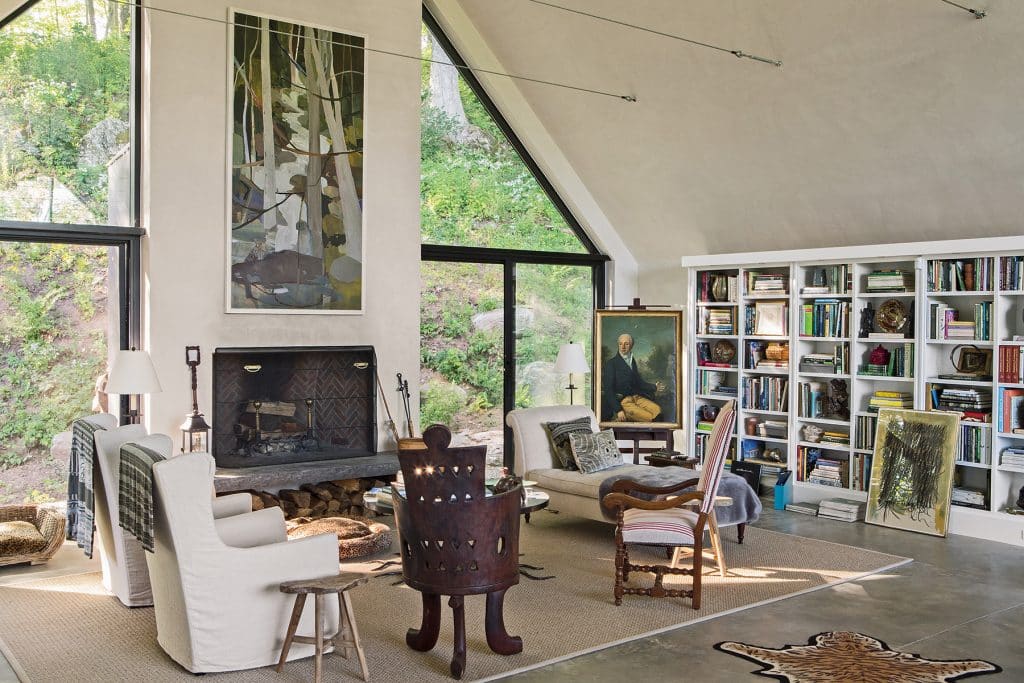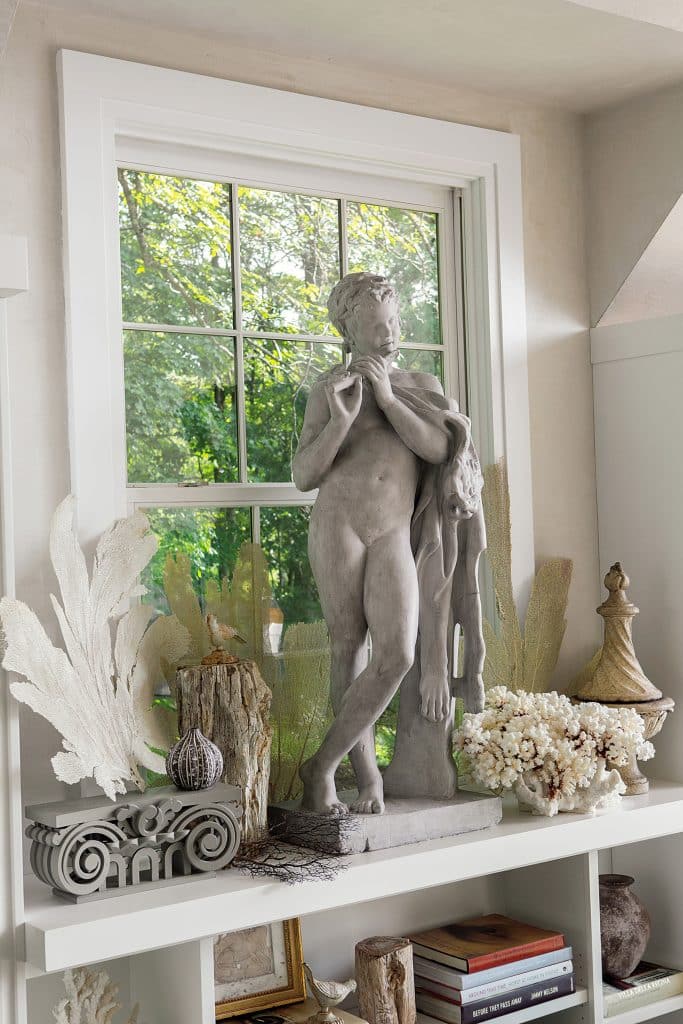 Bunny loves to entertain friends, and no one does it better. Dinner with her and her husband, antiques dealer John Rosselli, in their stunning plant-filled conservatory in Connecticut, is one of life's special pleasures. Bunny profiled that home in her 2005 book, An Affair with a House. Now comes Love Affairs with Houses (Abrams), in which she invites readers inside 15 of her recent design projects, described and photographed in great detail. All evince Bunny's remarkable eye and each has a story of its own.
Not surprisingly, no clients' names are revealed, but the homeowners nonetheless come alive through Bunny's first-person account of the design process: from getting to know the client, through working in tandem with the architect, to hunting for the right antique ("Hold out for the perfect piece instead of compromising," Bunny advises), to dealing with the inevitable challenges, to the satisfying sigh of relief that comes with every final installation.
A few of my favorite anecdotes among an entertaining assortment: When renovating a house in Florida, Bunny advocated for constructing a wall to prevent the front door from opening directly into the living room. Her client disagreed. Vindication arrived by way of a phone call four months after the house was finished during which the client pleaded, "Come down and put up that damned wall." Another client wanted her living room walls to be the same blue as the drawing room in the 2005 film version of Pride and Prejudice, and Bunny made sure she got an exact match by watching the movie again and again — and again.
Bunny's clients all live well, but they do not all live the same way. So, her rooms and furnishings are tailored to different lifestyles. For a couple who think nothing of having 40 guests to dinner, Bunny created a layout that lends itself to large-scale entertaining, with two kitchens and a huge columned entrance gallery. A book-loving client got a library with three bays. A recently married client whose 19th-century New York townhouse Bunny had renovated some years ago called on her again to incorporate the new husband's collection of art and objects into the home and make it one that worked for both of them.
Most of the projects in the book are on a grand scale, be they Hickory Hill (the former Virginia home of Robert Kennedy and his sprawling family) or a stone farmhouse in Provence built in the 18th and 19th centuries. But Bunny's design criteria translate to humbler settings, too. Even in a more modest space, she likes big furniture. She writes: "I'd rather have pieces that are oversized than too small because the scale of the furniture helps to enhance the room's scale." She likes mixing things: "Concentrate on how items play together rather than worrying about whether they match." Seating is comfortable, lighting subtle, and drama frequently comes from large mirrors. Floors are painted, tiled or covered with carpets that range from antique Oushaks to Chinese rugs, Moroccan runners, bold contemporaries and wall-to-wall sisal. Books are revered, adequate storage space is a must, and sumptuous bedrooms are her forte. Bunny frequently uses four-poster beds ("They make a room look taller"), and she likes them piled high with pillows and covered with the most delectable blankets and exquisitely embroidered coverlets. Duvets are not part of her design vocabulary.
There are plenty of surprises: A sleek and modern red-lacquer kitchen gives nice kick to a New York pied-à-terre; a bed that drops down from a bookcase ingeniously solves the problem of a tiny guest room; 18th-century landscape paintings are digitally transformed into giant photomurals covering the walls of a country-house dining room.
The final chapter of the book focuses on the conversion of a wooden house that had recently come on the market next door to Bunny and John's own Connecticut house. It had no architectural distinction, but it did possess an expansive view of the surrounding hills. Bunny saw the house's possibilities and, having always wanted her own studio in which to draw, think and work out new commissions or new designs for her furniture line, bought it. She then sprang into action, removing an ugly front deck and taking down all the interior walls to create one huge room with a solid glass wall facing the view and floor-to-ceiling windows framing a fireplace on the opposite side. She laid a floor of polished concrete, installed a bookcase along one entire wall to serve as a backdrop for a huge library table and created the most inviting seating area imaginable in front of a raised stone hearth, which makes space for log storage underneath. The furniture is a mixture of contemporary and antique pieces, complemented by a chaise from her own furniture collection and an Ethiopian throne chair. This transformation is a marvelous exemplar of her style. Her friend and colleague Robert Couturier recently told me: "I love Bunny, and I have always found that her sense of comfort is superior. She always thinks about practical, elegant ways to make one's life more pleasant. If I had to hire a decorator for myself, I would most definitely hire her." Me too!
Bunny Williams's Quick Picks on 1stdibs
or support your local bookstore