When photographer Firooz Zahedi and art collector Beth Rudin DeWoody married in 2012, the newlyweds went house shopping. Zahedi, born in Iran and raised in London, has lived in Los Angeles since 1978, and that city became the couple's center of gravity. (Scion of a New York real estate family, DeWoody also has homes in Manhattan and West Palm Beach.) They ended up buying three units in a 1958 apartment building in West L.A. by the Viennese émigré architect Victor Gruen, creating a vertical compound. The largest unit is the couple's residence, filled with a selection of DeWoody's 10,000-or-so artworks. A second is what they call the "guesthouse." The third is Zahedi's office and, he says, "man cave," done in grays and greens and outfitted with furniture from his collections. Most of the pieces are 20th century. "I don't feel antiques really represent me," Zahedi says. "I like things that relate to eras I grew up in."
In all three apartments, the couple created such spectacular mixes of old and new, high and low that, as writer Jennifer Ash Rudick points out in the recent book City of Angels: Houses and Gardens of Los Angeles (Vendome), they make traditional ideas of elegance "seem almost trite by comparison." Indeed, the 18 pages devoted to the pair's estate-in-the-sky constitute one of the highlights of that volume, which was photographed entirely by Zahedi.
Widely known for portraiture and fine art photography, he had never done a volume of interiors, and, he says, "had no plans to." Then, Mark Magowan, the savvy president of Vendome Press, approached him about shooting Los Angeles homes. It was a brilliant move. Zahedi and DeWoody know everyone who's anyone in the city. Together with Magowan and his wife, Nina, and Rudick, they began making a list of Angelenos who are passionate about living with art. All the photos in the book are new, taken by Zahedi in the summer of 2017. Amazingly, he also styled the houses himself. When getting a room ready to shoot, he says, "I don't want to take away its essence. But I do want it to look its best. It's like putting on a little makeup." He moved things around but rarely took anything away, tolerating, he says, lots of tchotchkes (a word not often heard in as posh a British accent as his). Things other photographers might find distracting blend right in when Zahedi is shooting. Somehow, he makes overstuffed rooms seem perfectly composed.
Several of L.A.'s best-known designers opened their doors to Zahedi — among them, Kelly Wearstler, whose beach house features an enormous nautilus sculpture, and Michael S. Smith, whose house is a veritable museum. But many of the interiors pictured were created without professional help. Zahedi particularly admires the Santa Monica bungalow of artist Don Bachardy, who "put it all together himself, with funky old furniture. You can sit comfortably in a sofa and have a drink and not think twice about who designed it," Zahedi explains, adding, "If I couldn't live in my own apartment, I would want to live in his place."
Zahedi included some superb examples of mid-century modern architecture. John Lautner is represented by his 1962 Garcia House. Also known as the Rainbow House because of its gently curved roof, it was renovated by the architecture firm Marmol Radziner, known for its sensitive handling of landmark buildings. Interior designer Darren Brown helped the current owners find appropriate mid-century furniture, including a swoopy Vladimir Kagan sofa and a Paul Evans coffee table. Contemporary photographs by Cindy Sherman and Gregory Crewdson hang alongside a 1972 Julius Shulman shot of the house.
Richard Neutra's work is exemplified by a small house in Silver Lake owned by designer David Netto and a Santa Monica beach house with an addition by architect Steven Ehrlich. Also in the book is a plywood and glass house in Laurel Canyon that Neutra's fellow Austrian-American Rudolf Schindler designed and architect Pamela Shamshiri renewed for herself and her family, adding such contemporary features as a tall cedar soaking tub.
Firooz Zahedi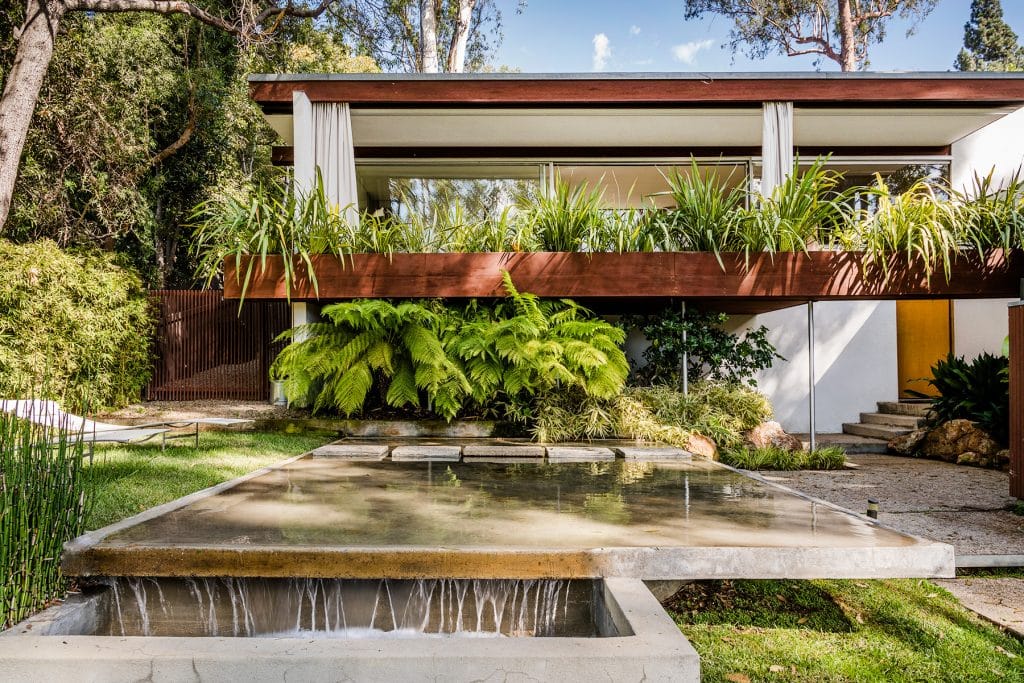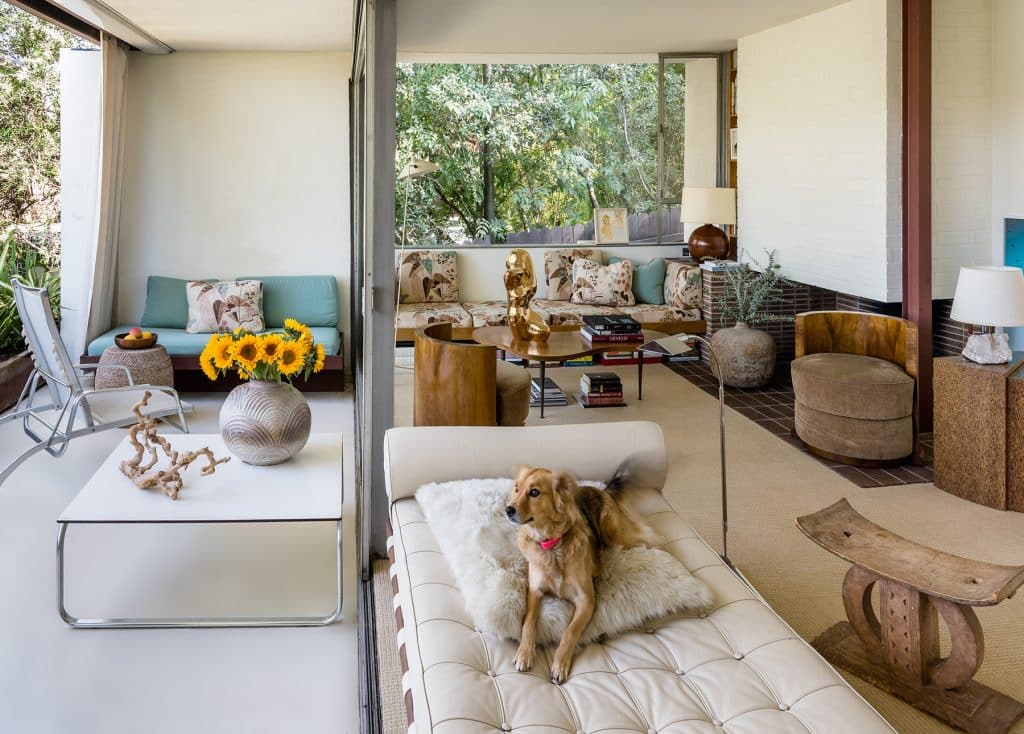 Several lesser-known — but significant — mid-century architects also made Zahedi's cut. Among these is Buff, Straub & Hensman (which once employed Frank Gehry), whose 1957 post-and-beam house is owned by Ann Philbin, director of the Hammer Museum and surfer/executive Cynthia Wornham. Restored by Chu + Gooding Architects, it showcases the couple's art collection, including works by Kara Walker, Mark Grotjahn and Robert Gober.
Then there's the house by architect Edward H. Fickett (known for thousands of Southern California pre-fabs) that Maroon 5 bassist Mickey Madden bought, calling on designer Mark Haddawy to help whip it into shape. Haddawy brought in chairs by such names as George Nakashima, Arne Norell and Vico Magistretti, while setting a moody stage with lush velvet curtains and royal blue sofas.
Not all the architecture Zahedi captured is modern; he included the English Tudor home of design impresario Joel Chen and the Paul Revere Williams–designed Georgian mansion of mogul Steve Tisch. But it's the modernist houses that really distinguish this eye-opening book — not because they're filled with "the right" furniture but precisely because they're not. Their owners know that it's okay to have fun decorating and to fill a house with interesting items from a variety of periods and places. Like Zahedi, they live with clutter. But, as he says of one of the houses, "it's very well-done clutter."
Shop Los Angeles Dealers on 1stdibs
---
or support your local bookstore