February 5, 2023Growing up on a farm outside Nashville, Tennessee, "I was always drawing floor plans of castles," Darren Jett remembers. "And I started subscribing to Architectural Digest when I was eight." He was close to his grandmother, who was "constantly redecorating her place. She and the other very strong females in my family saw some potential and took me under their wings. I was very lucky." 
When he left home, it was to study architecture at the University of Tennessee. He moved to New York the day after he graduated. But his first job, at a large architecture firm, was boring. Plus, he says, "the people who were getting the most recognition weren't the architects but the ones putting the finishing touches on the rooms."
So, he switched to interior design, working first for Rafael de Cárdenas and then for Will Cooper at Ash NYC, a firm best known for its hotels and restaurants. But Jett, 33, preferred to work on private homes, which is why he decided to "take a leap" and open Soho-based Jett Projects. His interiors tend to be offbeat; he is more interested in exploring connections among colors, textures, cultures and time periods than in being trendy. In fact, he says, the most important thing when designing a home is "not to be looking left or right."
His first clients were a young male couple about to start living together — in a portion of a Brooklyn house that one of them grew up in. Jett's role was to make it a place both of them felt at home in. He began by fine-tuning the layout. "We moved walls, we reoriented the kitchen, we made the bathroom bigger, we repositioned doorways," Jett says. "But we kept the two main rooms — the living room and the bedroom — intact because the old wooden moldings were so beautiful, and we didn't want to lose that," He explains that, even when a project mostly involves decoration, "my architecture background contributes a lot to how I operate."
So does his interest in film. "The color in the entry," Jett says, "ties into the color in the living room, which ties into the color in the bathroom — moving through the spaces becomes very cinematic. It's not a feature-length movie. It may be a short, but it still has a beginning, a middle and an end."
In other words, the entry sets the tone with its blue-green color scheme, as well as with hints of biomorphism in a Memphis chair and a bit of Chinoiserie. "It's a small space," he says, "but it's a really good summation of the house."
The key pieces of furniture in the home — the dining table, the sofa, the bed — were designed by Jett. The rest are vintage or antique. "I think people are feeling visual fatigue from seeing the same things everywhere," he says, noting the way to avoid that is to use pieces that can't be bought new anywhere.
One thing you won't see everywhere is his strikingly photogenic, "very biomorphic" sofa. He balanced it, chronologically, with a circa 1970 Tommaso Barbi sconce, which he surrounded with pink silk moiré curtains with sea-foam edging. As in the foyer, there's a bit of Chinoiserie, this time in the form of a vintage Chinese Deco rug. Other focal points are the 1940s mirror above the fireplace and what Jett calls the pretzel chair (a piece he hasn't been able to identify).
The dining table has a wooden base and a blue marble top, designed so that each person has a niche to pull up to. ("We templated it a hundred times," says Jett.) The 1970s French swivel chairs are covered in maharam wool in a color Jett refers to as cayenne. The temporal relationships were as important as the color combinations. "We wanted to keep going back in time. So, after the new table and nineteen-seventies chairs, there's a nineteen-thirties Italian Art Deco bar cabinet with inlaid wood flamingoes by Luigi Scremin. "It's my favorite piece," says the designer.
A renovated kitchen features black granite counters and backsplashes of satin-etched mirror. As you walk by, he notes, you see bits of reflections in a way that's very cinematic.
Jett covered all four sides of the couple's bedroom in gray velvet drapes trimmed in a citron mohair that matches the coverlet and the pillow on the bed. That pillow is covered in a Raf Simons fur similar to one used on the living room sofa. He and the clients, all fashion junkies, watched old runway shows for inspiration.
The night tables are plain black marble cylinders. To preserve as much of their surface area as possible, Jett put brass floor lamps behind them. The fact that these are by Barbi creates a subtle connection between the bedroom and the living room. Behind one of the curtains is the door to the bathroom. Jett covered that room's walls with penny tiles, knowing small tiles would make the room feel bigger. He balanced the room's newness with a Barbi-era sconce.
The two young men must have liked Jett's interventions. He is currently renovating their new abode, on the top three floors of the same townhouse, as well as their recently acquired weekend house in Massachusetts. And they introduced him to a friend named Ruth, a septuagenarian with a townhouse in the same Brooklyn neighborhood. Initially, she needed him to recover a chair. "But we fell in love," Jett says, "and soon we were doing her whole bedroom. She was down to make a change."
That change meant emptying out the room, then returning some items in slightly different form. "We reframed things, we reupholstered things — everything was sliced and diced."
Big moves included replacing the old hardwood floor with a new one covered by an almost-wall-to-wall Stark carpet. Luckily, there were great architectural details, including an original mantelpiece of inlaid marble. (The photos on the mantel show Ruth and her mother as young women.) Overhead, Jett used contrasting paint colors to accentuate fretwork and molding. The walls had been navy blue with stark white trim. "It felt too harsh for her," he says. Now, they're a color the Tennessee-born designer calls praline.
Smaller interventions included softening Ruth's headboard by reducing its size and covering it in velvet. Jett added the sconces, which are by the designer Willy Daro, who worked in Brussels in the 1960s, '70s and '80s. He found them on 1stDibs, along with the Biedermeier bedside table, the biomorphic chaise and the étagère — not coincidentally, the pieces that have the biggest impact on the room.
Not far from Ruth's house, a young couple bought an apartment in a high-rise with arched windows. They were hoping Jett would be inspired by the architecture, and he was. In fact, the windows practically dictated the design of the living room, which includes his bulbous custom sofa, gum-drop pillows, a Pierre Paulin Pumpkin chair, a round rug, a teardrop-shaped coffee table and an oversize Etruscan terracotta urn. True, not everything is curved — the parchment screen is a nod to rectilinearity. Jett had the living area painted a lambskin color, the same shade as the ripple-fold curtains. "The idea was to give it warmth," he explains. In the dining area, a swoopy fixture by Volker Haug flies over a marble-topped, conical-legged table designed by Jett in a style he credits to Angelo Mangiarotti.
The wife's reading room is her sanctuary; Jett made it very feminine. Soft pink walls are offset by an ivory bamboo daybed with gauzy cotton slung over its rails. The shearling Maiden Home chair offers another opportunity for relaxation.
The primary bedroom is a bit more reserved, combining a couple of cool mid-century pieces, like brass sconces and an unusual wicker chair, with family heirlooms. And in a supercool powder room, a pair of anonymous sconces brackets an "egg yolk" Fontana Arte mirror.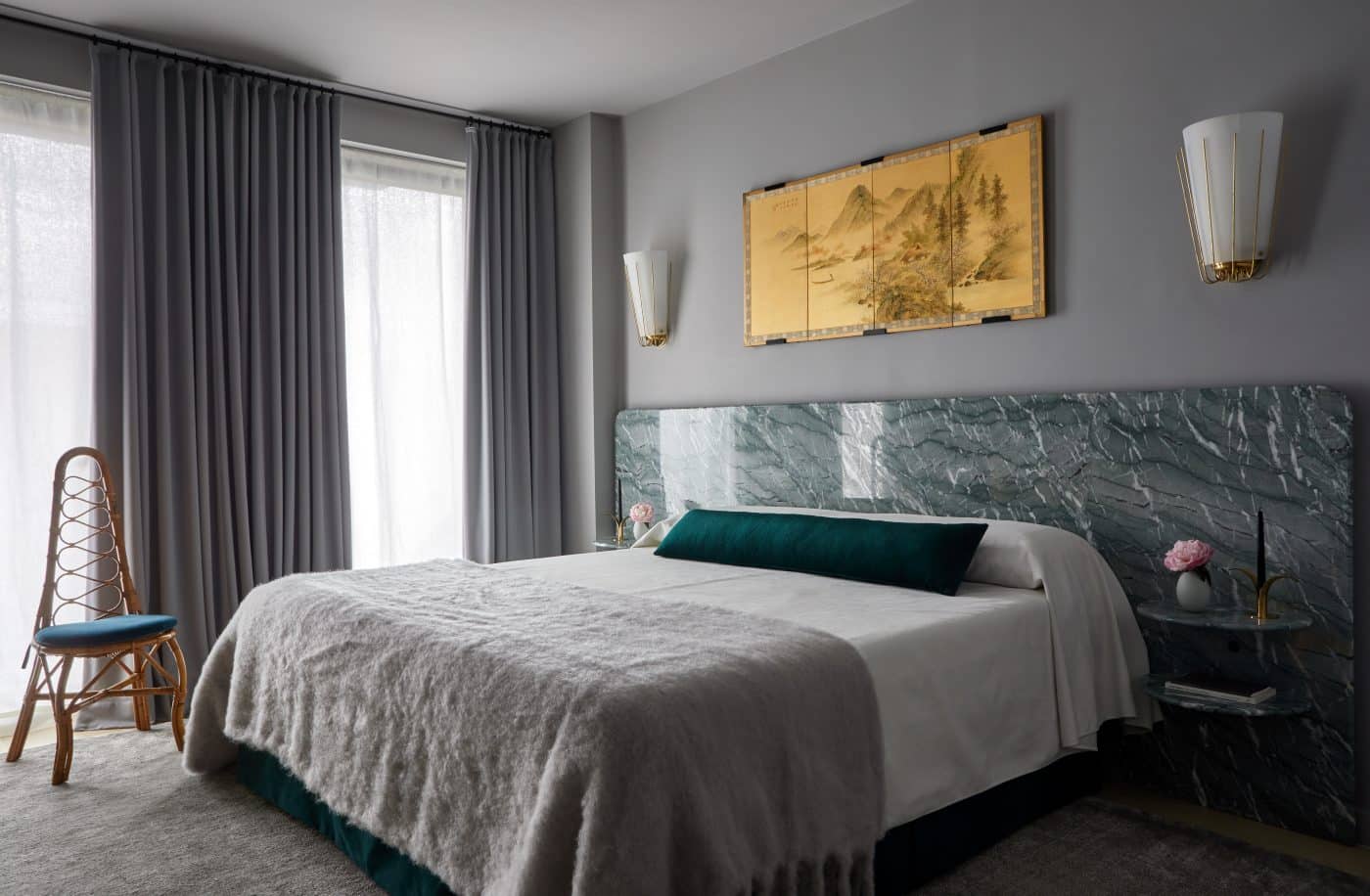 Right now, Jett is wrapping up a few small projects in New York, including a retro bachelor pad with carpeted walls and mirrored ceilings. Then there's the Park Slope couple's two residences, a couple of large houses in Los Angeles and a Tudor-style mansion in Ohio in which every single wall is going to be muraled. What Jett's projects have in common is that they're all immersive environments. Interiors, he says, "should transport people, which only happens if you and the client have a vision and commit to it."
When things go well with a client, he adds, "it's a symbiotic relationship. I like clients who are open to my pushing them, but I also want to be pushed." [End]