June 14, 2020When he died two years ago, at age 85, Wendell Castle was widely acclaimed as a giant in the world of design. "He was the grandfather of this movement of furniture as art," says Evan Snyderman, the cofounder of R & Company, a New York gallery that has exhibited Castle's work for more than 15 years. "He took something that was thought of as a craft and turned it into something larger and more longstanding."
Castle was a restless innovator and a master craftsman. Working with a chainsaw and standard woodworking tools, and later with robotics, he pushed sculpting solid, stack-laminated wood in new directions. The vivid-hued plastic and wood furniture pieces he produced when probing the aesthetics of Pop in the late 1960s and early '70s are today among the most iconic and sought-after examples of 20th-century design. "Whatever progress there is in art," he once remarked, "comes not from adaptation, but through daring."
It was in 2000, when Snyderman was doing research for the gallery's first exhibition of Castle's work, that he chanced upon an old scrapbook in a storage locker in the designer's cluttered studio in Scottsville, New York. Some 20 years before, Castle's wife, the ceramist Nancy Jurs, had lovingly assembled the large album as a Christmas present, filling it with press clippings, photographs, invitations and letters of commendation chronicling Castle's career up until then.
"The book was a kind of time capsule," says Snyderman. Reading the articles about the designer and his edgy creations, his colleagues and the close-knit creative community around the Rochester Institute of Technology, where he taught, gave the dealer an entirely new perspective on Castle's development as a trailblazer.
"The way the work is discussed and presented in these clippings, the details from the period, like the ads adjoining an article, provided an insight that you couldn't get any other way," says Snyderman. "It was nuanced information, and I found myself returning to it again and again."
Which is why R & Company, also known for its distinguished production of exhibition catalogues and design monographs, is releasing in conjunction with the publisher Damiani, Wendell Castle Scrapbook: 1958–1980, an exact facsimile of the album. This highly personal artifact — the foreword and annotations are by Castle's daughter, Alison — documents his development as a singular creative force and reveals, in numerous clippings, just how confounding his work often was to the press, especially in the early years of his career.
One newspaper column about a 1960 one-man Castle show in Kansas City, Missouri, limited its commentary to noting how many pieces of wood were used by the designer to make a walnut stool and how many pounds of oak were required to carve one of his sculptures; another article, reporting on a two-man show in Rochester, New York, neatly summed up Castle's sculptures as "writhing forms."
In his introduction, Snyderman observes that "scrapbooking is perhaps a lost art form in this age of digital files, social media, and Pinterest." So, it's interesting that over the past decade, a number of publishers have issued books featuring excerpts from the scrapbooks of legendary tastemakers like the celebrity photographer, costume and set designer Cecil Beaton and the enterprising decorators David Hicks and Charlotte Moss. Cecil Beaton: The Art of the Scrapbook (Assouline), was the first of this group to be released — in 2010, the very year that Pinterest launched and Instagram was founded.
Looked at in the context of that moment, when the rush of digital images suddenly became vertiginous, Beaton's undated albums — which he kept throughout his life (1904–80), working on several at a time, almost as if they were jigsaw puzzles — can seem almost quaint.
They were, for this British-born talent, akin to sketchbooks, which he used to study compositions (ancient statuary and Renaissance paintings), record inspirations (dancers in stagey costumes and poses, indigenous peoples in colorful "native" attire) and document events and individuals of personal significance (a magazine clipping showing Hitler and Mussolini shaking hands, a snapshot of a laughing Greta Garbo, then reputedly his lover, reclining on his sofa).
With his penetrating eye, Beaton was always in search of intriguing affinities. One spread features the gaunt visages of Isak Dinesen and Virginia Woolf; another juxtaposes a preening heavy weight champ with a vamping Mae West.
Immersed as we are in an image-laden world, we forget that this is a relatively new human experience — one that Beaton helped create. He grew up in an early 20th-century culture where images were rare, formal, and black and white. So, he was always training his eye to be more discerning, especially to perceive beauty in its less expected guises, and experimenting with strategies to convey his unique vision. Through his self-education, Beaton ultimately instructed us all.
For much of the postwar period, there was no tastemaker with greater influence or global reach than British decorator David Hicks. His commanding use of bold color, flashy geometric prints and eclectic mixes of antique and modern furnishings earned him royal and wealthy clients in every corner of the world and lucrative licensing deals.
Hicks's personal life was as heady as his design career, rising as he did from respectable but impecunious circumstances to marry the stunning, wealthy aristocratic Lady Pamela Mountbatten and live a life of near-regal enjoyments. He painstakingly documented his dazzling and extraordinary adventures in a series of 25 scrapbooks, each furnished with a bookbinder's scarlet leather label stamped with "David Hicks" and the date in gilt lettering.
In his introduction to 2017's David Hicks Scrapbooks (Vendome) — a distillation of these volumes — David's son, the noted designer Ashley Hicks, recounts that when the elder Hicks was home at Britwell, the family estate, he would sit Ashley down in his library with the latest scrapbook edition so that he could catch up on his father's doings. Shortly before he died, Hicks moved his cherished tomes from the library to his garden room, fearful that they might be set ablaze by a spark from the open fireplace. "They were his legacy and monument," writes his son, who edited them into this delectable volume so that they might be savored by all.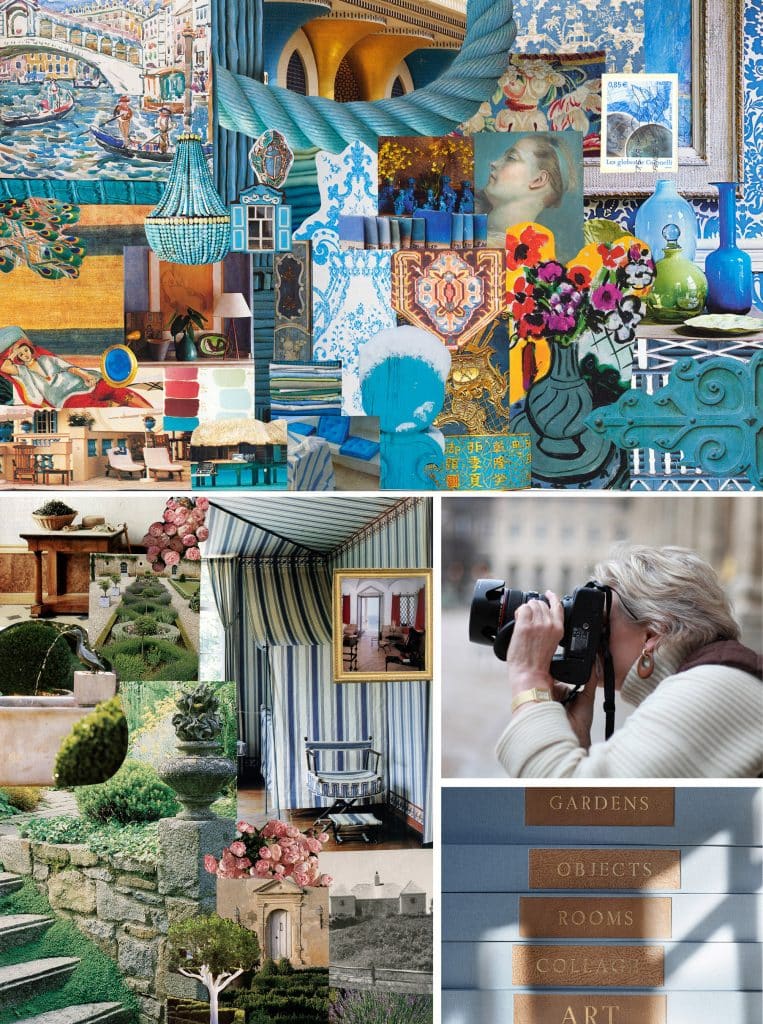 In 2012's Charlotte Moss: A Visual Life, Scrapbooks, Collages, and Inspirations (Rizzoli), the acclaimed Virginia-born, New York–based decorator calls the process of clipping, arranging and gluing a way of "curating inspiration." Her book is both a how-to and a paean to the pursuit's creative and personal rewards. There are scrapbook snippets and essays celebrating this aesthetically edifying pastime by a host of style arbiters from the realms of design, editorial and society — Deeda Blair, Pamela Fiori, Alexa Hampton, Deborah Needleman and Candy Pratts Price — all Moss intimates, along with excerpts from the albums of such legendary tastemakers as Elsie de Wolfe, Jackie Kennedy Onassis and Gloria Vanderbilt. You might call it a primer on the art of living well.
Leafing through its pages, packed with vignettes of incredibly grand yet somehow cozy homes, gorgeously laid tabletops, leather-bound recipe books, charming floral arrangements and lush gardens and boxwood galore — the kinds of delectable images doled out monthly by shelter and lifestyle magazines — you grasp how a generation raised on this visual diet might well grow into the style-setting bloggers and influencers of today!
---