October 29, 2023In a classic Southern California bungalow reconfigured as their workspace, the principals and founders of the design studio Electric Bowery — architects Lucia Bartholomew and Cayley Lambur — sit in red wire chairs from Bend Goods and examine a sprawling wall pinned with inspirational images for an upcoming residential project. Curated with the firm's design director, Daniella Gohari, and its director of interiors, Stephanie Luk, this mood board displays organic architecture, rustic pine-paneled cabins, Viennese carpentry, postwar French and Scandinavian furniture and antique Windsor chairs.
Scattered among the images are neatly written aesthetic descriptions, including "cottage-core," "tempered maximalism" and "surrealist absurdism," as well as shout-outs to designers Guillerme et Chambron and Axel Einar Hjorth, the TV series Twin Peaks and actor Nicolas Cage.
"This is our image-and-word workshop," Bartholomew explains. "It's a process that gives us a fresh take on design history and contemporary references to develop concept-driven narratives." Adds Luk, who focuses on furniture and decor, "We are always looking for something out of the box to create something new."
Since its launch, in 2013, Electric Bowery — named for early projects on Electric Avenue in Venice, California, and the Bowery in Manhattan — has morphed from a two-person architecture practice to a full-service bicoastal home-design and interior-decoration studio with 15 employees serving residential and hospitality clients.
Seasoned travelers may have already encountered Electric Bowery's site-specific organic modern sensibility. The firm has colorfully enlivened the once-sleepy Casa Cody, a 1920s Spanish Colonial Revival resort in Palm Springs; fashioned a Luis Barragán–inflected hotel with Moroccan-spiced California interiors for L.A.'s Silver Lake Pool & Inn; and conjured a Big Sur vibe for Wildflower Farms, a year-old Auberge Resorts destination in New York's Hudson Valley.
Electric Bowery's residential portfolio, meanwhile, includes renovations of mid-century and industrial structures, along with a contemporary ski chalet in Deer Valley, Utah, reimagined with nods to Charlotte Perriand and Japanese ryokan inns.
In its work, the studio deploys a certain East Coast sophistication to elevate the moneyed-hippie-chic end of the California casual lifestyle spectrum. It creates interiors that incorporate rich colors and textures, mixing in custom furniture and pieces by local artists and craftsmen, like lighting designers Brendan Ravenhill. and Danny Kaplan, as well as ceramist Victoria Morris.
Also among the team's standbys are the somewhat rustic designs created from natural materials by such mid-century talents as Perriand, whose pine stools and benches are go-tos, as are Franco Albini's wicker pieces and the chairs and sofas of Jorge Zalszupin.
"We're obsessed with Lina Bo Bardi," Bartholomew says, referring to the pioneering mid-century Brazilian woman architect and designer who is another favorite modernist. "And Peggy Guggenheim is our muse."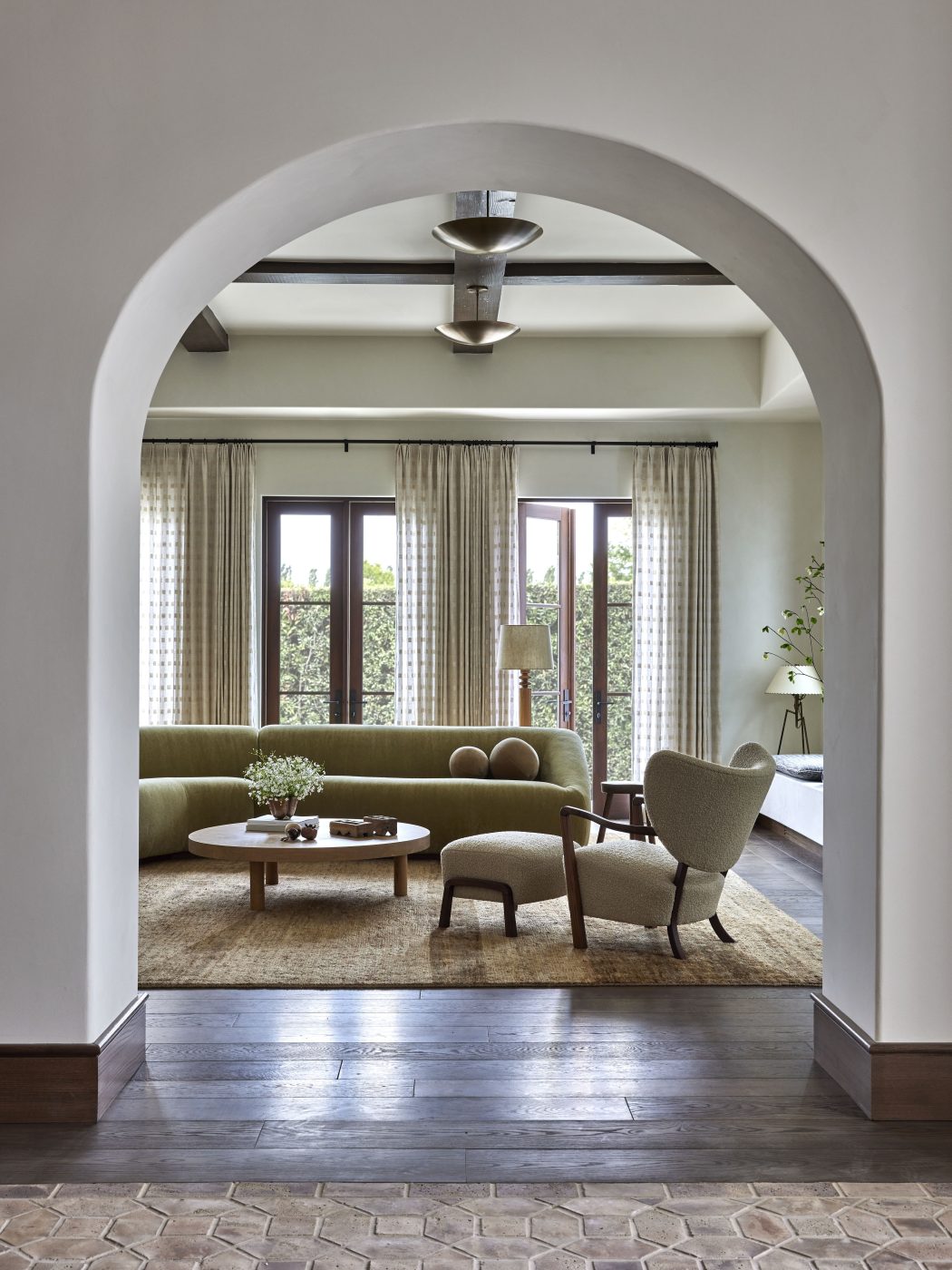 For a recent project in Pacific Palisades — a 20-year-old, overly grand Mediterranean McMansion newly purchased by clients with two small kids and a growing art collection — Dutch designer Axel Vervoordt's elegantly spartan interiors served as a touchstone.
To correct the house's design excesses, Bartholomew explains, "we had to strip things back architecturally to create a calmer, blanker space, to showcase a more unexpected interior within the Spanish Colonial bones."
Out went the marble floor, ornate metalwork and fancy chandelier in the foyer. In went a modernist yet still Spanish–influenced iron banister for the classic winding staircase, which the designers finished with tiled risers and wood treads. Nestled into the curving wall at the base of the steps is a similarly curved bespoke bench, straddling a circle of terracotta tiles inset into the oak floor for a rug-like effect that the designers also deployed in the kitchen and dining room.
Although it maintains its original ceiling beams and boasts generous arched entryways complete with robust baseboards designed by the firm, "the living room now has much more of a Scandinavian influence than Spanish Colonial," Lambur says.
The designers pared down the ornate fireplace to a plastered monolith with a soapstone surround and added a cantilevered bench on either side that extends to both corners of the room, creating a focal point that offers extra seating or a surface on which to display decorative objects.
The elegantly proportioned space easily accommodates a grand piano, a plush Stahl + Band sectional, a Wulff armchair and ottoman by &Tradition, a Nickey Kehoe coffee table and such 1stDibs finds as a Swiss stool from MORENTZ and a pine Uno Kristiansson floor lamp.
Lawson-Fenning Alta dome lights and sunlight streaming in through French doors provide illumination.
With its dark cabinetry, oxblood-tiled arched hearth surrounding the cooktop and island table with turned legs and Rosso Toscano marble top, the kitchen is a monochromatic update of a hacienda cocina. It opens into a cozy dining nook set into a semicircular windowed bay, which Electric Bowery outfitted with a bespoke table from Nickey Kehoe, leather-clad chairs reminiscent of Verner Panton's S design and a custom rounded banquette upholstered in a green fabric echoing the foliage outside.
The formal dining room is anything but, with French doors, limewashed walls, a minimalist table surrounded by wood-and-metal chairs that recall those by Paul McCobb and a wildly fanciful lighting fixture by Anna Karlin.
For adult recreation, Electric Bowery fashioned a game and bar room, an intimate brown space with custom millwork and a banquette in navy-blue leather that matches the felt on the pool table. "We were inspired by the ski lodge we were working on at the time," says Bartholomew, who hung a silk shade pendant "for a billiard parlor vibe."
The family room is a study in cozy comfort. Cocooned in a jute grasscloth wallcovering whose variegated blues and browns suggest Missoni stripes, it invites relaxation with furniture that includes a mohair-covered sofa, beanbag loungers and a low table paired with Marc Venot's kid-sized Elephant chairs. "Basically, the homeowners wanted the kids to be able to jump on everything or make a fort," Lambur explains.
A dramatic departure from the rest of the house, the powder room is at once moody and Spanish modern in style. A coffered oak vanity supports a leathered-granite countertop with black faucets, and the mirror mounted above on the deep gray wall resembles the sun. "People always seem willing to splurge and take risks in a powder room," Bartholomew says. "Maybe that's because it's mainly guests who'll be using it."
Upstairs, the primary suite is a soothing oasis of sandy beiges and watery blues. In the bedroom, vintage-inspired enameled-metal sconces provide light for nighttime reading in the Electric Bowery–designed four-poster bed. A custom settee suggests the work of Mario Bellini. "Italian sculptural furniture from the nineteen seventies is so popular now," says design director Gohari. "We like to pair it with other styles so it doesn't become one-note."
The firm designed the daughter's earth-toned bedroom "to not be too kid-centric," Bartholomew says, "so she can grow into it." Here, sophisticated clean-lined furniture sits well with playful 1960s accents, including a hanging rattan chair and a floral chandelier that evokes pieces by Alberto Giacometti.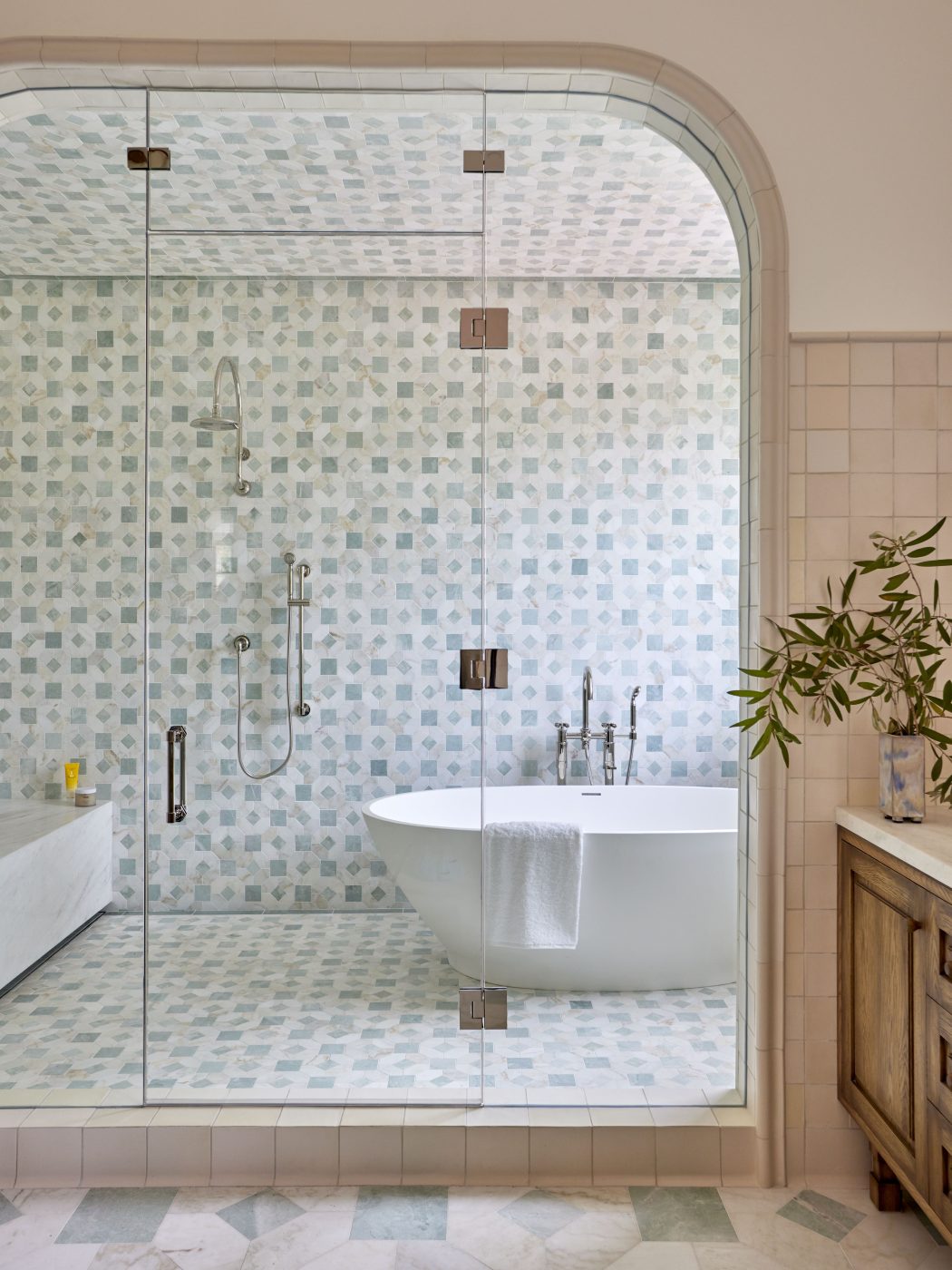 Raised on opposite sides of North America — Lambur in western Canada and Bartholomew near Saratoga Springs, New York — the founders of Electric Bowery both became architects thanks to some childhood nurturing of their innate design sensibilities.
"I grew up in an early-nineteen-hundreds farmhouse," Bartholomew says. "My parents had a furniture store and a barn where my dad would build Arts and Crafts–style pieces. And I was always playing with Lincoln Logs."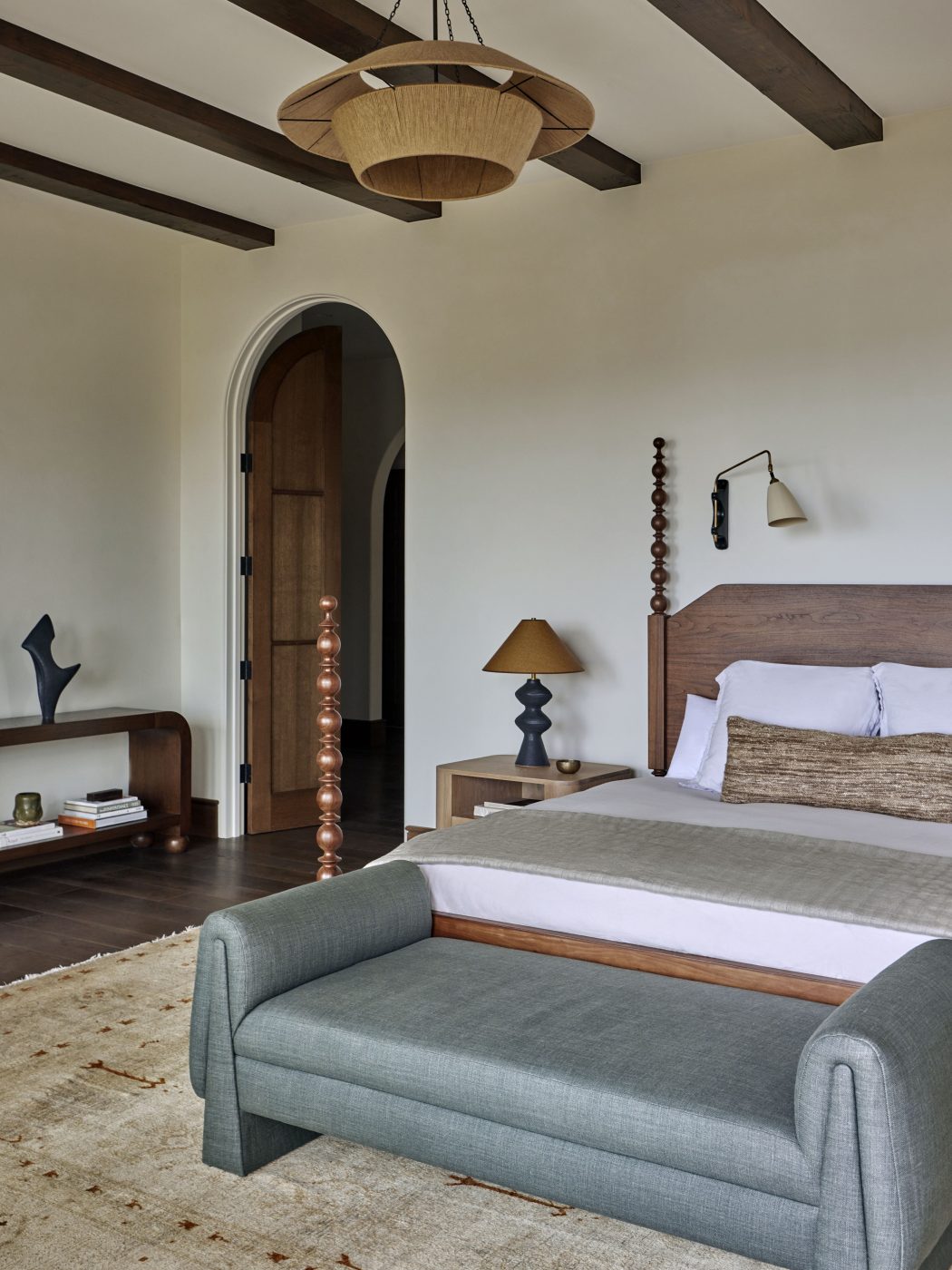 Lambur, the daughter of two architects, remembers living in "dozens of houses" throughout her youth. "I was always painting my room and building tree houses and forest forts. I was so into dioramas that I even made one based on The Lord of the Flies."
Bartholomew earned a masters in architecture at SCI-Arc, in Los Angeles, Lambur got her bachelors at Cornell, and both studied abroad in Rome before starting their careers in New York City. In 2010, the future partners, whose birthdays are two days apart, met and bonded while working for Frank Gehry in Los Angeles, having each relocated there from NYC. "We'd be toiling on stair details for weeks and weeks," Bartholomew says, laughing. "And we were learning that it wasn't the type of architecture we wanted to do."
Although well-versed in a wide variety of California vernacular architecture — Bartholomew lives in a wine-country cottage near Santa Barbara, and Lambur resides in a home by Mickey Muennig, the legendary Big Sur modernist who designed the Post Ranch Inn — they agree that the free-spirited organic ethos of Big Sur looms large in their shared vision.
"We like natural materials, unique sculptural furniture and keeping our finger on the pulse of today by working with young artists who are hungry to be collaborative," Bartholomew says, defining the Electric Bowery aesthetic. "Most importantly, we are designing places that we want to experience ourselves."
Lucia Bartholomew and Cayley Lambur'S QUICK PICKS