Along with her many professional pursuits, Ellen DeGeneres — the comedian, author, talk-show host, dancer, CoverGirl and fashion-lifestyle entrepreneur — is also a dedicated full-time real-estate fanatic and design connoisseur. In her latest book, Home (Grand Central), the producer of Ellen's Design Challenge on HGTV explains a lifelong obsession: "My family moved a lot. . . . And by living in different houses, I discovered that each one came with a different personality. . . . I not only loved seeing all the different types of architecture, from typical New Orleans bungalows to Spanish, ranch-style and traditional, but it was interesting to see how different people lived, the furniture they used, the way they decorated."
DeGeneres purchased her first home, in Los Angeles, for $250,000 at age 30. In the decades since, she has bought, decorated, lived in and sold a wide range of properties, including a horse ranch built by the actor William Powell, a Santa Barbara Tuscan-style villa constructed using 17th-century Italian stone masonry techniques and several Los Angeles landmarks: a 1963 Buff & Hensman post and beam and the A. Quincy Jones–designed Brody House in Holmby Hills, originally decorated by the legendary William "Billy" Haines. Along the way, she has been a patron of some of Los Angeles's top interior designers — including Cliff Fong, Jane Hallworth and Kathleen and Tommy Clements — and become a passionate and educated collector of antiques, art, rustic and tribal artifacts and, especially, 20th-century design.
In Home, DeGeneres leads readers on an informative tour of seven of her handsomely photographed residences, giving a detailed accounting of the furnishings, including many rare and classic 20th-century pieces that show their versatility in a variety of architectural interiors. She also provides access to the homes of her decorator and dealer friends and collaborators, many of whom, not surprisingly, can be found on 1stdibs. (Seven of those dealers talk about their favorite customer on The Study, 1stdibs' blog.) In addition to offering ideas and inspiration from these experts, DeGeneres has plenty of advice for serious design fans, all delivered with the light touch of her trademark wit.
Here she answers some questions Introspective threw her way:
On first arriving in Los Angeles, how did you respond to the architecture?
When I landed in L.A., I knew I was gonna love the architecture. And then after the nine hours it took me to get from the airport to the places I wanted to see, it was confirmed. L.A. is full of so many different styles and influences. I love mid-century homes because there wasn't a lot of that where I'm from in New Orleans. Beads, yes. Mid-century homes, not so much.
In your travels, what do you seek out to nourish your love for design. Are there particular hotels, museums, historic homes you will visit again and again, and if so, why?
If I love a certain store, I'll go back, but I love finding new places and seeing new things when I travel. And I love walking around. That way I can pop into local shops and antiques stores and flea markets. I always keep my eyes open in case there's something I want to bring back to L.A. In general, if I'm walking, I like to keep my eyes open — just for safety's sake.
What rooms in the house are most important to you and your wife, Portia de Rossi? And how do you design them? Are certain spaces absolutely essential? Like a shoe closet? What are m'lady's requirements when it comes to kitchens and bathrooms?
First of all, I don't think I've ever been called m'lady. Well, m'sir, I think a living room and den are the most important rooms because they're where we entertain the most and spend time relaxing. I design them so they're welcoming and comforting and have a good flow — and then I redesign them. And then I redesign them again. And then I redesign them again. It's something I like to do around midnight on a whim.
When it comes to kitchens and bathrooms, I like classic and clean. Everything needs to have a place—especially in a kitchen, because when I cook, I like to know where everything is. I'm kidding. I don't cook. What's a kitchen?
What role does entertaining guests play in your life, and how do you decorate when you're hosting?
Streamers! No — we don't decorate in any special way when we have guests over. We keep things simple. But we do always have a piñata standing by.
---
"I love mid-century homes because there wasn't a lot of that where I'm from in New Orleans. Beads, yes. Mid-century homes, not so much."
---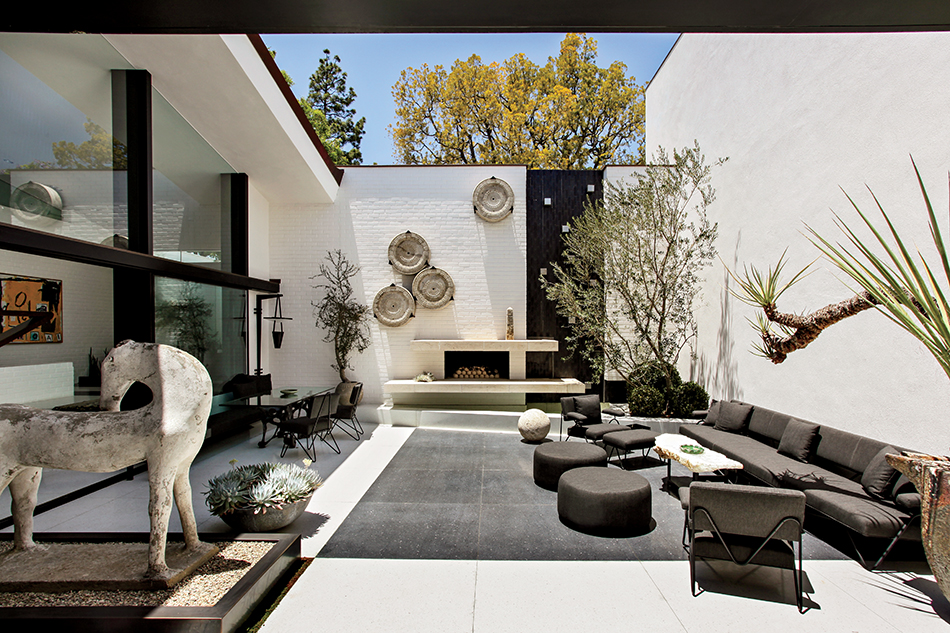 How do you know when you absolutely have to have a piece of furniture? What are some of the most surprising items you've bought, things  you'd never imagined would resonate with you?
I know immediately when a piece of furniture speaks to me. It usually says something like, "Ellen, over here. Buy me. Take me to your pretty house." And then I do just that.
I started buying Jean Prouvé and Poul Kjærholm before their work became more mainstream, and now I'm so glad I did.
What styles and periods of furniture most appeal to you and why? Are there some things you would never ever consider bringing into your home?
I love European antiques, 20th-century design, and American primitive furniture. I actually love how it looks when you weave all of those styles through one house. I don't think there's something I would never ever consider bringing into my home, but if I had to choose, I guess I would say one of those chairs that look like a baseball mitt.
You seem to like organic colors — those that look like stone, leather or wood. What's your philosophy about color and how it should be used, especially since most of your homes benefit from California sunlight?
I'm a nature lover, so I find a lot of beauty and inspiration in natural materials. Neutral colors are classic and allow you to mix and match. My philosophy on color is a little goes a long way. You're not gonna see red walls in my house. Unless you go into my Fifty Shades of Grey room, but that's a story for another time.
You've collaborated with many interior designers. How do you select them? What is your process in working with them?
Most of the designers I work with are good friends of mine, so I get to collaborate with people who know me well and whom I trust. My process is to say, "I like these things. Let's make them look nice in my house." It's fairly straightforward.
Tell us about your shopping habits. How often do you go out looking for items? Do you hit the flea markets?
I shop constantly. I'm always looking. 1stdibs is a huge enabler, and I think we should start splitting everything I buy because of you, 50-50.
If you were to quit being an entertainer and philanthropist and work in the design industry, what would you do? Would you go to architecture school? Open a showroom? Sell antiques at the Rose Bowl? What would be the most fun or most challenging?
I really enjoy the creative process of putting a home together, so I think I would be an interior designer. If I could buy a house, design it, sell it and then keep doing that over and over again, I would be a happy lady.
---
A Lightning Round With 1stdibs
In this brief Q&A with DeGeneres, the popular comedian and author provides never-before-revealed answers to questions about
her most intimate domestic preferences.
---
or support your local bookstore