Every year I visit the European Fine Art Fair (TEFAF), and every year I admire at least one incredible dealer's booth lined with antique wood paneling from the Paris dealer Féau & Cie. Although not a TEFAF exhibitor itself, the company regularly creates magical worlds in which to display a broad spectrum of magnificent objects, whether it's Meissen porcelain set against boiserie attributed to the 18th-century French neoclassical architect Claude-Nicolas Ledoux or paneling created by the Art Deco designer Émile-Jacques Ruhlmann. Lacy white confections from a Parisian palace, Pompeii-inspired red walls, oak doors with carved festoons of flowers from a country château — all these antique panels make a spectacular backdrop for paintings, jewelry, furniture or objets d'art.
This year, Féau will install two booths at TEFAF. For Place Vendôme jeweler Alexandre Reza, Féau is creating a gallery of grand arches inspired by the private Paris hôtel particulier of Hortense de Beauharnais, the oft-painted, very beautiful daughter of Empress Josephine who went on to become queen of Holland. For the Bavarian dealer Röbbig München, Féau is once again re-creating an entire room that Ledoux designed before the French Revolution for a noble family's Paris house. It has huge carved mirrors, with original gilding, set in the antique panels.
"At the center of the booth," explains Guillaume Féau, the company's third-generation owner, "we are building an architectural composition more than twenty feet tall, with columns supporting a spectacular cupola." Below this, he will put mesh-fronted cabinets to display pieces of delicate 18th-century German porcelain. It's a big construction for small, fragile treasures.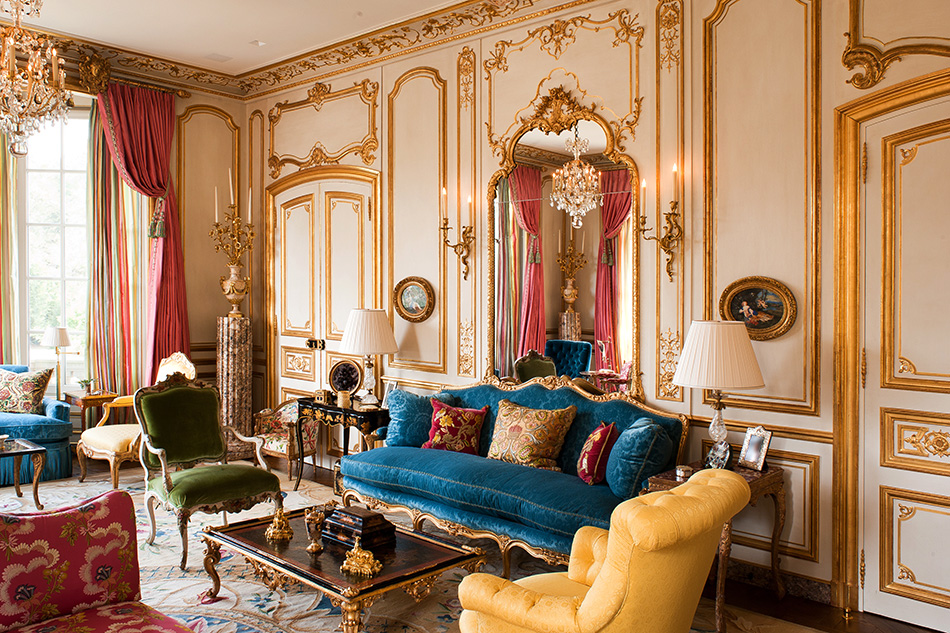 Féau & Cie has been supplying museums, billionaires, architects and designers with period paneling since 1875. The Getty Museum, in Los Angeles, has a Ledoux room that was in Féau's inventory in the 1930s. And in 2012 Féau sold the Louvre Abu Dhabi a 1925 Ruhlmann room once owned by the press mogul Viscount Rothermere.
Today, Féau is a big operation, with more than 100 carvers, painters and gilders at 30 sites around the world, including Moscow, San Francisco, Los Angeles and Manhattan. But Féau rooms don't just end up in Maastricht and museums. The firm's residential interior design clients include Michael S. Smith, Peter Marino, Nicky Haslam, Jacques Grange, Robert Couturier, Bunny Williams and Brian McCarthy.
"We have more than two hundred rooms for sale, dating from the seventeenth century to the 1970s," says Guillaume, who runs the firm with his sister, Angélique, co-manager and head of the financial department. "We have six warehouses and more than one hundred and thirty thousand square feet of storage." His appointment-only showroom is a glass-roofed, Alice in Wonderland warehouse five blocks from Place de l'Étoile, at 9 Rue Laugier. ("Nothing has changed since the nineteenth century," he jokes. "It's a huge mess, full of carved and painted panels, fireplaces, pieces of decor — and dust.")
---
Féau & Cie has been supplying museums, billionaires, architects and designers with period paneling since 1875. The Getty Museum has a Ledoux room that was in Féau's inventory in the 1930s.
---
Guillaume's passion is studying the architectural origins of his stock. "We have a huge archive of some twenty-five thousand pieces: drawings, plaster models, eighteenth-century fragments and whole rooms," he says. Six years ago, Féau began selling important antique fireplaces, as well.
"We learned that people don't want to spend two million dollars on a period room that does not have an original fireplace," he says. "Dealers in Paris don't have the money to buy the expensive ones — it's a niche market — and we only deal in the expensive originals."
When asked how he knows his antique panels and rooms are authentic, Guillaume responds: "My first job out of college was working for an antiques dealer in San Francisco, but since then I'd say I've learned from the collection we have. Actually, I began hanging out at the office with my father when I was fourteen." He notes that all four of his children say they want to work in the business when they grow up.
Beyond being capable of judging his holdings' authenticity, Guillaume knows the provenance of many rooms. If Féau did not actually rescue the panels from a building being dismantled, the company has their documented histories. Guillaume mentions a set of Louis XV panels once owned by Barbara "Basia" Piasecka Johnson, the Polish-born widow of New Jersey millionaire John Seward Johnson, and some iron bookcases from the apartment of the late Paris socialite São Schlumberger.
On a more technical note, Guillaume, who took over the firm from his father in 1998, is knowledgeable about species of trees, paint pigments and construction techniques and materials. "Most French paneling is oak, for example, and some paint colors appear only at certain times, so we can date a panel by sending pigments to a laboratory," he explains. "By the end of the eighteenth century, paneling ornament was being made with plaster and papier-mâché.
"By checking the back of panels," he continues, "we can see how they were glued together and whether the wood is hand cut or machine cut, which only started in the early nineteenth century."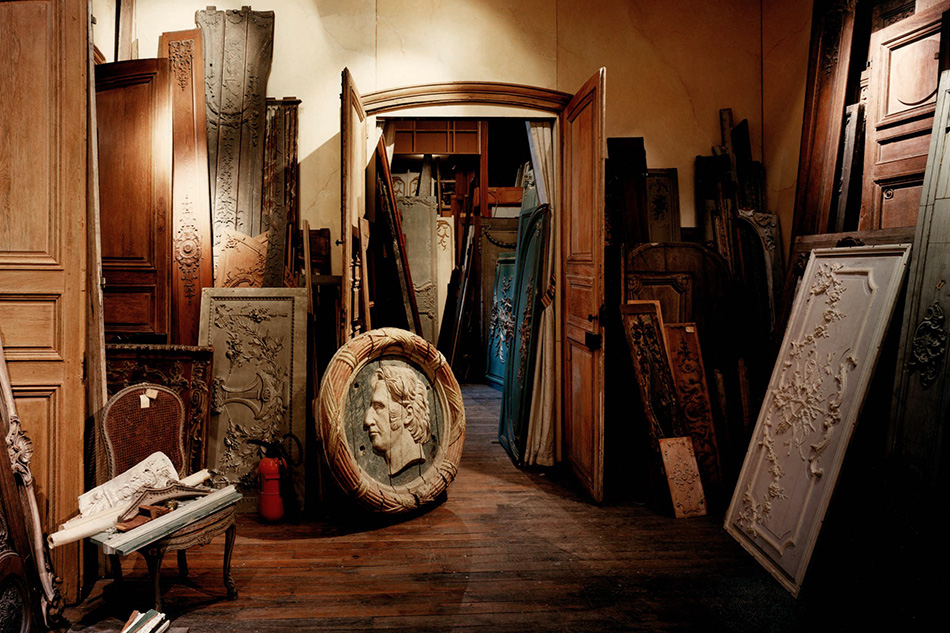 Guillaume's current favorite boiserie is a full set of red and black hand-carved, hand-painted solid oak wall panels from a room in Paris designed by Charles Percier and Pierre Fontaine, Napoleon's favorite decorators. "They are of great, great quality," he says. "They are iconic because they are by Napoleon's architects, who created the new Empire style for him. They are incredibly strong, powerful and beautiful. The architecture is light, and there is great balance in the simplicity of the Roman-inspired ornament. It is so modern and refined, it could fit into very different styles of interior design."
In addition to selling million-dollar antique boiseries, Guillaume has a thriving secondary business re-creating period rooms. He supplies about 90 of them each year to designers around the world. "Old rooms are quite expensive, more than double the budget for a new room and harder to install," he says. "It's not easy to get the exact proportions right using antique paneling in new spaces, so we also make reproductions."
Over the years, Féau has also constructed some spectacular contemporary rooms, one of which was truly over the top. "In the late 1970s we did a fabulous 'glass' decor designed by Valerian Rybar and Jean-François Daigre for the living room in their private hôtel particulier on the Rue de Bac," Guillaume recalls. "It was a double cover on Architectural Digest. It looked like a mirrored box, with modern mirrored-glass walls and silvered-brass cornices. Even the ceiling was covered with synthetic metal squares that looked like mirror."
Nonetheless, Féau & Cie remains best known for its magical historic rooms — the ones that dazzle the collectors attending TEFAF.
Watch Féau's team build the 2015 TEFAF installation for Röbbig München, which they've recreated again this year.
---
Talking Points
Guillaume Féau shares his thoughts on a few choice pieces