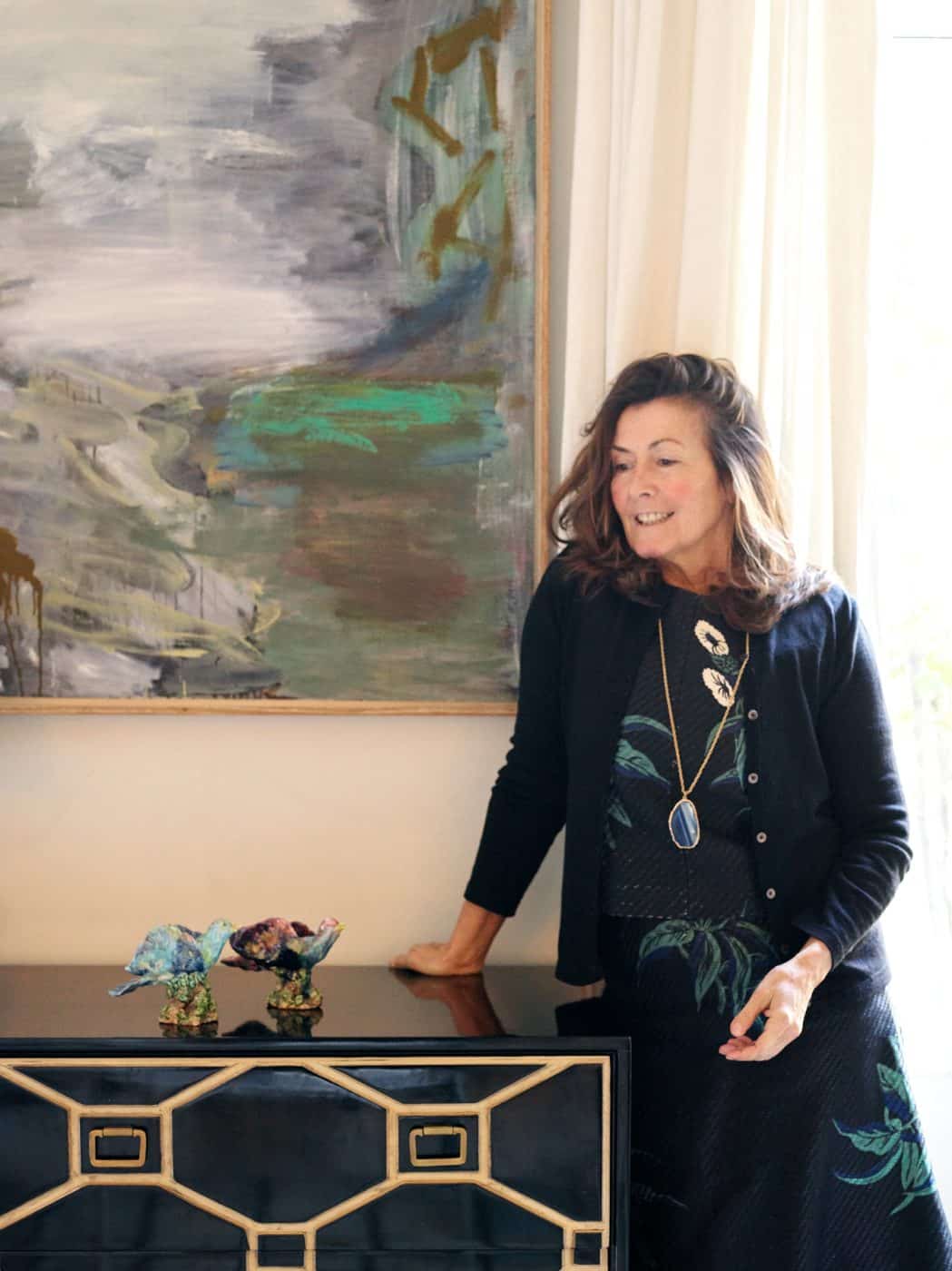 March 27, 2022There is one question many dealers detest but often proves telling: Which object would you absolutely refuse to sell? For Florence Lopez, who also works as an interior designer, it is surprisingly not one of the original pieces of 20th-century design by Arne Norell, Heinrich Eckinger or Pietro Chiesa with which she regularly redecorates her apartment-cum-showroom in Paris's Saint-Germain-des-Prés district. Instead, she mentions a 19th-century lark mirror initially devised for hunters to attract small birds drawn to shiny objects. "It bears the mark of the three friends who made it," she says. "The first was a locksmith who created the mechanism, the second a cabinetmaker who shaped its wooden silhouette and the third a glassmaker who added the small splinters of colored mirror." Her attachment to it attests to a passion for the poetry of objects crafted by the human hand, which tacitly traverses time. For her, the work of a decorator consists of orchestrating that invisible je ne sais quoi in order to give depth to interiors. A personal approach for a unique personality. Exuberant and talkative, Lopez nonetheless remains enigmatic.
Born into a bourgeois family in Bordeaux, she says she was greatly marked by the more offbeat characters in what was otherwise a rather conventional upbringing: her Argentinean father was whimsical and rebellious; her ebullient, graceful mother "adored vintage fabrics and would regularly change the decor of the family home as if changing her dress;" and her great-uncle, an antiques dealer, amateur painter and patron to Le Corbusier, "impressed [her] as a child with what he could do with a mixture of gold leaf and egg yolk."
At 20, she left for New York initially to work for Christie's before being hired by the decorating firm McMillen, which counts Albert Hadley and Mark Hampton among its alumni. "The interiors they created then were in what I call the 'White House' style," recalls Lopez. "But I quickly freed myself of that aesthetic." After two years, she returned to Paris to renew her visa and ended up staying. Early in her career, she was also offered a position at Etamine, the textile house, whose clients included all the leading interior designers of the time, including Jacques Garcia, whose right-hand woman she went on to become. Over the course of seven years, she perfected her knowledge of decoration and antiques at his side before setting out on her own as an appointment-only vintage dealer.
It was in 1991 that she chanced upon a completely abandoned artist's studio on a courtyard on rue du Dragon in the very heart of Paris's 6th arrondissement. Despite her friends' skepticism, she could see in the gallery-like space the perfect setting to create her now fabled, temporary decors in which she presents the furniture and objects she loves. Starting in 1995, her first installations, she says, were "relatively white, quite austere, showcasing pared-down objects in the nineteen-twenties' ambience of the studio. They were drawn from the Arts and Crafts and Viennese Secession movements, periods I liked and that were not prohibitively expensive back then." Straight away, the photographer Jacques Dirand (father of the interior designer Joseph Dirand) provided Lopez with her first publication — a dozen pages in The World of Interiors.
Since then, she has created some 20 different installations in which her brilliance has often revealed itself through homages to masters of the past, such as Josef Albers, ADOLF Loos and Gio Ponti. A trip to India prompted her to paint the walls a faded pink, while the most recent installation features a collection of furniture by André Sornay (a commode, chest and nightstands), an extraordinary bed by George Nakashima, a cocktail table by the Italian-born architect Giuseppe Scapinelli, a sofa and bench by the American designer Adrian Pearsall, a couch by Folke Jansson and a striking tropical-style fresco inspired by the work of the Brazilian landscape designer Roberto Burle Marx.
It was "quite natural" that over time Lopez went from being a dealer to becoming an interior designer, no longer simply weaving her gift for narration into her installations but also into real homes like the one she shares with her husband, architect Patrick Hernandez, located in a former wine storehouse in the Chartrons district of Bordeaux. "He has transformed it into a magnificent place by building several structures within it, which I simply decorated by playing on its materials, its historical details and the exterior gardens," she explains. The furnishings include numerous pieces created by architects (including Hernandez himself), a coat stand designed by Le Corbusier and Charlotte Perriand and a bed with built-in nightstands by Gio Ponti.
Her residential clients come largely from creative circles and include singer-actress Charlotte Gainsbourg and director Yvan Attal, as well as the French film star Elodie Bouchez and her husband, Thomas Bangalter (of the former electronic-music duo Daft Punk).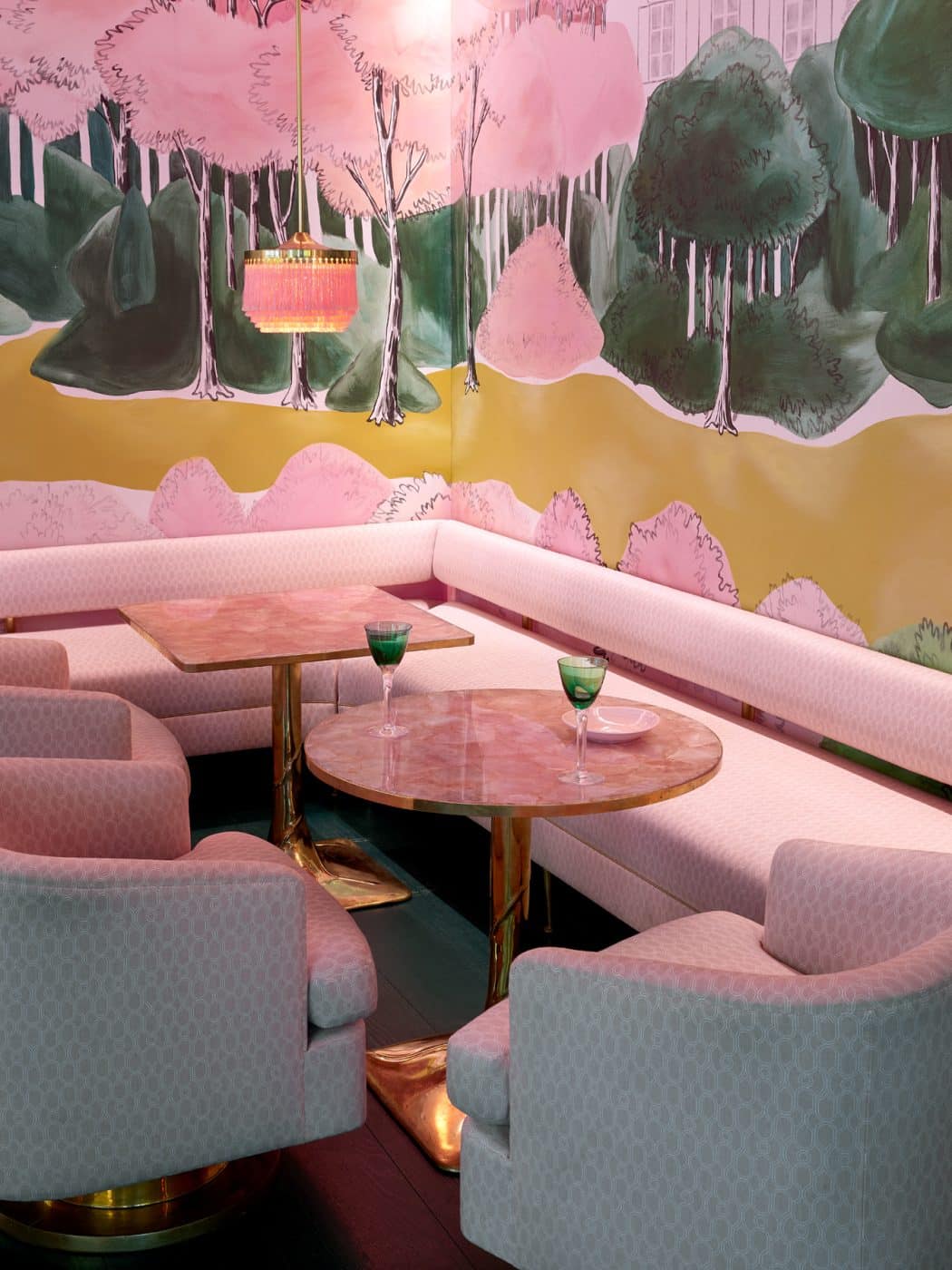 Other projects have been linked to friendships, both long-term and more recent. In 2015, she composed a memorable decor for one of the Left Bank showrooms of Christian Liaigre, whom she knew for some 30 years. Imagined as a homage to Sonia Delaunay, it replicated on the walls a motif the artist had painted on a car in 1917 and also featured a fireplace made for a stage set, a Harvey Probber sofa, a couple of Czech mirrors dating from ca. 1905, a side table by Paul Frankl, two prototype bamboo armchairs created by Joe Colombo and a beautiful Art Deco rug from the 1920s. In order to decorate the Mon Square restaurant in Paris's 7th arrondissement in 2018, meanwhile, she called upon talent from different generations, such as the Portuguese ceramicist Bela Silva, the 25-year-old artist Sacha Floch Poliakoff (great-granddaughter of the legendary painter Serge Poliakoff) and designer Mathias Kiss. The result is a magical extravaganza in green, pink and mirrors.
Despite her predilection for bright hues, Lopez nevertheless refuses to be pigeon-holed as what she calls a "scenographer of colors." One of her latest projects is proof of that — a Directoire-period house in Paris's 16th arrondissement designed for an art dealer friend. "She has a wonderful, independent and enigmatic personality," says Lopez. "I really wanted to create a very personal, refined space that reflects her character — a subdued atmosphere in gentle, subtle tones that highlight the timeless elegance of the Elsie de Wolfe and Dorothy Draper furniture." More globally, the Covid-19 pandemic has brought about something of a transition for Lopez. It has, she confesses, made her more levelheaded. "Before, I was like a whirligig," she admits. "Now, I'm much more serene."