Is Gaetano Pesce a designer? Or is he an artist? Or is he something else entirely? In the catalogue to his first gallery show, in Padua, Italy, in 1957, when he was just 17, he declared his "right to be incoherent." He has gone on to live a life that defies expectation and convention and along the way has become one of the most seminal figures in art and design. Today, at age 76, Pesce remains a prodigious creator. In recent years, working mostly in his New York studio, he's produced new collections of furniture, jewelry and even customizable shoes in flexible resin, his signature material, while also developing a new park and memorial in Padua dedicated to Giotto and Galileo, whose works in that city dramatically altered the course of art and science.
This September, Los Angeles's Museum of Contemporary Art/Pacific Design Center will explore the processes by which Pesce has pushed the limits in his object making. The exhibition, entitled "Molds – Gelati Misti," will reveal Pesce's process to be as original and defining as his actual creations.
Pesce is of a generation of Italian architects who in the early 1960s rebelled against the industrial perfection of modernism by conceiving new furniture and objects that were at once expressive and eccentric in form; or you might say they were more like art than functionalist design. Born in the picturesque coastal Italian city of La Spezia, he was a precocious talent who could have forged a career as an artist but opted instead to go to Venice to study architecture because, as he said in a recent interview, it was "the most complex of all the arts." Rather than having new worlds opened to him at design school, however, he found the rationalist curriculum oppressive in its insistence on standardization and prescribed materials and technologies.
Pesce wanted to explore the latest of both materials and technologies to create objects and buildings never before imagined, with what he called "personalities" that spoke to the issues of the day. He was keen, too, to explore ways to diversify mass production so that each manufactured work could be distinct. In 1964, he met Cesare Cassina, of the forward-looking furniture company C&B in Milan (now known as B&B), for whom he would create many important designs, beginning with a collection of what he called "transformational furniture" — two chairs and a loveseat — made entirely out of high-density polyurethane foam. To make the pieces easy to ship and cost-efficient, he proposed that after being covered in a stretch jersey, they be put in a vacuum, then heat-sealed flat between vinyl sheets. Once the foam was removed from its packaging, the piece returned to its original shape — hence, the name UP for the series, which debuted in 1969.
In addition to these pieces, Pesce proposed for the collection something he referred to as an "anti-armchair," which took the shape of a reclining fertility goddess, the iconic Donna. The figure was originally connected to a ball-shaped ottoman by a chain — Pesce's commentary on the social bondage of women. Producing its complex form turned out to be a technical challenge. Bayer, the foam's manufacturer, deemed it impossible to accomplish. Pesce persisted and came up with a new procedure, demonstrating not only the designer's key role in researching the nature and potential of new materials but also his vital importance in "doubting rules."
Pieces from the UP series were exhibited in MoMA's landmark 1972 exhibition, "Italy: The New Domestic Landscape," which had an enormous impact on a 23-year old Murray Moss, who some two decades later would found Moss, the influential design store in New York's SoHo (alas now closed). "Donna was featured in the section of the accompanying catalogue entitled 'Objects Selected for Their Socio-cultural Implications,' " Moss recalls, adding, "I took that to heart . . . [and it] in fact became the premise for my store."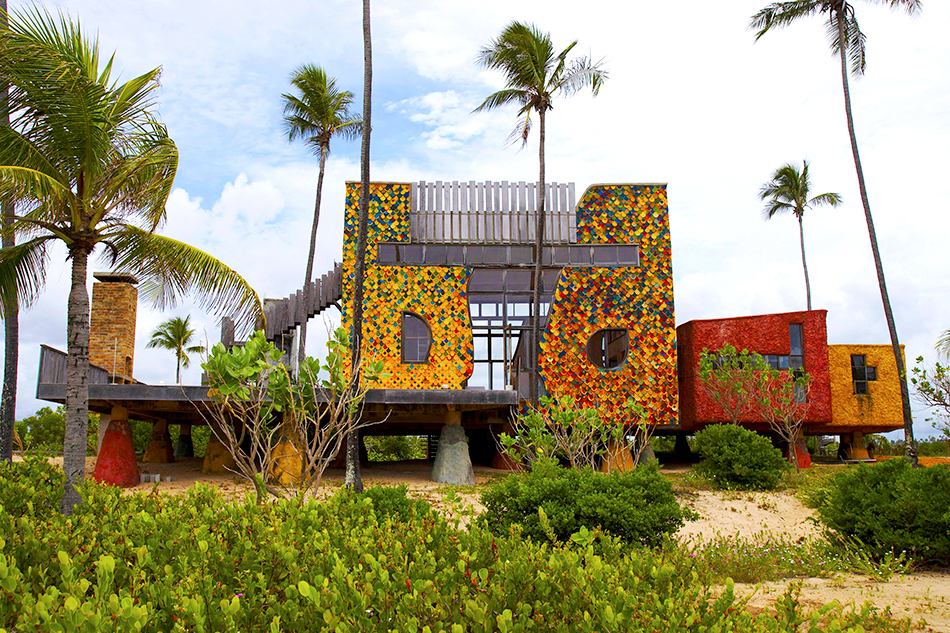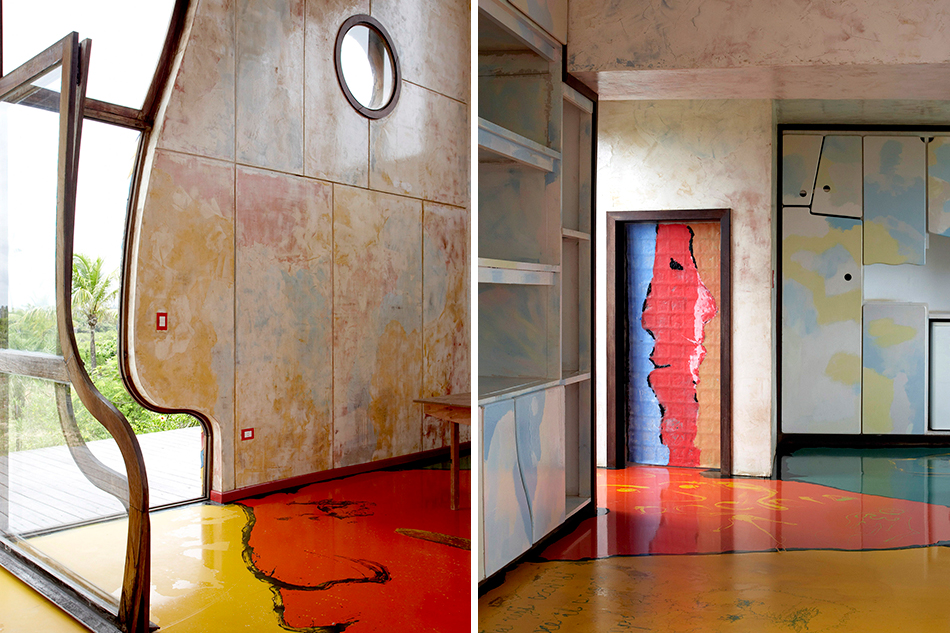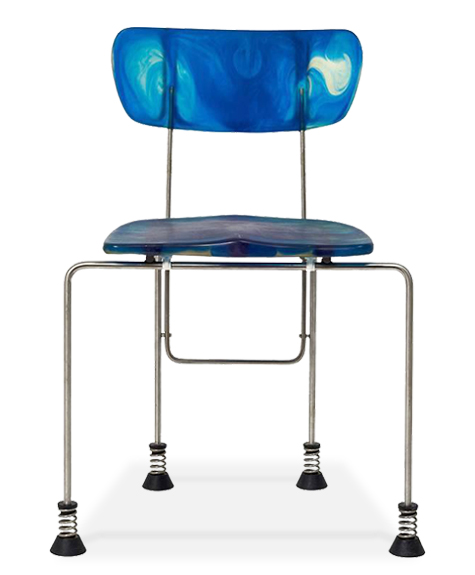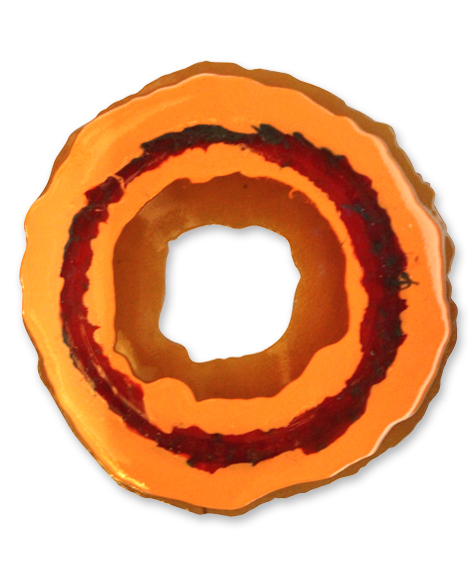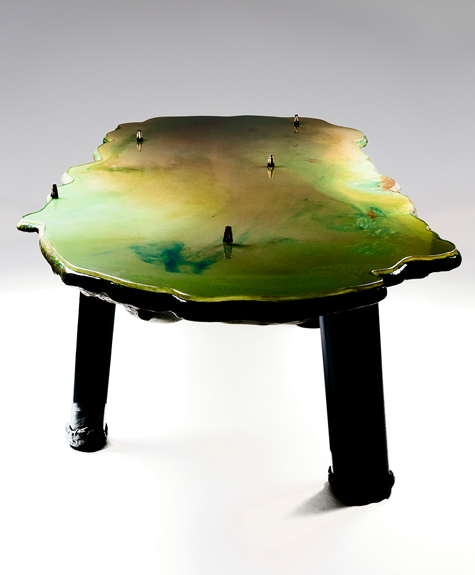 In the early 1970s, Pesce began exploring one of his key concepts, the idea of the industrial originals. Employing a mold without air holes, and adding a blood-red dye to the polyurethane, he cast a bookcase that resembled a demolished wall, the rough edges of the shelves and posts resulting from fissures in the material made by trapped air. As he had little control over where air pockets formed, there was randomness to the design, which subverted the typically masculine precision of such castings. Pesce was especially pleased by the work's meat-like carnality  — in color and feel — as well as its ugliness. His intention as a designer, like that of many avant-garde artists, has always been to affect people viscerally, to provide what he calls "little shocks."
Through his research into polyurethane, Pesce figured out a way to make a loveseat and armchair using only a simple wood frame and strong canvas covering as a mold. Since the fabric developed random folds during the injection process, the pieces were similar but not identical. Cassina named the suite of furnishings Sit Down and introduced it in 1975.
By experimenting with felt soaked in polyurethane and resin, Pesce conceived I Feltri, another collection of armchairs introduced by Cassina in 1987. The throne-like seats were created by coating the thick fabric base with resin, which made it strong enough to hold its shape along with the weight of a person, while the top half of the fabric remained malleable enough to enfold the sitter.
In the early 1990s, when the advertising mogul Jay Chiat, of Chiat/Day, wanted to create a work environment at his New York headquarters better suited to non-hierarchical office interactions and the mobility of laptops, he turned to Pesce. The designer created a radically new vision for the workplace, with bold primary colors, resin-covered floors, silicone brick walls, long rows of messy-looking foam couches and rolling desks with wire frame partitions that heralded the freewheeling office environments of the digital age.
A few years later, in 1996, the Centre Pompidou, in Paris, presented a mid-career retrospective of Pesce's work, which he titled "Les Temps des Questions" (The Time of Questions). He conceived the layout as the combined outline of a woman's profile and a question mark to provoke visitors, and he further challenged them by using street barricades to usher them into the exhibit, whose walls were made of bags filled with rags to invoke the appearance of a stronghold.
To make the experience even more discombobulating, the comforting aroma of minestrone wafted through the spaces. Recalling the exhibition, the London-based furniture dealer David Gill speaks of his excitement at seeing "the breadth and creativity of the man." Despite his enthusiasm, it took more than a decade for Gill to add Pesce to his stable of creators, and then five more years for Pesce to produce a collection for the gallery. The wait was well rewarded. Six Tables on Water, from 2012, represents some of Pesce's most intricate and compelling work in recent years. The collection of resin tables serves as a commentary on how badly the world's population treats that most essential of elements — water — in all its forms, from oceans to puddles.
After more than a half century of prodigious creation, Pesce remains as relevant and influential as ever. Most interesting is how much of an inspiration he has recently become to artists. Last year, for example, the British artist Anthea Hamilton recontextualized Pesce's never-realized 1972 Project for Door, a model for the entrance to a Manhattan skyscraper. For her installation Lichen! Libido! Chastity! at the SculptureCenter, in New York's Long Island City, Hamilton imagined the entrance's archway as a crouching man spreading his buttocks. The exhibit earned her a nomination for Britain's prestigious Turner Prize this year. Flattered by Hamilton's homage, Pesce says he hopes she wins. And it's easy to understand why. If she does, it will further solidify his legacy of transgressive creativity.