June 21, 2020The broadcasting, Internet and hotel mogul Kevin Wendle knows a thing or two about design. Back in the 1990s, he hired Waldo Fernandez, a one-man encyclopedia of decorative arts, to redo his house in California. Then, during the 15 years he spent living in Paris, he became first a client and then a business partner of the superstar designer Joseph Dirand. He also began amassing a stellar collection of vintage French furniture, including some of the first pieces to reach the West from Chandigarh.
In 2016, at the fashion designer Jason Wu's wedding, he met Giancarlo Valle, a young San Francisco–born architect. After working for a couple of large firms (Snøhetta and then SHoP), Valle had recently opened his own Manhattan studio, in part to focus on interiors. Speaking with Valle, "even without seeing his portfolio, I knew he had the taste, vision and perspective I was looking for in a designer," Wendle recalls. He hired Valle to redo a house he had bought on a bluff in Watch Hill, Rhode Island. Valle filled the interiors with a mix of Wendle's fine French finds (Pierre Jeanneret, Jean Prouvé, Charlotte Perriand) and his own upholstered pieces, almost cartoonishly simple interpretations of classics. "Though I initially resisted here and there, I came to trust his vision," Wendle says, "and I couldn't have been more pleased with the result." The house was widely published, and no doubt widely imitated.
A couple of years ago, Wendle bought a loft in Greenwich Village and hired Valle to make it livable. Given the setting — the top floor of a warehouse building with industrial-size skylights — he asked the architect to avoid delicacy in favor of "real materials that you can see and feel." Wendle, Valle explains, "wanted me to bring the solidity of the architecture inside." Valle used oak planks more than a foot wide for the apartment's floors, and where he needed interior walls, he made them 16 inches thick (a heft revealed in every doorway). Then, with the white walls and nearly black floors as background, he began curating a lively mix of furniture: items from Wendle's collection, his own upholstered seating and a few new purchases. He says he was looking for pieces that seemed animated — as if there is life in the apartment even when nobody's home.
The centerpiece of the living room is Valle's scallop-backed Kevin sofa — reminiscent of the work of Jean Royère "but not overtly," he says. The curves of an aluminum Prouvé stool echo those of the sofa. The club chairs are Valle's take on Scandinavian modern, with exaggerated proportions. Those seats, plus a pair of Clam chairs by Swedish designer Philip Arctander, surround a bench from Mexico bought on 1stDibs and used as a coffee table. A Serge Mouille floor lamp illuminates the scene, and a side table of Indonesian teak and a rattan vase complete the ensemble, set on a woven seagrass rug. Valle describes the look as "casualness elevated."
The vertical is as carefully composed as the horizontal. The picture behind the sofa is by Nathalie du Pasquier, a French-born Italian designer who was part of the Memphis group and painted actual constructions that she built from blocks. The arrangement of items on the chunky bookshelves balances du Pasquier's composition; the shelves themselves seem to "speak to" the room's overscaled furniture, Valle observes.
Explore the Loft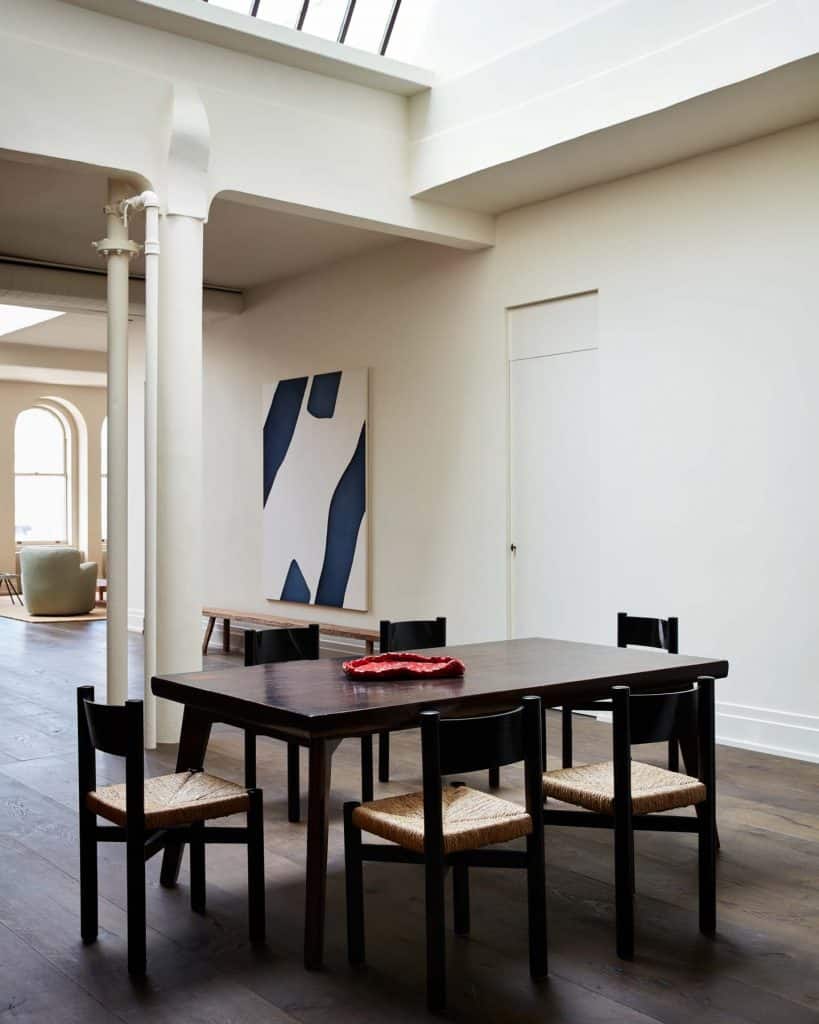 During the pandemic, Valle sheltered with his family in northwestern Connecticut. But he is anxious to begin traveling again, given that he is designing houses in Chicago; Carmel, California; and Mexico City, among other places, and working on several hotel projects with Wendle. Valle, Wendle says, "is now my go-to creative collaborator, not only a great talent but a gentleman and good listener without any apparent ego."
---
Get the Look