How did Thomas Hickey, a Columbia-trained architect whose work is rooted in classical principles, and Edward Yedid, an interior designer who depends in part on intuition, become partners in a successful New York firm? Sixteen years ago Yedid, then a student at the Parsons School of Design, enrolled in a studio taught by Hickey. The architect complained about an interior designer, hired by one of his clients, whose work seemed inconsistent with his architecture. Yedid, just 24 at the time, asked Hickey for a chance to show what he could do. Hickey was willing, and before long the two men had formed a firm, GRADE New York. (The name is a reference, Hickey says, to the gradient —  from traditional to modern — on which they work.)
That was in 2004. Yedid and Hickey have since completed dozens of houses and apartments, as well as stores, restaurants and nightclubs. And outside the office, the two became close friends. "We feed off of each other," says Hickey. "It's a perfect match," agrees Yedid. The results of their partnership are documented in a new book, New York Contemporary (Monacelli).
The partners' story is even more surprising if you consider their backgrounds. Yedid grew up in Manhattan, where he spent his free time skateboarding on public streets. "There were no skate parks back then — we would be holding onto buses and UPS trucks, speeding around the city for ten hours a day," he recalls, noting that "in that race around the city, you become comfortable with obstacles, with finding smooth transitions." It's a skill that transfers neatly to his work. As a designer, he points out, "you have to make the transitions smooth. Skateboarding definitely helped me."
Hickey's education was more drawing board than skateboard. A Virginian, he studied architecture in Kentucky before moving to New York to attend Columbia for his master's. After getting his degree, he spent five years at Robert A.M. Stern Architects, designing houses that were beautiful in large part because they were architecturally rigorous. One of the techniques he picked up was to give every room a center line from which furniture groupings emerge in an orderly fashion. "I'm sometimes teased in the office about my insistence on a center line," says Hickey. "But with a main axis, a space feels unified, uncluttered. The eye isn't distracted."
Some of GRADE's projects are architecture-focused; others lean more heavily to interior design. "We're extremely passionate about both fields," says Hickey. "We consider the furniture at the same time that we are drawing up the plans and elevations."  
The partners' complementary skills were fully deployed in one recent project, in which they were tasked with turning an apartment in downtown New York's 56 Leonard Street into a stylish aerie. The building, nicknamed the Jenga tower for its resemblance to the stacked wooden blocks of the Hasbro game, was designed by Herzog & de Meuron, and the work of the nonpareil Swiss architecture firm permeated the interiors: First, the rooms had unusual shapes, dictated by the irregular building envelope; second, many of them were pierced by giant concrete columns; and third, they were outfitted with compelling built-ins, including a piano-shaped kitchen island and distinctive, capsule-shaped bathroom fixtures.
The clients were looking for large spaces that could adapt to a variety of uses. "The fact that the building jogs and there are all these little corners played into our design intent," says Hickey. "The jogs made it possible to have different groups of people doing different things." The living area alone contains a big space for conversation and a smaller seating space, a TV "room" and a place for reading or taking a nap.
Much of the job involved choosing furniture. "One of my contributions," says Hickey, "was making sure the team understood that the space extends beyond the glass walls." That is to say, the apartment had to be furnished in a way that maintained the continuity between inside and out.
GRADE Earns Stellar Marks for Its Home Designs in Manhattan and Beyond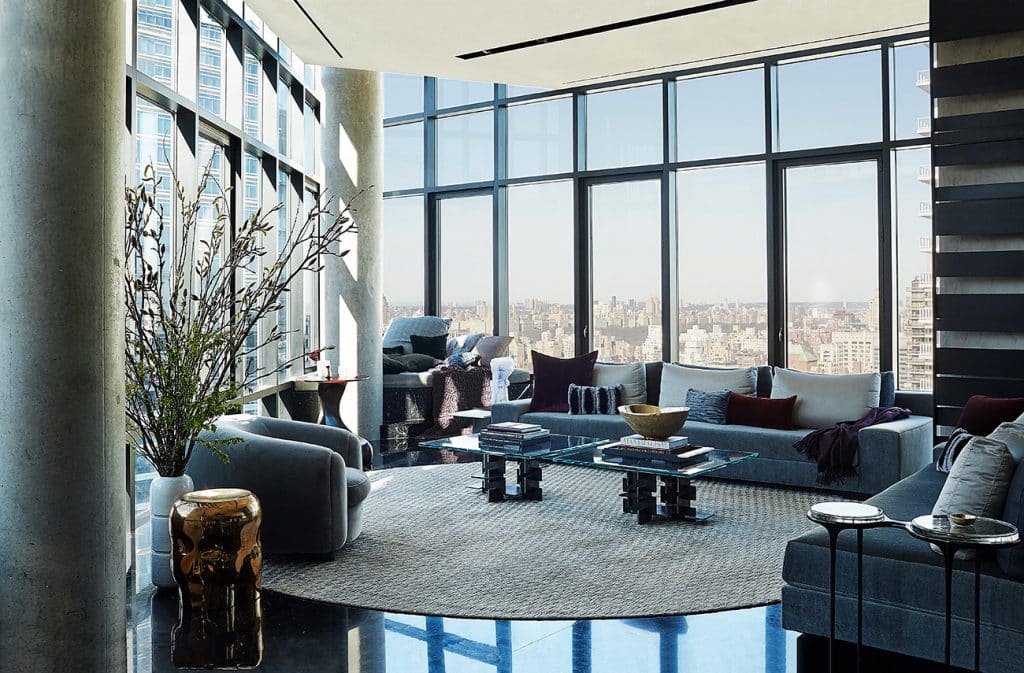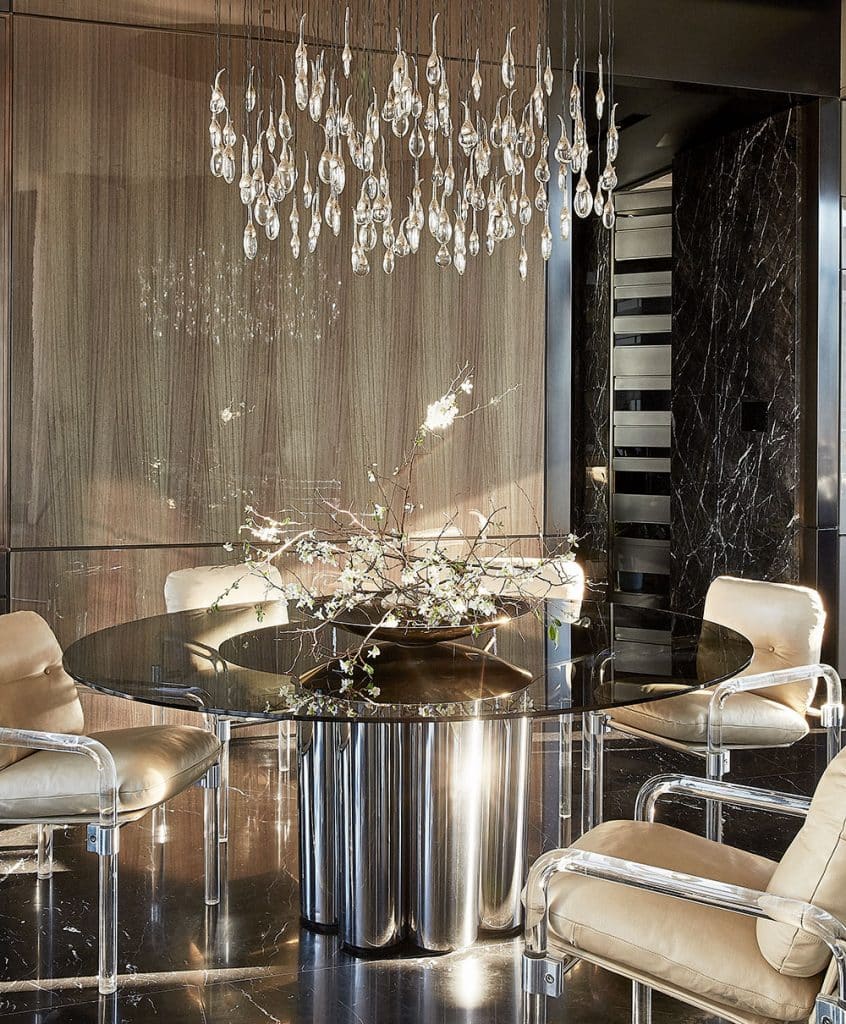 To that end, almost every piece of furniture, except for several sofas, stands on legs, allowing light, air and, at least seemingly, the views to pass right under. And the palette Hickey and Yedid chose consists of whites and light blues, as if bringing the clouds inside. "The apartment feels like a piece of the sky," Yedid observes. Custom sofas upholstered in a white Holly Hunt fabric, one of them armless, facilitate 360-degree conversation.
Some items seem to play off the building's architecture. A cast-plaster table base bears a strong resemblance to the exposed columns, while the chandelier above the table, designed by Doug Johnston and made of coiled and sewn cord, works as a foil to those heavy concrete cylinders.
The clients hoped the apartment would have a casual Scandinavian feel. To the designers, that meant finding pieces with light tones and gentle curves, regardless of national origin. A set of 1950s dining chairs with sculptural backs and linen seats are by the American designer Edward Wormley ("We didn't touch them," says Yedid, who bought the chairs from WYETH). Other pieces are French, Italian and — yes, Danish. The result is a home that doesn't look as if it had been plucked out of a single showroom.
For a Brazilian couple with an apartment in Miami, GRADE again showed deference to the views: The partners chose furniture that echoes the strong horizon line outside, together with a palette of pastels that, Yedid notes, "bring the colors of the coast inside. But this time, in the absence of Herzog and de Meuron built-ins, they created their own. An oddly shaped nook was fitted with a custom dining table in the form of a guitar pick and a banquette that continues beyond the table, becoming "a kind of bench where you can feed the little kids," says Yedid.
Most GRADE jobs involve new construction or significant renovations. One client asked the firm to turn a penthouse in a Midtown Manhattan tower into "the coolest bachelor pad in New York," Hickey recalls. That meant creating tall spaces with unobstructed views, which in turn involved putting all the mechanicals within the building's core (thus establishing — to quote the great modernist architect Louis Kahn — servant and served spaces). "So many pipes had to be rerouted and buried in the floor that we became friendly with the downstairs neighbors," says Hickey.
The client asked that the designers avoid painted surfaces in favor of materials with personality. GRADE complied, deploying gunmetal etched glass, Grigio Carnico marble and embossed suede.
Another client, who had bought a large Tribeca loft, wanted to display his extensive art collection against a richly textured backdrop. GRADE used a variety of metals, including wrought iron and blackened bronze, for furniture and shelving, "picking up the flavor of Tribeca," Yedid observes. The foyer walls are made of linen-wrapped panels arranged in a Mondrianesque pattern. A Fernando Botero sculpture stands in front of one of the loft's many arched windows, facing — fittingly — a pair of bulbous Botero chairs by India Mahdavi. The Sorgue side tables (custom-sized to fit the space) were bought on 1stdibs from Bourgeois Boheme Atelier.
Currently, the partners are both responding to architecture — in a full-floor apartment in a Renzo Piano–designed building on Broome Street — and creating architecture of their own, in a stately Fifth Avenue home. There, GRADE is working with the interior designer Daniel Romualdez. "We generally prefer to be both architect and interior designer. But if the right opportunity presents itself, we are eager to collaborate," says Hickey. The partners played their customary dual role in a house in Bronxville, in New York's Westchester County. The exterior is Arts and Crafts-y, in deference to the neighborhood, but the interiors are quite different. The clients, who are from India, wanted a home that felt familiar, so the designers employed colors and textures reminiscent of their country "but in a modern way," says Yedid, adding, "As is typical for GRADE, we used a mix of contemporary, vintage and custom-designed pieces."
The result is an elegant balance. No matter what style they're working in, "We start with the traditional," says Hickey. "Even our modern spaces are classically scaled and proportioned."
Or support your local bookstore.
Quick Picks from GRADE's Edward Yedid