July 4, 2016
When most people hear the name Harry Bertoia, they think of the shapely welded-wire seating he designed for Knoll in the 1950s — the Diamond, Bird, and Side chairs, and Asymmetric chaise — classics of modernist design that continue to be produced by that company.
But the Italian-born designer (1915–78) was also a prolific artist who created majestic metal jewelry, monotype prints and sculptures. His works in these mediums, appreciated in their time, are currently being introduced to new audiences in two exhibitions at New York's Museum of Arts and Design, or MAD, through September 25.
Bertoia's wearable art, which he made mainly for his wife, Brigitta, and his friends (Ray Eames's wedding ring was fashioned by Bertoia), is the subject of "Bent, Cast & Forged: The Jewelry of Harry Bertoia," organized by Shelley Selim for the Cranbrook Art Museum, in Bloomfield Hills, Michigan, where it originated. (Bertoia studied at the Cranbrook Academy in the late 1930s and early '40s, when everyone who was anyone was a student or on the faculty there: Florence Knoll, Eliel Saarinen and his son Eero, and Charles and Ray Eames, among them.) Here, the artist is revealed at the beginning of his career through a selection of his imaginative Surrealism-influenced brooches, rings, necklaces and bracelets. Most were made while he was managing the metal shop at Cranbrook (one of the jobs he took there after graduating, in addition to teaching metalsmithing and graphic design), using scraps found in the studio. Also on display are monotype prints from the same period that show him exploring forms he would employ in his chairs and sculptures a decade later.
The larger of the two exhibitions, "Atmosphere for Enjoyment: Harry Bertoia's Environment for Sound," organized by MAD's chief curator Shannon R. Stratton, concentrates on the Sonambient — a term trademarked by Bertoia — sound sculptures that preoccupied him during the last 10 years of his life. The Sonambient pieces evolved in two forms: as shapely gongs of silicon bronze suspended in the air and as floor sculptures composed of dozens of beryllium-copper rods attached upright to a base. The ringing sounds they produce vary in tone according to the size of the gong or the thickness of the rods.
The more widely known of Bertoia's Sonambient works, the floor sculptures, came first — and by chance. "Beryllium copper was an alloy used by the navy, and it was very durable," says Val Bertoia, the artist's son and a maker of sound sculptures himself. His father had been using copper alloys for welding for years when, in the late '60s, Val recalls, "he ordered a shipment of beryllium copper rods from a company called Berylco, in Reading, Pennsylvania. The surprise was that it behaved so differently from the copper alloys he had used before. Instead of being soft and malleable, it was springy and strong." According to Val, Bertoia discovered the material's acoustic capacity when he was bending one heavy rod and it touched another and made a musical ping, piquing his curiosity as to what kind of sounds many rods close together might produce.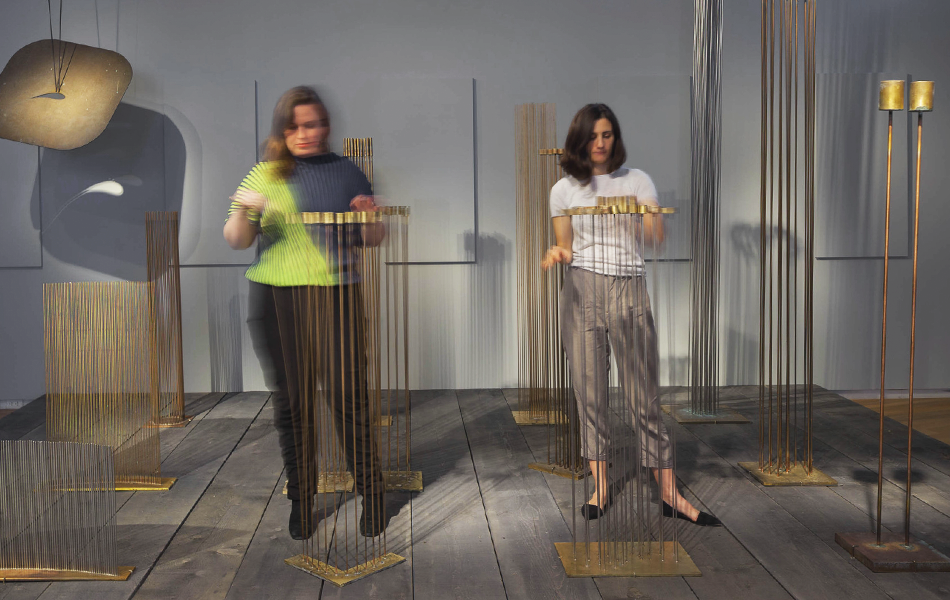 "He understood what sounds different metals would bring," says James Elkind, owner of Lost City Arts, a Manhattan-based gallery specializing in mid-century art and design. "Some sound sculptures are high-pitched, some are sonorous, and they stay in motion for long periods of time." Elkind says he began to educate himself about the artist about 12 years ago, "after hearing people quietly talking about Bertoia." His first purchase was a "Willow" sculpture (not a sound piece) at Rago Auctions, in Lambertville, New Jersey. "I think I paid ninety-five thousand dollars, which was a lot for me at that time, and I brought it to the Modernism Show [in New York] and sold it for more. That not only told me there was a market for his work but that people were moved by his art. His works affect people in an elemental way."
In early June, Val played one of the last concerts on his father's Sonambient sculptures in an outbuilding, called the Sonambient Barn, behind the family farmhouse. (A lawsuit filed by Val's two sisters arguing that they should take possession of their share of their father's sound sculptures was recently settled in their favor, and they hope to eventually place them with a public museum.) Val will be moving his own sound sculptures into the barn over the next few months and plans to continue his concerts as well his tours of the family property and of the Bertoia Studio in the nearby town of Bally, where he maintains a storefront museum dedicated to his father.
As Val moved in a balletic manner from sculpture to sculpture in the barn, pressing rods together with his hands and releasing them, or tapping a gong with a mallet, he created eerie sounds that continued to reverberate from each work— an ongoing musical composition of various tonal vibrations that was alternately reminiscent of church bells, chiming clocks and cymbals. It was easy to imagine the pleasure his father must have experienced in this light-filled, open space, surrounded by music of his own making.
The MAD exhibition has replicated the barn's setup on a smaller scale with an installation of 19 sound sculptures made by Val. Museum visitors are encouraged to play them (under supervision) on Thursdays between 6 and 9 p.m. and on Saturdays between 12 and 3 p.m. The rest of the time, a four-channel sound installation that draws on Bertoia's archive of recordings plays throughout the galleries, simulating the concerts he held in his barn. (Bertoia's recordings were recently digitized and released in an 11-CD box set).
In 1971, Jeffrey and Miriam Eger, then recent London Film School graduates living in New York, agreed to document Bertoia at work. The resulting impressionistic film, Sonambients: The Sound Sculpture of Harry Bertoia, currently on view at MAD, combines footage of the artist playing his sculptures with video of pine needles and other natural forms in the surrounding landscape that share physical similarities with his creations.
In an interview with Jeffrey, Bertoia said he liked to think his Sonambient creations were inspired by the sounds of metalworking he delighted in as a child, made by gypsies who came to his town of San Lorenzo, Italy, to repair the locals' pots and pans. "The pounding of the hammers and the shining of the metal made a great impression on me," he said. "It may not be what I'm doing here, but I like to think that it is."