March 14, 2021Mystically inclined modernist painter Hilma af Klint is having a moment — which is somewhat surprising, considering the enigmatic artist died more than 70 years ago. Born in Sweden in 1862, af Klint studied at the Royal Swedish Academy of Fine Arts, in Stockholm, and made her living painting portraits and landscapes. At the same time, she was independently following an unconventional creative path that involved attempting to communicate with other worlds.
Like many artists of her era, af Klint studied spiritualist writings, and in 1889, she joined the Swedish lodge of the Theosophical Society. She and four other artists began meeting regularly to pursue occult practices, including holding séances. They kept notebooks about their experiences and made automatic drawings, letting their hands move randomly across the page, channeling the will of spirits or the subconscious. Eventually, they found six spiritual guides, who in 1904 asked that a series of paintings be made for a temple in their honor. Af Klint took on the commission and began her 200-work series, The Paintings for the Temple (1906–15).
The results were, fittingly, otherworldly. Af Klint's paintings, made with tempera on paper, were exuberantly colorful and full of richly kinetic forms, both geometric and biomorphic. They were also radically abstract, eschewing representation well before the traditionally credited male pioneers of this style — Piet Mondrian, Wassily Kandinsky and Kazimir Malevich — had their breakthroughs during World War I.
Af Klint was prolific, but she rarely exhibited her pieces; she knew she was onto something new and exciting that the art establishment of her day wasn't prepared for. She stipulated that her work not be shown until 20 years after her death, which occurred in 1944.
It would be 40 more years before her paintings were shown. More recently, a full picture of her accomplishments has emerged, most notably through the first major solo exhibition of her work in the U.S., "Hilma af Klint: Paintings for the Future," mounted at the Solomon R. Guggenheim Museum in New York City in 2018. That show rocked the art world, earning widespread praise from critics and drawing the largest audience in the museum's history.
Further cementing her legacy, the first three volumes of a seven-volume catalogue raisonné of af Klint's work is being released this month by the Swedish publisher Bokförlaget Stolpe.
Af Klint is, of course, only one of many "spiritualist abstractionists" of the past century; that long list includes Kandinsky and Mondrian, as well as Agnes Martin, Emma Kunz, Jackson Pollock, Agnes Pelton and Roland Ayers.
Now that af Klint's work has become more widely known, many of today's creators have found in her and her oeuvre a wellspring of inspiration. Here are six artists who see her as a heroic figure — perhaps even a spirit guide herself.
---
Ky Anderson
Ky Anderson's abstract paintings engage the viewer with bold blocks of color and a convivial palette. Anderson is a graduate of the Kansas City Art Institute and has been living and working in New York City for more than 20 years. Her paintings, which have been exhibited across the country, are based on memories or dreams.
Her "Star School" series (2020), for instance, was inspired by a dream she had of paintings featuring stars with imaginary viewing apparatuses. Done in acrylic and ink on paper, Anderson's pieces typically have visible layers, which lend them depth and provide a window into her process.
Many of her works are largely symmetrical, if a bit off-kilter. She feels this connects her with af Klint, whose paintings often display symmetry in both their composition and the abstract forms depicted. Case in point: Altarpieces, No. 1-3 (1915), which feature circles and pyramids. "We speak a similar visual language," Anderson says.
---
Carol Diehl
When Carol Diehl first came across af Klint's work — in the 2005 exhibition "3 x Abstraction: New Methods of Drawing by Hilma af Klint, Emma Kunz, and Agnes Martin" at the Drawing Center in New York City — she "felt at home." Diehl, who has always been drawn to mysticism, recalls, "I was already creating diagrams in my paintings to indicate systems belonging to ethereal or supernatural worlds, like those that made af Klint's work so compelling."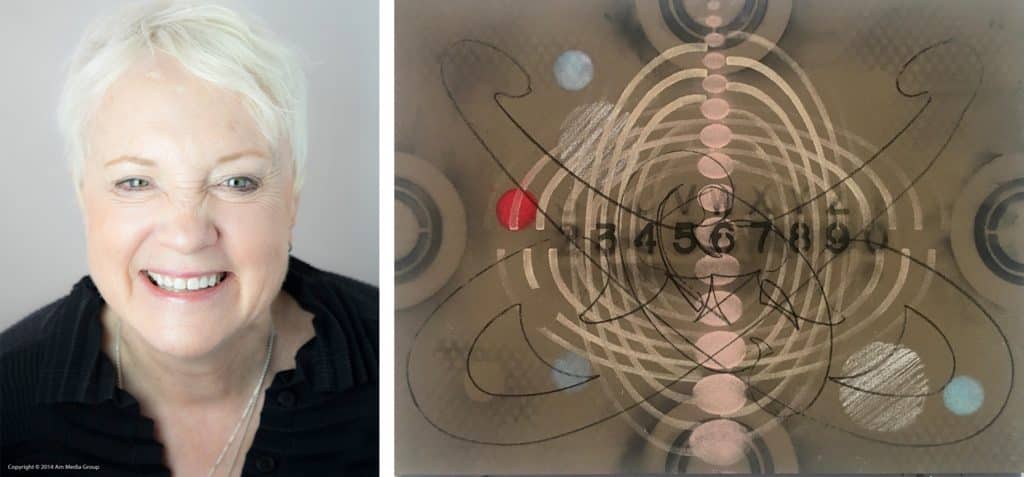 Diehl, who is also an art critic and poet, began painting in the 1980s, recording everyday events in her life in dense grids, a technique that she says reflected "my love of Agnes Martin," she says. She filled her canvases with esoteric words, numbers and symbols. Over the years, the artist, who splits her time between New York City and southwestern Massachusetts, has gone through different phases, sometimes paring her palette down to pencil and ink on paper.
Her discovery of af Klint in 2005 prompted her to give greater play to the supernatural in her work. In a 2011 series of pastels, her goal was to combine generic elements — marks made from geometric stencils available at any art supply store, along with random letters and numbers — in compositions that would transmute their mundane nature into something mystical.
---
Greg Dzurita
Greg Dzurita's acrylic paintings can feel a bit hallucinatory, with their clean lines, symmetrical and mirrored shapes and areas that appear marbleized — an effect achieved by mixing the paints with materials like rubbing alcohol, water and soap.
The artist, who finds much of his inspiration in the architecture he encounters during his travels — particularly in Cuba, Greece, Italy and England — began painting in 2015. He has since developed a strong following, attracting commissions that include posters for the bands Tame Impala and Grizzly Bear.
Dzurita says af Klint's esoteric symbols resonate with him because he too draws from that source material. His favorite af Klint piece is Group IX/SUW, The Swan, No. 13 (1915), in which the canvas is bisected by a horizontal line, its top half bright and the bottom somber. In the middle are two triangles placed tip to tip like an hourglass and positioned in front of a circle. "The balance of the geometry and the contrast between light and dark draw the viewer in," he observes.
---
Susan Hable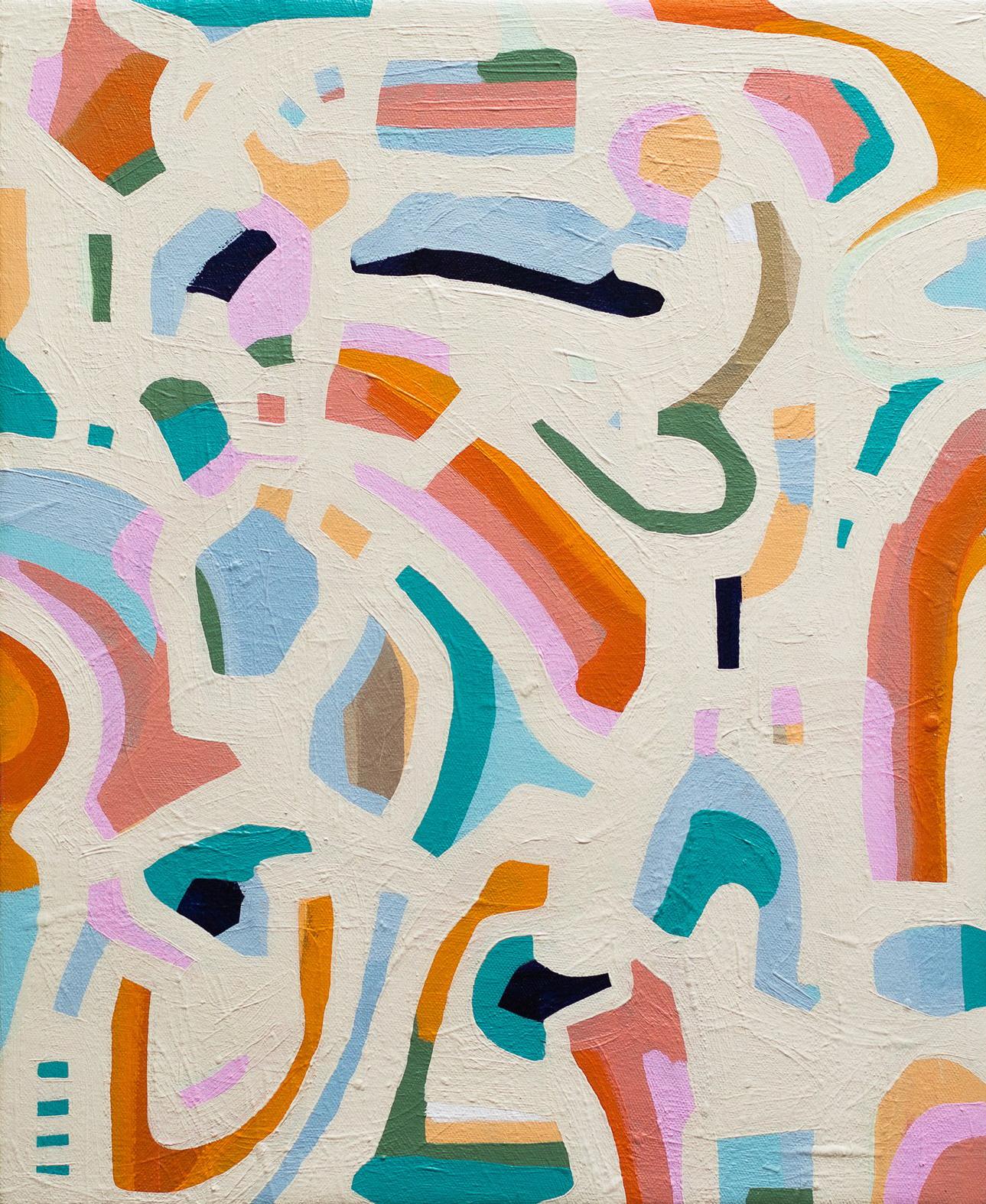 Susan Hable is the artist behind Hable Construction Design, which she founded with her sister in 1999. The surface-design company, named after their grandfather's road-construction company and based in Athens, Georgia, is known for its textiles printed with her hand-drawn patterns, and over the years, it has expanded into wallpaper and furniture. In addition to her commercial work, she's long been a fine artist, producing evocative paintings, collages and drawings.
Hable finds her muse in gardens; her own became a cherished part of her life when she moved to Athens from New York City, around 2010. Pressed flowers her mother sent from her native Texas, for instance, provided the model for paintings of meandering strawberry vines, limned in white on a background of saturated blue, that ended up in Reese Witherspoon's Draper James boutiques, which feature work by Southern women artists.
In Hable's large-scale oils, brightly colored organic forms seem to float on water or peek out from beneath a layer of snow. Of af Klint, she says, "We share a love of botanical and natural forms, along with a deep love of color."
---
Rachelle Krieger
Rachelle Krieger's paintings evoke the natural world, with sweeping brushstrokes that suggest rock formations, tree branches and wind gusts. In some of her pieces, neon colors vibrate with energy. Her works, she explains in her artist statement, tackle "what's in flux: sunlight, rain, electrical storms, thunder, wind and air."
Af Klint's work, says Krieger, illuminates the "magical nature of reality." She particularly admires No. 7, Adulthood, from af Klint's series "The Ten Largest" (1907), which are 10 feet in height and 9 feet wide. The painting, she says, "gives meaning to the stages of life through botanical, fantastical imagery." After seeing it at the Guggenheim, Krieger painted several pieces featuring biomorphic forms in saturated colors. "I had af Klint in mind and heart," she says.
---
Kate Hooray Osmond
Those who have seen af Klint's "The Ten Largest" often describe the experience as immersive. Kate Hooray Osmond aimed for a similar sensation with her installation Wonderwheel (2019–), which has been exhibited at Maryland Institute College of Art (where Osmond earned her MFA) and the Atlanta Decorative Arts Center.
The work consists of about 60 paintings mounted on easels and arranged in a circle, with the viewer standing in the center. There's no defined beginning or ending. Inspired by aerial photographs she takes from a helicopter, the abstract imagery, the artist explains, "flows from one painting into another," suggesting elements like roads, railways, housing developments and urban construction.
"Wonderwheel is a giant color wheel of energy and motion," says Osmond, who is based in Charleston and was named a South Carolina State Fellow by the SouthArts Commission in 2018. Color, energy and movement also characterize most of Osmond's other works, which can be found in the collections of the College of Charleston and HBO Productions.
Like af Klint, Osmond uses a full spectrum of colors and sometimes embellishes her pieces with gold leaf. "Visually, there's so much to say about life," she says. "Why not explore all the colors?"
Explore More by These Artists