When asked to describe his design philosophy, Kevin Isbell replies, "I'm going to take your style, and I'm going to filter it through my sensibility while making it appropriate to the location." The designer — who opened his own office in New York in 2009 and relocated to Los Angeles early last year — puts that philosophy into practice in projects ranging from an elegant historic house in Connecticut to sleek Manhattan apartments to laid-back coastal getaways in Georgia and South Carolina.
Isbell and his husband and business partner, Gianantonio Corna, have been self-quarantining in their Spanish Colonial–style house in the L.A.'s Fairfax district since returning in early March from Palm Beach, where Isbell designed a room for the (very well-attended) Kips Bay showhouse. "If you'd told me a month ago that I'd be doing a cocktail party on Zoom, I'd have said you were crazy," he says. Luckily, their office is located in their house. The home presents a contrast in palettes, with the fairly neutral colors of the living and dining rooms offsetting bright hues elsewhere. "Even though I like color," Isbell notes, "it's not what the architecture wants."
Isbell's interest in design dates back to his student days. After completing a dual major in business management and art history at Ohio State University — "One for my parents, one for me," he says — he moved to San Francisco, where he earned a degree in interior architecture and design from the Academy of Art and later worked for the renowned Bay Area architect and interior designer Orlando Diaz-Azcuy. "For someone who is known for his white interiors, he taught me a lot about color," Isbell says.
After moving to New York, in 2001, Isbell worked for Celeste Cooper, who, like Diaz-Azcuy, leans toward clean lines in his projects. He was exposed to an entirely different approach as part of Jeffrey Bilhuber's team, his last stint before going out on his own. "If Orlando taught me the rules," Isbell recalls, "Jeffrey taught me how to break them — and properly. He has a fearlessness that I appreciate to this day. He mixes eras, he mixes high and low. If something's good, it works."
Isbell's own subtle, layered aesthetic incorporates elements of both styles. When a couple whose New York townhouse he had decorated exchanged it for a duplex at United Nations Plaza, on Manhattan's East Side, Isbell filled the clients' new home with their own Asian antiques and contemporary art along with custom and vintage pieces that he found, combining restraint with exuberance. The wife wanted a writing area with a view, so Isbell placed an antique desk in front of the living room's expansive windows. In the dining room, he covered one wall with black and gold chinoiserie wallpaper. This complements the striking chandelier of brass and crystal that came with the apartment, to which the dining table's rugged wood base, by Christian Liaigre, forms a striking contrast. In the sitting room, a pale-toned contemporary sleeper sofa is flanked by late-19th-century gueridons from Lee Calicchio, while the clients' Asian wood table, carved in the shape of an aardvark, sits next to a leather armchair from Holly Hunt.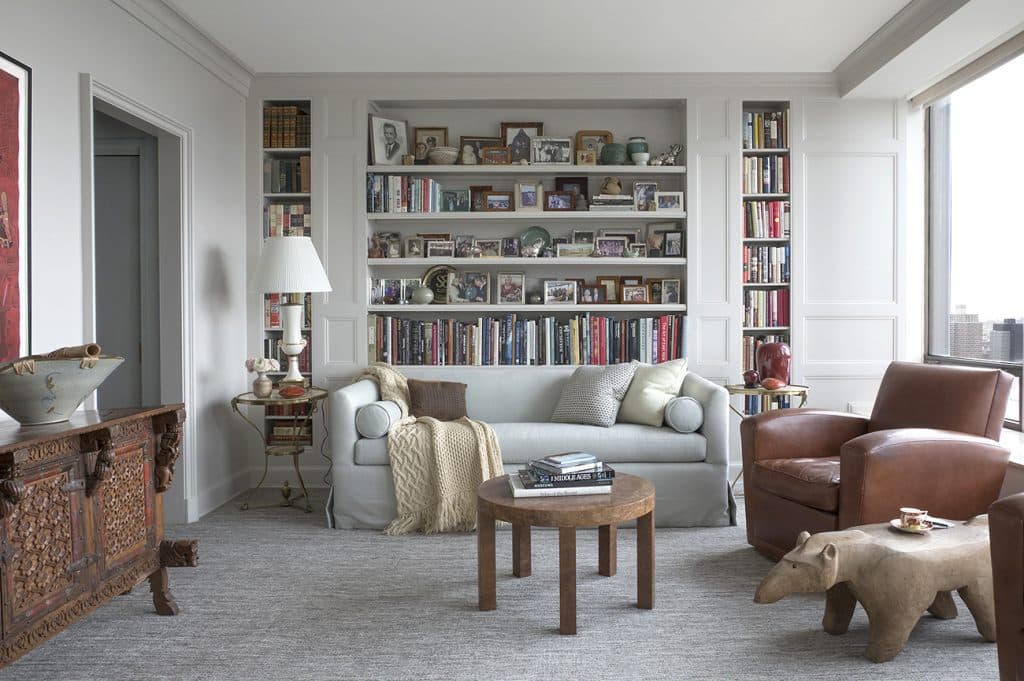 In contrast to that apartment's generally muted palette, a vacation home in Sea Island, Georgia, belonging to a family from Connecticut, is filled with color. Isbell, collaborating with the architect Thad Truett, transformed the 1970s house using a traditional yet casual mixture of antique, vintage and custom pieces.
In the living room, for example, one of a pair of mid-century gilded sunburst mirrors by Le Barge, sourced from Jarontiques, is mounted above a wicker porter's chair. The breakfast room's lime-green walls and ceiling are covered with latticework that brings the outdoors in; a vintage red-painted chandelier hangs above the table and custom banquette, which was made by Isbell's preferred upholsterer, Brooklyn-based Luther Quintana.
For a house in New Jersey owned by a single woman (another repeat client), Isbell used a sophisticated, understated palette. The living room has muted pale green walls and a light blue ceiling, while a Victorian sorcerer's mirror overlooks a sofa covered in light green linen; the two armchairs opposite have pale blue upholstery and a green ball fringe, "just because," Isbell says. "I like colors that are neither one thing nor the other — is it blue, is it green?"
In Connecticut, he worked with the architect Sam Mitchell on the renovation of a 1928 house designed by Aiden and Quentin Twachtman, sons of the painter John Henry Twachtman. The owners, who had moved from New York, "wanted to restore the house's grandeur, but not slavishly," Isbell notes, adding that he was "sort of channeling Frances Elkins," the 20th-century decorator who often worked with her brother, the architect David Adler, another Isbell influence. In the living room, he juxtaposed custom upholstery with pieces from 1stDibs — a 1960s goatskin-covered coffee table by Karl Springer, sourced through John Salibello, and an egg-shaped tufted Victorian chair, from George N Antiques. In a particularly inspired move, he cut a pale blue ribbon-like motif out of the floral curtain fabric and used it for the vertical edges of the curtains, the skirt of the blue sofa and as an appliqué on the back of an armchair. "I love details," he says. "You may not notice them going in, but once you discover them, they're what you remember going out."
In the dining room, which has midnight-navy lacquered walls, Isbell showed off a collection of antique blue-and-white Chinese porcelain by lining the corner cabinets in lilac burlap. A mahogany Regency sideboard from Niall Smith accompanies two large dining tables, which he designed so that they can be combined. He also added a marble fireplace mantel that he bought in Paris. On the third floor, he took down the walls between the rooms of the former staff quarters to create what he calls a "teenage hangout area" — albeit a glamorous one, with strié walls and a leather ceiling, furnished with a vintage pool table, Moroccan lanterns that Isbell had electrified and a hanging paper lamp by Isamu Noguchi. "It's a very multicultural room," he says.
Los Angeles Designer Kevin Isbell Mixes Periods and Styles with Fearlessness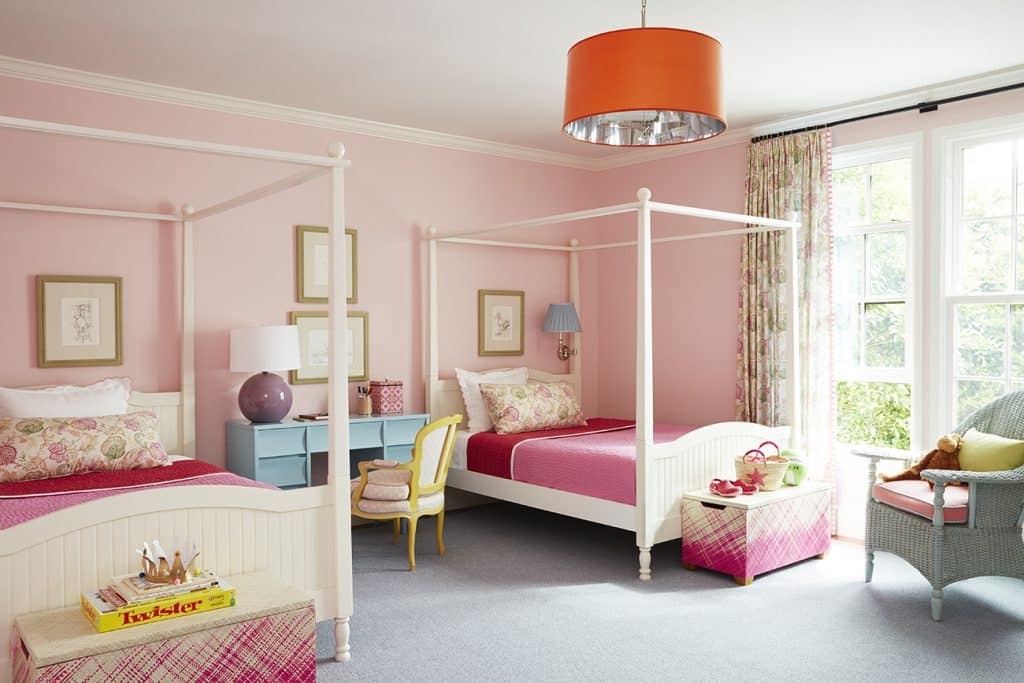 Isbell is currently working on Nantucket — on a 1970s house, where he deployed a neutral palette in deference to the ocean views, and its traditional, shingled guest cottage, which he gave a "much more exuberant" look, with lots of color, printed fabrics and a floor painted with a large-scale gingham pattern. Isbell strikes a more glamorous note in a full-floor apartment he's designing at 220 Central Park South in New York, upholstering the great room's walls in silk satin. "It's very fabulous, which is suited to the building," he notes. And suited to Isbell, too.
---
Kevin Isbell's Quick Picks