The rue de Seine is a prime Paris destination for art, Art Deco furniture and haute design of all stripes. And so it makes sense that it was here, in the heart of Saint-Germain-des-Prés, that French dealer François Laffanour opened his first Galerie Downtown in 1982, dedicating it to the furniture of 20th-century French modernist architects Jean Prouvé, Charlotte Perriand, Pierre Jeanneret and Le Corbusier, and to the lighting of Serge Mouille.
By 2008, when he expanded into a stunning space across the street, the once-forgotten original designs of these 20th-century masters had been transformed into highly coveted collectibles, and the works of the contemporary London-based Israeli architect Ron Arad had joined Laffanour's inventory. Back in 2006, meanwhile, Laffanour opened Downtown Studio — around the corner from these two, on Rue Visconti — to host events including concerts and theatrical productions and to house outsize pieces from Lafannour's own reserves.
Reflecting the gallery's status today as a major player in the world of design, its clients include such top-flight collectors as cosmetics mogul Ronald Lauder and luxury-goods tycoon François Pinault. And Laffanour regularly participates in international art fairs; he was just in New York for The Salon: Art + Design, and he'll be returning stateside for Design Miami in early December. Downtown's Miami stand, a take on its attention-riveting booth at last year's Paris Biennale des Antiquaires, will spotlight unique 1950s furniture that Perriand created for the Montmartre home of her close friends Jean and Huguette Borot. (She had met Jean, the owner of a large plumbing manufacturer, when they collaborated on designing innovative sanitary equipment.) Laffanour will also be offering a selection of Perriand pieces from the 1950s that were specially commissioned and produced by the famed Galerie Steph Simon, in Paris.
In Laffanour's Paris office, the furnishings — including Perriand's 1960 mahogany desk, 1961 Mauritanie bookcase and 1958 Steph Simon edition table, plus a circa-1950 cowhide chair — nod to his prodigious Perriand stash while affirming the gallery's credo. "What sets us apart is that we work from original archives, offering things that are not often seen on the market," he says. "The desk, for example, I bought from a collector who bought it from Charlotte in the 1950s."
With his wavy, steel-gray hair, glasses and preference for a shirt and trousers rather than a jacket and tie, the soft-spoken dealer could easily be mistaken for an academic, a role for which he once might have been slated. He was a student of 20th-century history at the Sorbonne when a serious motorcycle accident interrupted his studies. He decided to abandon university and go to work. As nonconformist as he is modern — "I didn't want to work in an office, but for myself" — Laffanour rented a stand at the Paris Flea Market in 1976. And then, of course, he had to fill it.
"I went to Emmaüs [the Abbé Pierre charity store that is similar to the Salvation Army's]," he recounts. "By chance, I found some furniture by Prouvé. I didn't even know who he was. The chair was twenty francs, the desk, fifty. Someone later explained Prouvé was important. But most of all, I saw the beauty in it, and no one else did. So there was a possibility of evolution. That was really interesting."
---
"I thought if they had been recognized twenty years ago in their own epoch, their work still must be important. It encouraged me to go on."
---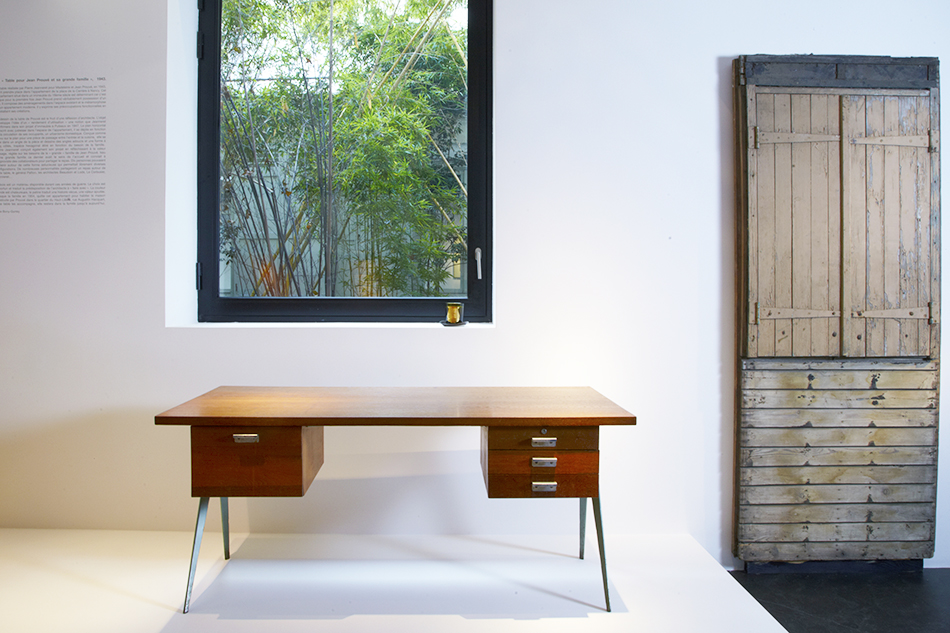 The challenge was to convince others of the beauty. "The only price was what I thought it was worth. There wasn't a market," he remembers now. His historical knowledge helped. "The twentieth century was a century of revolutions: political, intellectual and artistic. I had seen some of the names — Charlotte Perriand, André Bloc, Le Corbusier — during my studies. So I thought if they had been recognized twenty years ago in their own epoch, their work still must be important. It encouraged me to go on."
His friendship in the '70s with noted American Art Deco collector Bob Walker, who had filled his Paris townhouse with Eileen Gray, Pierre Chareau and Pierre Legrain, sharpened what Laffanour calls his "perception of quality" and convinced him he was right to strike out into new territory. "With Prouvé, I had the impression that I was buying the top, the equivalent of the greatest — for nothing. That was very exciting," he says.
"Prouvé is the genius of folded sheet metal," Laffanour continues. "Working with a material that proved banal in the hands of others, he gave it an extraordinary form and sense of poetry. In his furniture, the legs incline in a particular way, the thickness of the folded metal is very specific, its color is important, details are never exaggerated. The structure becomes a sort of mini architecture."
After opening his gallery, Laffanour produced the first-ever Prouvé exhibition, which attracted an early and important client who was among the few that recognized the designer as a major talent. Another, the son of famed French comic film star Louis de Funes, furnished his house and office with Prouvé's industrial designs because, as he explained to Laffanour at the time, "It's amusing to see people's reactions when they come in."
Today, in galleries and at auction, this architect-conceived furniture has nudged its way into the price precinct of fine art. The numbers keep rising, and "the same collectors are buying both," Laffanour affirms.
Laffanour has maintained a tradition of masterfully curated exhibitions — like last June's "Made in Japan," which showcased Perriand's work alongside such architects and designers as Isamu Noguchi and Tokujin Yoshioka, demonstrating a shared exacting approach to form and materials, to savoir faire and to the execution of each piece. Besides Prouvé, Laffanour has staged over the years premiere exhibitions devoted to Perriand, Jean Royère and Mathieu Mategot, and such international grandees as Charles Eames, George Nelson and George Nakashima have also featured in the mix, as have Italian masters including Ettore Sottsass and Gaetano Pesce. On the occasion of the gallery's 30th anniversary, Ron Arad, whom the gallery has exclusively represented since 2004, created 100 signed mirror-polished steel tables that dazzled and reflected throughout the rooms.
It's Perriand, however, who made one of Laffanour's most treasured pieces: the Table Eclairante, the result of a 1950 collaboration with Prouvé and lighting designer André Salomon. "Perriand demonstrated her genius very young," the dealer notes. "At twenty-five, she was already working with Le Corbusier, who was in his forties, and also creating extraordinary things by herself."
The story behind the Perriand Montmarte apartment that Laffanour will bring to Miami, meanwhile, is the stuff of antiquaire legend: After he discovered the home in an architectural magazine in the 1970s, the young dealer went to see the owner, but "she didn't want to sell," he recalls. The years passed, and "I sent letters and letters." Only recently, however, did it happen that "her heirs called and said, 'Apparently, you are interested — It's all for sale.'"
---
TALKING POINTS

François Laffanour shares some thoughts on a few choice pieces.