July 4, 2021Time was when lobbies were merely transient spaces, rooms in which one spent the most fleeting moments — checking in at a front desk, getting to an elevator, awaiting an assignation. Just think of the revolving door sequence from the 1932 movie Grand Hotel, in which guest after guest cycles through the rotating portal like it's a perpetual motion machine. By the end of the 20th century, however, and certainly in the beginning of the 21st, the idea of the lobby as little more than a pass-through was as antiquated as celluloid film.
As developers realized — and then capitalized on — the revenue-generating potential of ground-floor real estate in hotels, office towers and luxury apartment buildings, lobby design underwent a complete reimagining. Interior designers got to ramp up their budgets for these spaces, allowing them to create rooms designed not just for living but for lingering. As early as 1983, the New York Times noted the phenomenon. The paper's architecture critic Paul Goldberger wrote that lobbies had become "something else entirely: a space intended to grab our attention, to make us stop, linger, look — and in all probability spend money."
Today's lobbies perform a multitude of functions that entice you to stay put: They house fine-dining destinations and cafés built for enjoying a leisurely cup of coffee; they host casual business meetings and date nights for style setters; they've become hangouts that serve as public interfaces with a neighborhood. In fact, they have become so inviting that residential design can take cues from well-appointed lobbies. With their mood lighting, comfy sink-into furniture, intimate seating arrangements, phone-charging stations and first-class art, today's lobbies want you to feel at home, not on the run. Here are some of our favorites.
---
Shinola Hotel, Detroit
Gachot Studios
"The overarching concept we developed for the public space here was to create a 'living room' for the city, a communal space where locals and guests can feel equally at home," says Gachot Studios partner and cofounder Christine Gachot, explaining the firm's approach to the lobby in this hotel from Detroit-based fashion accessories and watch brand Shinola. Accomplishing that goal involved using custom residential-grade luxury fabrics, such as camel-colored thick-pile mohair, and "making sure all seating was comfortable enough to hang out in for hours." Artwork displayed salon-style, as if in a home, feels like it was personally collected. (The pieces include works by what Gachot describes as a mix of local talent, emerging names and such high-profile creators as Nick Cave.) In another break from lobby tradition, the space is fully accessorized with objects, books and magazines. "We wanted to reflect how people actually live," says Gachot, "and that means there needs to be stuff!"
---
Hu Hotel, Memphis
Home Studios
Design these days, especially when it comes to residential seating, seems obsessed with curves. Swooping Vladimir Kagan–style sofas, biomorphic tables, rounded Lara Bohinc silhouettes and puffy, balloon-like 1970s shapes are everywhere. That's probably because of the welcoming sense of embrace curves suggest. Or maybe it's their good feng shui (avoiding angularity promotes the movement of chi). Home Studios pushes this idea to stylish extremes in Memphis, Tennessee's Hu Hotel. There's nary a right angle at Lucy's, the lobby/coffee bar/check-in desk, where a barista prepares your latte while retrieving your room key. The space distills its streamlined Art Deco inspirations into a veritable essay on U shapes, circles, arabesques and rounded corners.
---
Kimpton Van Zandt Hotel, Austin
Mark Zeff
Decorating the ceiling — what designers call "the fifth wall" — is a big trend in residential interiors, but it's not a surface that hotels usually splurge on. Mark Zeff, however, lined the cove ceiling above the seating in this space (which the hotel calls the "Lobby Living Room") with smoked antiqued mirror. This simultaneously draws the eye up and defines a room within a room below, one that contains a pair of conversation areas and is further set off from the rest of the lobby by a series of large square columns. The furniture here, set atop a custom rug from Doris Leslie Blau, is distinctly residential in feel: tufted blue-velvet armchairs, leather sofas and mid-century Scandinavian–style wide-back chairs surrounding a Casamidy glass-topped coffee table with a leather-strap base.
---
Hotel Californian, Santa Barbara
Martyn Lawrence Bullard
"A fantasy-like feel is always important in a hotel," says Martyn Lawrence Bullard, describing his Alhambra-palace-inspired interiors for this luxe hotel. "But lobbies should also greet you in a way that says, 'Welcome back.' " That means a sense of comfort, which Bullard achieved in an array of ways. A dramatic ceiling, he explains, "will visually raise the height of a low room but also make it feel cozier," because decorating it helps a designer, and a room, more fully envelop guests in an inviting aura. Meanwhile, providing a variety of seating configurations — like those here, comprising custom Moroccan and Gio Ponti–style pieces — "allows people to find their own level of intimate space."
---
Paine Field, Seattle
Clive Lonstein
The developer of this private two-gate airport hired Clive Lonstein precisely because he's a residential designer. "He wanted a warmth that emulated a home-like mindset," explains Lonstein. "The space has grandeur to it, but the focus is on materiality." The walnut used on the ceiling and for the slatted room screens, as well as the onyx countertops, the monumental blackened-steel chandelier and the hand-carved limestone on the fireplace mantel — not to mention the fireplace itself — are all atypical touches for an airport interior. Lonstein also made one of his signature moves, combining architectural verticality with low-slung horizontal furniture. The seating, which includes wool- and leather-upholstered JEAN PROUVÉ CHAIRS from VITRA, is low and deep, prompting relaxation.
---
Playa Grande Beach Club, Dominican Republic Celerie Kemble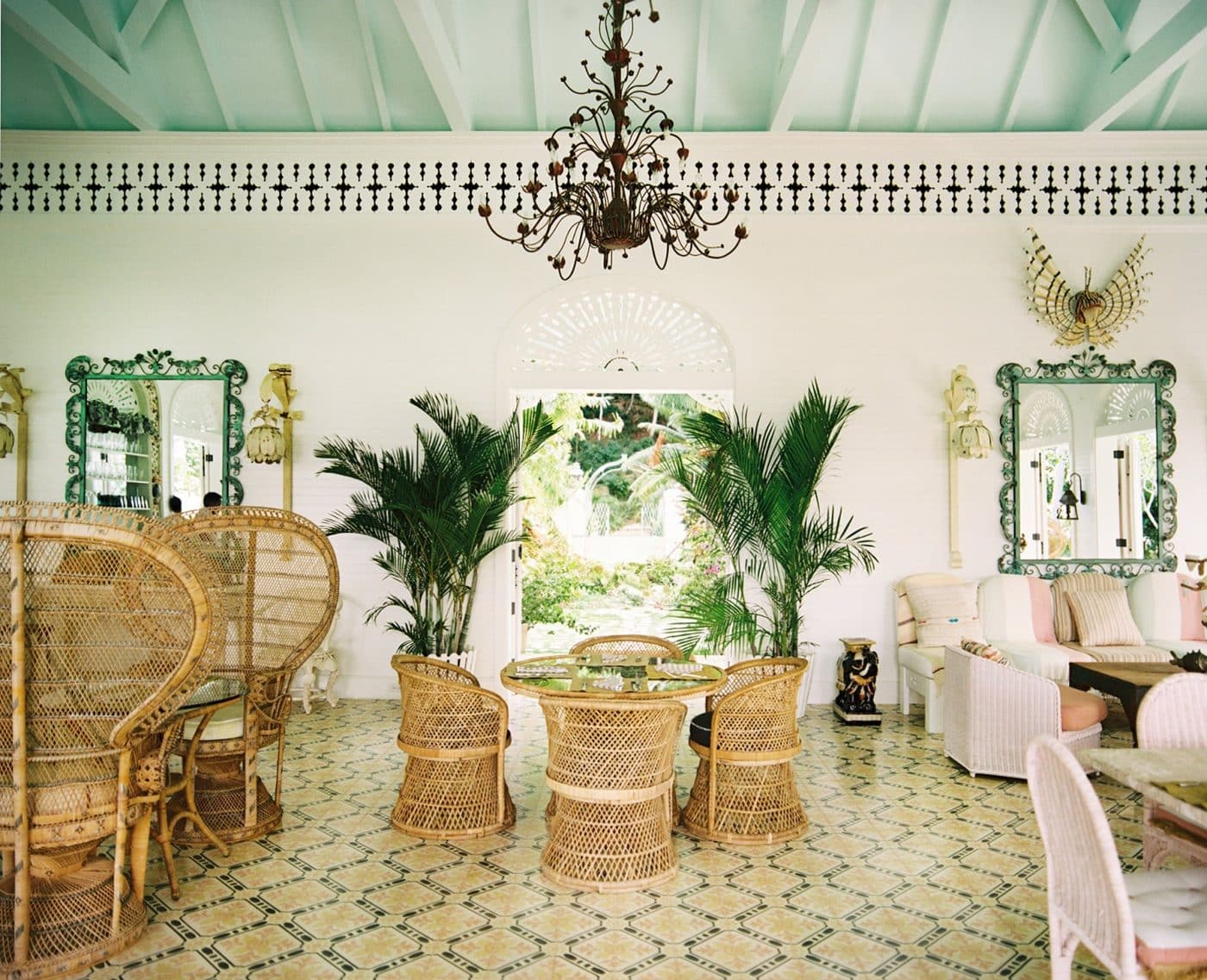 Celerie Kemble's new book, Island Whimsy, published by Rizzoli, is about a single project: Playa Grande Beach Club, the luxe, barefoot-chic Dominican Republic boutique resort that she not only designed but also developed with several partners. "Your degree of formality will tell people how to act in a space," says Kemble, referring to the hotel lobby. "We wanted people to understand that wet hair and a cocktail in hand work fine here. We did that with materials that have a sculptural flair but a light feeling — sisal, linens and rattan furniture. That helps it feel like home." Emmanuelle peacock chairs — popularized in the 1970s series of erotic French films of the same name — bring to the room a tropical flamboyance, given a Continental twist by Italian painted wood and iron chandeliers and Venetian-style painted mirrors.
---
Kimpton Shinjuku, Tokyo
Rockwell Group
This hotel's design, says ROCKWELL GROUP senior associate Merav Lahr, is driven by an imaginary muse: a local woman, raised internationally, who operates a Tokyo contemporary-art gallery. "The lobby was the gallery's foyer, where she'd greet guests with a cocktail," explains Lahr, so the decor is "eclectic and contemporary, not what you'd see in a hotel." All the pieces are custom, some of them reminiscent of curvy Art Deco salon furniture, some more modern, such as a chair inspired by Pierre Paulin's Pumpkin seating. Art, of course, is integral and includes works by Daisuke Enomoto (a graffiti-like painting) and Andrew Zimmerman (an orange multipanel creation). Lahr picked up on Japanese culture too, crafting, for instance, a wall surface that channels origami through a fashion lens — it's pleated like an Issey Miyake garment.
---
Santa Monica Proper Hotel
Kelly Wearstler
Imagine a sprawling, über-chic surf shack, and you get the idea behind Kelly Wearstler's design for the lobby of this hotel not far from the Pacific. Beachy bleached-wood paneling sheathes a portal to a library, and the furniture is an intentionally casual hodgepodge — from roomy, slightly floppy leather chairs and rattan-lashed wood-framed seats to Mario Botta–like metal chairs with fuzzy seats and upholstered cylinders for backs. There's even a chair that doubles as a vase, its headrest designed to accommodate a variety of foliage. All the furniture is low-slung. If there's a certain found-object quality to the look, it's mitigated by the pieces' being consciously arty and palpably expensive.
---
One Clinton Sales Office, New York
Studio DB
"Our approach, even in commercial spaces, is to create environments that feel residential, comfortable and approachable," says Studio DB's Britt Zunino, who designed this room with her husband and fellow principal, Damian Zunino, and team designer Lauren Passaro. The trio strived to respect the larger volume of the building while creating within it something of a more intimate scale. "So, we designed these niches around the lobby where you could read or check email, which have a personal feel to them," says Damian — an effect enhanced by the tactile, sound-absorbing cork in which they're clad. Adds Passaro, "We used a plaster wall finish, which is more of a residential treatment, and the scale of the Gabriel Scott light fixture is also more residential." Allied Maker sconces and an AVO rug provide finishing touches.
---
W Residences, Dallas
Swoon, the Studio
For this lobby, says SWOON founder Samantha Sano, the goal was to create not just an arrival-and-departure zone but "an amenity," a space for residents to frequent and enjoy, one that would add value for them. Arguably the coziest spot here is a seating area by the fire with its own dry bar, where residents can hold wine tastings and cocktail parties. Sano went with a "wabi-sabi-meets-warm-modern look," selecting materials and finishes "that have a bit of a hand to them" — a wall of creamy handmade tile, hemlock and white oak cabinetry, hand-thrown ceramics, horsehair-and-bronze sconces from Apparatus and seating upholstered in leather, mohair and velvet. The custom sofas are extra deep. "You're supposed to get in there, settle in and enjoy your wine," she says. Sano topped it all off with a leather Shinola turntable for spinning audiophiles' vinyl as well as a selection of curated coffee-table books. What could feel more residential than that?