Madeline Stuart is preparing for a client presentation. A couple from New York with three small children has bought a Spanish Revival house in Montecito, California, the posh area just down the coast from Santa Barbara. "It's a big historic home by Edwards and Plunkett, one of Montecito's most important architects," she says. "But it's been bastardized" and eventually will need a renovation. For now, though, the clients have hired Stuart to make the house presentable.
"We're pulling together the living room, the den, the dining room and some exterior spaces to get it to the point where they can invite people over," she says, explaining that on this job, she isn't moving walls, "just decorating."
That includes choosing fabrics. Stuart and one of her well-dressed assistants, Casey Goldstein, are standing at a counter in the room known as the resource library (a workaday part of Stuart's elegant West Hollywood studio). A wall of shelves is packed with clear plastic bins, more than a hundred of them, each overflowing with fabric swatches. Like a chef reaching for just the right ingredients, Stuart pulls down bins and extracts the fabrics she thinks will work in the Montecito house. Among them are favorites from Fortuny, Rogers & Goffigon, Sabina Fay Braxton and Chapas Textiles, a Brooklyn-based weaver. She is prepared, however, for the clients to dissent. "I may propose this green, but if they don't like it, I'd better have something else ready to show them," she says.
Stuart is also prepared for what she calls "a nap problem." She doesn't mean clients who fall asleep. She means clients who "recoil when touching certain fabrics. They just don't care for the feel. For example, some people find out they don't like linen velvet." She dives into more bins, looking for more possibilities. "It's like being a hunter-gatherer," she explains. "I love the process. You discover things you didn't even know you were looking for."
As she hunts and gathers, Stuart refers to photographs of antique Oriental rugs the clients have already chosen for the house. She also glances at shots of the furniture she'd like to use, subject to the homeowners' approval. The pieces are from go-to sources, including L.A. dealers Charles Jacobsen and Lief, as well as Atlanta's Robuck. Only a few pieces are from her own Madeline Stuart Collection. "If the contents of a house all emanate from the same source, whether a single showroom or a single manufacturer or a single era, it has a soul-deadening quality," she says. "It has no heartbeat."
Once she has the swatches she wants, Stuart repairs to her conference room, a cozy salon where floor-to-ceiling shelves are filled with coffee-table books, their spines bearing names like Charlotte Perriand, Josef Hoffmann and Christian Dior. Other walls are upholstered in a taupe-colored linen hemp over a layer of Celotex foam insulation boards, which enable her to pin up swatches. And pin she does, using not tacks but stickpins so she can drape and gather fabrics to create a sensuously three-dimensional collage. "Right now, it looks like everything matches," Stuart says, standing back from the wall. "But I won't allow that to happen. There has to be something deliberately discordant. Otherwise," she adds wryly, "it looks like a decorator did it."
The Montecito manse is just one of half a dozen large projects Stuart is working on. Among the others is a ground-up house in Bel-Air by architects Ferguson & Shamamian, who specialize in traditional styles. That residence, she says, is being built in an Italianate manner for an Indonesian client. But despite her encyclopedic knowledge of everything from mosaics to trompe l'oeil painting, Stuart doesn't only do old-world. "I would find it very boring to be pigeonholed," she says.
In fact, among her favorite recent projects is a house in Montana by the renowned modernist architects Lake|Flato, of San Antonio. The house is rugged, almost cabin-like, hardly the place for passementerie. So Stuart picked out a variety of workhorse pieces by important 20th-century designers, from the Brazilian Sérgio Rodrigues to the Danes Hans Wegner and Verner Panton.
Other Stuart projects fall on a continuum between strictly traditional and starkly modern. One client bought a white stucco house in Santa Monica that Stuart calls "one of the best examples of streamlined moderne" in California. (Completed in 1930, the home was designed by Cedric Gibbons, an Oscar-winning art director, for his wife, actress Dolores del Rio, and decorated for subsequent owners by Michael S. Smith.) Stuart's challenges included furnishing a 40-foot-long salon with white walls, black floors and industrial-strength casement windows. "Its severity," she said, "made me want to fill the room with extravagant texture and color." She did just that, using mohair rugs and handwoven fabrics in the teals, corals and champagnes "that we associate with nineteen thirties glamour, even though the photos we see are always black and white."
Hollywood glamour was also on Stuart's mind when she redid a small house in the Hollywood Hills for hotelier Jeff Klein and film producer John Goldwyn. The couple bought what had been a guest cottage on the estate of legendary director George Cukor and proceeded to turn the garage into a media room modeled on the living room of Cukor's main house. Stuart outfitted the oval room with a suede wallcovering, patterned maple and walnut floors and copper crown moldings, in direct homage to Cukor's William Haines–designed original. She designed seating to fit the curves of the room, which centers on a Mongolian lamb rug. The house isn't as over-the-top as it sounds. "It's a cottage that Jeff and John filled with a mix of things that are personal and meaningful to them," says Stuart.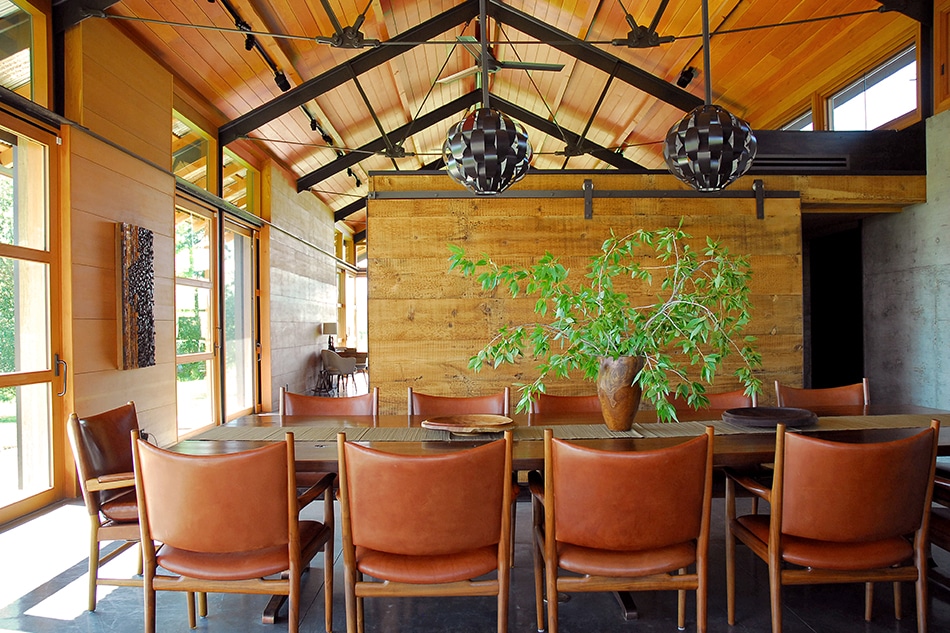 Now, her focus is 90 miles up the coast. The day after Introspective's visit, the owners of the Montecito house spent six hours in her conference room sorting through options. Their response was positive. "But if you think they wrote me a blank check and told me to do anything I want — the real world isn't like that," Stuart says. The couple plans to rendezvous with her in Montecito for further deliberation, and to see the fabrics "in situ."
Stuart is excited about the Montecito project, but she also feels some pressure, having promised to get the job done in six months. "I'm aiming to make the deadline," she says. "We will wheedle and plead and beg and cajole our workrooms." The fact that Stuart has a house in Santa Barbara — where she spends every weekend with her husband, journalist Steve Oney — should help her keep watch over the process. "We leave L.A. after work, and we're having a glass of wine by the time Bill Maher comes on," she says.
She also feels another kind of pressure. "A lot of designers don't realize how much clients depend on us to make sure they don't make a mistake — and, in particular, that they're buying something that has a degree of longevity. You don't want to do something that can be carbon-dated with a specific color or material." Then she adds, with an empathy rare among designers, "It must be very hard to be a client. There has to be a lot of faith and trust."
---
Madeline Stuart's Quick Picks on 1stdibs