Mario Buatta swore he'd never do a monograph. "It felt like the kiss of death," he says now, just as his first-ever – you guessed it! – monograph is about to be published. He worried, he said, that "maybe people would see a new project of mine in a magazine and then look at the book and say: "Oh, he's already done that."
But thanks to the continued urging of his publisher, Rizzoli – not to mention the distinct possibility of someone else beating him to the punch if he didn't do it himself – Buatta took the plunge, spending the last year and a half working with his co-author, design historian Emily Evans Eerdmans, to compile a half century's worth of his design work into one ten-pound tome. "At least, that's what Amazon says it weighs," the designer says with a laugh.
Mario Buatta: Fifty Years of Interior Decoration opens with an essay by Buatta that manages to be comprehensive without being dry, chatty without feeling superficial. It's everything you wanted to know about how the so-called Prince of Chintz came to reign, and how, over the last five decades – and counting — he's brought a certain casually chic, English country style to some of America's most well-known names.
Eerdmans, meanwhile, contributes a thoughtful and detailed essay on Buatta's career that reminds us how impactful his work has been, not just for the very lucky few who've hired him but to our culture at large. She writes: "Before the Internet, before the deluge of how-to television, Mario was one of a handful of interior decorators in the 20th century to attain widespread celebrity in his own time." Indeed, in the 1980s, how many other decorators had appeared on the cover of a mainstream business magazine (the now-defunct Manhattan, Inc., which bestowed upon him his rhyming royal moniker) or inspired an advertisement for a high-end vodka, which featured a bottle wrapped in floral fabric and disguised as a lamp above a tagline that read: "Absolut Buatta."
Today, the new book is particularly valuable because it's not just a slap-dash assembly of greatest hits. Instead, it's a smart, funny and very personal trip down memory lane, featuring, among many other notable projects, Buatta's very first published interior, in a 1969 issue of House & Garden; several of his influential rooms for Kips Bay Decorator Show Houses in the 1980s; and the Manhattan triplex he created for singer Mariah Carey in 2001, as well as some favorite decorating-centric cartoons he's saved over the years.
In a recent conversation with 1stdibs contributor Susanna Salk, Buatta talked about this massive project, managing to shine a light on his stellar, celebrated career without ever seeming one bit self-congratulatory.
I love how the book delivers its first wink in the opening dedication, where you thank "My Mother and her Sister Mary (who was not a nun)" for their support and inspiration. And then, in your acknowledgements, the first person you thank is "My alter ego Mario Buatta, whose head has never left my shoulders…" Leave it to you to not take your own life's work too seriously.
I have to keep it light with my clients. While its only decorating, it's a tough business. I often want to throw in the towel, but, despite myself, I keep accepting jobs.
Penelope Green of the

New York Times

recently described you as being "still impish." I must say, it captures your spirit perfectly.
Perhaps I get it from my father, who had a great sense of humor. Growing up in Staten Island, I'd often bring him the Times to read in bed in the morning, and the first thing he'd turn to was the obit section to find out, he'd say, if he'd died the night before.
While you were working on the book, you told me several times that the grueling compilation process almost did you in. At first, I thought you were maybe being a little diva-ish, but then I saw the book's impressive breadth: 432 pages! Did it all ultimately emerge as you'd envisioned it, or were there some surprising diversions along the way?
It came out exactly as I wanted, right down to the cover.
No chintz there. Instead you decided to feature a 1976 show house you did with crisscrosses of blue denim glazed on the walls.
Everybody wanted the cover to show flowers, but I wanted it to look different and have the feel of an elegant scrapbook. And I've always loved blue and white with a bit of yellow. It's even got 20-karat gold lettering on the spine.
Mario Buatta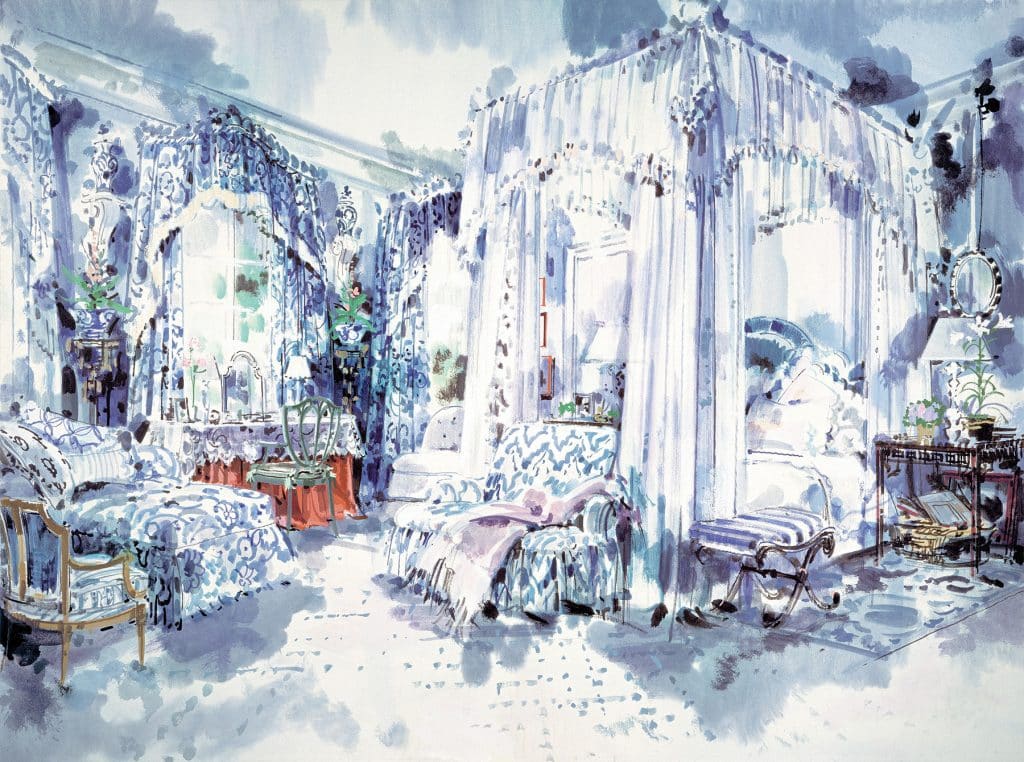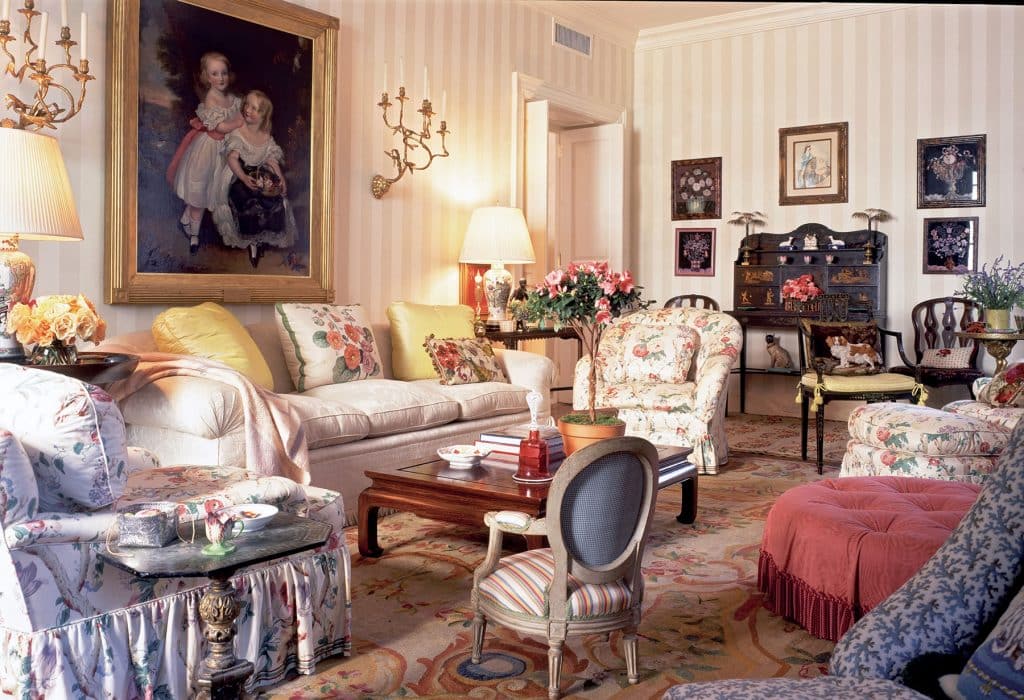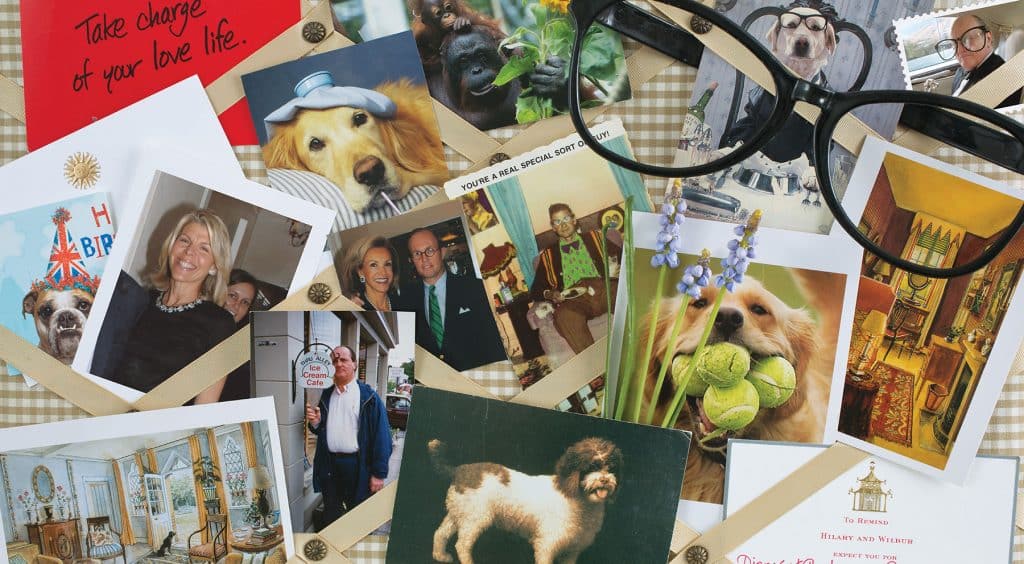 Nancy Lancaster's iconic yellow living room has always been an inspiration for you. You write in your intro that upon first seeing it in a book in 1961, "it knocked [your] eyes out," and you go on to tell the amusing story of how you had the privilege of visiting it three years later, with Lancaster herself serving as your tour guide. The spirit of that space — along with Lancaster's knack for creating a layered room filled with personal collections — has been reinterpreted many times over the years in your own work.
I owe a lot to John Fowler [Lancaster's business partner]. He wasn't just a designer but such a scholar, too. It was he who invited me to come stay at his country house, the Hunting Lodge, when I was in England in 1964, and he got me in to meet Nancy. So many of those old English homes I had been seeing were not pulled together. Nancy's, on the other hand, looked wonderfully evolved over time and still stylishly cohesive.
Back in the '70s, the legendary Sister Parish used your go-to chintz, Floral Bouquet by Lee Jofa, in her own drawing room after seeing you use it in a landing for a Kips Bay Show House.
She even paired it with aubergine walls the way I had. I used to love to tease her that she copied me. She was a character. I could say anything to her and get away with it.
With its cozy opulence, the Fifth Avenue pied-à-terre you created in 2005 for Hilary and Wilbur Ross, with its glossy eggplant walls paired with cheerful pastel colors, is quintessential Buatta. I love how you've never shied away from using a dark wall as a backdrop. How did you learn to be so bold?
I guess I was born that way. Even at 16, I wanted my bedroom walls dark brown and the floor to be covered in wall-to-wall hunter-green carpet. The painter said, "It's going to look like the inside of a barn," and I told him that's just it exactly. The inside of my closet was red.
For Arthur and Patricia Altschul's 30-room house in Centre Island, New York, you went to town with a stunning chinoiserie chintz — which

 

nicely complements the room's rich red-glazed walls — using

 

it both on the curtains and the furniture. Is more always more when it comes to chintz?
It depends. Each room has its own needs. But I remember being inspired by the legendary Billy Baldwin when it came to using a single pattern in more than one way in a room. I happened to be in the Brunschwig & Fils showroom in the '60s, back when it was on Madison Avenue, and I overheard Baldwin say he was going to put the same chintz on three chairs in one room. And I thought to myself, "Well, that's chic." He was the master.
Looking at all these rooms you created — year after year, trends be damned — one of the biggest consistencies that emerges is how you always strike the perfect balance between whimsy and comfort.
Thank you. You set a stage for your clients to act out their lives. And who wants to live in a museum room – much less decorate one?
You open each of the three sections — "Town," "Country" and "Weekend" — with a different collage showcasing snippets from the world of Buatta. Were these made expressly for the book?
Yes, in about one hour each! I had been saving those photos of friends, clients and favorite mementos for years. When we realized we needed some kind of visual chapter dividers for the book, I assembled them all at Rizzoli.
Your own living room wall is hung with dog paintings whose subjects you fondly call your "ancestors." In the book, you devote an early page to the "Buatta Family Tree," which consists only of dogs. And, of course, you've decorated using dog motifs in everything from porcelain to portraits. Isn't it about time you had one as a pet?
It's not that I'm selfish, but I couldn't deal with my stuff getting chewed up. A dog is like having a baby that never grows up. And this book is my baby in a way. Dogs actually like me better than people do, however.
or support your local bookstore