The New York designer Mark Cunningham chooses his words carefully. He's soft-spoken and not inclined to sweeping pronouncements; every question elicits a pause before the reply. He works in much the same way: "I try not to overdo things," he explains. "I always say I'd rather leave something out than put something in."
Cunningham's interiors — in sleek Manhattan apartments, spacious country houses and Hamptons beach cottages, for clients like the fashion designer Francisco Costa and Brett Heyman, founder and creative director of the Edie Parker accessories brand — vary in style and color palette, but all embody Cunningham's insistence on comfort. "I always want to make something that's warm, even in a modern project," he says, "and which reflects the people who live there."
You could say that design was in Cunningham's DNA. He grew up in Scottsdale, Arizona, and Reno, Nevada, attending junior high and high school in the latter. "I was one of those kids who'd rearrange the furniture when my mother was out," he recalls. His mother, who had studied interior design at Parsons, "liked to redo her houses" and would take her son on day trips to San Francisco to shop for furniture.
After taking classes at his mother's alma mater and the School of Visual Arts, also in New York, Cunningham worked a number of years in the retail world before moving to Ralph Lauren, where he spent a decade as vice president of creative services, leaving the company in 2000. In 2002, he and Sam Hamilton, a former Ralph Lauren colleague, opened March, in San Francisco. The stylish store on Sacramento Street was filled with furniture and accessories that the duo sourced from around the world (its focus is now on cooking and tableware). Cunningham remained affiliated with March until 2010, when he moved back to New York to establish his own office.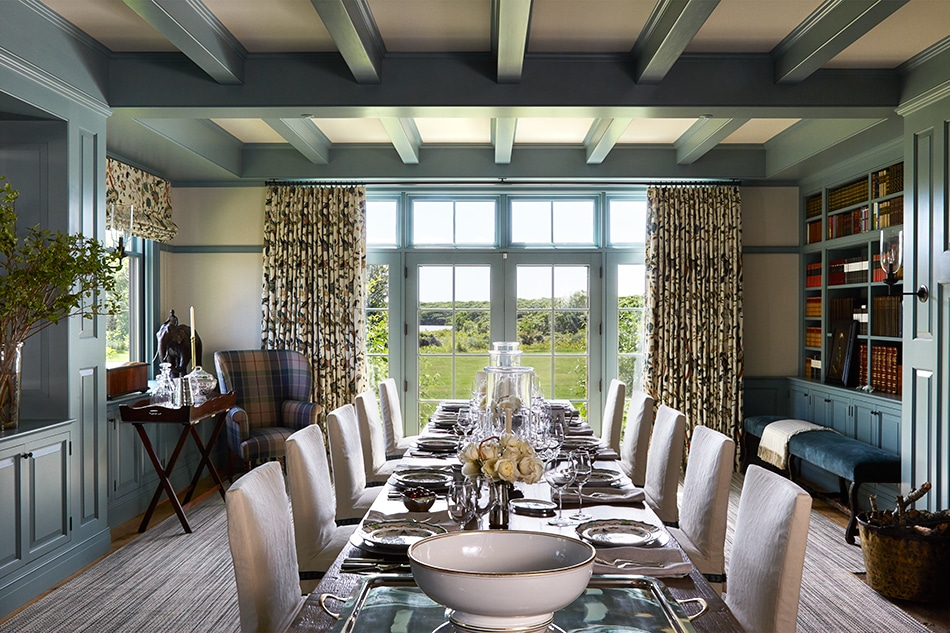 For Cunningham, a hallmark of good design is authenticity. When Hamilton asked him to design the interiors of an Arts & Crafts–era house in Marfa as a second home for her, her wife, Jen Chaiken, and their two children, Cunningham designed a new kitchen and bathrooms but filled the house with an eclectic mix of American and European pieces that was meant to look as if it had accumulated over decades. For instance, the family room's furnishings — including a cabinet by the British furniture maker Robert "Mouseman" Thompson, a coffee table made by the artist Brian Tolle for Richard Avedon, a Navajo rug and a vintage copper light by the Danish designer Poul Henningsen — blend easily with art by Jim Dine and photographs by Ansel Adams and Zoe Leonard. A painted 19th-century Spanish cabinet presides over the dining area, with its white-tiled walls and Stickley table.
For a sprawling vacation house on Martha's Vineyard (the architects were the New York firm Rivkin/Weisman), Cunningham incorporated pieces that the owners already owned, mixing antiques with new pieces, like the great room's sofa by the British designer Rose Uniacke, and works by such artists as Ellsworth Kelly, Louise Nevelson and Richard Diebenkorn. The dining room woodwork is painted a warm blue-green, including the bookcases that line the space. "There are bookcases throughout the house — even in the hallways," Cunningham notes. In the master bedroom's sitting area, Cunningham reupholstered a pair of Art Deco armchairs in a cheerful striped fabric from Bennison, while the large-scale blue gingham that covers a guest room's twin beds is accented by equally graphic vintage quilts.
In another weekend home — this one in the Hamptons enclave of Sagaponack — Cunningham gave the farmhouse-style structure, by the Sag Harbor architect Frank Greenwald, a contemporary twist with off-white rooms furnished with brightly colored accents, and 20th-century chairs, tables and lighting. For example, a Scandinavian-modern chandelier hangs in the double-height living room, where cork Parsons tables, a pair of chairs by the postwar French designer Pierre Guariche and a stool by the contemporary design star Hervé van der Straeten contrast with more traditional sofas and armchairs. The lady of the house, Cunningham says, wanted the rooms to have "unexpected qualities," which might explain the surprising deep-raspberry hue of her study, with its vintage Giò Ponti desk.
In a more modern architectural setting, however — a high-rise near the United Nations — Cunningham, working with the Scottsdale firm Weddle/Gilmore Architects, designed a suitably contemporary home for the entrepreneur Drew Aaron and the fashion model Hana Soukupová. The space was completely gutted, and its three bedrooms were reduced to one. Cunningham's response to the architecture wasn't dogmatic; he added simple moldings and shallow coffers to the ceilings to give the spaces more depth, and used traditional mahogany paneling in the study. The predominantly gray color scheme is punctuated by colorful art — by Damien Hirst, Andy Warhol and Jean-Michel Basquiat, among others — and by objects like Christian Germanaz's 1964 Half and Half chair of orange fiberglass, along with glamorous furnishings by such 20th-century designers as André Sornay, Willy Rizzo and Michel Boyer.
Cunningham's current projects include the renovation of a cabin from the early 1910s in Healdsburg, California; a high-rise apartment in Miami Beach and another in Manhattan; a Greenwich Village townhouse; and the renovation of a house in Los Angeles, as well as the interiors of a yacht. When asked what might be on his wish list, Cunningham replies, surprisingly, "I'd like to do something with prints and florals. People say that's not me, but even as a kid, I loved chintz." He would also love to do the renovation of "something really authentic," like the historic Arizona Inn in Tucson. "I'd like to bring it to life," he adds, "but keep what's great about it — what it really is."
---
Mark Cunningham's Quick Picks on 1stdibs