San Francisco–based designer Martin Young is known for creating understated Bay Area residences that subtly reflect their settings and deftly blend mid-century and contemporary furnishings with antiques and art. Although Young — a fourth-generation Californian who was born and raised in Oakland — focuses on interiors, he approaches them with an architectural point of view. "Circulation, layout, scale and spatial relationships are as important as color, finishes and fabric," he says.
Hearing this, you won't be surprised to learn that Young has two degrees in architecture: a bachelor's from the University of California, Berkeley, and a master's from Columbia. After receiving his graduate degree, he located to the Netherlands, where he worked for such acclaimed architects and architectural firms as MVRDV, in Rotterdam, and Herman Hertzberger, in Amsterdam, as well as for the renowned Amsterdam-based antiques dealer and interior designer Anne Paul Brinkman, who now heads a real estate advisory that specializes in historic Dutch homes.
Young moved back to the Bay Area in 2004, settling in San Francisco. There, he did stints with the noted designers Steven Volpe and Paul Wiseman before opening his own office in 2012. It was his time in Europe, however, that most influenced his career trajectory. "There were far fewer distinctions between architecture and interiors there," he recalls.
Young came to enjoy the relationship that can develop between a homeowner and an interior designer. He says observing how clients live and listening to their needs and desires helped him to "design an environment that is appropriate both for the building and what they want."
One of his early projects was an 800-square-foot apartment on the top floor of a small commercial building for a client who was downsizing but had many cherished items from his parents. "I wanted the apartment to feel as if it had evolved over time," Young says. To that end, in addition to designing a new fireplace surround and screen, he furnished the home with a mix of custom, new, vintage and antique pieces. Some he purchased, like a coffee table designed by Guy Lefevre for Maison Jansen in the 1970s, which he bought from Conjeaud & Chappey. Others belonged to the client, and still others were composites. For example, he used needlepoint done by the owner's mother to make throw pillows for the sofa and a seat cushion for a tiny wicker chair that the owner had had since he was a child. Similarly, he hung the French copper pots that had belonged to the client's parents on a pair of early-20th-century nickel racks he found at the Houston store Brown.
Young created an entirely different ambience in a Silicon Valley pied-à-terre in reverse (its owners spend the workweek there and weekends in San Francisco). To instill a sense of urbanity in a suburban condominium, Young designed a minimalist backdrop, laying charcoal sisal carpets on the wood floors and painting the walls white and the window frames a dark charcoal.
Martin Young Injects a European Sensibility into Bay Area Interiors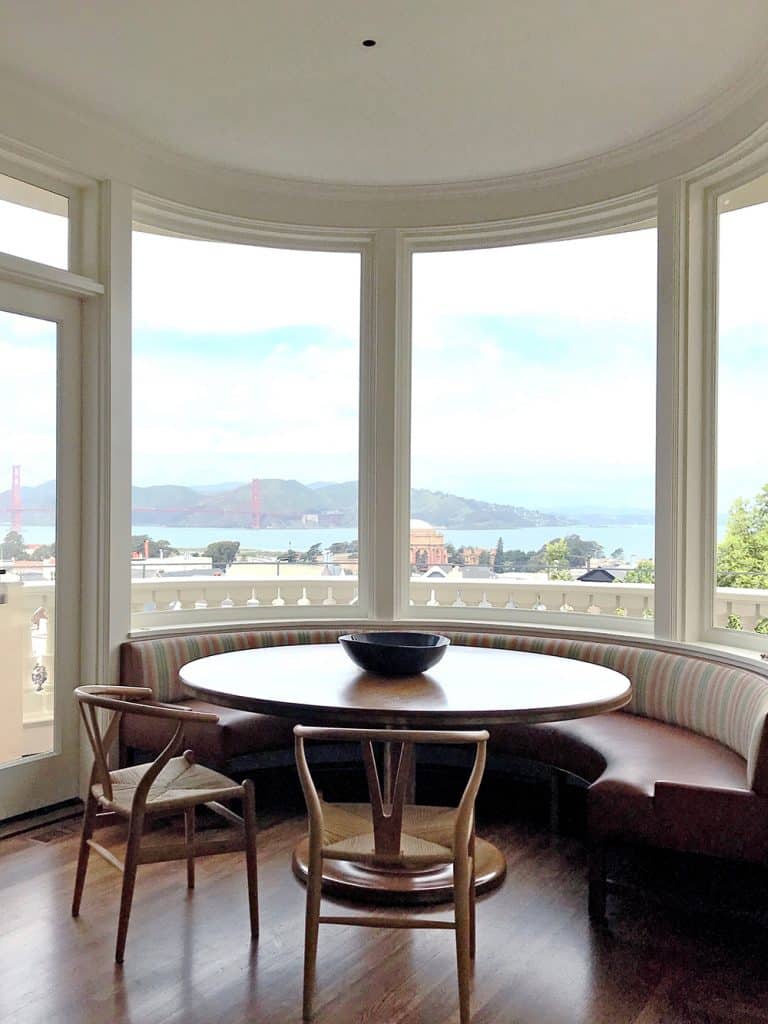 "The interior is about shapes and geometry," Young explains, a concept clearly evidenced in the two vintage green-lined chalkboards he turned into an artwork that nods to early Frank Stella. But he also introduced bold color with objects like bright blue volcanic-glazed German pottery from the 1960s and the cotton plaid rugs he used to re-cover the living room's armchairs. Young found several pieces for the project on 1stdibs, such as a blue German vase from Satyricon in the living-dining area and the 1950s Cees Braakman cabinet-cum-writing desk from Doctor Decorum on which it sits; a Swiss metal and brass lamp from Bloomberry, on the custom dining table; and a stoneware stool in the bedroom from Aurélien Gendras.
For a house in San Francisco that overlooks the bay and the Golden Gate Bridge, Young was fortunate to have a creatively inclined client who wanted "minimal but good" furniture. In the living room, a 17th-century chaise cohabits with a contemporary sofa by BassamFellows and mid-century Danish chairs that Young found at Galerie Bachmann. Inspired by the view through the balustrade on the terrace, Young wanted to evoke the indoor-outdoor feeling of a summer villa. So, he designed a large rug that riffs on the idea of terrazzo, which was hand-woven by artisans in Guatemala through Mitchell Denburg Collections. In the entry, an antique Oushak rug complements a large 19th-century mirror from Loveday that is framed by Corinthian columns.
Young's own house in San Francisco — which he shares with his partner, who works in the pharmaceutical industry — is a 1907 cottage formerly owned by Dorothy Orrick, a preservationist, who added a living room to the back of the house in 1969 and in the early 1970s commissioned the influential landscape architect Thomas Church to design the garden. In what he calls "an experiment in preservation versus the contemporary," Young added a fireplace to the living room, using a marble mantelpiece from the original living room (now the master bedroom) and installing full-height bookcases on either side. He also renovated the kitchen and bathroom and turned what had been Orrick's gardening shed under the house into a garage, laundry room and office for himself.
In furnishing the living room, Young set up a subtle contrast with the architecture, deploying pieces by designers ranging from Jean Prouvé to Antonio Citterio, along with accents like a Märta Måås Fjetterström rug and a Northern Wei dynasty clay figure. The house, he says, is "like a laboratory. I didn't want it to feel slick and new but did want it to feel contemporary and updated."
Young is currently working on the interiors of a Spanish Revival house in San Francisco and a private airplane. For the designer, these, like all his projects, "are about a partnership and collaboration" and creating a particular narrative. As his spaces attest, Young is an eloquent storyteller.
Martin Young's Quick Picks