Todd Nickey and Amy Kehoe, founders of the interior design firm Nickey Kehoe, have built a friendship and a brand shaped by serendipity and shopping. Having met at a holiday dinner in the Williamsburg section of Brooklyn in 2000, Nickey, who was creating displays for retailers like Ralph Lauren, and Kehoe, a designer for Starwood Hotels, bonded during New York City flea market expeditions.
"We shared a curiosity and willingness to embrace the oddities," Nickey recalls with a smile. "And the first time, we both came home with horse-head coat hooks."
Since the 2004 launch of Nickey Kehoe, the designers have been hanging their hats in Los Angeles, where they have shaken off the constraints of corporate design in favor of a more organic personal expression. In 2008, while living as next-door neighbors, they became retailers, opening NK Shop on Highland Avenue and joining 1stDibs.
Staged as a marketplace where designers and individuals could pick up vintage furniture as well as contemporary bedding, kitchenware and accessories, the store also became a design laboratory and showroom for custom furniture and lighting that have since become the backbone of the Nickey Kehoe Collection (available on 1stDibs).
Despite the challenges of 2020, NK Shop has moved to larger quarters, on Beverly Boulevard, and Nickey Kehoe has released a lighting collection for Urban Electric and a signature wallpaper line. Nickey is currently designing a 1962 modernist home in Pasadena by Ladd & Kelsey, architects of the 1969 Norton Simon Museum, and Kehoe is working on a romantic 1901 Craftsman bungalow in Ojai by John C. Austin, who created the Art Deco classic Griffith Observatory.
This month, the pair release their first monograph, Golden Light: The Interior Design of Nickey Kehoe (Rizzoli), which showcases their warm and witty mix of rusticity, modernity and period-correct innovation in 15 residential projects representing L.A.'s rich tapestry of pre–World War II architectural styles — from Craftsman to Art Deco, Spanish Revival to Storybook.
"We're always open to being surprised by a design language we haven't worked in," says Kehoe. "Usually, something in the architecture grabs us, and we just build from there."
Nickey and Kehoe, who recently designed an atelier for the cult fashion label Dôen at the Brentwood Country Mart and will soon start reimagining the lobby and restaurant of the storied Hollywood Roosevelt hotel, spoke with Introspective about their design process and their hunter-gatherer instincts.
How did moving from New York to Los Angeles affect your work?
Kehoe: When we lived in New York, our own homes were bold creative laboratories, and the flea market and paint store were all we could afford. In California, with the space and light, we've found the tiniest gestures go a long way, and outside spaces are a bigger part of the way we live.
Nickey: That connection to nature keeps us grounded and at ease. There are a lot of glitz-and-glamour L.A. clichés in the design world. So for us, it's about keeping design earthy — making it feel that although houses tell the stories of the people who live there, they don't look like movie sets.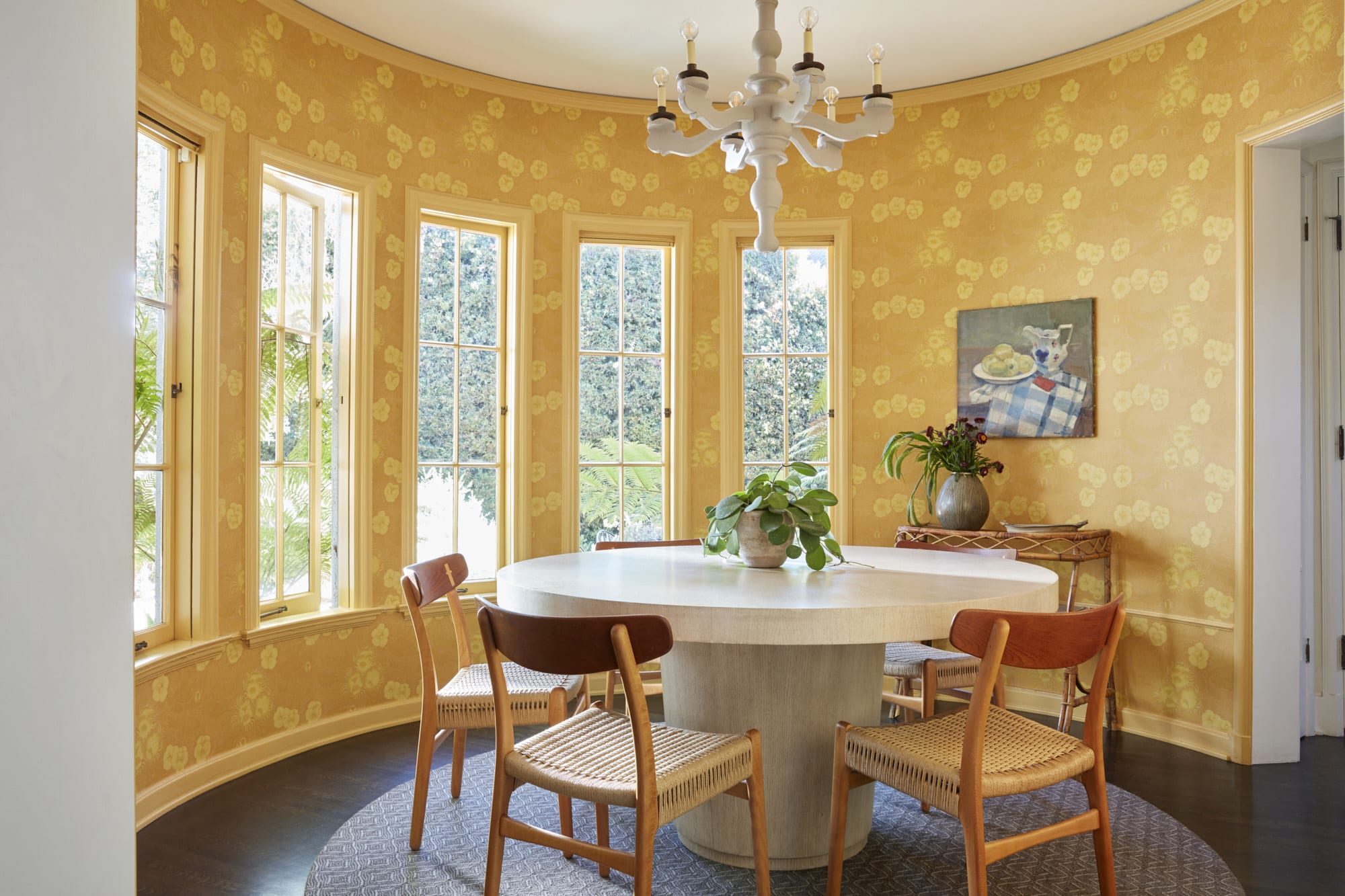 In your book, Golden Light, you talk about "humanity within design." What does that look like?
Kehoe: We're inspired by the everyday and the extraordinary. It can be as simple as a perfect wooden spoon or the closet light you turn on to dress for the day. When an object you interact with daily has both utility and beauty, there is nothing better.
Nickey: Humanity within design means comfort and giving gracious considerations to scale, flow, light and all the elements in a home.
Kehoe: The den in our Griffith Park Hills project captures the idea. The brick fireplace, Nakashima table and wood walls are dark, and yet the room is nearly all windows. It's a space you want to curl up in with a cup of your favorite hot beverage and just be still.
How does the architectural vernacular of the early-20th-century houses in Golden Light influence the interiors you create for them?
Nickey: We listen to the architecture and try to hang on to the beautiful details that add personality, quirk and heritage. Younger people don't want a historical aesthetic, so it's about creating a fun balance of furniture that sits right with the architecture but isn't overly traditional.
In the 1924 Mediterranean house in Los Feliz, for instance, we created a casual family dining room with mustard-yellow Finnish wallpaper and vintage furniture, including a bleached-oak dining table, Scandinavian chairs, a wicker console and a wooden chandelier painted a pale gray.
Kehoe: The house had an unbelievably romantic living room that had the grand scale of a ballroom. The challenge was, how do you lure the family in? Breaking up the space and playing with different eras and styles helped revitalize the room for 21st-century living. This is one of our more layered rooms in terms of layout and eras.
There's an antique Oushak rug, a Curved sofa and Harvest table from the Nickey Kehoe Collection, wing chairs, vintage spindle-back armchairs, a 1970s glass coffee table, custom bookcases and a wrought-iron console, all with warm tones of salmon, coral and mustard.
In the same house, your lighting choices — gigantic Noguchi Akari pendants and an owl sconce by Georges Pelletier — are whimsical without being twee.
Kehoe: This is what we call a wink and a nod. There are moments you want something to feel welcoming, or to be compositionally striking while not being too serious. When it comes to modernism, we tend to be selective. Right now, that means Osvaldo Borsani, Axel Einar Hjorth, Svenskt Tenn, Frits Henningsen, Kaare Klint.
What role does the Nickey Kehoe Collection play in your interiors?
Nickey: When we're working on a project and can't find the right piece, we make what we need and add our own elements to it. This is how the collection has evolved to include camelback and tufted sofas, a modern swivel armchair, a pine wingback and a fringed fireplace pull-up chair.
We are so inspired by the antiques and vintage pieces we find. Most of our work is about taking the character and charm of the past and making it accessible.
The Los Feliz home features your versions of Windsor chairs inside and outdoors. What inspired those?
Kehoe: Vintage is the heart and soul of what we do. Todd and I also have a fond spot for that classic way of building a Windsor chair, and we love old crusty antiques.
Nickey: Allowing patina to stay intact versus refinishing is often our chosen route — we want to see those imperfections. On the other hand, we also like a bit of "schmance," which is our way of saying fanciness. That could be a crystal chandelier, a silk rug, a pleated lampshade — all of those are very schmance.
Speaking of which, the wallpapered kids' rooms and bathrooms in your book are enchanting.
Nickey: We do find ourselves saying, "Let's not do another white spa bathroom." These rooms can be so much more imaginative. We are so drawn to an old-world style, where history adds whimsy. There is magic around every corner, but it is not clobbering you over the head.
Kehoe: In one of the early and instrumental projects in the book, we tackled a huge, sophisticated 1920s Mediterranean house, and the main bathroom really raised the bar for us. We had a custom onyx vanity made for the sinks and a mural made from hand-painted Gracie Studio wallpaper. For the lighting, we discovered Paavo Tynell, back when no one had been using him, and the amazing mix of modernism and floral embellishment really added romance to the room.
As designers and retailers, where do you do your hunting and gathering?
Nickey: With travel restrictions, we're getting a lot of amazing early American and more primitive things from farmhouses and barns. It's really sweet to see that these things that were passed over for the past decade and a half are having a renaissance.
Kehoe: We prefer one-of-a-kind pieces, so we hunt for treasures daily. We use 1stDibs inspirationally — where we just get lost looking — as well as quite intentionally. Those filters are our friends! We have an appetite for American outsider art, European folk art and anything that makes us ask, "Who made these things?"
---
Nickey Kehoe's Quick Picks