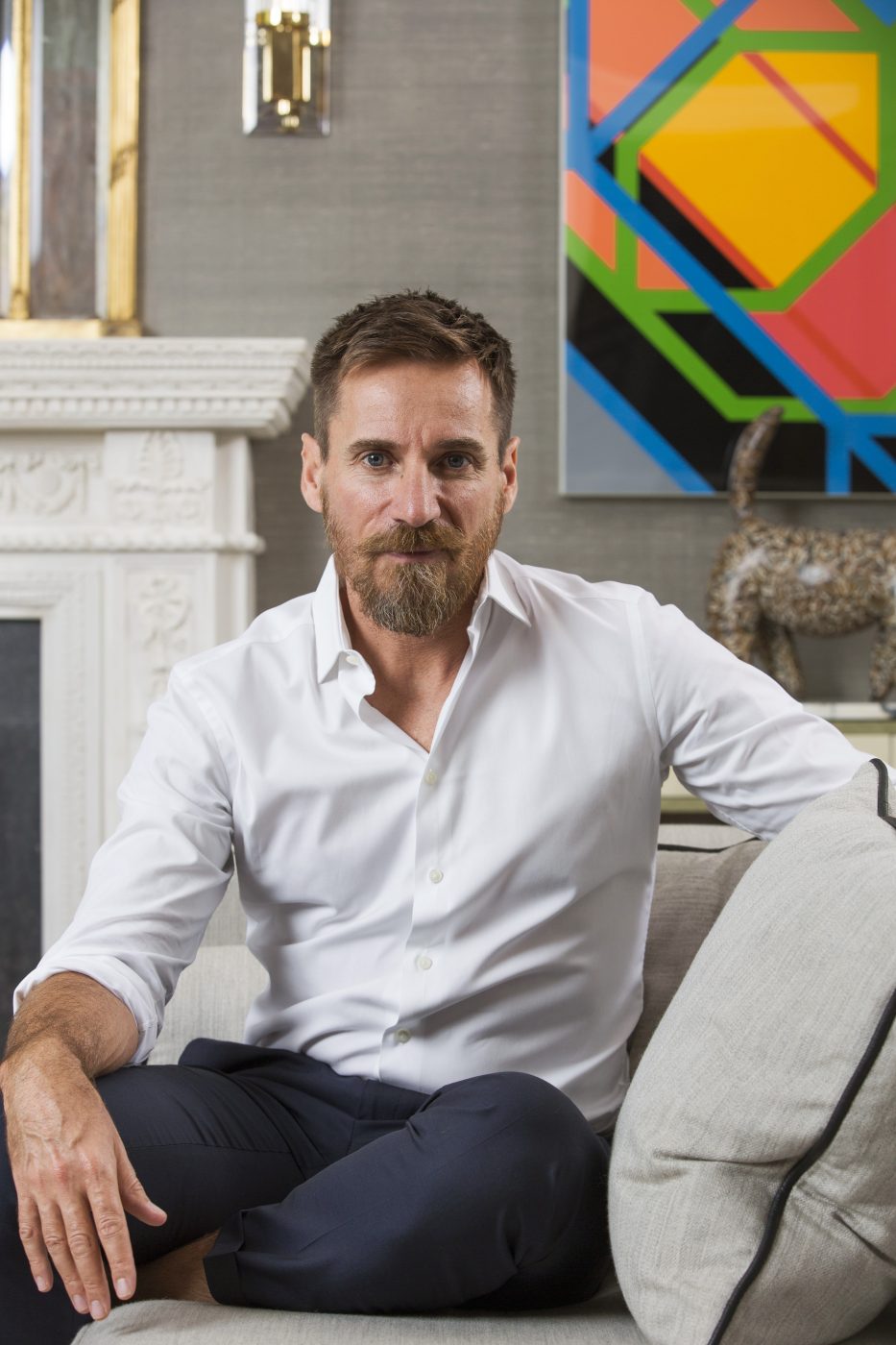 January 16, 2022Like most kids, Peter Mikic drew houses. But unlike his friends' sketches, his weren't comprised of rough squares topped by pointed roofs, with lopsided rectangles for windows and a door. 
"Mine had pillars on the front, several stories, four windows across and were generally rather fancy," Mikic recalls with a laugh. "I remember my dad, who was a builder, saying, 'You have very grand aspirations!' "
Mikic — who was born in Canberra, Australia, and has been based in London since 1990 — insists he never had any doubt he would work in design. He studied fashion, won a designer of the year award while still a student and worked for a women's wear firm in Melbourne before deciding to move to London at 22. "I knew I needed to go somewhere bigger," he says.
In 1996, he and a friend, Theo Vanderzalm, launched their own label, Stonewood & Bryce, which was doing very nicely when they were approached in 2008 by the property developer brothers Nick and Christian Candy to create uniforms for their yacht.
Mikic and Vanderzalm designed hand-embroidered kimono jackets that Mikic describes as "similar to the Yves Saint Laurent ones from 1975," adorned with Japanese cranes. After the Candy brothers and their then-creative director Brigitta Spinocchia Freund saw them, they asked Mikic to create embroidered panels for the yacht's dining room. When Elizabeth Murdoch — daughter of Rupert — saw these, she loved them so much she asked Mikic to design her boat. And thus an interior design career was born.
"Because I didn't have any formal training in boat design, my ideas came from fashion," Mikic says. "I completely avoided the usual boat-type details, and it ended up really looking more like an apartment. It was actually a huge advantage not to be boxed in by formal training. I went in with a completely open mind."
This same openness informs Mikic's approach to all his disparate projects, which range from residential homes to restaurants, a fitness center, more yachts and — currently and fascinatingly — a private train owned by an English couple who plan to use it in Europe. The last will accommodate 10 people and comprise nine cars, including a main bedroom, guest suites, a sitting room with piano, a bar and a staff carriage. "It's the most complicated thing I've ever done," Mikic says.
However diverse his portfolio, the designer's approach remains consistent. "I allow whatever the space is to speak to me," he says. "There should always be a thread of your handwriting through each project, but I want to be fully responsive to the context and the client. These projects really shouldn't be about the designer."
One recent undertaking was most decidedly not about him: a Victorian townhouse in Notting Hill whose living room was featured as Mikic's 2021 1stDibs 50 entry. His client, whom he describes as "sophisticated and understated," wanted an extremely simple, pared-down aesthetic. "It really pushed me to design something different," he says.
In a wide-ranging conversation, Mikic describes his design inspirations for the villa and the complications of simplicity.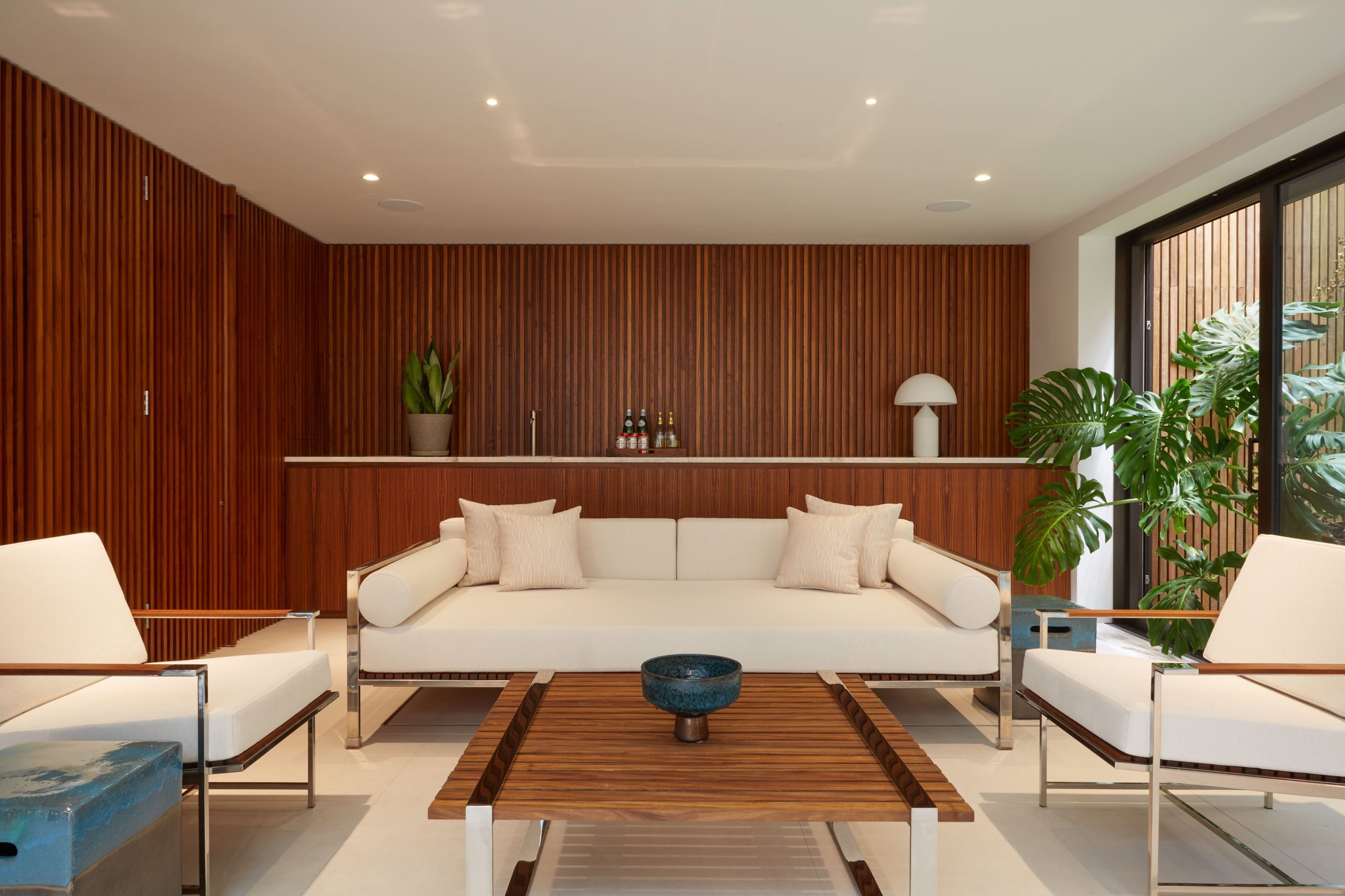 What was particularly challenging about this project?
I loved the client's elegant restraint, and I wanted the house to reflect that. I had just done a project full of color and entertaining spaces, and here, I knew we needed something very different: no pattern, a simple palette. The challenge was how to make that interesting without an obvious look.
The building is a double-fronted Victorian house, but there was almost nothing original left inside, which gave me the chance to completely rebuild the interior. We worked with a fantastic firm, 23 Architecture, who designed the central spine: a contemporary staircase with internal glass walls to let the light in.
What we did was to focus on texture — of wood, metal, plasterwork, detailing — and to use color blocking, with three or four different tones of a single color in each room.
The overall look is contemporary, yet there is a softness too.
My first design direction for the house was about organic, fluid, beautiful shapes and layered textures, and I immediately thought of George Nakishima's furniture. We used some of his pieces and also commissioned a bespoke cabinet for the dining room, which was made by his daughter, Mira. The studio actually writes the client's name inside the piece, which is so lovely.
A lot of pieces were created by craftspeople. The dining room table, made of reclaimed barnwood and filled with resin, is bespoke, designed by our studio. We gave it a contemporary shape with asymmetrical corners and a bronze trim. I designed the solid brass pendant light based on a fifties piece by Harry Bertoia.
I love working with contemporary designers, too. We commissioned a desk for the library from the great Milanese furniture designer Vincenzo De Cotiis. It is largely brass patinated with platinum, partly made with fiberglass and steel, and it's absolutely gorgeous. We bought the Jean-Michel Wilmotte lamp from 1stDibs. Its proportions are perfect here.
What are some of your favorite spaces in the house?
When you come through the front door — which is up a half flight of stairs from the street — there is a gallery-like feel. You see a glass wall in front of you and a spare environment containing amazing art. I love the ways this contrasts with the Victorian facade.
On the other side of the glass wall, the staircase is a sculptural object itself, solid travertine and completely cantilevered. It's an extraordinary piece of engineering.
Then, you enter the main living room. It's very contemporary in feel, but we kept the Victorian windows. Thin bronze lines around the room were a way of adding detail without having cornices and moldings.
The silk wallpaper is textured, and there are many different fabrics used on the furniture: wool bouclé for the sofas, velvet for the chairs, parchment on the cabinets. The custom coffee table, designed by our studio, is made of rippled bronze — it looks like someone has spilled water on it. I like things that stimulate your fingertips.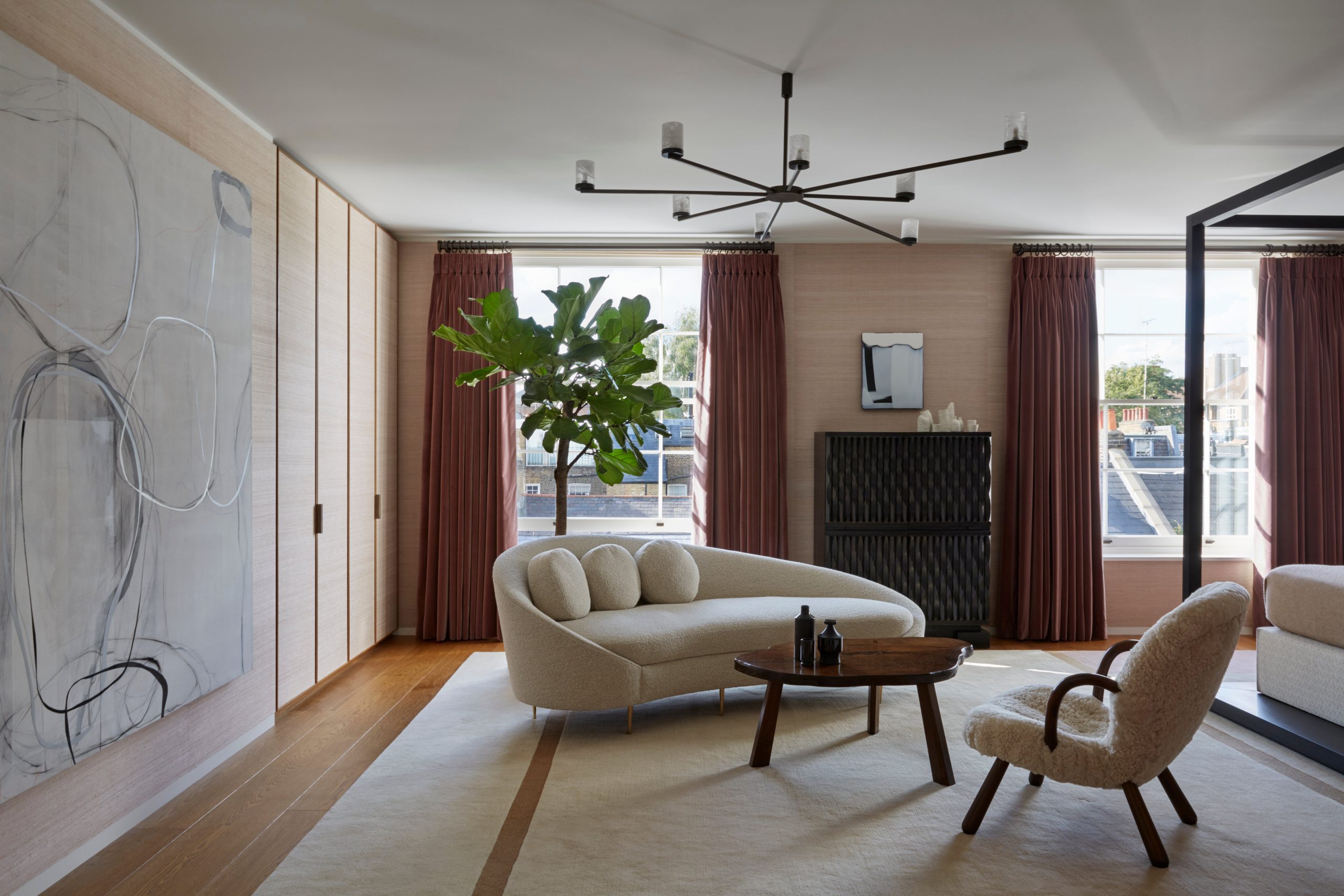 Also on the first floor, the main bedroom is in soft shades of beige and pink. There is a beautiful dusty pink raw-silk wallpaper, a sheepskin clam chair, a George Nakashima coffee table and a bespoke curved sofa by our studio. The carpet has different shades of these colors, and the curtains are pink velvet. I loved the contrast of all this subtlety with the brutalist De Coene Frères cabinet in black-stained oak, which we got from MORENTZ through 1stDibs, and the delicate Edmund de Waal ceramics placed on top.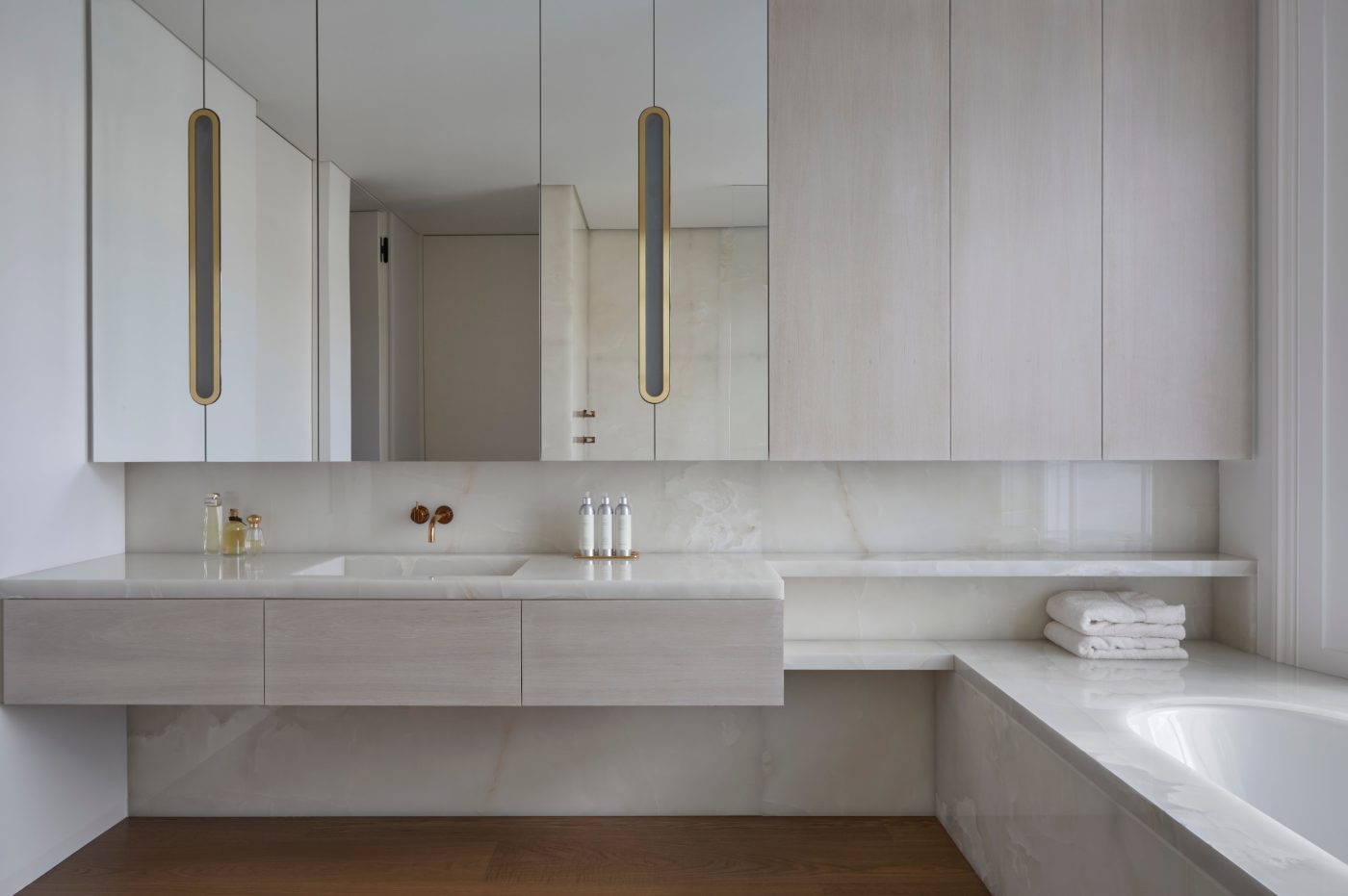 The main bathroom was done in a beautiful off-white onyx. There is no real color there, just pattern and texture and simple, clean lines. It's very elegant, calm and understated, which really reflects the client's presence.
What about more practical, hard-working areas?
Those are all on the garden level. The family room, next to the kitchen, leads right outside. This area is more relaxed, with more durable fabrics. We used wood throughout, plus raffia seats on dining chairs, cotton-linen for the armchairs and cotton bouclé sofas. The ceramic lamps were designed by our studio then handmade by a local artisan.
In the kitchen, we used teak for the cabinets, with beautiful bronze panels to hide the appliances. We selected Hans Wegner Wishbone chairs in American oak and a clean-lined wood table that we designed. It is all very spare and neat, just like the owner.
Another floor down is a cinema room, which reflects my color blocking approach. I was inspired by a very beautiful Wolfgang Tillmans photograph in the client's collection depicting ocean waves, which now hangs there. From the image, I borrowed various shades of blue — a navy for the velvet sofa, some slightly lighter hues for the traditional Japanese weaving patterns on the cushions and in the carpet. The weaving idea is picked up in a handwoven deep-blue leather ottoman.
The drop-down screen is in front of a glass wall, with a lap pool and gym behind that. My inspiration for the pool's ceramic tiling with steel channeling and vertical lights was the architect Carlo Scarpa, who is my complete and utter hero.
It all looks very clean and simple, but it's actually very complicated to create a house like this. Sometimes detailing can hide flaws, but here everything has to be done perfectly and positioned just so. It's very zen, and it was fascinating to work this way. I feel like my initiatives and instincts develop with every project. It's kind of extraordinary.