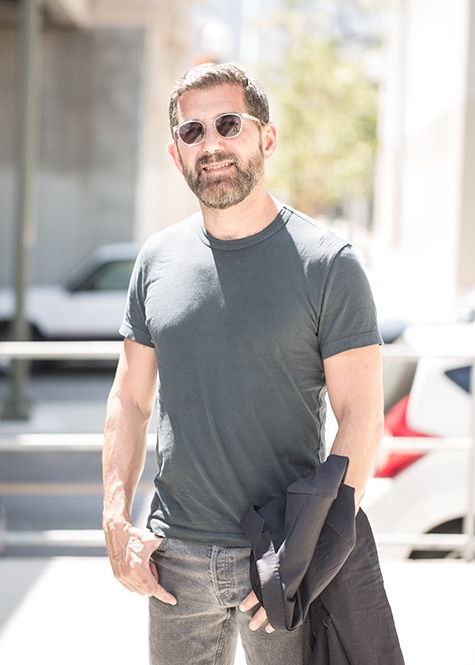 In most circles, calling someone "brilliant on the surface" would be a backhanded compliment. But New York interior designer Philip Gorrivan is brilliant with surfaces — and color. And custom furniture. Needless to say, all that comes in very handy in the decor biz.
"I'm really good with finishes," says Gorrivan, who has been in the trade for 16 years, following, improbably, a career in financial services and publishing. (He served a stint working for designer Eric Cohler before launching his own firm.)
He elaborates: "We take finishes as far as we can. I like to wallpaper ceilings, for instance. If you're hiring a professional design firm, that kind of detail is one of the elements you should get in a project."
Working with a handful of staffers, Gorrivan specializes in residential design, many of his projects located in the urbane precincts of Manhattan's Upper East Side. However, he has also done hotels (the Point Breeze on Nantucket) and restaurants (the Cuban eatery Victor's in New York).
He designs much of the furniture in his interiors himself, but for antiques he relies on top dealers like Bernd Goeckler and Maison Gerard. "My clients often want to try out a piece first, and that doesn't work with auctions," he says. "Those people stand behind everything they sell."
Gorrivan grew up in Maine. "I was that kid who had a subscription to Architectural Digest," he says, chuckling. When asked by his parents what he wanted for Christmas, the young aesthete said a table clock. And he got one.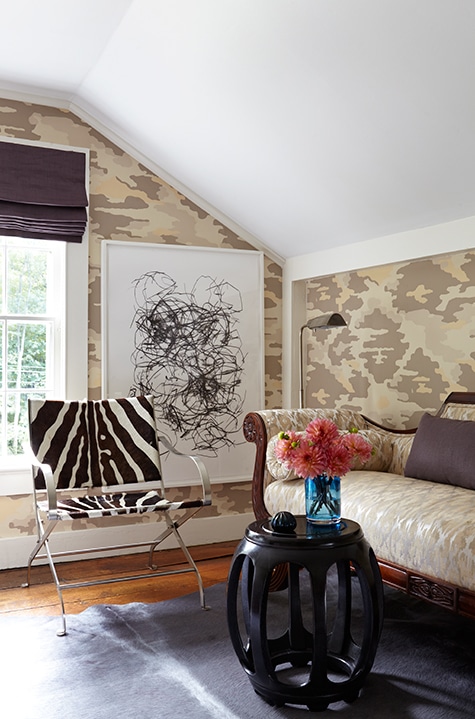 Despite his Pine Tree State upbringing, Gorrivan's interiors don't have a dour, proper Yankee feel, a fact he attributes to the influence of his French-Moroccan mother. "I guess she brought with her a little bit of a different aesthetic to the typical New England one."
Take Gorrivan's own country home, an 1840 white clapboard beauty in Litchfield County, Connecticut, that he shares with his wife and children. The designer is also a collector, so he says that the house is "a series of vignettes based on things I've been collecting over the years."
He has amassed dozens of beautiful amethyst glass vases, for instance, which he has clustered artfully around the house, as well as an antique Indonesian mask, bronze lion heads from different periods, and Wiener Werkstätte pieces. All the objects are placed in rooms that highlight their striking lines against intriguing textures and patterns. "I'm not shy with pattern," he notes.
Luckily, Gorrivan has a Holland & Sherry wallcoverings line of his own design to choose from (he does rugs with the company, too, and a line of fabrics through Duralee). Among them are the cheeky camouflage wallpaper he used in a guest bedroom and the bright green grass cloth in his daughter's room — he calls the 17-year-old "a great client," because she knows what she wants, including a headboard the color of a tennis ball.
Gorrivan gardens too. The Connecticut house's recent inclusion on a Garden Conservancy tour was "major validation," he says. And the greenery outside has a major impact on how he thinks about interior design.
"I don't do a lot of color in the country," he explains. "I like to have nature and the outside environment sort of dictate the colors. Whereas, in the city, I like to introduce color, because you've got a lot of gray outside."
---
"I wanted people to say, 'Oh, my God, where am I?' "
---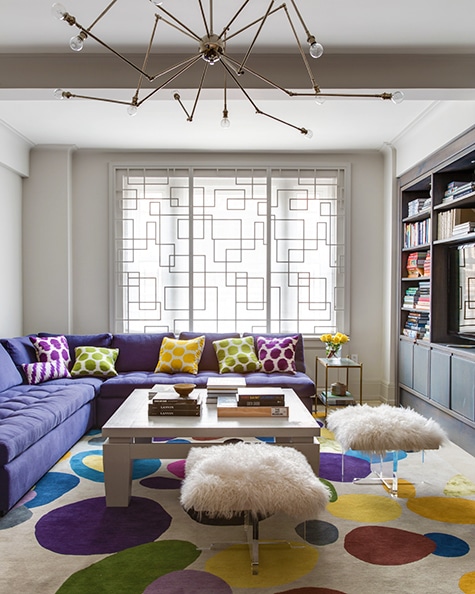 He applied this approach artfully to a two-bedroom Fifth Avenue apartment owned by a couple who wanted something firmly in the designer's wheelhouse: "a jewel box, that special little space where every last surface is addressed." Certainly the master bedroom — with a custom Fromental wallpaper depicting a budding branch behind a tufted brassy gold silk-velvet headboard with a walnut surround — presents a beautiful scene to wake up to.
The beige living room carpet, in a raised medallion pattern, is of Gorrivan's design, its relative neutrality used to set off a sea of color in the rest of the room. The walls are a zingy teal lacquer, and Gorrivan designed a Chinese-inspired cabinet with a plum lacquer surface. The blue-velvet-covered chairs add another layer of sophistication, as does the vintage table from 1960, a sheet of glass on a gold base made of ram's-head forms.
Lacquer is one of Gorrivan's most oft-employed tropes. "I do like a good lacquered room," he says. "It's so luxurious, so nice, especially when it's done right. And just high-gloss paint never has the same effect. It has to be multiple coats, wet sanded, to really achieve that lacquered effect. You get an element of depth."
A Middle Eastern family got a bit of lacquered drama in their 66th Street apartment: In the foyer, a neon artwork spelling out "Orientalism" glows against a shiny blue wall. "I wanted people to say, 'Oh, my God, where am I?' " says Gorrivan.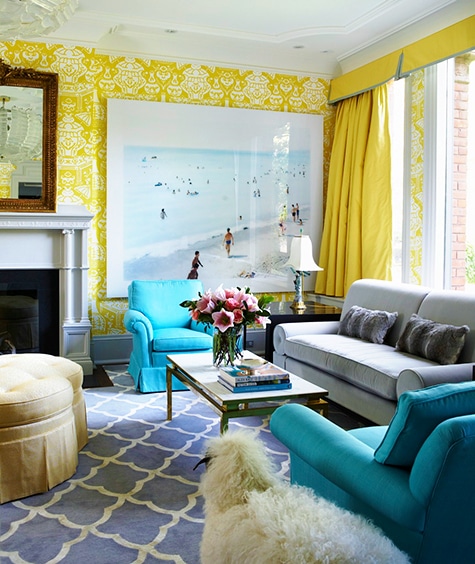 Color abounds, as in the hot pink custom sofa that screams out in a living room that is otherwise almost fully in grisaille. In a sitting/TV room, Gorrivan designed a geometric laser-cut screen to reference Middle Eastern architecture and threw in a bouncy rug full of colored circles that he modeled after Smarties candies. The fun factor made sense: "Their New York City apartment is their summer house. It's too hot in Kuwait that time of year."
For a family in Toronto, he took a Georgian-style townhouse and "amped up the architecture," essentially rebuilding the house and creating enhancing details like lintels and moldings.
The clients are fashion fans, so he designed a green carpet for the hall and stairs inspired by a Diane von Furstenberg wrap dress. The dining room got an eye-popping tangerine lacquer (of course). "It's automotive lacquer, which they won't let you use in a New York co-op," Gorrivan says — the fumes, you know.
The clients' serious art collection, including works by Peter Doig and Andreas Gursky, looks terrific in enriched rooms that surf a fine aesthetic line indeed. A pleasing tension is produced when old and new meet up.
"The other day, someone said to me, 'You're really traditional,' but I don't think I'm traditional," Gorrivan says. "I don't think I'm contemporary, either. I'm somewhere in between."
---
Philip Gorrivan's Quick Picks on 1stdibs