With its ornate cast-iron facade, evoking the court architecture of Napoleon III, 64 White Street — a designated Tribeca East Historic District landmark originally built for a linen manufacturer — is a slice of New York City history, circa 1869. The inside, however, has been revolutionized as a new space for the acclaimed R & Company, a showcase for global modernism spanning two centuries and focused on the future of design.
In the 20 years since they founded their gallery, former glassblowers and performance artists Evan Snyderman and Zesty Meyers have made it their mission to burnish the reputations of overlooked 20th-century designers like Greta Magnusson-Grossman, Joaquim Tenreiro and Wendell Castle. Widely admired for their historical approach to luminaries of the past, the partners are making history of another sort with a roster of contemporary creators. Glass innovator Jeff Zimmerman, surrealist-inspired sculptors the Haas Brothers and interior architect Pierre Yovanovitch are among those who "push the boundaries and definition of design and raise the bar and bridge the gaps between craft and fine art," says Meyers.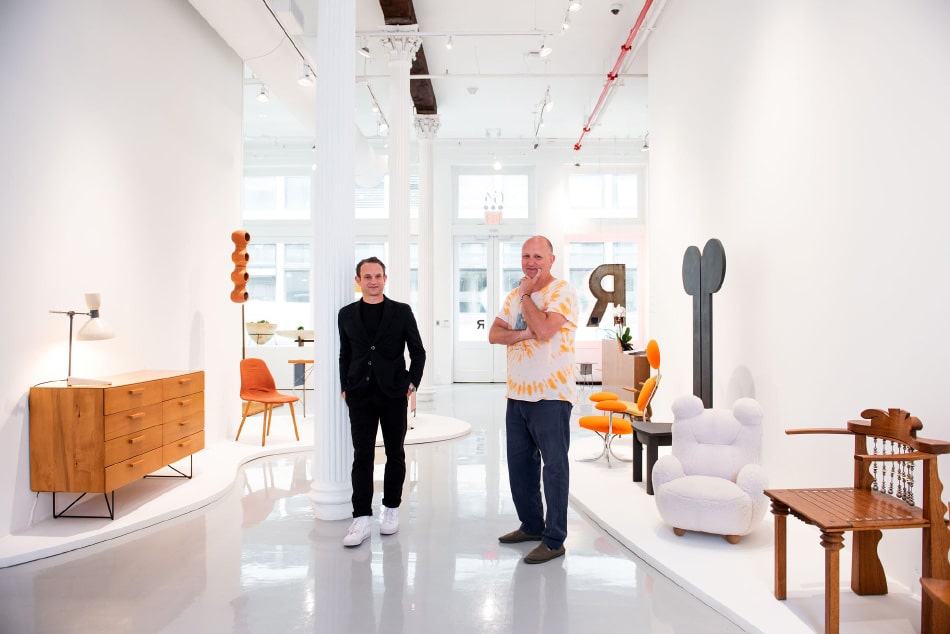 "I love that they are risk takers," says Rodman Primack, a New York interior designer and the creative director of the Design Miami/Basel fair, who discovered the work of Grossman and Castle at R & Company and praises the duo's commitment to contemporary work. "There is a rebel spirit, a willingness to just throw the spaghetti at the wall and see what sticks — not needlessly or without thought, but with a real spirit of solidarity and experimentation."
R & Company's longstanding location at 82 Franklin Street will continue to "show people how they can live with historical and contemporary design," Meyers notes. A few blocks away, the new tri-level gallery, measuring 8,000 square feet and with a 34-foot-tall atrium, will serve more lofty ambitions. In addition to housing, on the mezzanine, a cherrywood-lined design library holding some 10,000 research materials, 64 White will also function as an exhibition space able to accommodate multiple shows simultaneously.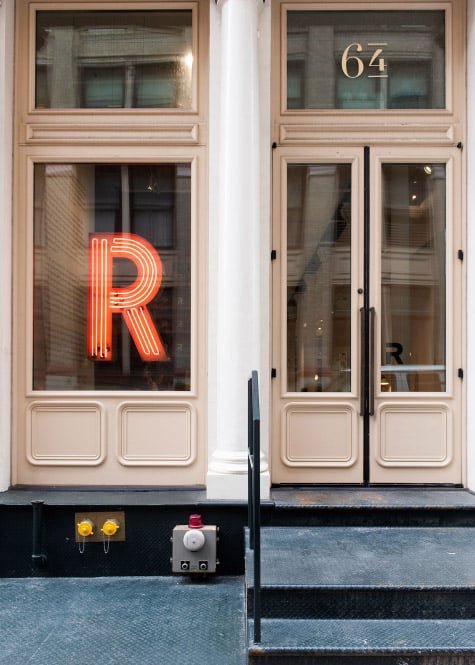 Los Angeles interior designer Pamela Shamshiri feels that R & Company has long blurred the boundaries between design eras, practical furniture and fine art, creating "tension and fluidity," she says. "Now they have a space that formalizes this with a research facility at the heart of it." Adds Snyderman: "The new gallery also gives our contemporary designers the opportunity to create work on any scale." Pointing up to a magnificent, nearly 25-foot-tall sculpted bronze and blown-glass light fixture by Jeff Zimmerman that took a crew of five nearly a week to install, he continues, "They are no longer limited by physical space."
To transform the interior, Snyderman and Meyers collaborated with architect Kulapat Yantrasast, of the interdisciplinary design firm wHY, which, with offices in New York and Los Angeles, is celebrated for its work on such institutions as the Marciano Art Foundation, in Los Angeles, and the Speed Art Museum, in Louisville. "The goal was to provide a new, total space for design, with beautiful vignettes that allow for flexibility, rather than a white box," Yantrasast says. "I wanted it to be elusive, so people would get a different feeling each time they return." To describe the impact he sought for his work, the architect cites maverick classical composers: "There is unity via diversity. There are Wagner and Satie moments."
Indeed, the entry level evokes the contemplative, repetitive strains of Satie's avant-garde music in a central runway that transverses the space and leads to a series of glass boxes, one serving as a display vitrine for large-scale Blenko glassware, another as an office furnished with Grossman designs. "We were going for a classic mid-century vibe," Snyderman says. "If you took a photograph in black and white, it would feel like you were in the nineteen fifties."
A Lofty New Space, and Ambitions, for Tribeca's Trailblazing R & Company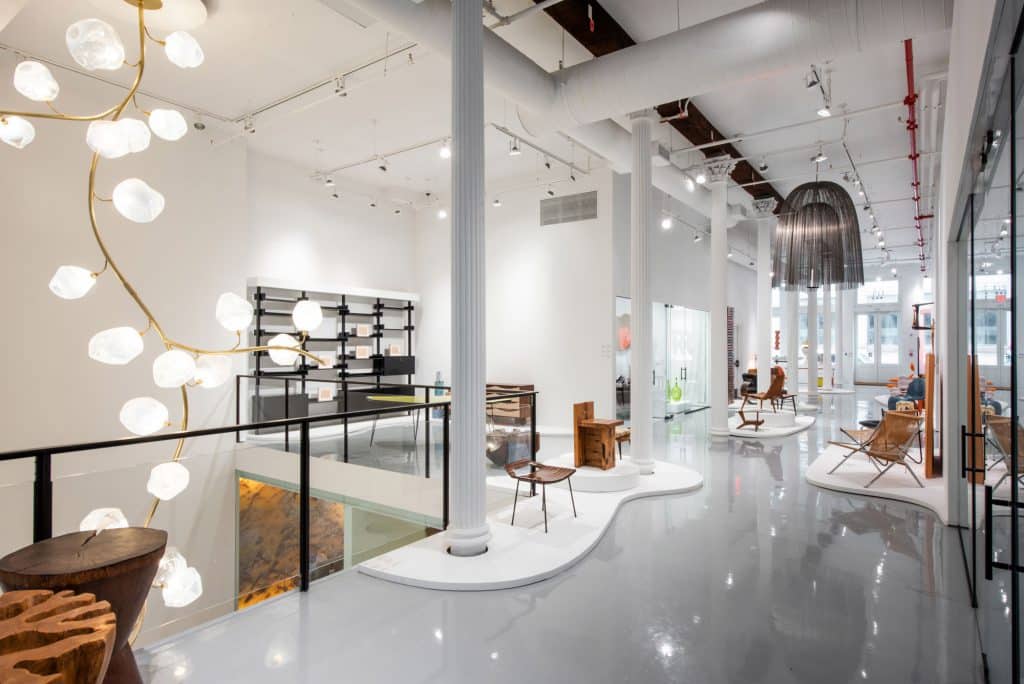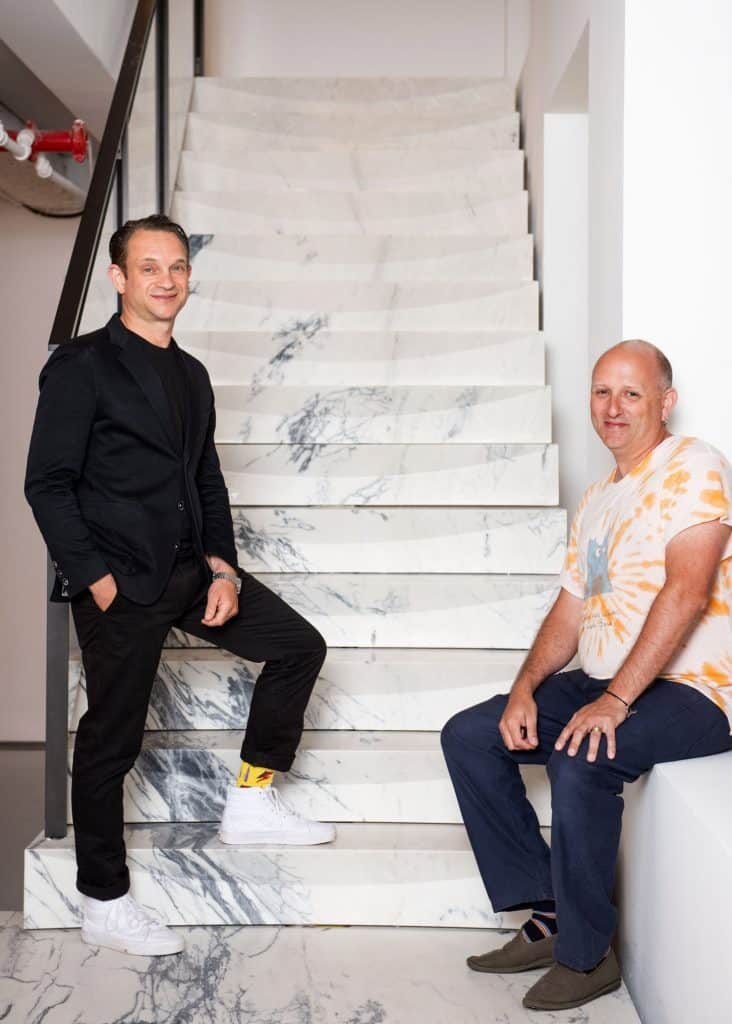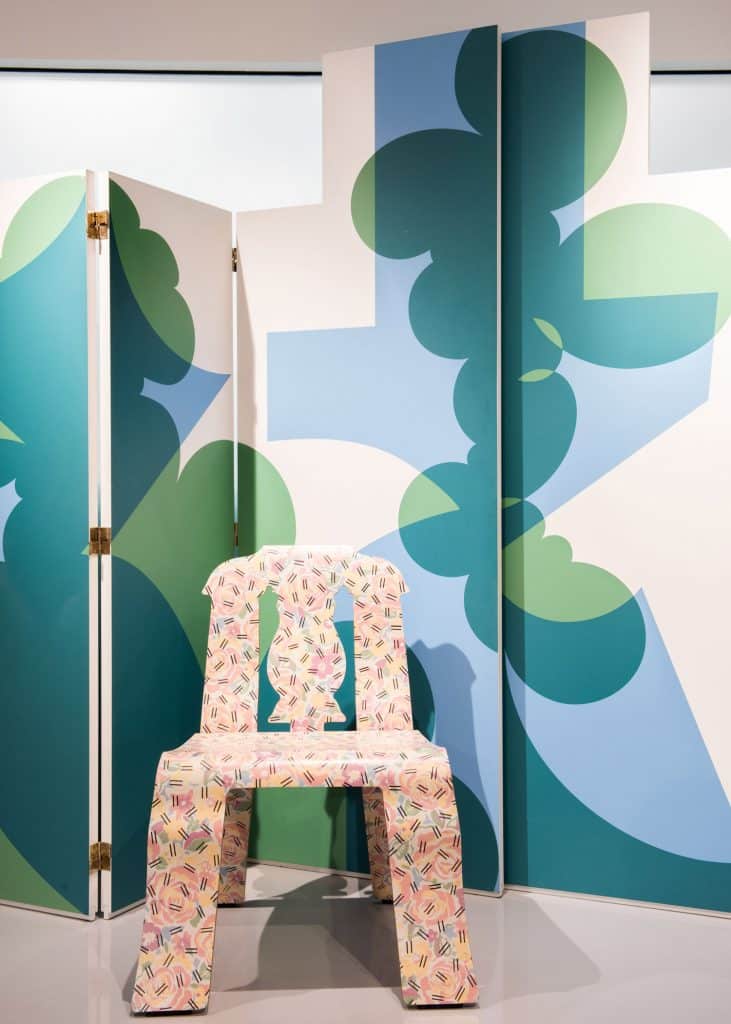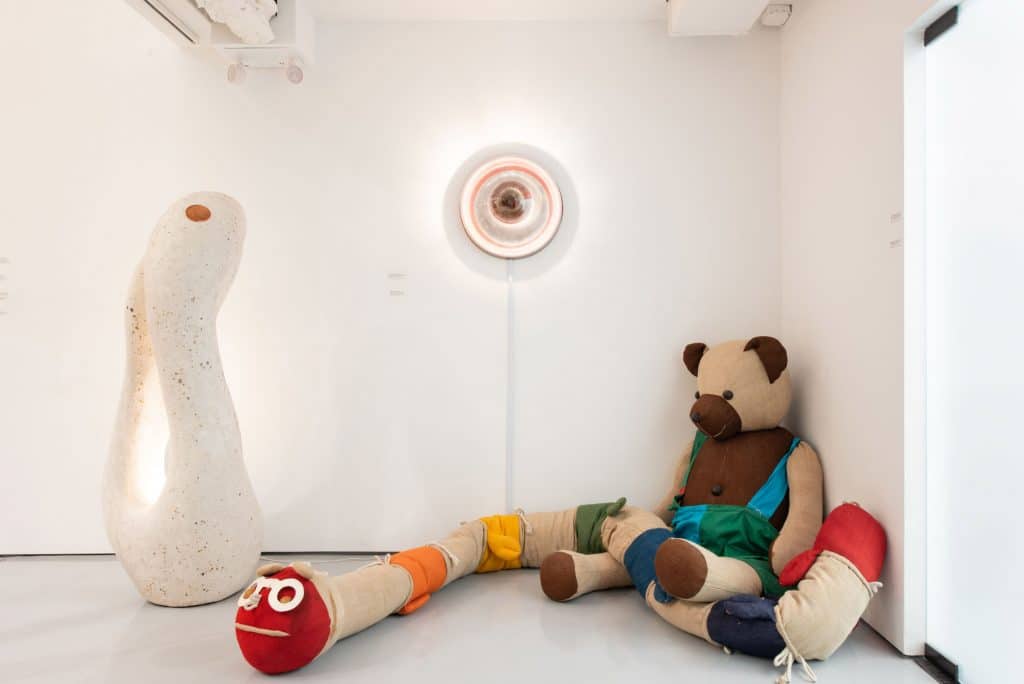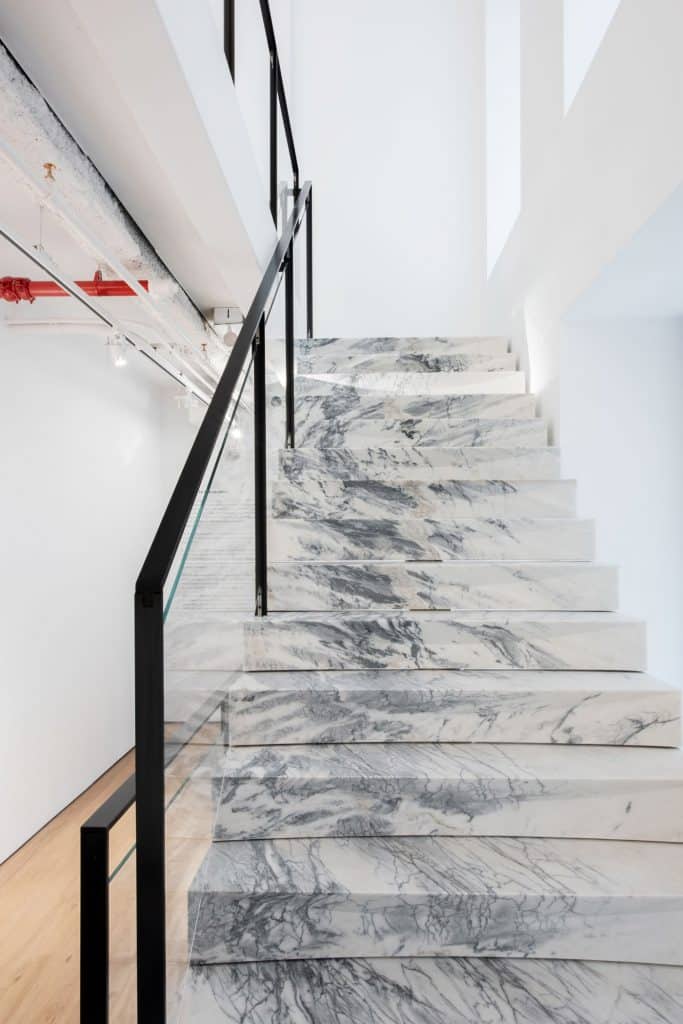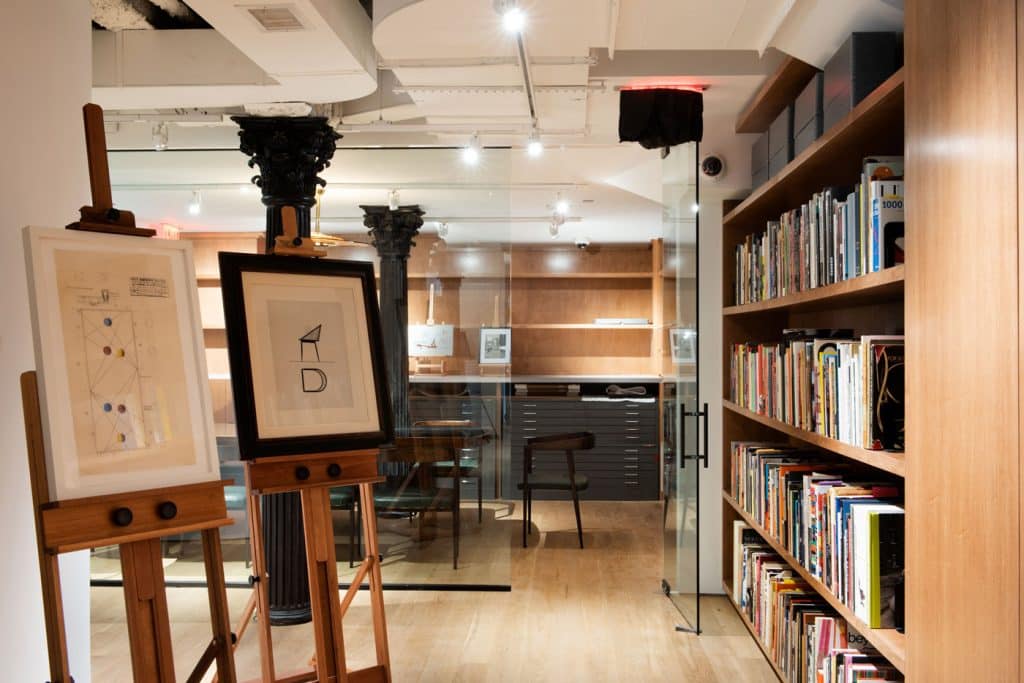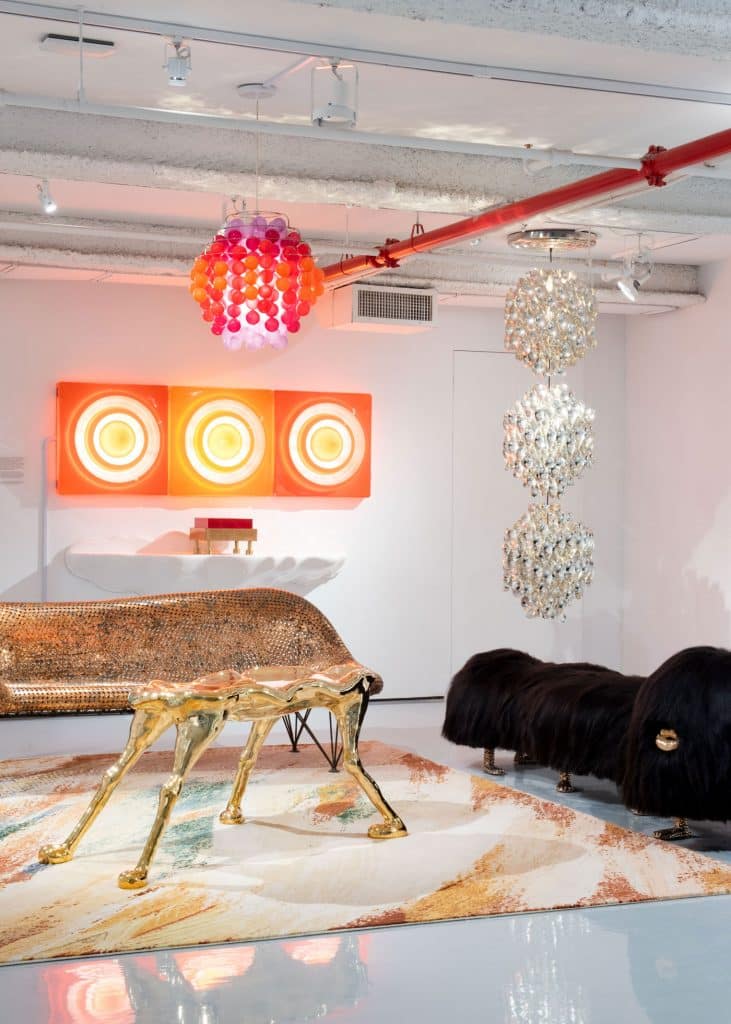 At the far end of the main floor is a Wagnerian touch: a monumental marble staircase intricately constructed so that the veining seems to flow down the steps like a river. "When renovating the space, we discovered how much skill and labor was involved in getting it right," Snyderman says with a laugh. "We now understand why people don't make stairs like this anymore."
For design obsessives, the opening exhibition, "20 Years of Discovery," which inaugurated the gallery, takes full advantage of R & Company's archives and the visionary new space. A collection of seldom-seen iconic chairs by Verner Panton, Ilmari Tapiovaara and Garry Knox Bennett flows into groupings of mid-century American rarities and Brazilian modernist masterpieces. Simple rectilinear designs like Sérgio Rodrigues's Mucki bench and a Lina Bo Bardi folding chair gain impact and intrigue mounted on the wall above furniture displayed on low, curving platforms that undulate through the space.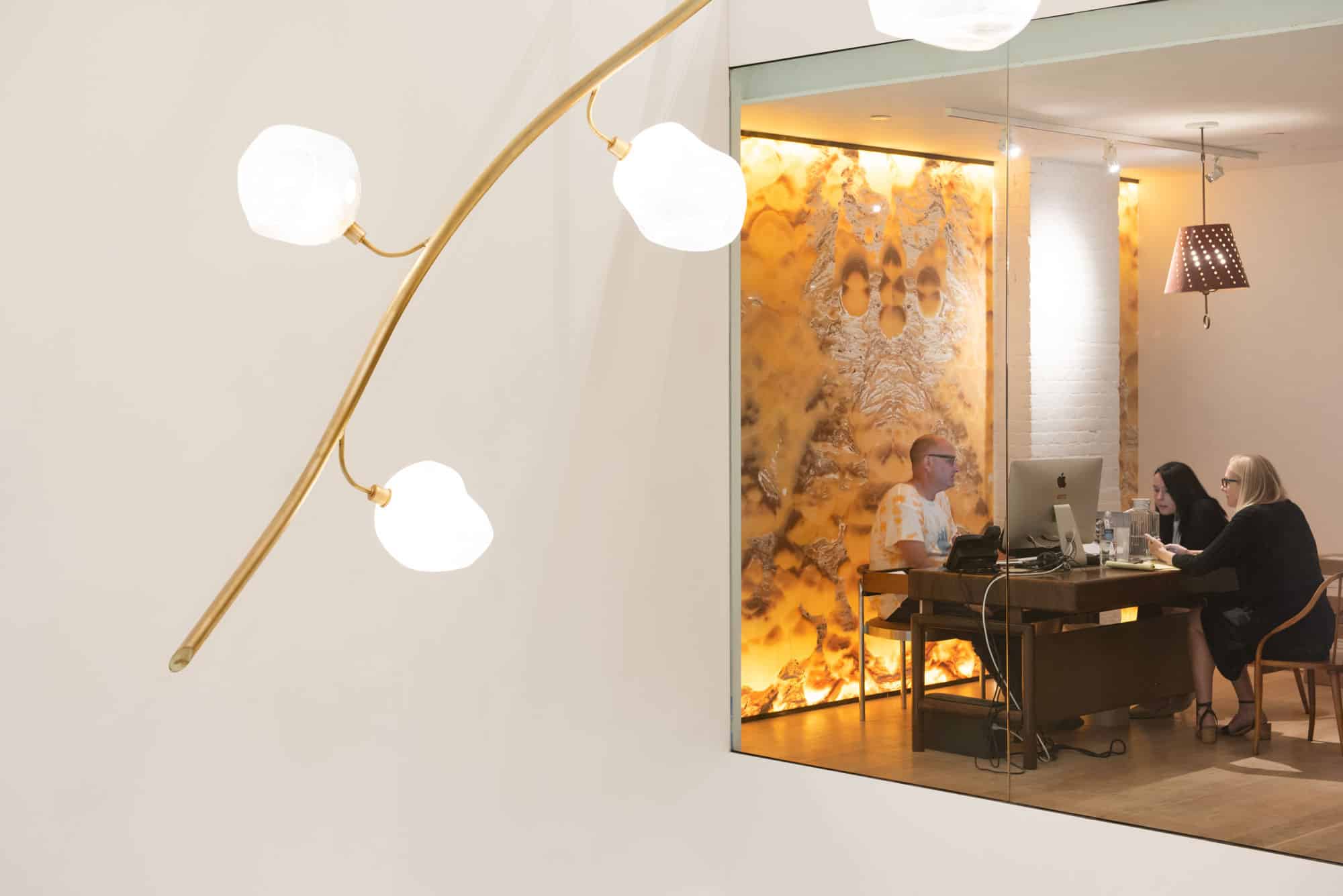 ---
"The goal was to provide a new, total space for design, with beautiful vignettes that allow for flexibility, rather than a white box."
---
"We were inspired by the gardens designed by Roberto Burle Marx," notes Snyderman, who designs most of the exhibitions, including this one. "We love how he breaks up space and allows people to wander through and discover."
In contrast to the accessible and exquisite furnishings at street level, the work displayed on the lower floor is challenging and less polite. Iconic postmodern and Memphis pieces, such as Robert Venturi's 1984 Empire chair and Masanori Umeda's Tawaraya boxing ring seating unit (which was displayed in R and Company's 2017 " 'Difficult' Design" show, curated by the late Jim Walrod), share a renegade aesthetic with new works by current stars like the Haas Brothers and Katie Stout.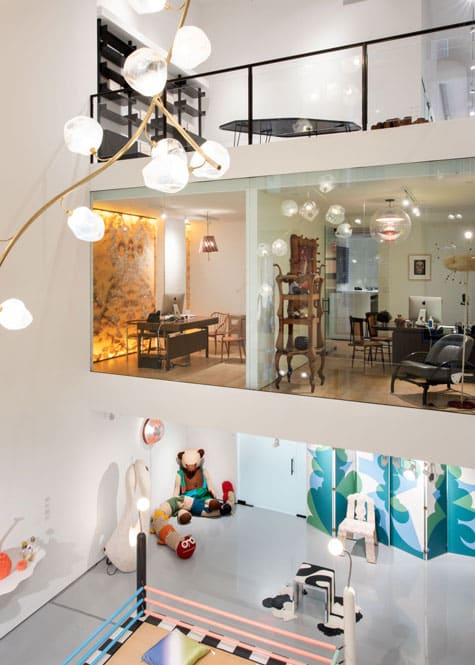 According to Rogan Gregory, whose illuminated alabaster sculptures conjuring Captain Nemo and Zaha Hadid will be displayed in a solo exhibition opening on the 13th of this month, R & Company's programming is a vital contribution to the creative culture. "Their shows are packed with a content and context that are way more interesting than the art galleries of Chelsea," he says, adding that Snyderman and Meyers "always had a vision, almost more confidence in me than I had in myself, and when I ask what they think of something, they say, 'Dude, just do what you want.' "
That spirit extends even to the most practical of concerns. Meyers and Snyderman have commissioned Gregory, Stout, Zimmerman and the Haas Brothers to transform the new gallery's lavatories into vibrant works of art. "We thought it would be great for people to experience these installations in a contained environment," Snyderman says with a smile. "Bathrooms are such personal spaces."
As Meyers sees it, 64 White Street will allow R & Company to fulfill a long-held dream. "We represent designers who are innovators in their respective crafts and oftentimes make their works themselves," says the former Brooklyn glassblower, who with Snyderman, is now firmly entrenched in the design establishment — with a spanking new space to match. "Handmade work has a different level of sensuality than something produced with a machine, and people appreciate the quality."
---
Talking Points
Evan Snyderman and Zesty Meyers share their thoughts on a few choice pieces