Sitting with New York–born and –based interior designer Robert Passal at Sarabeth's restaurant near his Park Avenue South office, it's no stretch to imagine him in front of television cameras delivering the nightly news: At 49, he is fit and square-jawed, with perfectly quaffed hair and a resonant voice; he is nattily dressed in blue slacks, a tailored brown-, cream- and blue-checked jacket and two-tone wingtips; and Passal jokes about what is now a signature: a complexion that's  bronzed even in the dead of winter — "I think I've become eternally tanned," he says, laughing.
Indeed, although Passal probably had the coolest undergraduate dorm room at the State University of New York at Albany ("I was over the moon about Jackson Pollock then," he recalls. "I did the entire room in splattered paint, built these terrific cantilevered shelves and made a desk out of two ionic columns"), he was there to study communication arts — not fine or decorative arts — expecting to pursue a network-anchor trajectory.
Had Passal followed his intended path, the design world would have been deprived of his stylish take on updated tradition, to which he brings a unique flash of glamour and chic. "I'm not a modernist," he says. "I like layered luxury." Mixing graphic patterns, notes of saturated color and art that often slyly comments on celebrity and our hyper brand-consciousness, his interiors have the same Continental panache that defined Yves Saint-Laurent and Pierre Bergé's Rue de Babylone apartment in Paris, although Passal relies on a more diverse mix of styles than that Art Deco–enamored fashion duo.
Fortunately, a post-college internship at ABC convinced him that the role of newscaster was not something he wanted to pursue professionally. So Passal —  born Passalacqua, which remains his legal name, and raised in Forest Hills, Queens — drifted for a time, working in restaurants and eventually managing Manhattan's Hard Rock Café for two years. He was 24 and, he says, knew that this career "was not something I'd be able to sustain."
One day his roommate handed him a copy of The Artist's Way, Julia Cameron's popular book about tapping into your creative potential. "He was into New Age," Passal says of his roommate. "I was definitely not buying it initially. But by week four or five, I realized that my passion was interior design, and I was holding myself back because I thought that only gay men were interior designers, and, of course, I wasn't out yet." (Today he is happily partnered with Texas-born Terence Jones, who heads a technology sales force. "He's a much more a type A personality," says Passal.)
---
"I'm not a modernist," says Passal. "I like layered luxury."
---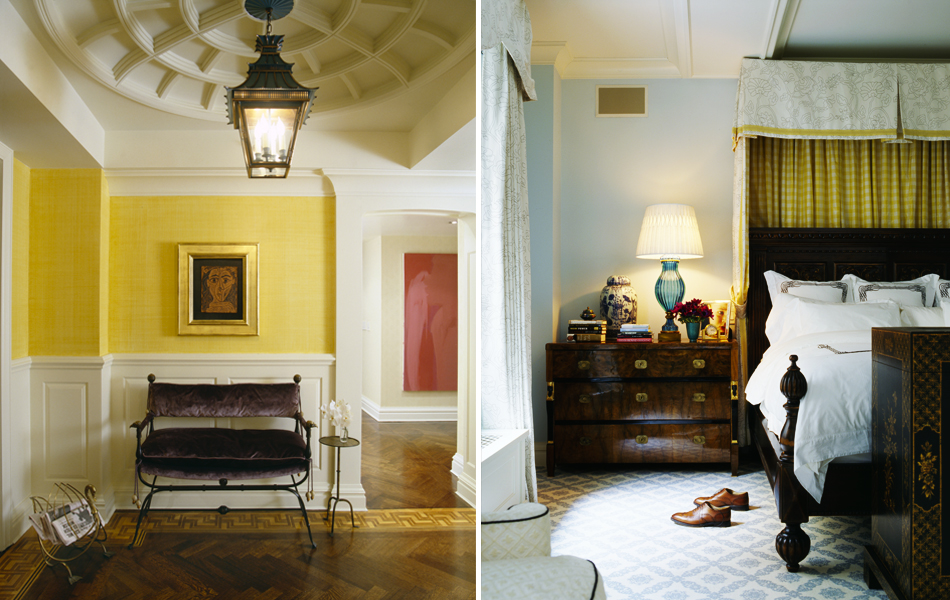 Passal didn't know any interior designers, but he did know someone who worked for one. "My friend helped me concoct a résumé," he recalls. "I went floor by floor at the D&D Building handing it out at showrooms I thought had my aesthetic. By the time I got home, I'd received a call from John Rosselli." He worked for the eminent antiques dealer from 1993 to '95. There, he says, "I would meet all these designers I'd later come to know as colleagues." He also learned a lot about design and antiques, on-the-job training he supplemented with night classes at the Fashion Institute of Technology. One of his favorite frequent clients at Rosselli, Daniel Barsanti, of the firm Healing Barsanti (now HB Home Design Studios), wound up hiring him as a junior designer.
Barsanti and his business partner, Patricia Healing, says Passal, "taught me about detail, proportion, balancing color. I think learning by doing is far more valuable than learning to draft and do other things they teach you in design school." Eventually, Passal realized that "all designers want to express themselves the way they want to be seen." So in 2000 he left to open his own firm. "I worked from home sixteen hours a day at my dining table," he recalls. "It was crazy."
As the business grew, Passal leased a space with antiques dealer Pascal Boyer in Chelsea, where he remained for a decade; last year he relocated, solo, to East 25th Street. His big break came in 2005, when House & Garden featured the Manhattan apartment he designed for Yankees catcher Jorge Posada. This led to a host of sports figure clients, including fellow Yankees Alex Rodriguez and Jason Giambi, as well as various NBA players.
Today, says Passal, that client base has expanded to include people from a wider array of professions, most of them in their 50s and 60s. Typically, he explains, they are folks with a point of view, who want their spaces to look "collected, as though they've gone through an evolution." The interiors he designs for them reflect Passal's predilections. "I'm a big advocate of contrasting elements," he observes. "Mixing various periods is very popular today. But to do it well, you have to pair two very opposing periods — something quite modern up against something eighteenth-century French — to create a tension. Or I'll take a nineteen-twenties gilded chair and reupholster it in a graphic black-and-white fabric hand-painted by a contemporary artist."
Passal is also fond of color, though he is careful to not let it overwhelm a space. He prefers to deploy deep shades on an accent wall, for example. "Someone told me I use color in ways that don't feel dominating or immediately noticed," he says.
In addition to New York City,  Westchester County and Long Island, Passal has designing projects in Miami, where he maintains an apartment to which he retreats when he needs an escape from New York — and to preserve his tan. He recently finished the complete renovation of the outdoor restaurant space of the exclusive Core Club on Manhattan's East 55th Street. Next year will see the debut of Passal's first outdoor furniture collection, for Opiary, and he is in the process of designing a fabric line, although he has yet to shop it around to potential textile houses for production.
All these endeavors are guided by an innate impulse described in the words that design legend Albert Hadley penned on one of his drawings, which he gave to Passal and which holds pride of place in Passal's office, just above his desk. On it Hadley wrote, "Chic is an attitude." Contemplating this statement, Passal says, "You have to feel it." And you know Passal does feel it — much deeper than that tan of his.
---
Robert Passal's Quick Picks From 1stdibs