May 17, 2020Growing up on Manhattan's Upper West Side, Maia Schoenfelder spent her weekends at her maternal grandparents' home in Usonia, the Frank Lloyd Wright–designed planned community in New York's Westchester County. The house was filled with pieces by her grandfather, furniture designer Mel Smilow, whose work reached the height of its popularity during the middle of the past century. Finely crafted in the U.S. from American hardwoods, leather and hand-woven rush, his pieces — which include chairs, ottomans, benches and daybeds, as well as lights, slatted-wood side tables and sofas — display clean lines and well-balanced proportions, reflecting their creator's appreciation of Scandinavian and Japanese design. They recall the work of some of his contemporaries, including Jens Risom, Edward Wormley and Børge Mogensen, but they have distinctive joinery details and a quiet strength that make them unique.
Smilow's furniture, produced under the label Smilow-Thielle, attracted the attention of a who's who of 20th-century style setters: John Lennon and Yoko Ono owned one of his platform beds, and Buckminster Fuller placed Smilow's rocking chairs in the geodesic dome he designed as the U.S. pavilion for Expo 1967, in Montreal.
As a youngster, Smilow's granddaughter didn't always fully appreciate his work. "It was only as an adult that I realized how special it all was," says Schoenfelder, who now leads the family business with her father, Steven, and her brother, Aaron. Together, they oversee the design and production of a growing line of pieces based on dozens of Smilow's designs. Later this year, once work can resume following the COVID-19 lockdown, they plan to launch a bedroom collection.
The furniture is as timeless and modern today as when Smilow was creating it, from the late 1940s through the '70s. "Mel understood the shape of the human body and crafted furniture to suit it, eliminating the need for overscaled, overstuffed forms and focusing on the essentials," says interior designer Whitney Parris-Lamb, whose studio, Jesse Parris-Lamb, recently deployed Smilow's Woven Rush bench in a classic six on the Upper West Side amid works by such mid-century luminaries as Josef Frank, Bruno Mathsson and Frits Henningsen. "The pieces are visually delicate and open but also incredibly sturdy and comfortable."
Although Schoenfelder, her father and brother run the business today, it was her late mother, Smilow's daughter Judy Smilow, who relaunched the company about eight years ago. Renaming the brand Smilow Design some three decades after her father shuttered his business, Judy — a product and graphic designer who began her career at MoMA — leveraged his archives to bring his work back to life. At ICFF in 2013, she debuted reeditions from 1949's Woven Rush collection, 1950's Rail Back collection and 1960's SOTO cocktail table. She went on to reissue and bring to market a total of more than 30 pieces before her death at the age 60 from ALS in 2018.
She created them using detailed blueprints and drawings from the archives, when these existed, but in some cases, all she had to work with was a photograph or a vintage original. However she arrived at her designs, Judy took care to maintain the integrity and aesthetic of her father's work. "The longevity of the pieces my grandfather produced, the timeless style that you can have forever, those things were really important to her," Schoenfelder says.
---
"Every decision we make, we always think,
'What would Mel do?' What would my mom do?' " says Schoenfelder.
---
When Judy founded Smilow Design, she conceived it as an umbrella beneath which her father's work could live together with her own nature-inspired glassware, which resides in the collections of the Brooklyn Museum of Art, the Smithsonian Cooper-Hewitt National Design Museum and the Yale University Art Gallery. She saw the company as offering "an all-encompassing suite of luxury goods, all under the family name," says Schoenfelder.
She ended up, however, having enough time just for the furniture reissues, and only in the past year have her husband and children been able to add her pieces, including bowls, plates and barware, to the assortment. "We are honored now to put her glassware back into the spotlight, as she had always envisioned," says Schoenfelder.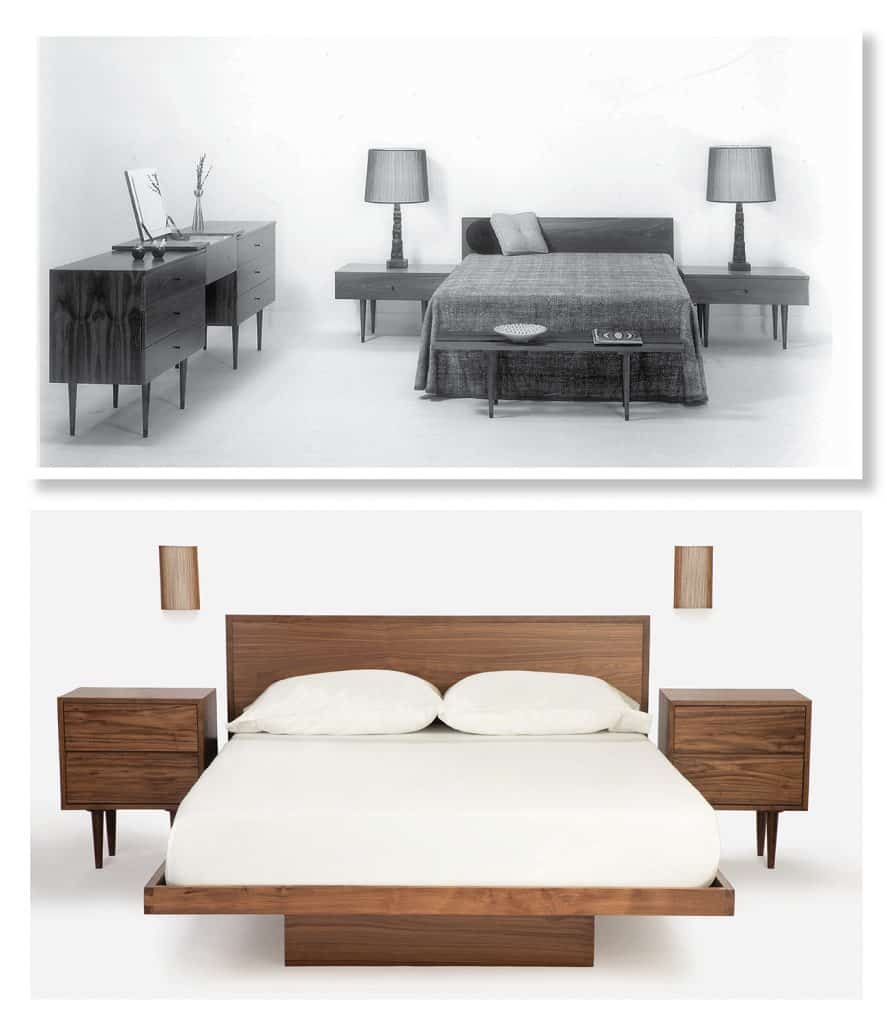 The planned bedroom collection will be the first furniture line released since Judy's death, and it represents a debut of sorts for the company's new leadership team. "My father, my brother and I make all design decisions collectively," says Schoenfelder, who started working with her mother shortly before she died, after spending time in social media roles with fashion and media brands. The forthcoming line comprises Smilow's 1950s floating platform bed (the design owned by John and Yoko), along with a new version with a built-in headboard, plus a bedside table and a sconce based on his work.
The nightstand will have a look like that of Smilow's solid-wood six-drawer dresser, while the sconce was born out of his bedside table lamp, with its construction of thin birch dowels over a vellum cylinder. These items will join such sought-after Smilow Design pieces as the Woven Leather dining armchairs and side chairs and bar stools and the Woven Rush bench, which has been the company's most popular piece since the 2013 relaunch.
As for what's next for the brand, Schoenfelder points to the archive as a treasure trove. "There are at least one hundred and fifty pieces that we haven't released," she says, "so there is a lot to work with," including more beds and bedroom case pieces, plus outdoor collections in metal and rattan. Among the archive's tea carts is a slatted-wood version that the Schoenfelders are already planning to put into production.
The family is also thinking about the vintage market. Smilow's original pieces, many of which were unmarked when produced, have become more identifiable and recognized by collectors as the new brand has grown. "We have so many vintage items," Schoenfelder says, "and we have people reaching out to us all the time saying, 'My parents passed away. Their entire house was filled with Smilow furniture. Would you like to buy it?' "
One fan of both the old and new works is decorator Parris-Lamb. "I have original Smilow dining chairs in my own home," she says, "and can personally attest to their enduring quality and timeless design. They truly get better with age."
As Smilow Design moves forward, the trio in charge continues to look back to those who came before. "Every decision we make, we always think, 'What would Mel do?' " says Schoenfelder. " 'What would my mom do?' " They've made it their mission to maintain and honor the brand's legacy. "Making furniture that people wanted in their homes in the forties, fifties and sixties, and that they want in their homes now," concludes Schoenfelder, "that's something special."
---
Talking Points
Maia Schoenfelder shares her thoughts on a few choice pieces