June 12, 2022It was while working on a town mansion in the Kensington section of London in the mid-2010s that the interior designer Jonathan Amar decided to open his own furniture gallery. For that commission, he sourced not only 17th-century French paneling originally created for the Château de Bercy (whose architect, François Le Vau, was responsible for the east facade of the Louvre) but also a host of mid-century pieces: lighting by Max Ingrand and Serge Mouille, sofas by Finn Juhl and a lounge suite by Gio Ponti. "I had a ball of a time," he says. "Each piece was museum-worthy."
Amar's passion for 20th-century vintage dates back several decades. He started collecting Italian furniture in the 1980s and incorporated postwar Vallauris ceramics into the decor of his early restaurant and café projects. He sees the opening of Spirit Gallery, in October 2017 in Rabat, Morocco, as a "natural progression."
The gallery is located on the ground level of a three-story 1980s building in an industrial district, where its neighbors include businesses like a printing works, a rug factory and an automobile shop. Above it is its in-house restoration atelier, with Amar's design office and a photo studio on the top floor.
The gallery specializes in Italian design from the 1950s to the '70s, with an inventory that regularly includes lighting by Stilnovo, Stillux and the like and furniture created by Paolo Buffa, Ico Parisi and Ponti. You can also find the odd piece of Scandinavian design. Amar is a particular fan of Finn Juhl, for "the sensuality of his forms," he says. "I've always been fascinated by scrolls and curves."
Among the vintage finds, Amar also presents his own contemporary furniture and lighting collection, Jonathan Amar Studio, consisting largely of pieces made from brass partnered with other materials (wicker, rattan or leather, for example), produced in tandem with local artisans.
Amar was born in Rabat, where he spent his early childhood with an uncle and aunt. Of Jewish origin, the family emigrated to France upon the outbreak of the Six-Day War, in 1967, when Amar was 13.
He initially embarked upon a career in journalistic and fashion photography. The first interiors he created were sets for his own fashion shoots. He segued into a career in design in the early 1980s after a friend asked him to revamp the interiors of several Greek restaurants in Paris.
Since then, he has decorated more than 100 hotels, restaurants and clubs, including some of the most iconic names in Parisian nightlife — Les Bains Douches, Le Palace and Castel, to name a few. "He has a gift for making each space theatrical," says French interior designer Raphaël Le Berre, who trained with Amar early in his career. "He really takes you on a voyage."
These days, Amar spends a significant amount of time traveling around Morocco in search of artisans whose skills he can integrate into his own designs. "Habitually, they produce objects that are extremely ornate," he says. "My approach is to bring more of a modern touch, with purer lines and a more pared-down style."
Introspective sat down with Amar to talk about his love of Gio Ponti, vintage finds in Morocco and where the country's best craftspeople are located.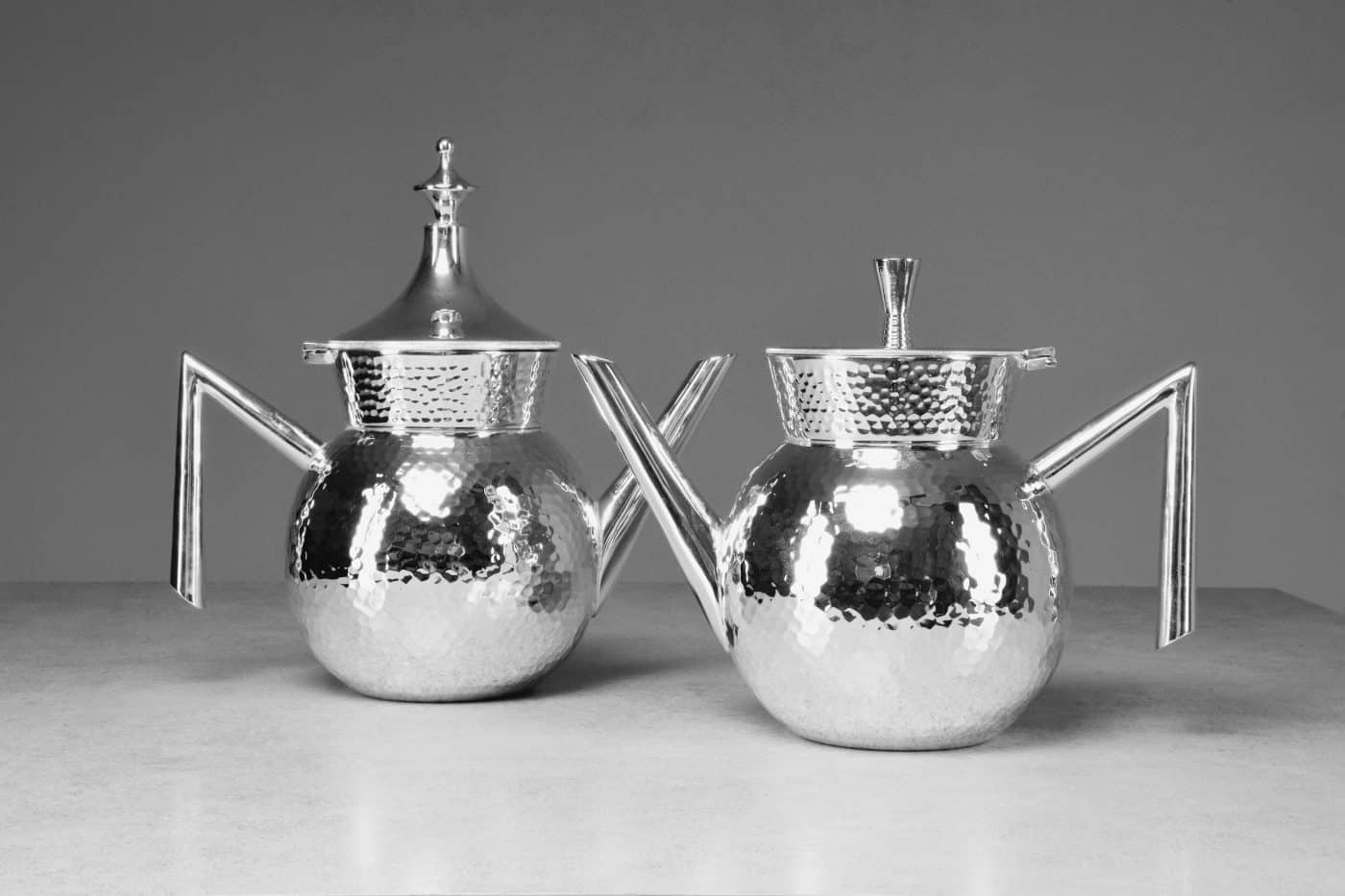 Who are your clients?
There's definitely not much demand in Rabat, that's for sure. We do, however, field requests from people in Casablanca and Marrakech, where more foreigners have bought houses. However, eighty percent of our business is abroad, and the vast majority of that is in the States. We work there with interior designers like Kelly Wearstler, Peter Marino, Pamela Shamshiri and Robert Stilin.
Why does the gallery have such a strong focus on mid-century Italian design?
I think nobody combines sensuality and comfort quite like the Italians. Gio Ponti is a perfect example. He had a way of creating extremely comfy furniture that was also incredibly beautiful. You don't find the same qualities in French pieces, which tend to be more strict.
Plus, a lot of French mid-century design has become so expensive, whereas you can still find things at reasonable prices in Italy. I work with people who hunt things down for me but who aren't in Milan or Rome. They're based in more remote spots where it's still possible to track down items that are affordable.
Is there interesting vintage design to be sourced in Morocco?
There's not a ton of things, but you do come across the odd gem. [Mid-century Hungarian-French designer] Mathieu Matégot had a workshop in Casablanca, and I once found one of his rare Nagasaki chairs in an antiques store in Marrakech.
A lot of French designers also worked in Morocco during the thirties. There are whole districts in Rabat and Casablanca that were revamped by French architects, with villas, town mansions and banks. During a project for one of the king's advisers, I came across a set of solid-oak and leather chairs in the spirit of Jean-Michel Frank that originally belonged to the Bank Al-Maghrib.
Where in Morocco do you find the best artisans?
Traditionally, in Fez. They are known as maalems, which literally means "those who know." It's there that you find the best zellige tiles and brassware, as well as the most skillful jewelers.
Rabat is known for plasterwork used on ceilings, and Tangier for weaving both fabrics and rugs. You also have interesting woodwork there, inspired by Syrian techniques, with inlaid bone and silver thread.
In the past, Marrakech was more rural, and craftsmanship there tended to be limited to leather and basketware. But since the city has become popular with Europeans in recent decades, numerous artisans have relocated there from Fez.
How do you integrate traditional Moroccan techniques into your in-house contemporary furniture collection?
I like to mix different techniques. For example, we clad a lot of our brass lamps with leather and work with craftsmen who make saddles. They stitch everything by hand with a brass thread that is treated with wax to make it more resistant.
What is great here is that we can produce lots of different prototypes at each stage because the costs are much lower than in Europe or the States. That allows us to fine-tune each design and to see what each artisan is capable of achieving.
What are some of the specific objects you've created in collaboration with craftspeople?
There's a set of teapots made from nickeled brass, which we started to produce about three years ago. Seven individual craftsmen work on each of them. Each has his specialty. One does the embossing, another the engraving, a third the spout and so on. I also hired jewelers in Fez to work on perforated metal light shades. They make each hole with a vertical saw that resembles a thread. It takes a whole day for an eight-inch-square sheet. The precision is the same as with a laser cutter. It's really quite something!
Jonathan Amar's Talking Points