May 1, 2022Designer Stewart Manger knows exactly what Isaac Newton meant when he wrote, "If you have seen further than others, it is by standing upon the shoulders of giants."
Before starting his own New York City firm, in 2016, Manger worked for 15 years under the tutelage of David Easton, David Kleinberg and Bunny Williams.
"I spent more time than most designers working at other firms," he says of his stints, each lasting about five years, with these towering figures. "But that mentoring you get from giants of design — I have no regrets."
These legends all taught Manger something, to be sure. But their sage advice is filtered through his own unique aesthetic lens and knowledge of the decorative arts, resulting in interiors rooted in historical furnishings of extraordinary quality. (Not surprisingly, his clientele tends to be particularly well-heeled.)
Those historical roots, however, don't mean that Manger's rooms are exercises in period stuffiness. In this regard, he follows Easton's dictum that "rooms should sing" and Williams's that "rooms should be happy" — which is probably why he is sought out by both 40-somethings and older clients. (This fall, when Rizzoli publishes Romancing the Home, the designer's first monograph, a wider segment of the public will enjoy a glimpse of the impressive interiors he's created.)
Manger, who grew up between New York City and a family home in the Hamptons, went to Trinity College in Hartford, Connecticut, and earned his undergraduate degree in political science and art history.
His art history courses were his equivalent of Newton's apple, supplying the gravitational force that pulled him to London to enroll in Christie's fine and decorative arts education program. He then spent a year working at the British headquarters of Sotheby's before resuming life in New York, where he worked for a year at Christie's.
In 1993, Manger returned to school, enrolling at Bard, from which he graduated with a masters in decorative arts in 1995. While still a student, he had internships at the Brooklyn Museum; the Getty Center, in Los Angeles; and New York's Metropolitan Museum of Art.
It still had not occurred to him to become an interior designer, however. Then, Marian McEvoy, at the time editor of Elle Decor — whom Manger met through a mutual friend — hired him to organize lectures and events at various shows the magazine sponsored or participated in, and to help with various other projects. After two years, McEvoy recommended him for a job with Easton, who needed a senior designer.
"I had no experience in design," Manger recalls. "But Marian told David he would benefit from all the knowledge of furniture and decorative arts I had acquired at Christie's and Sotheby's. He taught me how to build a room. He was a great teacher."
Manger's next mentor was Kleinberg. "He made room for me in his office in the summer of 2001. I learned a lot about contemporary design there. He also used to tell me things didn't need to be so perfect."
From there, Manger moved to Williams's design firm. "Her office was the busiest and worked at a very fast pace," he says. "I used to tell her that I never worked so hard, but I also never had so much fun." He remains friendly with Kleinberg and with Williams, who wrote the foreword for Romancing the Home. (Easton died in 2020.)
"I was taught that every project should be a reflection of the client and the location," Manger says. Nevertheless, like any designer, he has favorite tropes.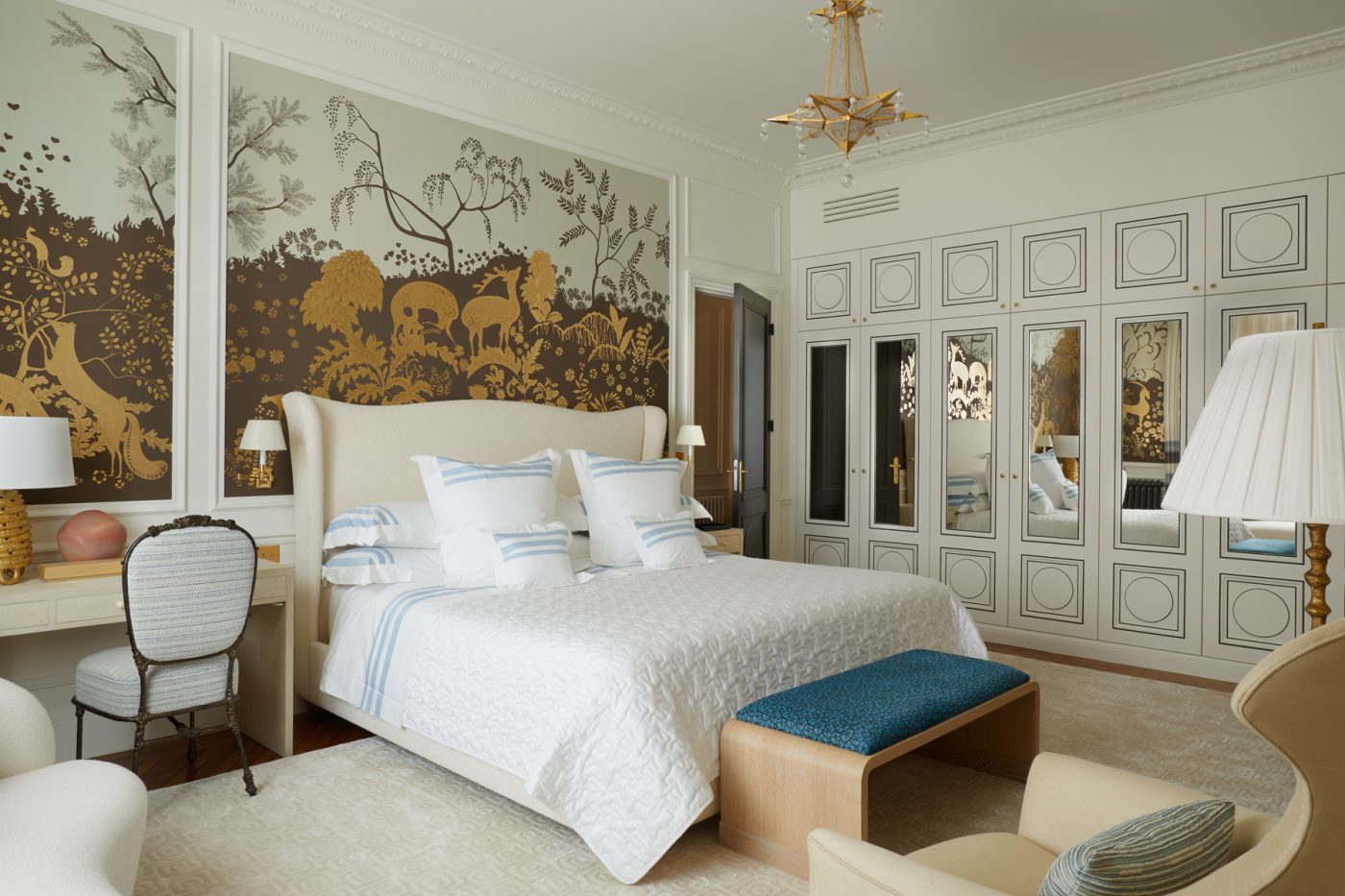 Chief among these? "I like the play of light and dark." This proclivity is manifest in a shingle-style Newport mansion, where Manger hung a black Jean Dunand screen depicting a jungle scene against a pale, tone-on-tone plaster wall. It also informs the family room of a Parisian pied-à-terre, where velvet cognac curtains and a similarly hued lacquer ceiling provide a dark contrast to the parchment-colored wall.
Manger has a predilection as well for Art Deco furniture. "Deco always tends to work," he says. "Even younger clients appreciate the modern quality of it. But the style also fits easily within a traditional environment."
Nowhere is this more evident than in the Parisian pied-à-terre, which sits in a Georges-Eugène Haussmann building in the 6th arrondissement, overlooking the Boulevard Saint-Germain. "I wanted to honor its history, so it's done with a very strong voice of Paris in the nineteen thirties," says Manger. "It was completely gutted, but we put back moldings that reflected what would have been there in the nineteenth century."
The main salon features gilt-armed Émile-Jacques Ruhlmann fauteuils, Armand-Albert Rateau gilded-leather chairs at a card table, plaster reliefs based on Rateau designs and a screen by Anne Midavaine, which she based on her grandfather Louis Midavaine's famous 1932 polar bear paravent. Custom de Gournay wallpaper, also showcasing Rateau flora and fauna, wraps the master bedroom. The library features a Jean-Michel Frank–style rug.
Still, as Manger puts it, "Everything can't be so sewn up." He jumped forward to the present day with assorted pieces in different rooms, placing an Hervé Van der Straeten bronze-fronted cabinet, for instance, under a Gerhard Richter painting in the drawing room, sconces from the same designer on either side of a Serge Roche mirror in the entry and his ceiling fixture in the library. Contemporary sculptor Philippe Anthonioz made the plaster chandelier in the drawing room, which Manger outfitted with a modern rug and dark wood framing to "give the room rhythm," he says. In the library is a horned Elizabeth Garouste chair.
Various pieces in the drawing room are by Fredrikson Stallard (an acrylic Gravity coffee table), William Sullivan (bronze card table) and the Campana Brothers (a side table).
This points to another Manger trademark: his use of tables in diverse styles to inject spaces with a subtle eclecticism. "I don't mind pairs," he says. "However, I like things to be balanced but not symmetrical."
The living room of a grandly proportioned prewar apartment on New York's Park Avenue provides a beautiful illustration. Flanking the sofa are a square painted Alpha Workshops table and a round Niermann Weeks one. An Emmanuel Babled lava-stone coffee table sits in front of the couch. In a corner is a lacquer low table from Bernd Goeckler and the owner's own Corinthian-capital occasional table, while opposite the fireplace is a barrel-shaped shagreen-covered side table.
"You don't think the room is so eclectic at first — it has one voice." Manger notes. "But when you look at it closely, you see a lot of things that don't necessarily go together."
True to form, under works by Candida Höfer and Hunt Slonem, he mixed in Deco and Deco-style pieces, such as Jean-Michel Frank–style lamps, a boxy armchair and consoles incorporating straw marquetry, one of Frank's favorite materials. The consoles bookend the entrance to the dining room, itself anchored by a massive 1940s French sideboard of macassar ebony and mahogany. Here, Manger surrounded the dining table with Jean Royère–style cartouche-back chairs. The space has an understated yet magical elegance that comes from the (judiciously deployed) pedigreed furniture and shimmery blue wallcovering. At night, aglow with flickering candlelight, it is enchanting.
Even at the Newport shingle-style house — which the homeowners didn't want to feel too decorated because of its informal oceanside setting — Manger's interior design radiates a quiet elegance.
That owes in large part to his selection of such high-wattage antiques as a Frank console in the entrance hall, a 1940s French dining table and 1940s Karl Kemp chairs in the library. States Manger, "Quality pieces elevate everything."
And that, according to the designer, includes your mood. Like his mentors, he has concluded that "people want to live in uplifting environments."