Interior designer Suzy Hoodless has an archive of some 40,000 images on her computer. They are photos she has taken and kept as potential inspiration for her projects. "I have this weird memory where I can easily recall them," she says, sitting at a long table on the first floor of her Notting Hill showroom. "I'll think, 'I need to find that photo I took at MoMA in New York. It must have been twelve years ago.' "
Hoodless's career got off to a bang shortly after she opened her firm, in 2000. The model Erin O'Connor hired her to decorate a Georgian townhouse in London. That project was never published, but two other commissions gained considerable press attention. The first was the Hospital Club, a private members' club located in an old Victorian hospital in Covent Garden. There, her eclectic, whimsical decor includes cartoon-like drawings of the Kama Sutra in the restrooms and custom wallpaper with illustrations of 1940s pinups, butterflies and foliage.
Even more impressive was her work on several buildings on an estate in the Highlands of Scotland. The main house is a contemporary structure with dramatic angular windows by the Israeli-born architect Moshe Safdie. Inside, Hoodless mixed 20th-century vintage furniture by Ole Wanscher, Josef Frank, Jean Prouvé and the like with 18th-century Swedish fireplaces and a tapestry that once belonged to Marie Antoinette. She also transformed the former cook's cottage into a guesthouse, using doilies as lampshades and covering the bedroom walls with some 2,000 19th-century postcards. Then there's the children's dormitory, which she conceived with climbing nets between some of the beds. "It became a sort of adventure playground," she says. "I doubt any child has had a wink of sleep in there."
Some 15 years later, Hoodless is still going strong. For the past three years, she has been engrossed in another high-profile project: the transformation of the BBC's former West London headquarters, Television Center, into a 1,000-flat residential development. The complex will also encompass a Soho House hotel and members' club, a fitness center and artisanal shops and cafés. Hoodless's involvement has included designing a communal work space, a screening lounge and several model apartments, whose decor incorporates Charles and Ray Eames's DSW chairs, Danish mid-century furniture and bathroom tiles inspired by a motif created in the 1950s by Edith Heath, founder of Heath Ceramics.
Growing up in the London district of East Sheen, Hoodless was constantly rearranging her bedroom. "I was trying to create a series of different spaces inside one very average-sized room," she says. "I was always moving bookshelves to create little corridors or hanging textiles as partitions." She enrolled to study fine art at Manchester Polytechnic (now known as Manchester Metropolitan University), in northern England, but dropped out after only a few weeks. "I remember walking down the road," she says, "carrying my jacket potato and baked beans and thinking, 'I'm not going to spend the next few years living like this, in miserable poverty.'" Instead, she made her way back to London, learned how to type and got a job as an assistant on the creative team at Tricia Guild's now legendary textile and wallpaper firm, Designers Guild. "It was my formative education and much better than the degree I would have got," she says. From there, she did internships at magazines like British House & Garden and embarked upon a career as a freelance stylist. One particularly pleasant memory was collaborating on the third volume of Ruth Rogers and Rose Gray's River Café Cookbook. "That was definitely the best job I ever had," she says. "I spent two days eating delicious food."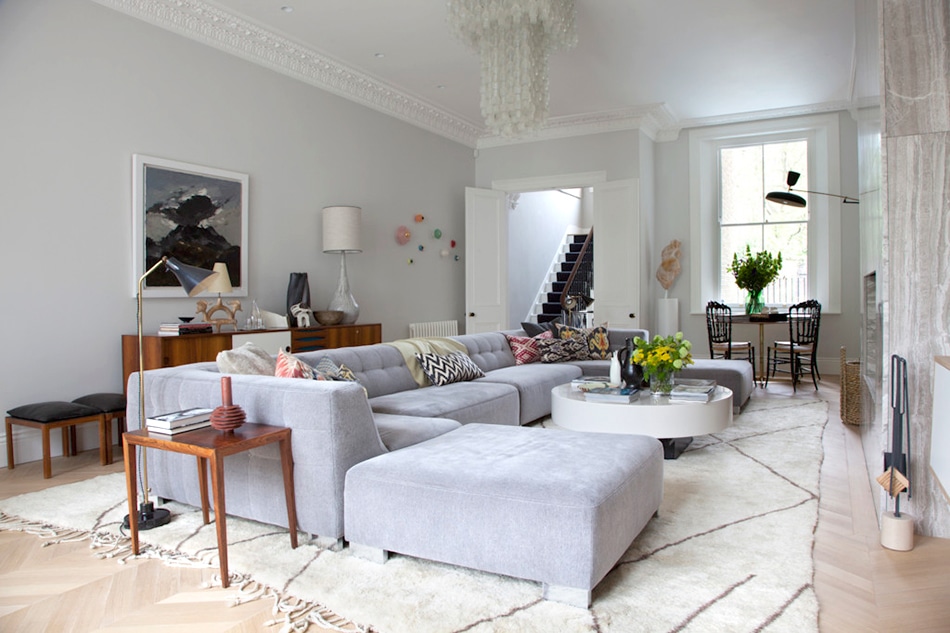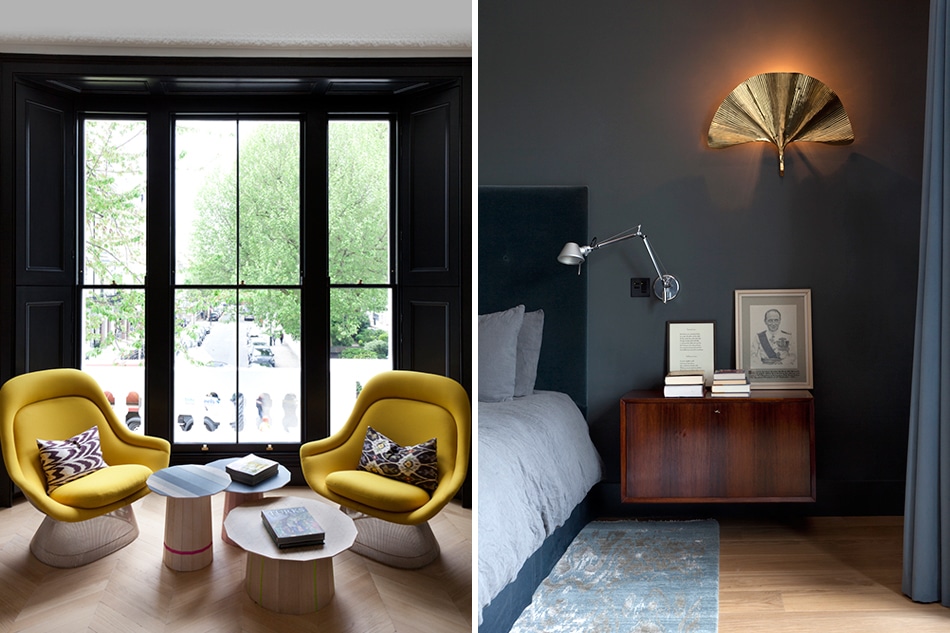 Her big break came in 1996 when she was introduced to Tyler Brûlé as he was about to launch the trailblazing magazine Wallpaper*. "Suzy's father told her it would amount to nothing and that it was a waste of time," recalls one of the magazine's cofounders, Paul de Zwart, with a chuckle. Fortunately for Hoodless, she ignored the parental advice and accepted the job of interiors editor, which largely involved traveling around the globe attending furniture fairs and curating shoots.
Hoodless's first decorating project came when an acquaintance, an American accountant, asked her to outfit an apartment she had bought near London's Westbourne Grove. "I thought, 'Well, I know where to get everything,' " Hoodless says. "It seemed like a natural evolution." Her aesthetic has remained constant ever since: She has a love of mid-century modern pieces, with a particular fondness for Scandinavian design. "I like the warmth of the wood and its contrast with the cleanness of the lines," she says. She also often incorporates pops of bright color and bold black and white stripes. "I want there to be a sense of drama and theater and excitement."
"Suzy's always looking for the unexpected," notes British rug designer Christine Van der Hurd, with whom Hoodless regularly collaborates. "She's constantly pushing the boundaries." That can come by way of a dose of humor. In the basement playroom of a townhouse in Kensington, London, for example, she decorated a set of wardrobe doors with a quirky mural of parading elephants and monkeys hanging from trees. At other times, she simply throws something unexpected into the mix. In the sitting room of another London residence, she says she juxtaposed a "dramatic, midnight blue, geometric" Kelly Wearstler wallpaper with ikat-print curtains. "Doing something surprising is a good way of making interiors feel relaxed."
Hoodless has a laid-back attitude and a wonderfully dry sense of humor, but she also applies an impressive focus to her job. She's a great believer that there's no time to waste — a philosophy that helps her balance her career with life as a mother of three (she insisted we meet before 3 p.m. so she could pick up her kids from school). "There's not a minute that's not productive," she says. "Every second has to be accounted for." That translates into a business that functions like a well-oiled machine. "She brings investment-banking levels of organization to an industry that can be complete chaos," says fund manager Anne-Christine Farstad, a client for whom she designed a house in Islington, London. "She's totally brilliant."
---
Suzy Hoodless's Quick Picks on 1stdibs