October 17, 2021Tamsin Johnson has a passion for rattan. Also cane, bamboo, rope and sisal. She uses all these materials in her serene interior designs, in part because of their richly tactile quality. But other elements are at play as well. "I love their ability to calm down a space," she says. "They're unpretentious, complementing rather than competing with other pieces. You can have moments of glamour with finishes like velvet and high-gloss metals. You can have fine linen and bouclé. And then, some rattan in the mix will pull it all back a notch."
A sense of calm is something the Australian interior designer evokes with appropriate ease, as well as boundless style, in the spaces she creates — and the specific mix of materials she uses plays a big role in that.
A rattan tray might rest on a mid-century French ebonized-oak bar cabinet; concrete side tables might flank linen sofas; an antique Turkish marble basin might sit beneath a Gio Ponti mirror. This dialogue between organic and structured, textural and smooth, old and new gives her interiors their unique sensibility. "I call it 'tactful disharmony,' " says Johnson. "That unexpected combination of different pieces to achieve a space that is at once beautiful and livable."
It's hardly surprising that Johnson is in her element working in diverse styles and eras. She grew up visiting her father's various antiques stores, located across the state of Victoria, in southeast Australia.
From the age of four, Johnson accompanied her parents on European buying trips, heading out to fairs in the early hours. "I distinctly recall the intermingled smells of furniture wax, cigarette smoke and pain au chocolat when we entered those fairs," she says. "It was an exotic mix."
Studying fashion at Victoria's RMIT University in the early 2000s and then interning at Stella McCartney in London, Johnson further cultivated her affinity for beautiful objects. It was on holiday in Italy with her parents — on another buying trip — that she decided she wanted to express that affinity in interior design. After a year at London's Inchbald School of Design, she joined a Sydney-based design firm, working there for five years before starting her eponymous business in 2013.
Her firm allows Johnson ample outlet for her love of fine objects, as does the elegant store she opened in the Sydney suburb of Paddington. And when she speaks of these pieces — whether the Daum crystal vases, mid-century furniture and Murano wall sconces that often grace her projects or the objects arrayed in her shop — it is as if they are dear friends.
That's something I discovered while collaborating with her on her new book, Spaces for Living (Rizzoli), which offers insight into Johnson's aesthetic through some of her favorite interiors projects. It showcases the refined yet relaxed style that characterizes her work and reveals her personal approach to buying and designing.
That style, and her expert design eye, have been feted in magazines in Australia and beyond, displayed in international commissions that include an apartment in Paris, a small farm in Ibiza, a townhouse in Notting Hill, an apartment in Manhattan's West Village and ongoing projects in Los Angeles. In addition to this residential work, Johnson has designed the interiors of two hotels in Dubai; the New York showroom of P. Johnson, her husband's tailoring business; and, closer to home, the famous Raes on Wategos hotel in Australia's iconic Byron Bay, as well as Sydney boutiques for fashion brands Lucy Folk and SIR the Label.
Her own home has long acted as a second showroom for her business. She constantly sources new pieces, and the ones that don't go straight to clients or to her store will often stay in her house until she finds the right forever home for them. "I'd never buy something for a client that I wouldn't have in my own place," explains Johnson. "But I'm always thinking about where they'd be the happiest fit."
Among the pieces that sojourned in her previous home — overlooking the surf in the Sydney neighborhood of Tamarama — before traveling elsewhere was a pair of rope chairs that she placed in the living area. These fit into a color scheme Johnson created emphasizing cool coastal blues, sandy hues and white surfaces, with dramatic contrast provided by a black USM cabinet under an ever-changing display of artworks. "I wanted lots of natural materials and colors that weren't too out there," says Johnson. "The backdrop of the ocean offers its own colors."
After their stay in the Tamarama home, the rope chairs then headed to another iconic Sydney beach, coming to rest in a small Bondi bungalow whose mix of materials is also built upon a white palette. Here, Johnson crafted a laid-back beachside look with rope, rattan and sisal, pairing these materials with sleeker finishes: Marcel Breuer rattan and steel dining chairs cluster around a Milo Baughman burl-veneer table; the rope chairs sit beneath a pair of Venetian glass mirrors. In the bedroom, a 1930s French tapestry resides comfortably with a sisal rug and crisp black and white bedlinen. The mix of smooth and textural succeeds because of the neutral palette and a certain restraint displayed by the individual pieces — nothing appears fussy or precious, and the layout is appealing without being overworked.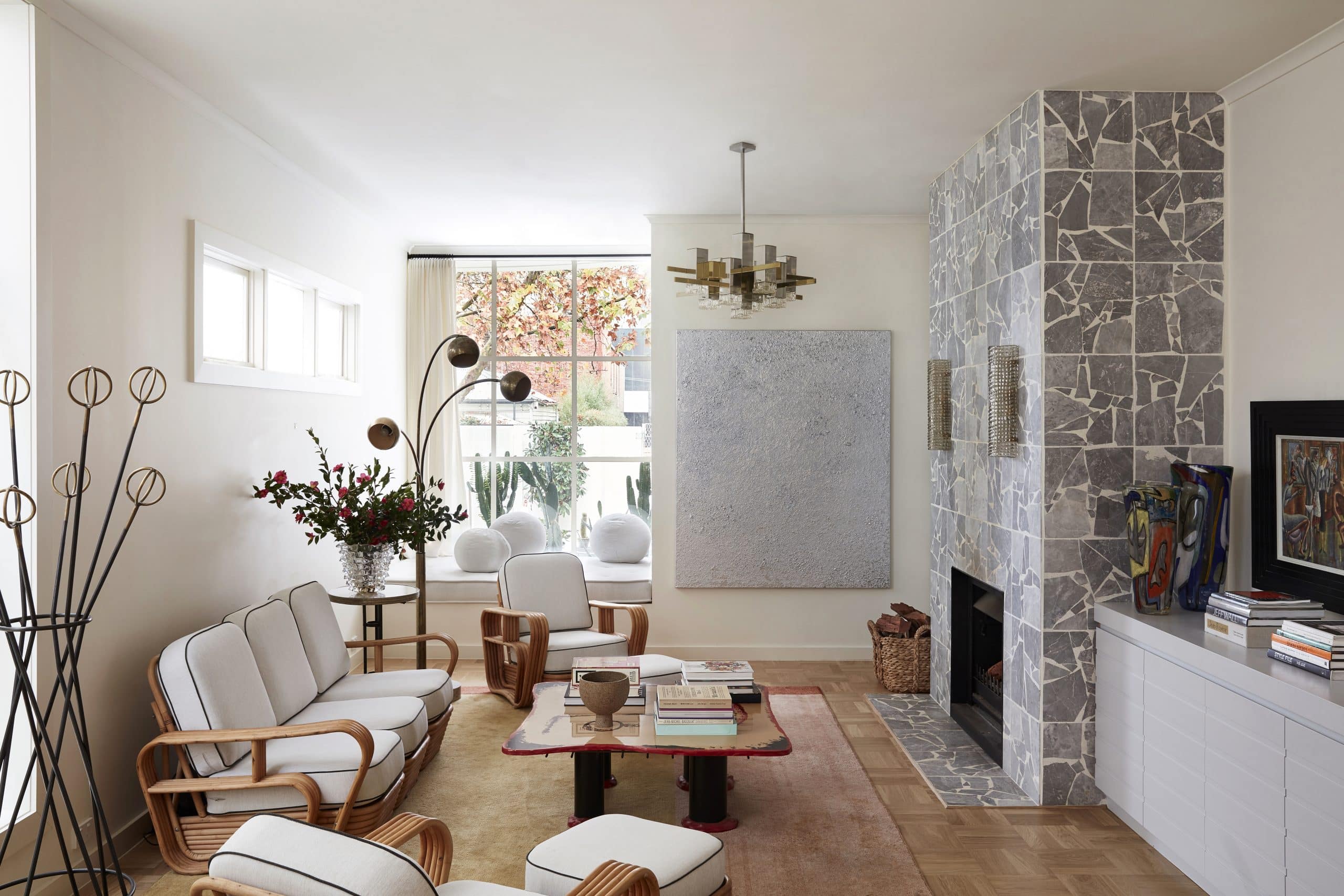 While Johnson developed her schemes for these beachside homes from the outside view inward, she took the opposite approach for her sister's house, in the leafy Melbourne neighborhood of South Yarra. There, she reconfigured a mid-century building, integrating it with its garden by creating a series of open tiered living spaces on the ground floor that spill into one another and out onto the courtyard beyond. The addition of a skylight and floor-to-ceiling windows enhances the flow of light.
An irreverent mélange of decorating touches celebrates the family's vibrant lifestyle. In the breakfast nook, a custom bench covered in a red-and-white-striped Ralph Lauren fabric sits beneath striking Bill Henson photographs and opposite 1950s Italian dining chairs in a print that is faded yet still lively. Mid-century lighting contributes to the playful spirit of spaces like the living room, where metallic and glass fittings are anchored by a gray marble fireplace and calmed down by a reupholstered cane sofa set.
"Reupholstering older pieces gives them another life," says Johnson. "They assume a new identity." That's beautifully illustrated in a grand Victorian-era house she designed in Sydney's Woollahra neighborhood, for which she restored a set of cane chairs that now sport white bouclé cushions with black piping. They sit in a gorgeous conservatory where rattan planters and verdant palms channel Raffles, the iconic 1920s Singapore hotel.
Johnson amped up the glamour factor even further for the fashion-industry owners of this house with sumptuous finishes and fabrics. Versace silk cushions sit on the chairs, while in the living area, a Pucci rug lies beside a rustic blue-and-white kilim. Amid a palette inspired by the surrounding greenery, that tactful disharmony of earthy and polished, traditional and contemporary brings a reviving, decidedly present-day energy to the house's old-world charms.
Johnson and her husband and two children recently moved into a 1920s harborside home in the exclusive Sydney suburb of Darling Point. She found a perfect spot for a pair of sofas in her beloved cane in the sunroom — before selling them, that is, to a grateful client. "I miss them already," she admits.
The grand proportions of the lodge-style house have enabled her to incorporate other treasured pieces that have been waiting in the wings, such as an impressive collection of Daum, Lalique and Seguso Murano glass that includes some large-scale chandeliers. The mix of classic and contemporary is mindful of the era in which the house was built, yet it also very much reflects Johnson's bold, fresh approach — allowing for just enough rattan amid all that refinement.
Tamsin Johnson's Quick Picks