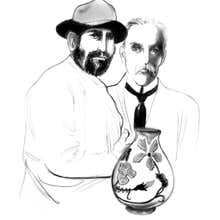 For collectors, Daum is a name in the first rank of the French makers of art glass, along with those of Émile Gallé and René Lalique. Led in its early decades by the brothers Auguste (1853–1909) and Antonin Daum (1864–1931), the company, based in the city of Nancy, established its reputation in the Art Nouveau period, and later successfully adopted the Art Deco style.
In 1878, lawyer Jean Daum took over the ownership of a glassworks as payment for a debt and installed his sons as proprietors. Initially, Daum made glass for everyday purposes such as windows, watches and tableware, but the success that Gallé enjoyed at the 1889 Universal Exposition in Paris — the international showcase for which the Eiffel Tower was built — inspired the Daum brothers to begin making art-glass pieces. They produced popular works of cameo glass, a decorative technique in which an outer layer of glass is acid-etched or carved off to reveal the layer below, but Daum became best known for vessels and sculptures in pâte de verre — a painstaking method in which finely ground colored glass is mixed with a binder, placed in a mold and then fired in a kiln. 
Though early Daum glass was never signed by individual artists, the firm employed some of the masters of the naturalistic, asymmetrical Art Nouveau style, including Jacques Grüber, Henri Bergé and Amalric Walter (whose first name is frequently misspelled). Daum also collaborated with furniture and metalware designer Louis Majorelle, who created wrought-iron and brass mounts for vases and table lamps. In the 1960s, Daum commissioned fine artists, most notably Salvador Dalí and sculptor César Baldaccini, to design glass pieces. As you see from the works offered on 1stDibs, Daum has been home to an astonishingly rich roster of creative spirits and is today a state-owned enterprise making pâte de verre figurines. 
Daum vases and vessels for sale on 1stDibs
Vases and vessels are available on 1stDibs for sale. These distinctive objects are often made of
glass
and are designed with extraordinary care. There are many options to choose from in our collection of Daum vases and vessels, although
brown
editions of this piece are particularly popular. There are currently 207 vintage editions of these items in stock, while there is also 0 modern edition to choose from. Many of the original vases and vessels of Daum were created in
Europe
during the
20th century
in the
Art Nouveau
style. Many customers also consider vases and vessels by
Emile Gallé
,
Longchamp
and Burgun Schverer if you are looking for additional options. The prices for Daum vases and vessels can vary depending on size, time period and other attributes. The price for these items starts at
$395
and tops out at
$80,000
, while pieces like these can sell for
$7,500
on average.