"During installations, I am often found sitting in a corner thinking, 'What else does the room want or need?' " says designer Timothy Brown. "Spaces generally have a way of saying what they want if you listen."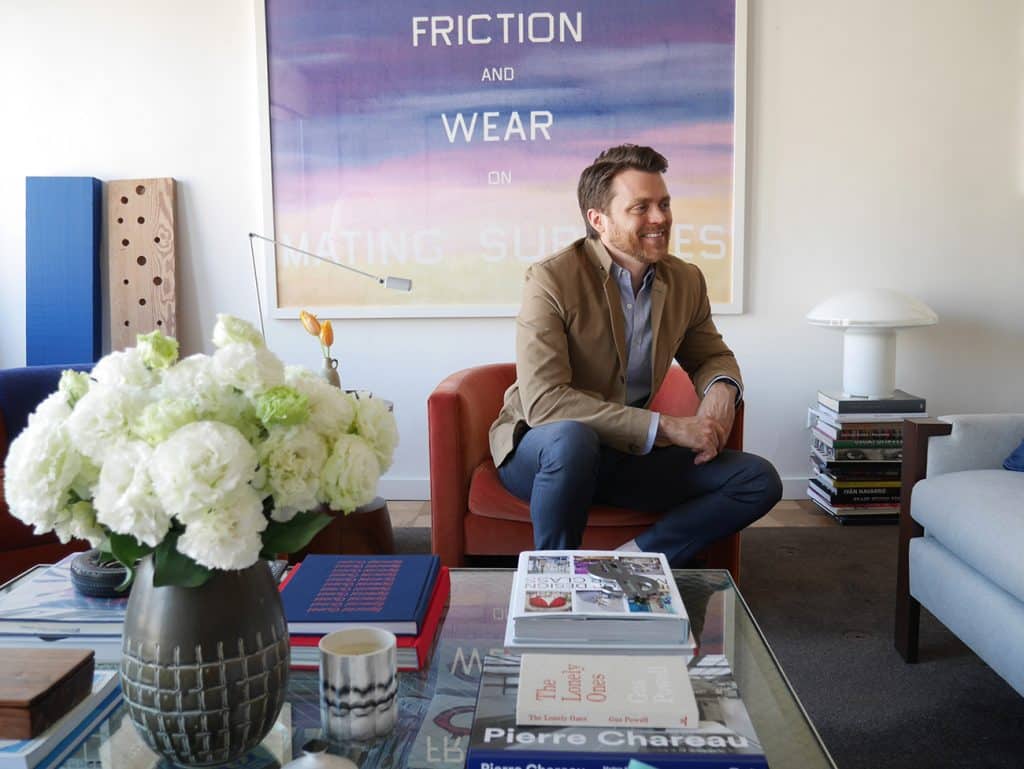 This ability to listen, and listen carefully, is one reason the New York City–based Brown attracts a diverse and devoted clientele, including high-flying folks who live everywhere from Venice Beach to Paris. Everyone, after all, likes to be heard, but designers don't always welcome hands-on homeowners. In contrast, "I always feel that the more involved the client is, the better the project," says Brown, who also deals in French, Italian and American vintage furniture, lighting and accessories. He sells these, as well as some pieces of his own design, from a small space in the New York Design Center and on his 1stdibs storefront.
The 43-year-old Tennessee native is soft-spoken and attentive, yet reserved. His responses during conversation are spare and focused. Although his manner is certainly friendly and relaxed, it conveys a groundedness and self-assurance that makes embellishment unnecessary.
Lack of embellishment also applies to his aesthetic. "At the end of the day, I could live in a white box with a chair, a mattress and a TV," he says. "Minimalism to me is always preferred. But that's not how I really live — especially if I want friends to come over — nor how many of our clients live."
Brown's interiors always seem to have the right amount of furniture in them and not one piece extra. "There is a sense of calm to uncluttered environments," he says. "Rooms require certain things. A chair, for example, requires a side table, a sofa requires a coffee table. It's nice to do just enough of what is needed and let the life one leads in that space fill it the rest of the way."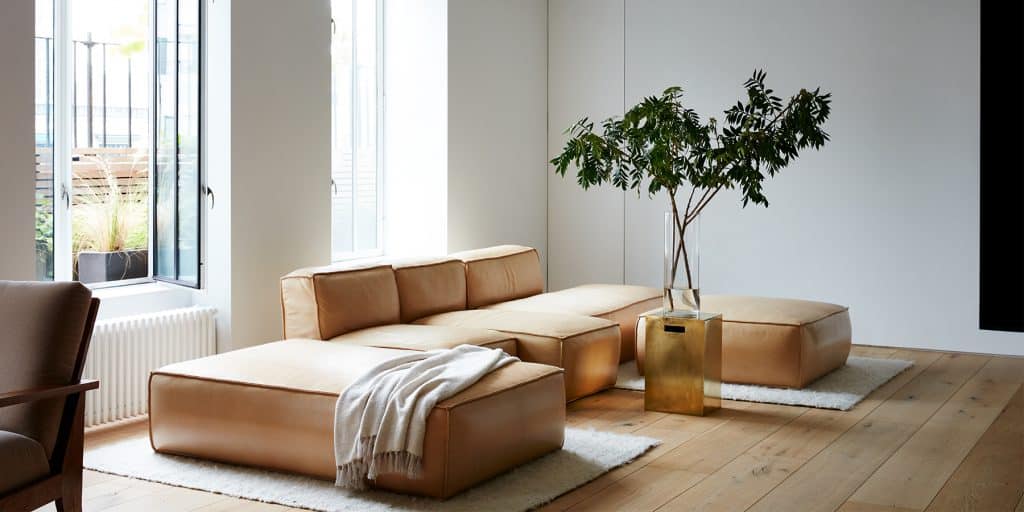 Brown's style clearly falls into the category of warm modernism, judiciously mixing comfortably cushy pieces with more sculptural wood ones. Many designers do this, of course, but one thing that distinguishes Brown's style is his emphasis on texture. Everything, for him, is in service of texture: the antiqued-mirrored walls of a Greenwich Village foyer; the perforated steel legs of a Venice Beach living room coffee table from WYETH; a Paris apartment's gilded French mirror, placed next to a mid-century plywood chair unearthed at the city's flea market. The same focus is evident in the blending of colorful artworks with furniture upholstered in purple and kiwi green in an Amagansett living room and in the collections of mid-century European ceramics in Brown's own New York apartment and Hamptons home, which he shares with his partner, fashion designer Peter Som. "I think about the architecture and furniture as the patterns and shapes in a room and so keep patterns on fabrics to a minimum," he says. Rather than prints, he relies on texture to create visual interest. "I think about the textures of rugs, fabrics and walls as all adding to the way you experience or react to the spaces we create."
Consider the scheme he devised for the seating area of a Park Avenue apartment. Its furnishings are sparse. A blocky sofa by conceptual artist Rob Pruitt — sporting tube-sock legs and covered in a colorfully busy montage of cartoon characters, ranging from Disney to manga to the softly pornographic — is a powerful statement on its own. But Brown has paired it with a Pruitt painting of a panda, rendered in glitter. With so much going on in these works, thematically and texturally, Brown wisely gives them space so we can take them in fully; the only other piece of furniture is an Eero Saarinen–style side table. Behind the sofa is a glass wall; underfoot, a wide-plank oak floor. Together with the cartoon-montage upholstery, the color, glitter, glass and wood provide all the visual stimulation necessary. Anything else would have disturbed Brown's careful calibration of elements.
Timothy Brown's Warmly Modernist Style in an Upper East Side Home
The living room of another Park Avenue apartment Brown designed is less stark but no less complex texturally. Here, a pair of  vintage Italian armchairs, newly upholstered in pink suede, face off across the curves of a wood and glass cocktail table. Between them sits a spare, velvet-covered sofa by Edward Wormley for Dunbar above which hangs a pale abstract piece by artist Nicolas Roggy. The room's modern Stilnovo floor lamp wasn't quite clean-lined enough, Brown explains, so he "removed the globes to make it more sculptural."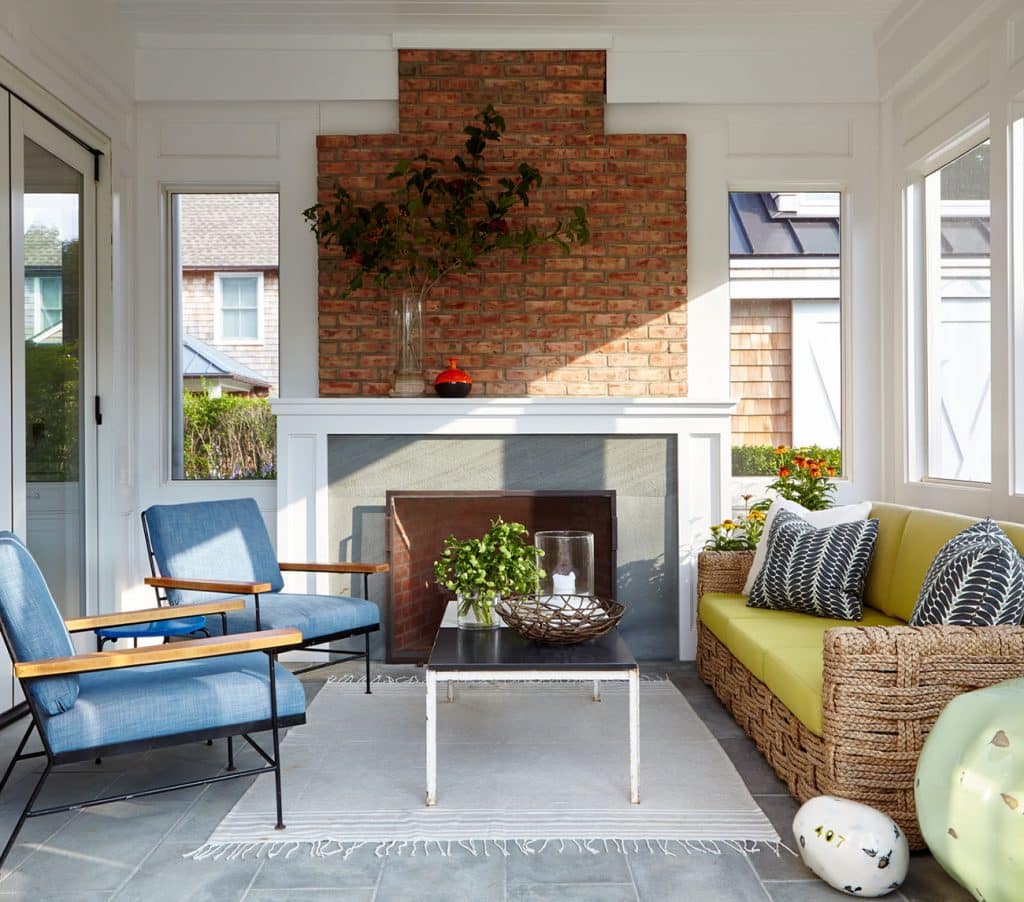 In the dining area of an Amagansett home, in New York's Hamptons, Brown balanced the traditional architectural envelope of a white-painted coffered ceiling and wainscoting with deep indigo blue above the chair rail, then laid down a soft ivory hide carpet. Atop that, he placed a hefty custom oak table surrounded by Milo Baughman chairs upholstered in a broad white-and-sky-blue stripe. Overhead are three Heifetz Rotoflex pendant light fixtures — orange, pale yellow and turquoise — that look like mid-century interpretations of lobster buoys. The space is comfortably clean and airy, filled with the contrasting textures of the carefully chosen materials.
In retrospect, Brown seems destined to have become a designer. He always made things, a proclivity he attributes to his father's side of the family. He grew up on a beef cattle farm about 60 miles south of Nashville, in a brick ranch house built by his father and his father's father. That paternal grandfather was a woodworker, and the young Brown spent untold hours beside him. "We made many different things," he recalls, "from turning walking sticks on a lathe to building tables and cabinets for friends and family. He was always 'piddlin' with something."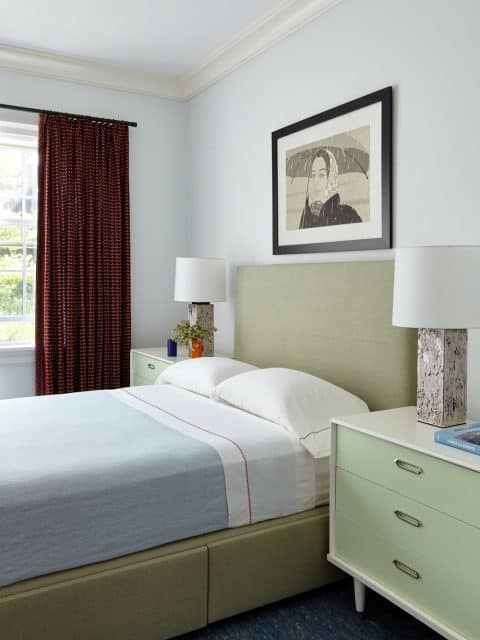 Brown's mother was kept busy raising him and his three sisters, taking her daughters to basketball games and piano lessons and her son to art classes. "She was very good about encouraging us to do what we liked to do," he says.
A decorative painting business he started helped support Brown through the University of Tennessee, from which he graduated with a bachelor's degree in urban planning in 2001. The summer before, he had interned with renowned designer Victoria Hagan, in New York City. "It was like working for a rock star you idolized," he says. "I was lucky enough to sit in on a few meetings, see some amazing apartments and even give her some unsolicited advice." (On her way to a first-ever meeting with I.M. Pei, she expressed nervousness. "Just remember he puts his pants on one leg at a time, just like you," the cheeky junior told her.)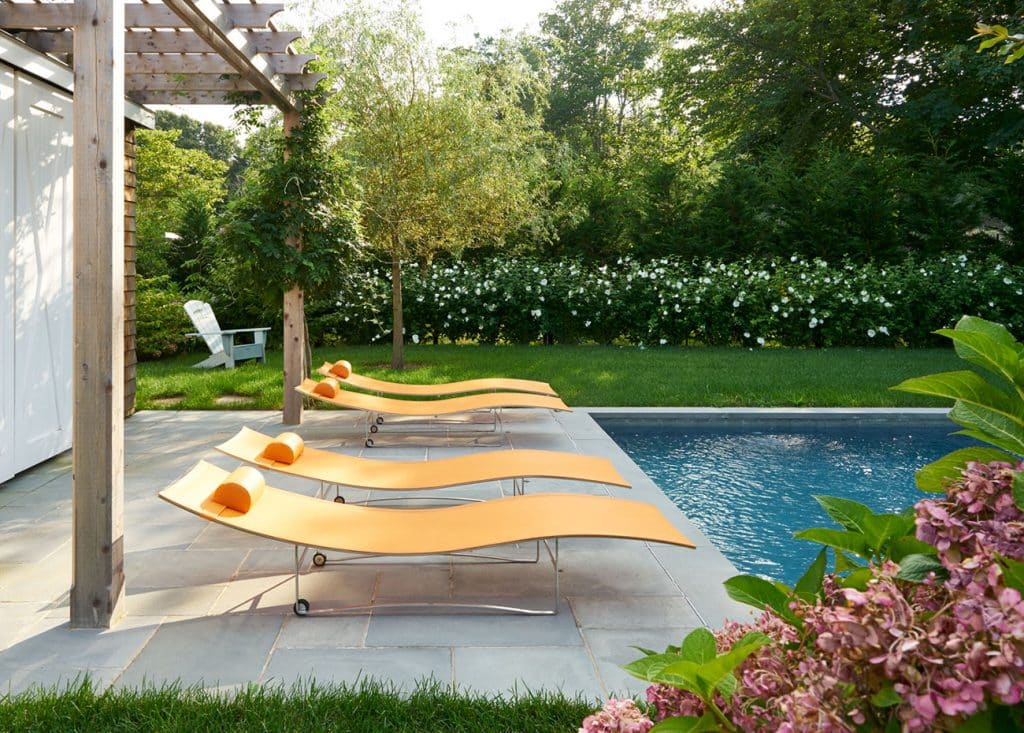 Brown returned to New York after graduation and secured a job with designer Wayne Nathan, who taught him to approach rooms like paintings. "I still look at every space from that point of view, from start to finish," says Brown. "Work on it and step away, work on it and step away — leave it alone and then come back for the final stroke." His next job was with Robert Stilin, who, he recalls, "introduced me to the world of Hamptons interior design, where I still do fifty percent of my work. He was great at teaching me the business side and what it means to work for a client and provide a great service."
Brown struck out on his own nine years ago and today runs a five-person office that handles 10 to 15 projects at a time. He is currently working on a collection of upholstery, tables and tabletop designs. He also creates artwork resembling topographic maps using photographic paper folded in random patterns and affixed to a surface within a frame. At a recent showing of this oeuvre in his studio, all but one piece sold.
Not surprisingly, the defining feature of Brown's art is its juxtaposition of textures. In his essay for Carl Dellatore's book Master Class (Rizzoli), he makes clear how central this aspect is to his work.. "Texture is never one design element," he writes. "It is the combination of elements — the softness of the silk, the irregularities in the surface of a stone wall, the different sizes of throw pillows — that work together to make texture the most important ingredient of every room. . . . Texture becomes, in a word, everything."
Timothy Brown's Quick Picks