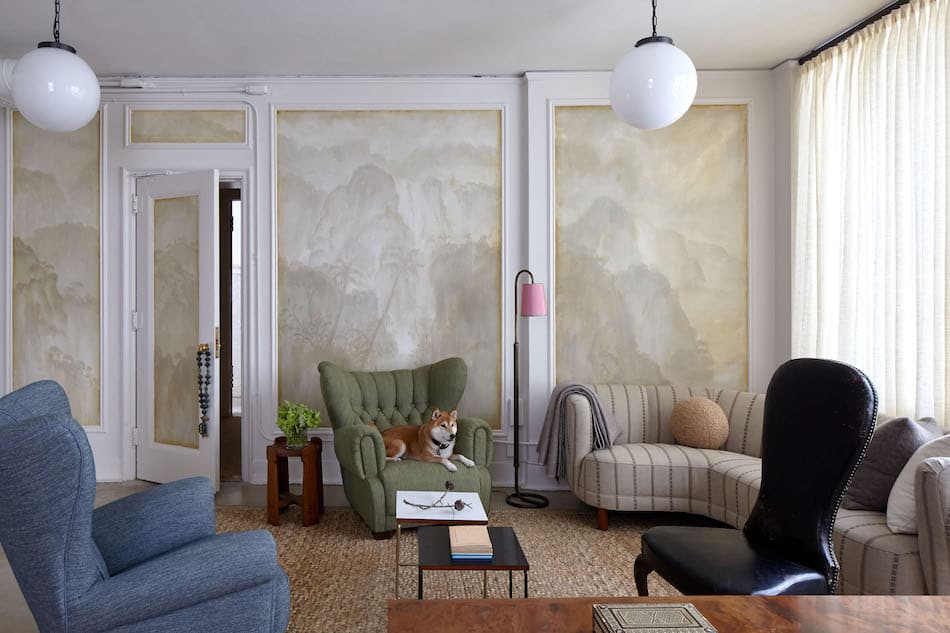 For Zak Profera and Shinji (his beloved Shiba Inu), it was love at first sight. After looking at nearly a dozen spaces around Manhattan ("most of which were basic white boxes with absolutely no charm," Profera says), they found the studio space that became the One.
So earlier this year he moved his six-year-old textile firm, Zak+Fox, into their new showroom, located on top floor of a historic, early 20th-century building on Park Avenue South.

But first he spent four months on renovations. "We were able to restore it to its original grandeur," says Profera. His team painstakingly removed layers of paint to bring back the original brass moldings and even uncovered original herringbone parquet flooring and a skylight.

The finished 3,000-square-foot space now serves as his company studio and showroom. Furnishings are a mix of Profera's personal vintage scores and travel discoveries, while also serving as the perfect showcase for his fabrics, which have amassed an international fan base.
"I want this to be an inviting space, somewhere our clients can spend time in without feeling rushed or hurried," Profera says. Now when clients visit, he leads them through the entire space, "from the showroom all the way through to my office. The transparency is inspiring."
---
Zak's Office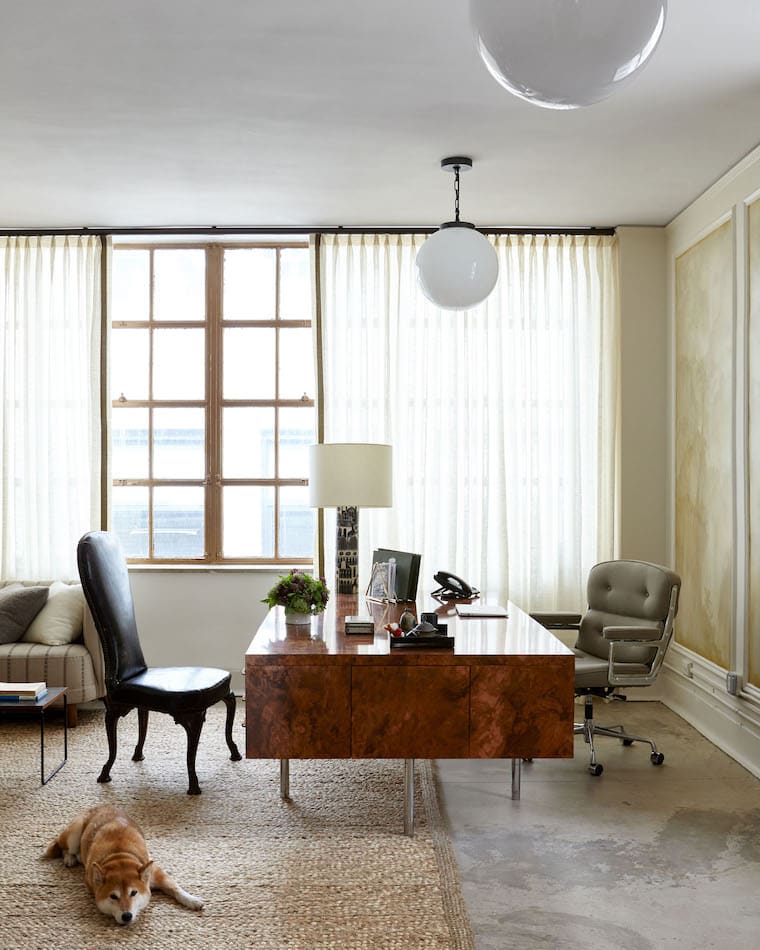 "That's the 'Fox' of Zak+Fox," Profera says of Shinji, nestled on the Merida rug. He began choosing furnishings for the space just days after he signed the lease. "I knew I needed a huge desk to fill the room, and this was the first piece I bought. It was the former personal desk of mid-century designer Edgar Bartolucci."
The desk is from an antiques store in Hudson, New York, the 1960s Fantoni desk lamp was purchased from 1stdibs and the linen-silk curtains are by Zak+Fox.
---
Library and Conference Room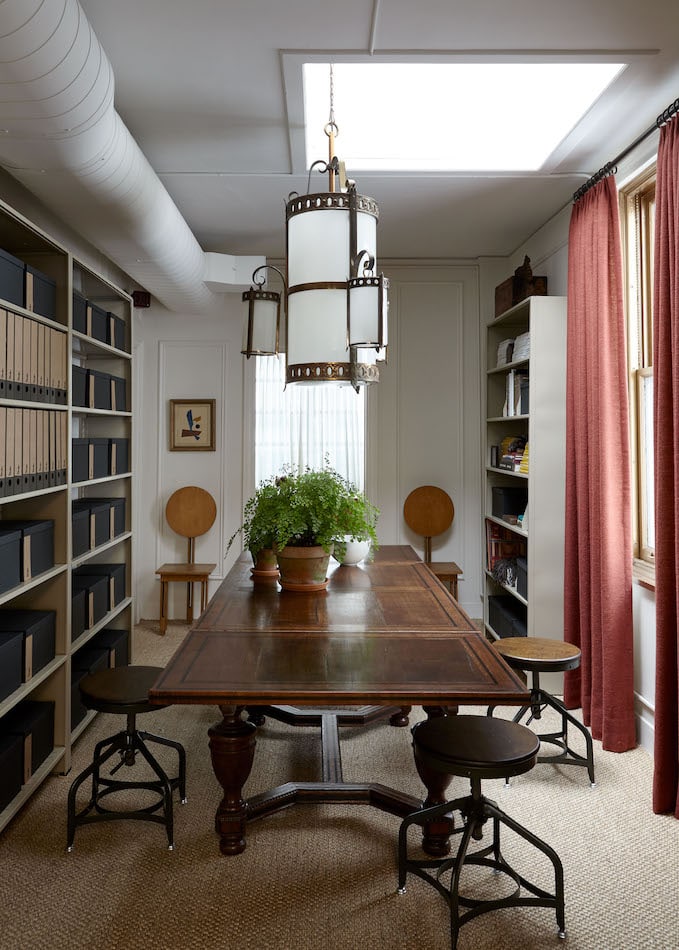 "This is, perhaps, my favorite space," Profera says of his library and conference room. "It came together organically — a happy accident. It is our storage solution for our production samples, mill products and archives."

The light fixture, which is hanging from the skylight, was won at auction. The table is 17th-century Belgian, and the Constructivist side chairs are vintage French and available on 1stdibs.

---
Showroom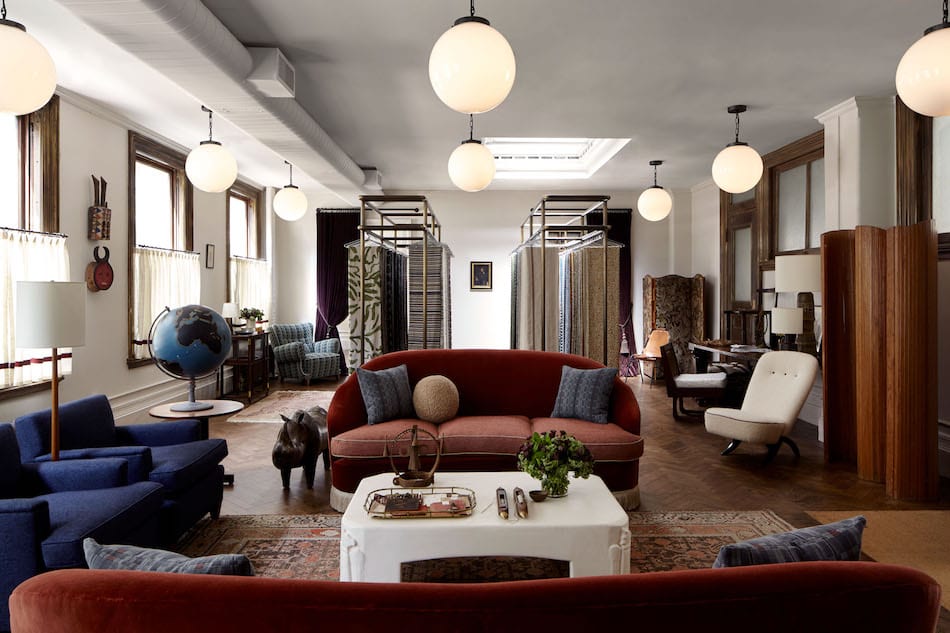 "The main features here are the fabric racks. They are the heart and soul of what we do," Profera says. "The vintage pieces in the room are a mix of personal treasures and eclectic finds I sourced through travel and auction hunts."

The sofas and armchairs were purchased at auction and reupholstered in Zak+Fox fabrics. The cocktail table was found in upstate New York and replastered.

---
Pillow Nook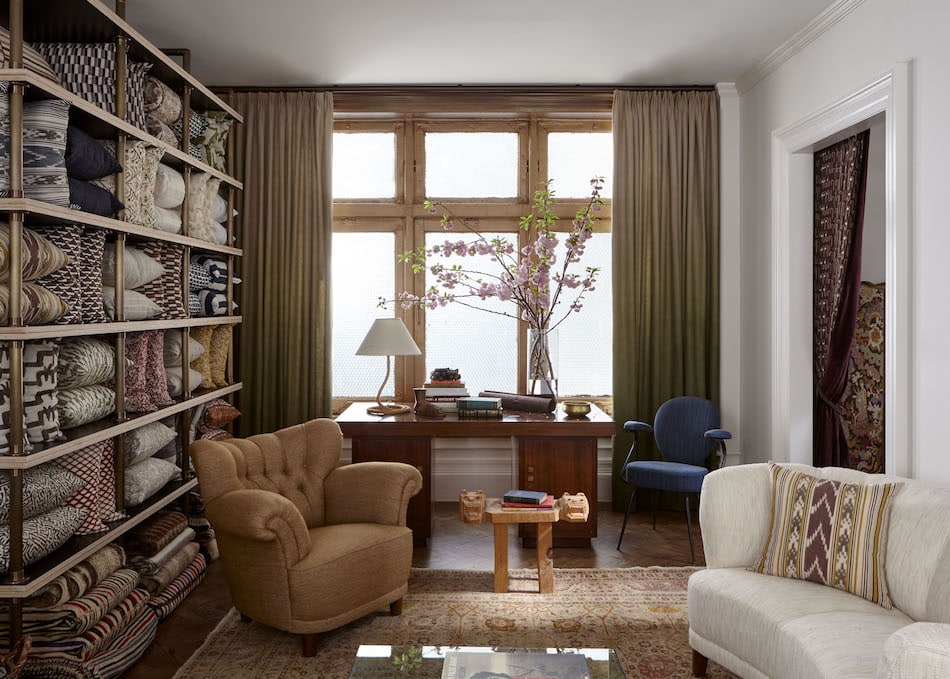 Situated within the showroom is a dedicated space that houses all of the Zak+Fox pillows. The armchair was found on 1stdibs and the sofa was won at auction; both are upholstered in Zak+Fox fabrics. The rug and side table are from a flea market.
---
Design Studio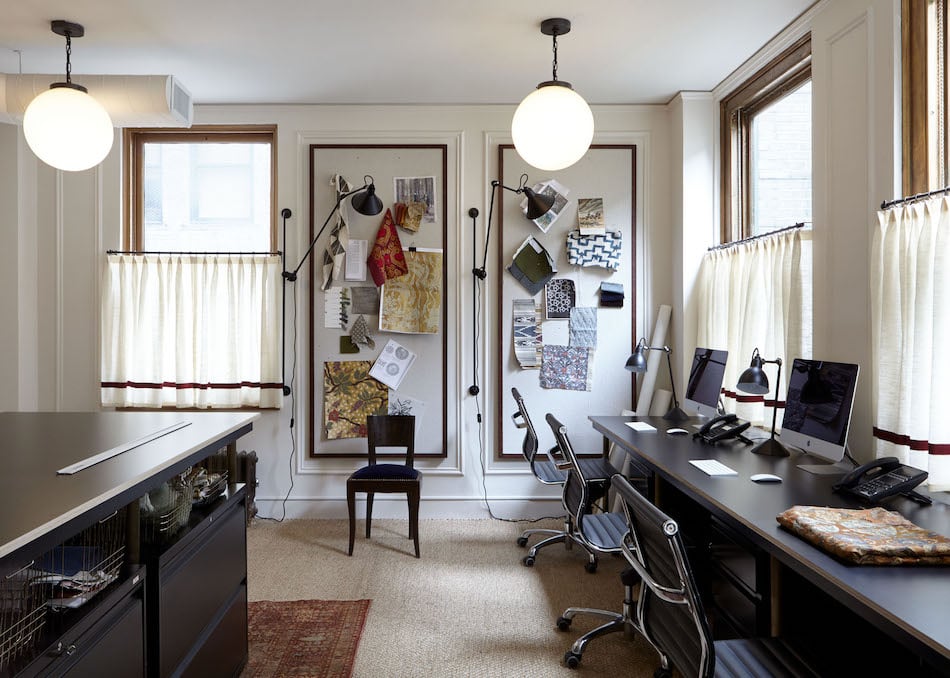 Prior to moving to this workroom, the Zak+Fox team was working out of a loft space one-third the size. "Space is a luxury in New York," Profera affirms. "Here, we are finally able to have a sizable worktable and four substantial boards for all our projects. It is the first time in six years that we can all collectively see what we are doing."