March 13, 2022Growing up on Manhattan's Upper East Side, sisters Tonne and Wendy Goodman developed a kind of superpower: an extraordinary eye for style. They got this gift in part from their elegant late mother, they say, and with a good dose of ambition, they parlayed it into influential magazine careers, Tonne in fashion and Wendy in design. Over the years, they've identified spectacular moments of beauty, creativity and originality across the globe, whether the venue be catwalk or cottage, and translated them for a general audience with their own personal flair. As a longtime fashion director of Vogue, where she's now a contributing editor and sustainability editor, Tonne collaborated with legendary photographers to present haute couture on the public stage, styling supermodels and celebrities on cover after cover. The design editor at New York magazine, Wendy is a beloved icon, having pulled readers inside hundreds of private homes, from Brooklyn lofts to Mediterranean villas, and given us new ways to think about interior design. In her most recent book, May I Come In?: Discovering the World in Other People's Houses (Abrams), she brought together her favorite projects. Tonne, who made a mark at Harper's Bazaar and Calvin Klein before ascending to the Vogue masthead, also published a book of her favorite projects, Tonne Goodman: Point of View (Abrams).
Today, the sisters continue to reign as revered tastemakers, living just a block apart in historic Greenwich Village townhouse apartments that tell us much about their shared — and distinctive — aesthetics. They recently sat down with 1stDibs editorial director Anthony Barzilay Freund to discuss their upbringing, their most joyful career moments and what each thinks of the other's singular sense of style.
Tony Freund: From the way you both speak about your mother, Marian Goodman, who died in January at the age of one hundred, it's clear that she was a remarkable woman. In what ways did she influence each of you?
Tonne Goodman: The style that we all have comes from our mother, who was from Ohio. Her personal style was all her own. The apartment where we grew up was the coziest apartment in the world. And I've realized that in every single apartment I've had on my own, I've unknowingly tried to re-create the happiness and the sense of pure love and well-being that I felt at home growing up.
Tony: It sounds like her style was not just on the surface but a true "life" style.
Wendy: Yes. I'm constantly trying to re-create that apartment. I even have the Florence Knoll sofa that was in our apartment, and the coffee table, and many of the paintings our parents had.
Tonne: Our mother bought small black and white tiles for our entry hall, and while most people would have laid them down individually, she put four black tiles together and four white ones and created a large pattern.
Tony: So, she was confident enough to play with scale.
Wendy Goodman: Exactly. She was an artist with an impeccable eye who designed textiles before she married Dad — who had great style also. And she just adapted things. One of the things I loved was her use of pegboard in the library — like what we had in the broom closet — so she could easily hang things on it; not just paintings but objects. She would hang wooden sculpted angels that she and Daddy found in Europe somewhere, and she would hang old pocket watches.
Tonne: And starfish.
Wendy: Yes, starfish. And this influenced me so much, unknowingly, because I hang everything on the wall, even the ballet shoes of a dancer I admire. There was a great freedom in her aesthetic. It's like there were no rules. If this works for you, do it.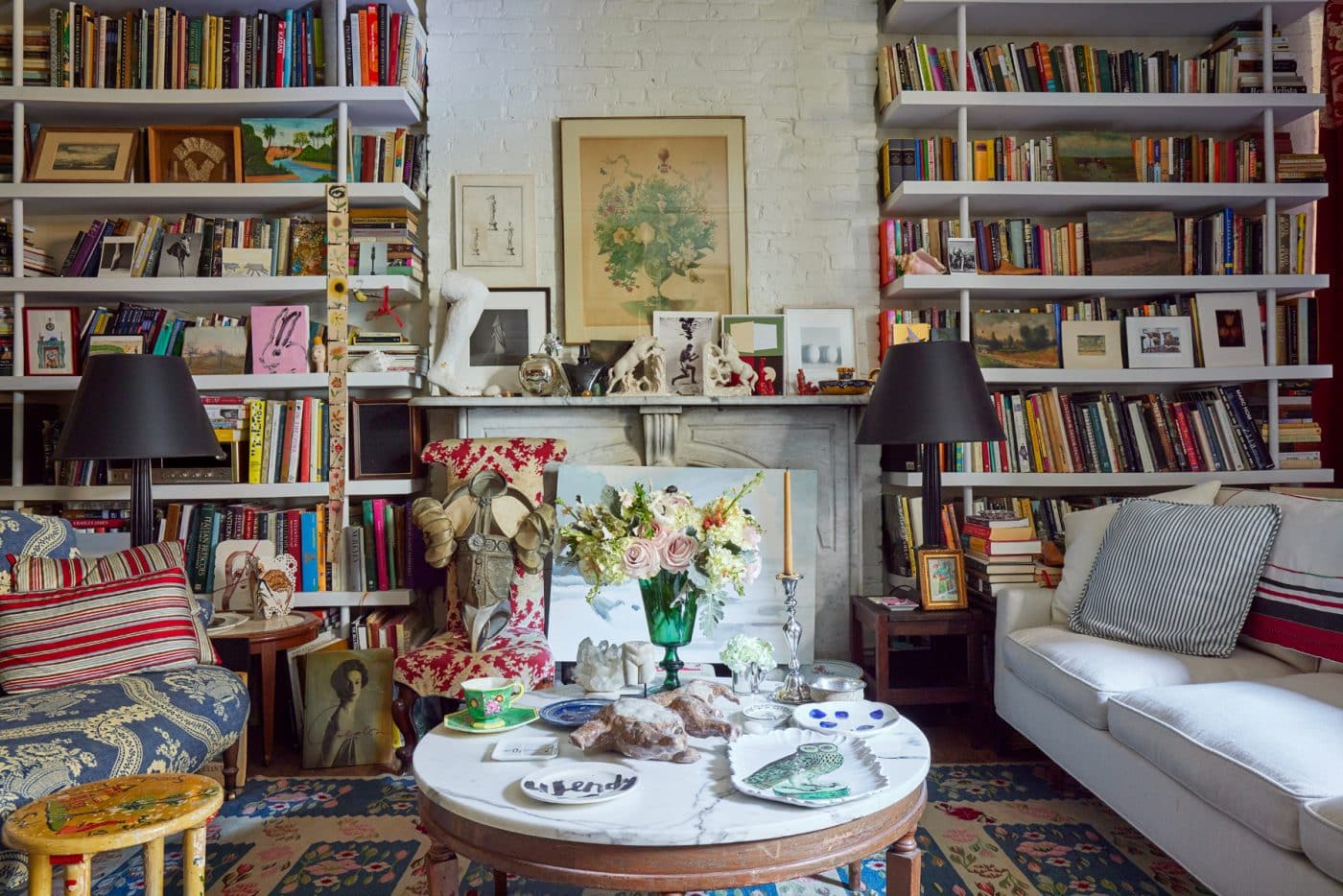 Tony: Has that influenced the way you've looked at interiors, Wendy, and the way that you've looked at fashion, Tonne? In terms of what you gravitate toward professionally?
Tonne: Definitely for me. I mean, our mother had amazing taste. She did not copy anyone. She had a very particular style. When I see that kind of discipline in fashion, I gravitate to it. I also love the over-the-top because it's not me at all.
Tony: Can you describe your mother's fashion style?
Tonne: I write about this in my book, but every evening for dinner, she would put on a red felt circle skirt, a complete circle, so it had its own drape.
Wendy: Floor length.
Tonne: Floor length. And a black crew-neck sweater and pearls. That skirt changed to a kind of purple moiré for fancier occasions. But there was no pretense about our mother. She believed in discipline: she used to send us back upstairs to comb our hair if we came down for breakfast looking a mess.
Wendy: Many of our friends today from childhood say, "We always wanted to go to your house." I think that part of it was that there was a sense of order but also that they sensed a real authenticity in the affection and the joy. What appeals to me about any interior is when it is authentic, a space people made from love to enjoy with their families and their friends, not done for show with a decorator just to get photographed. Houses never lie — they tell you the truth of the people who live there.
Tony: What's the interior designer's role in that equation?
Wendy: I always say to people, "If you can afford to give yourself the gift of a professional, go ahead and do it, because if you work with someone great, they will bring something to life for you that you don't even know you want."
Tony: Given your childhood, it's no surprise you two ended up going into visual careers. How are your visions similar and how do you look at the world differently, whether it's interiors or fashion?
Tonne: I think that we share our mother's curiosity and her freedom of expression. I have a more abbreviated style than Wendy. I don't know why. Wendy's house is like the inside of a Fabergé egg. You look around, and you think, "Where did this thing come from? Where did that thing come from?" But everything works together so beautifully, telling a story of fascination, travel, history, cultures. I think Wendy really is fascinated by people.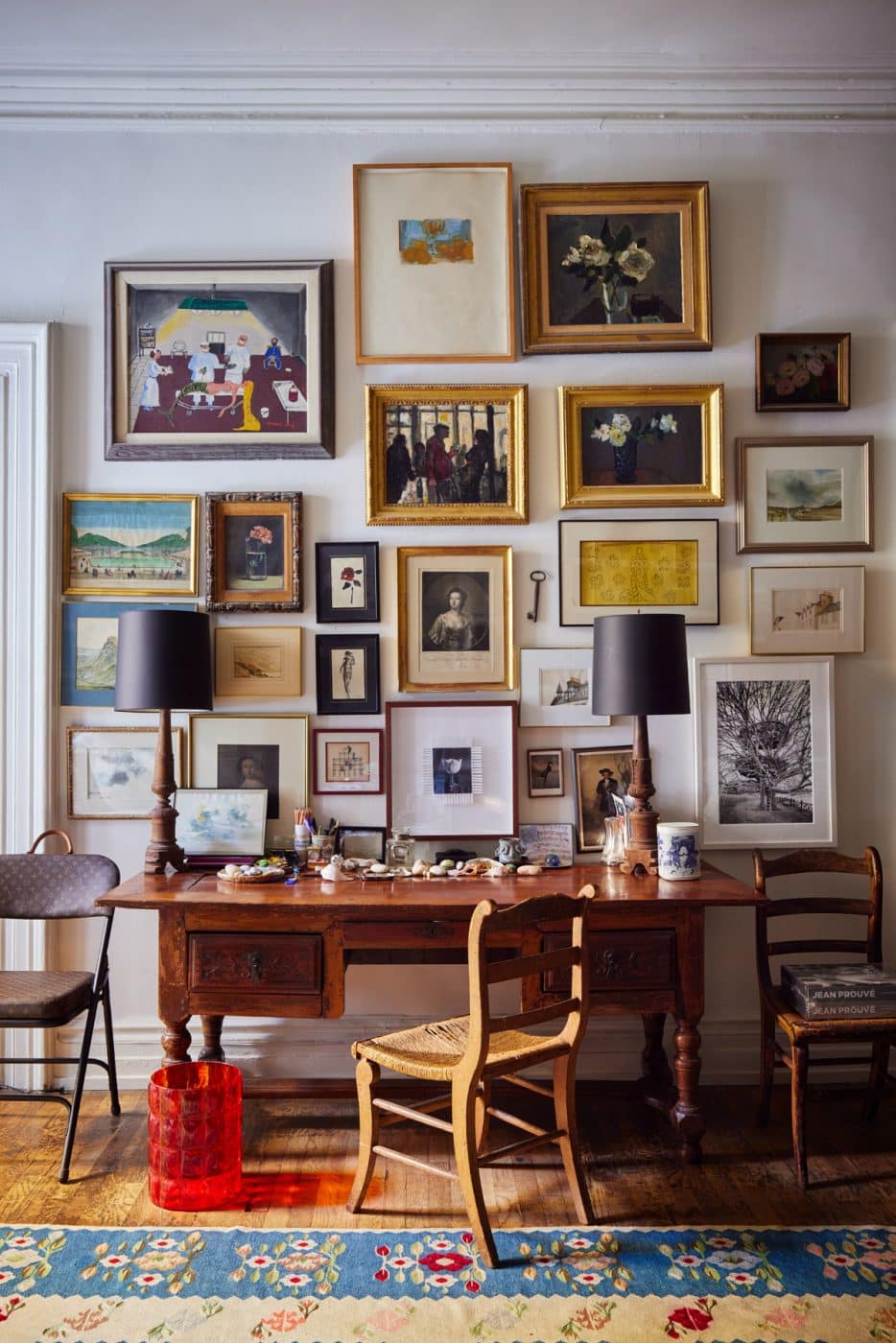 Tony: And what's behind Tonne's style, Wendy?
Wendy: Tonne has this real daredevil thing that her children have now. But she's also really disciplined, and she knows what she wants and likes — like our mother. She's a black-and-white girl, her apartment has absolutely no color in it. And I think it's just so grown-up and beautiful. This is how grown-ups live. People always say, "Oh, Tonne's apartment is just so elegant." And it is. Like our mother, she does not stop until she gets it right. I'm a little looser in that area.
Tony: You're doing a different thing.
Wendy: Yeah, I'm much more impulsive. If I find something that I love, I'm going to find a place for it.
Tonne: The only color that I really have is from red tulips. And I have two paintings that my son did when he was in kindergarten that are simply newsprint meticulously covered in red.
Tony: So, Wendy was more of a magpie in her earlier years, fascinated by everything? And you had more disciplined or distinct tastes, Tonne?
Tonne: Well, I was all over the place because I was a hippie, and then I was this, and then I was that.
Wendy: She went through all these different phases. She really grew up as a hippie. At one point, she was really into heavy makeup. She got the Vidal Sassoon asymmetrical haircut. And she still had braces on. It was like, Who is my sister?
Tonne: Wendy was incredibly sexy. It was like bees to honey.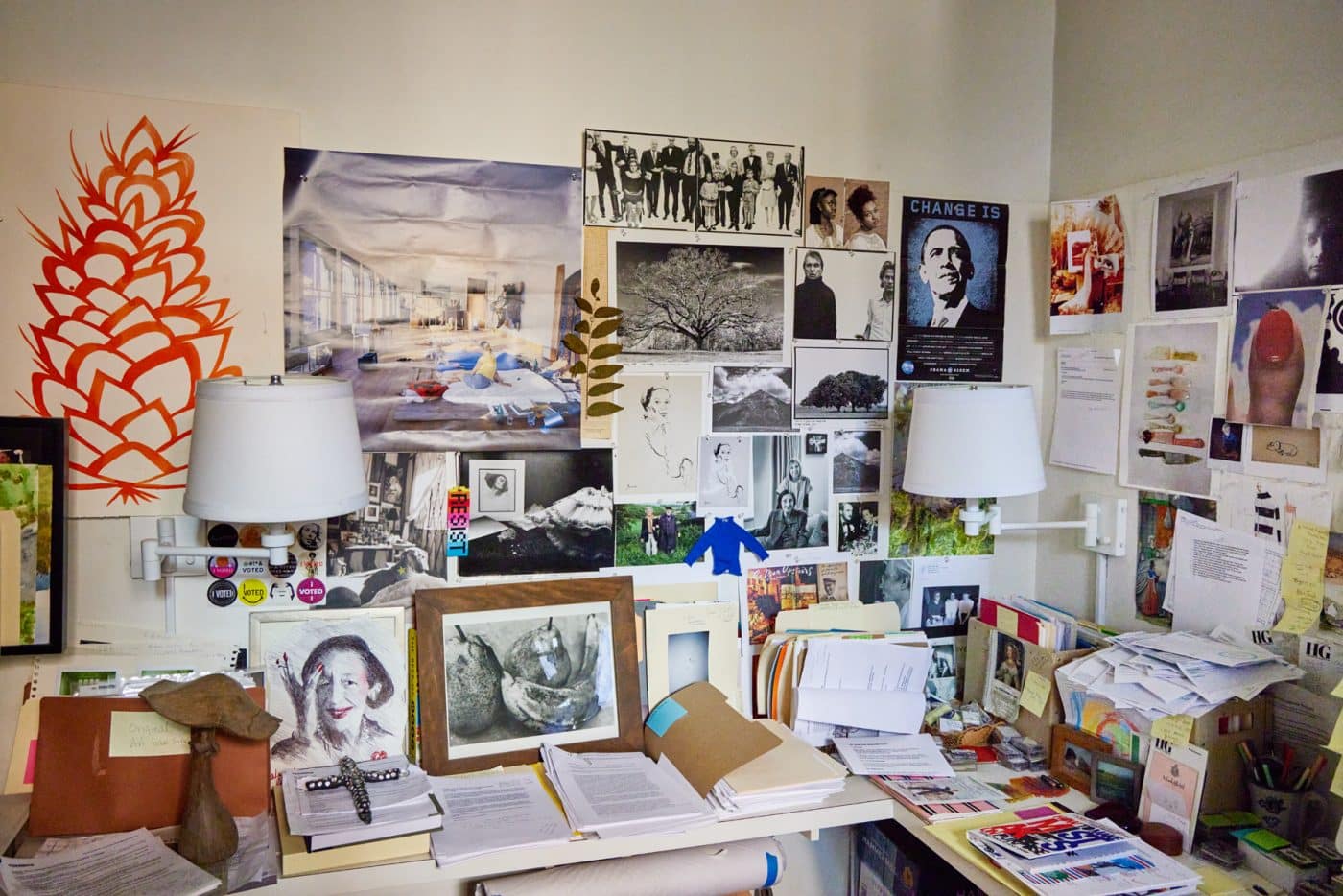 Tony: You've both created a vast body of work. Which ones of your stories are you most proud of?
Tonne: Every story has been personal to me, because that's how you really get into it and make an image that has resonance, one hopes, more than just something nice to look at. But I remember being pregnant with Cole, my firstborn, and I saw a picture in the paper of the gardens atop the buildings at Rockefeller Center with a guy pushing an old-fashioned type of lawn mower. And I thought, "This is where the angel has to land." And that's where the angel Amber Valletta, shot by Peter Lindbergh, did land. But the angel, of course, was Cole.
Tony: I know people often reference that story. Is there another story that you feel particularly strongly about?
Tonne: I did a story with the model Kristen McMenamy when she had her first child. She was driving a convertible through a toll booth, feeding the baby a bottle and paying the toll at the same time. That's the kind of thing I would have done.
Wendy: Tonne, I think your styling of celebrities is unique and a huge accomplishment. You've always succeeded in pushing the envelope with them because they trust you so much.
Tonne: You do have to get their trust. I mean, they're sticking their necks out, right? You don't want to hurt their feelings. You want it all to be collaborative.
Wendy: With interiors, too. You can't go to somebody's house and have them not trust you. That doesn't work.
Tony: Wendy, what are some stories that you believe are your legacy as an editor?
Wendy: May I Come In? has a lot of stories that I'm most proud of because I really fought for them. One is on the Château de l'Horizon by the architect Barry Dierks on the French Riviera. I found a picture of it when I was doing a book on Tony Duquette and I became obsessed. To me, it's one of the most astounding houses ever built. There's a staircase with a slide in the middle of it where you can go from the pool to the Mediterranean. It took me a long time to find out who had designed it, but once I did, I made it my mission to find his family. And I actually got to go to Barry Dierks's own house that he designed for himself on the Riviera. I stayed there in his bedroom, and I thought, "Oh, my God, how did I do this?"
Tony: Any others?
Wendy: The one on Richard Avedon's New York townhouse. He told me constantly, "You cannot do it. I won't let you photograph it." After he died, I appealed to his son and said, "Look, as a record, it's just got to be seen. It's so unique, it's so a part of his whole legacy and the way he looked at the world."
Tony: You're not just interested in the perfect room — you'd rather shoot the imperfect room that has the mark of the inhabitant or the creator.
Wendy: Absolutely.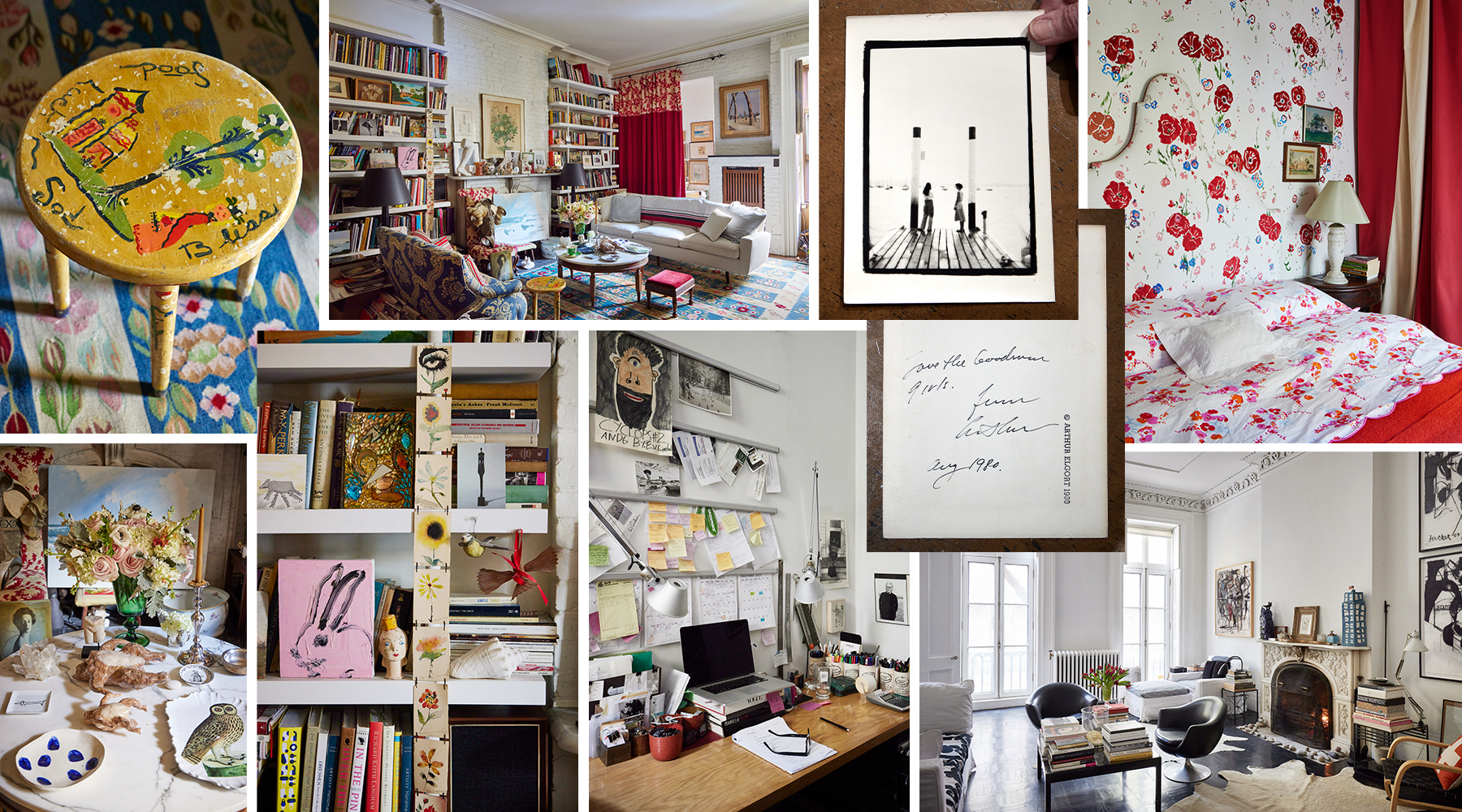 Tonne: I want Wendy to do a book that is called Visual Memories, because in the course of snaking her way into these remarkable interiors, Wendy has made friends with some very remarkable people. And I really want to do a book of the pictures that we created but that didn't end up running.
Tony: For example?
Tonne: We did a shoot in a dentist's office at the top of the Chrysler Building. I saw the space in a picture in the New York Times, and like Wendy, I persevered and I got in. I put two supermodels in evening dresses in that dentist's office. And that story did not run.
Tony: You both have been surrounded by so much joy in your careers. Can you tell me a bit about some of the most joyful moments?
Tonne: I have been so fortunate because the joy has been sort of splashed on me. The joy of collaborating with so many amazing people. I worked with Peter Lindburgh for many, many years at Harper's Bazaar. And, oh, the fun that we had! And I worked with Mario Testino, who's a total collaborator. We used to stay up all night before the shoots putting the looks together. No other photographer did that with me. I've worked for Diana Vreeland, Grace Mirabella, Calvin Klein, LIZ TILBERIS, Anna Wintour. And all of these people are so extraordinary. Just to have their aura on you was really something.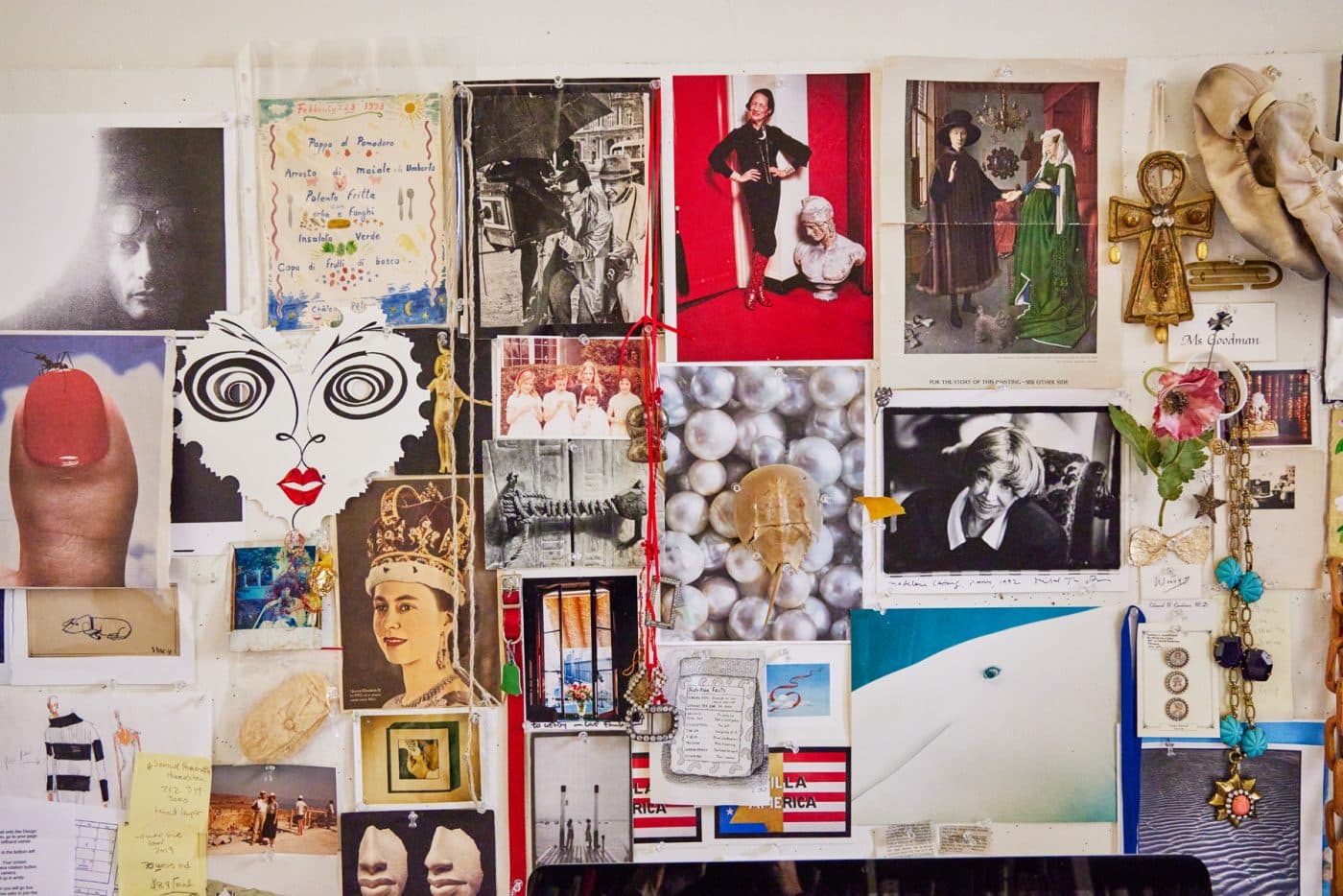 Tony: And to be around all the designers and clothing.
Tonne: You go to a fashion show like John Galliano or Dior, and the fantasy and the imagination and the over-the-topness — I mean, it was so joyful.
Tony: And you, Wendy?
Wendy: Well, again, I have had such a gift of a career because I've been able to travel the world and go to some of the most extraordinary homes. And seeing the imagination and the artistry and artisans that people have engaged, bringing their fantasies and their passions to life. Interiors that do that, that reflect the person so much, are very joyful because they're so spirited and they're so colorful, even if they have no color. You're seeing the inside of a person's brain. You're seeing their soul and what matters to them and what they will fight for and what they will pay ridiculous amounts of money for.
Tony: Want to share an example?
Wendy: I think of Nureyev's house on a tiny island off the coast of Positano. He was obsessed with these tiles. And he just tiled the whole room — the floor, the ceiling, everything. And I thought, "I'm standing in a room that Nureyev created on this magical island that Homer told us about in the Iliad." I mean, how much better does it get than that?