When the international Paris design show Maison et Objet unveils its U.S. satellite edition, M&O Americas, in Miami Beach this month (another, M&O Asia, debuted in Singapore in March) a keynote address will be delivered by 36-year-old Brazilian designer Zanini de Zanine, recently named Designer of the Year by the fair's officials.
Perhaps because most of de Zanine's work has been for Brazilian companies, the choice — an unfamiliar name to many — was surprising. In previous years, Maison et Objet has bestowed similar accolades to prolific and media-savvy powerhouses: Tom Dixon, Zaha Hadid, Jean Nouvel, Philippe Starck, Patricia Urquiola.
De Zanine, by contrast, is shy and seems almost uninterested in fame. Asked what drives him, he demurs. "I feel an obligation to continue preserving the identity of my father," says the son of legendary mid-century furniture designer and architect José Zanine Caldas.
De Zanine divides his multidisciplinary talents between two operations in Rio de Janeiro, where he lives with his economist wife, Marcella Alho. In the city's port area, he runs the seven-person Studio Zanini, which develops designs for European and Brazilian firms: furniture for Cappellini, Ornare and Poltrona Frau; tabletop items for Riva; and lighting for Slamp. Currently on the boards are an office line (also for Riva), outdoor furniture for Butzke and chairs for Brazilian firms A Lot Of and Moora.
In the Zona Oeste district of Rio, there is Atelier Zanini de Zanine, which employs six local carpenters to construct furniture and handicrafts made with wood procured from demolition projects. "I want to bring education and opportunities through design to those who do not have access to them," says de Zanine of his craftsmen there. This body of work is sold through Espasso, which has galleries in New York, Los Angeles and London and focuses  on the best of Brazilian design from the 1930s to the present. In this Zona Oeste space, de Zanine also creates one-off designs using such repurposed materials as chairs with skateboard backs and others made from folded perforated-metal sheets that are byproducts of coin production.
In the context of Brazilian furniture design, the handsome, tattooed de Zanine is a blueblood. His father (1919–2001) was part of the great mid-century Brazilian design triumvirate, along with Joaquim Tenreiro and Sérgio Rodrigues. (His mother, Fernanda Borges, was well known for developing the scripts of many Brazilian films in the 1980s and '90s.) De Zanine apprenticed with Rodrigues who, until his death in September, was a lifelong mentor and friend.
De Zanine's versatile work is significant in its own right, but also because it represents a bridge between the precedents set by these vaunted masters and the design ethos of Brazil today. Should you suggest this to the humble designer, however, he would be mortified and cast his deep chestnut-colored eyes immediately toward the floor, as he often does when complimented.
---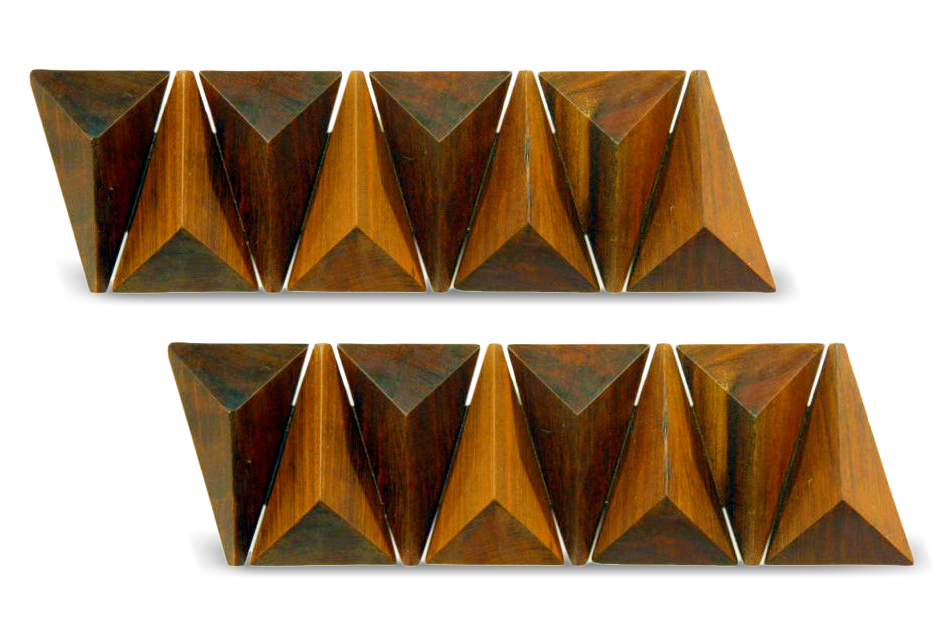 ---
Rodrigues once said of de Zanine that he "inherited all the artistic and artisanal qualities, in addition to his moral and ethical virtues, from his father." De Zanine does not dispute this. "Without a doubt, my father is my biggest influence," he says. "He taught me to be restless and to try to grow as a human being every day. He taught me to not be content with things and always go out of my comfort zone." It was in his father's studio that he began cobbling together model cars and airplanes with scraps leftover from the elder Zanine's projects.
"Just as he experimented with shapes and materials, however, I am applying characteristics of my own personality and my point of view," notes de Zanine. "A lot of my projects have influences from Brazilian sculptors."
Chief among them are 1960s neo-constructionists and neo-concretists, men such as Amílcar de Castro, Sérgio de Camargo and Franz Weissmann, whose work he encountered around Rio, where he grew up, and during product-design studies at the city's Pontifical Catholic University from 1998 to 2002. Certainly, de Castro's minimalist, Richard Serra–like iron works and Weissman's folded and intersecting planes relate directly to de Zanine's coin-metal chair (2010), as well as another folded-metal chair for Tolix (2013) and even an abstracted rocking horse for Brazilian firm Alle (2009). Some of his demolition-wood furniture has the elemental form, volumetric presence and sculptural quality of not only de Camargo's pieces, but also those of Ron Arad, whom de Zanine also admires.
"However," adds the designer, "it was when I apprenticed for the master Sérgio Rodrigues that I realized the strength and great influence of his work and character on me. With Sérgio, I understood that simplicity and personality are essential."
---
"I want to bring education and opportunities through design to those who do not have access to them."
---
One can see Rodrigues's influence in de Zanine pieces that exhibit a certain voluptuousness of form, such as the Mulatta chair for Poltrona Frau (2012) and a 2007 chair and ottoman produced for Saccaro. It also manifests in the humor of de Zanine's Inflated Woods chair for Cappellini (2013), whose îpe segments are carved to resemble almost childlike balloon forms. Yet in their use of indigenous Brazilian woods, caning and traditional antecedents, other pieces, such as the Tiss chair (2013), evoke the more refined silhouettes of Tenreiro. By splitting the back and seat into two panels each and tilting them inward, however, de Zanine makes this reinterpretation of a historic colonial Portuguese form completely his own.
In these ways, de Zanine ushers mid-century Brazilian design into something more casually and comfortably contemporary. And his extensive repurposing of materials is perfectly in sync with Brazil's current concern for sustainability. It can be traced from the work of older generations — Hugo França, who still hollows out naturally felled trees, and the Campana brothers (think of their Favela chair, made from scraps of wood to resemble the makeshift shanty housing of Rio) — to the creations of de Zanine's own contemporaries: Domingos Tortora (recycled cardboard), Carol Gay (tire inner tubes), even the artist Vik Muniz, as seen in the Academy Award–nominated documentary Wasteland, in which garbage pickers from the Jardim Gramacho, north of Rio and one of the biggest landfills in the world, collaborate with the artist to create portraits incorporating refuse from the Jardim.
Of course, Zanine would never presume to claim these references. And, in fact, as with most creative people, these impulses work intuitively rather than intellectually. Asked what he feels he brings to the legacy of Brazilian design, he answers, typically, by dodging the question: "I think only time will tell; I cannot assess it alone. I try to promote — to elevate the culture, references and Brazilian identity through products and furniture."
---
Zanini de Zanine's Quick Picks on 1stdibs