/
/
Dolores Heights Residence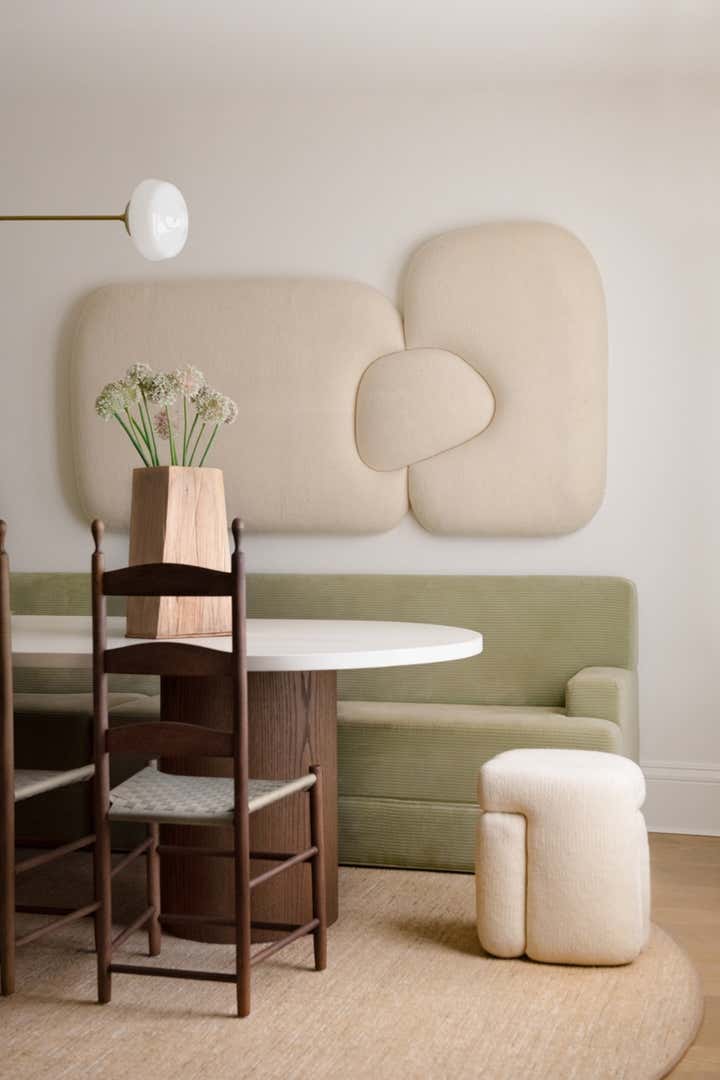 Photography: Ekaterina Izmestieva
Dolores Heights Residence
Our client, multicultural newlyweds who recently moved to Dolores Heights neighborhood, wanted to modernize their Edwardian dream home while respecting its history. They requested the space be opened up to accommodate vibrant dinner parties and big family gatherings.
We wanted to avoid the homogenous, "white-box" feel of many remodeled homes. By strategically knocking down sections of the wall, we kept the integrity of the Edwardian floor plan while opening the space enough to let hosts and guests see each other between kitchen, living, and dining rooms. Since houses from this era are typically not suited for large groups, we custom-made a chaise lounge that takes up minimal space in the living room while still seating 10 comfortably; and in the dining room, a Klein Agency table seats 12. It was important that a multi-generational family gathering have several seating options suitable for different ages. Throughout the house we mixed chairs by Gio Ponti and Marcello Ziliani, a green velvet banquette sofa designed by us, and Shaker chair reproductions from a studio in Northern California.
As California natives themselves, the couple preferred locally-sourced pieces that reflected their passion for the arts. For the living room, we commissioned a terracotta sculpture from Korean-born, LA-based artist MyungJin Kim with a cast pedestal by Manuel Palos. A small Jesse Schlesinger piece on the chimney mantel complements the geometric layout of the house's original brick fireplace. In the dining room, a tabletop Ido Yoshimoto vase was made in West Marin, and the breakfast nook features a ceramic work by Marin-based Nathan Lynch. The hand-braided linen techniques of Llane Alexis, a local artist born in Cuba, cover the Ziliani. Paper mâche masks by Mexican-American, SF-based Joel Hernandez enliven the walls. For the foyer, we designed a stained-glass window with Dan Gamaldi, whose studio has been a local mainstay since 1977.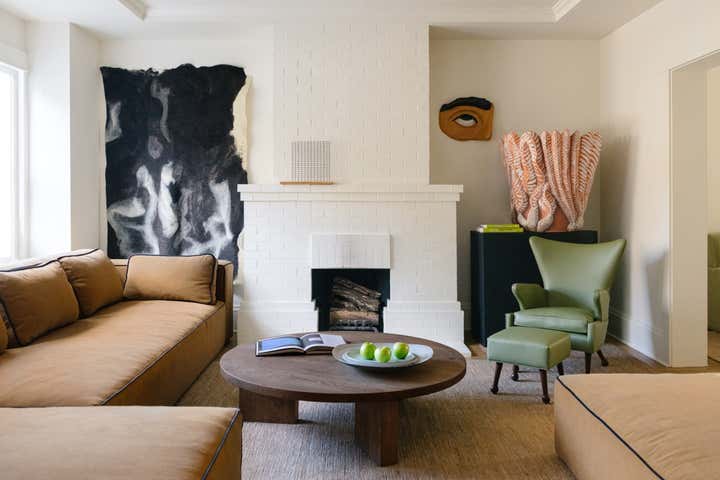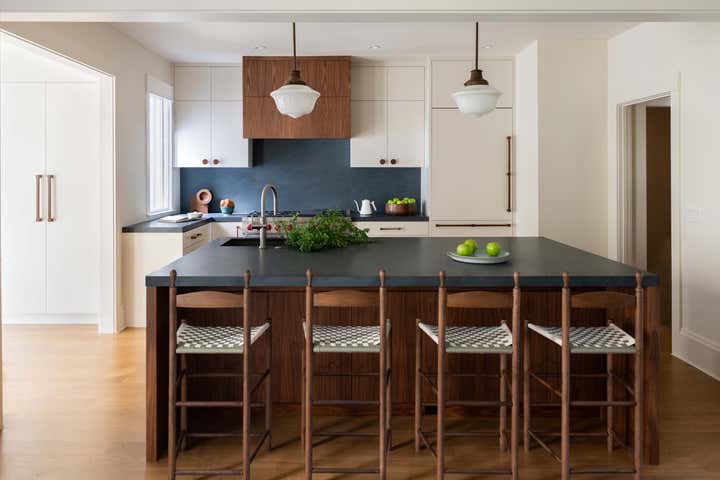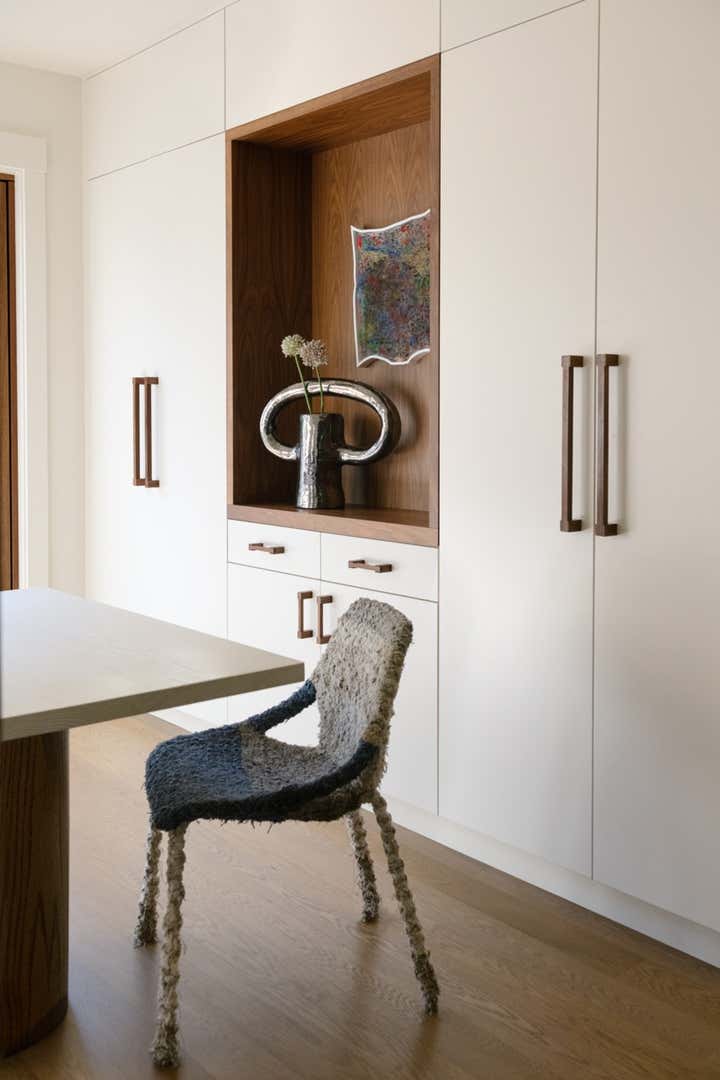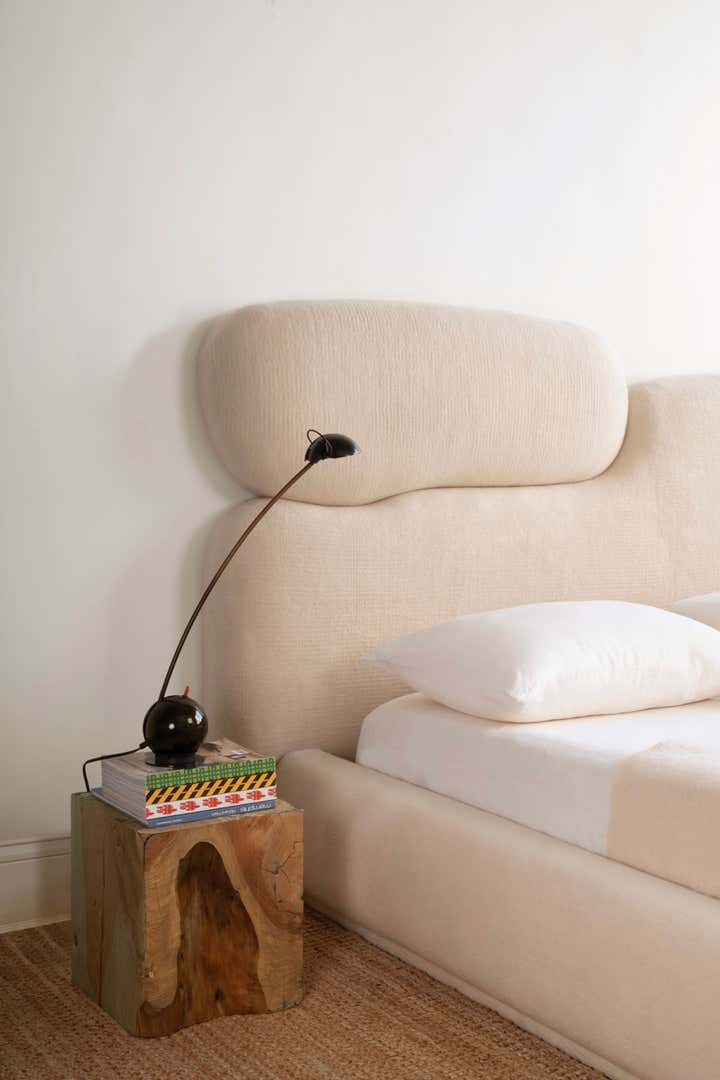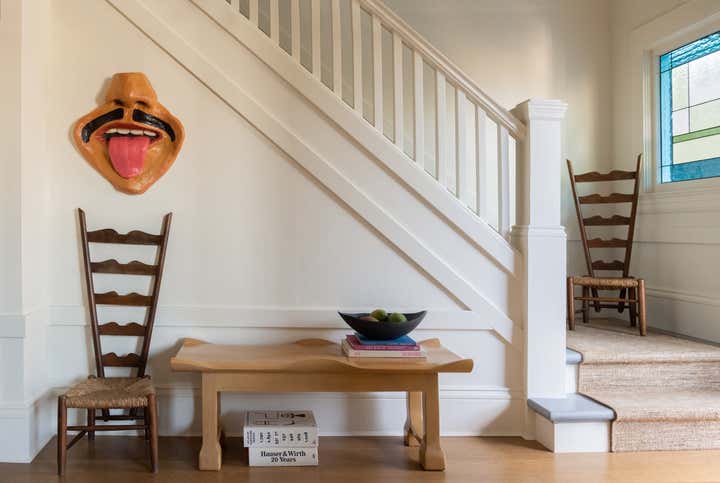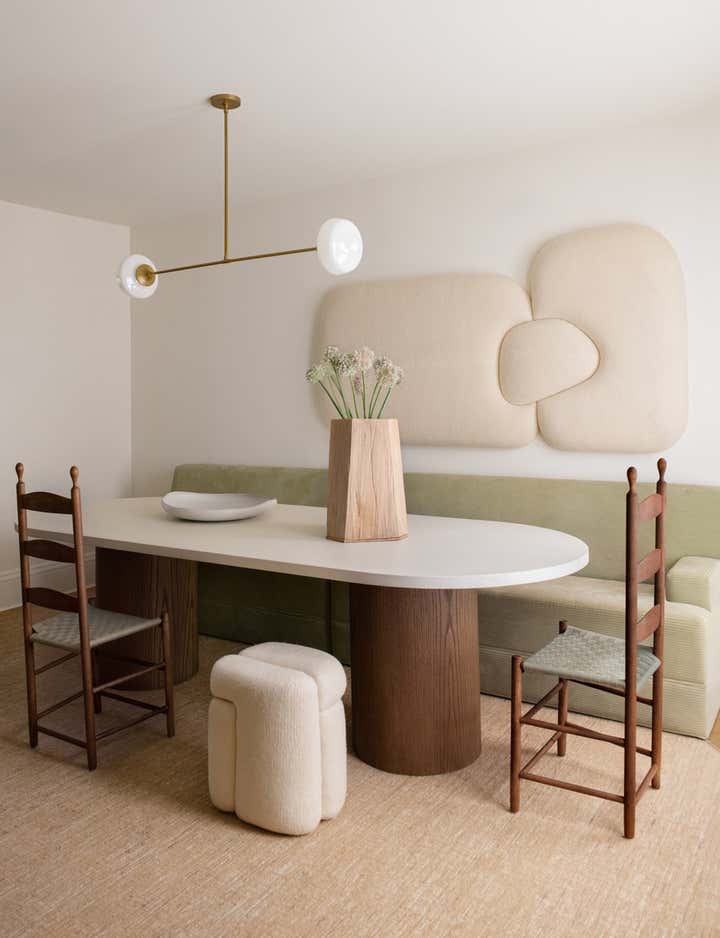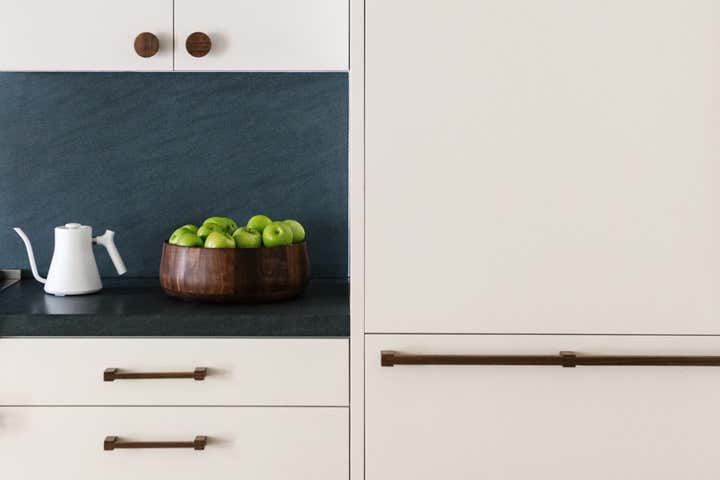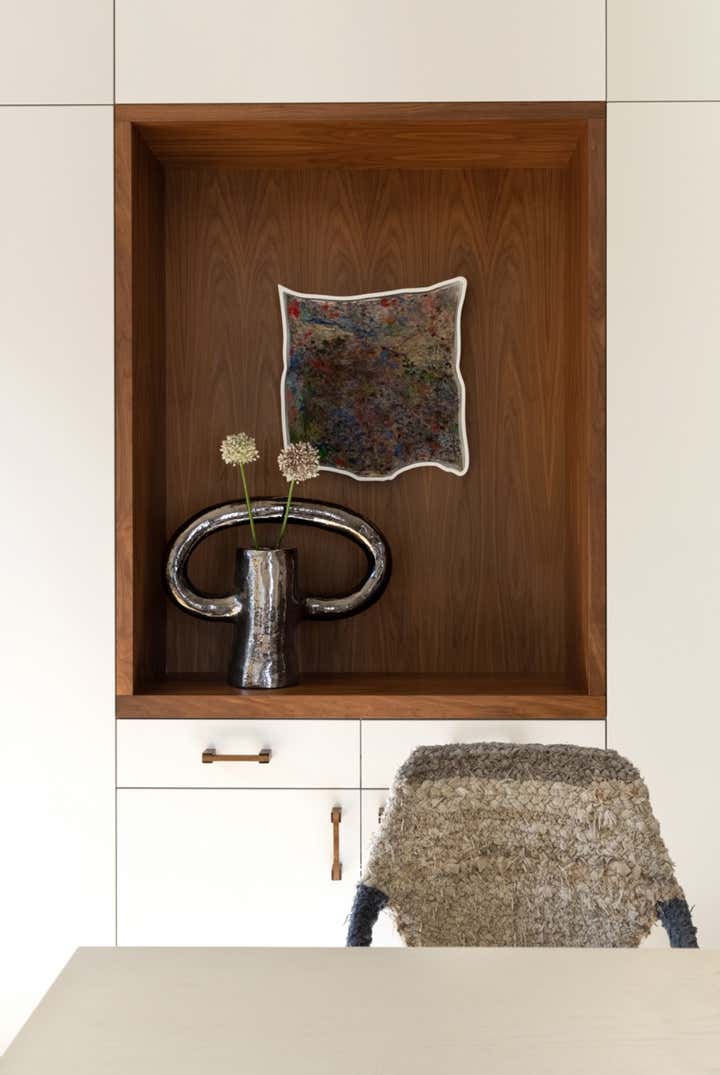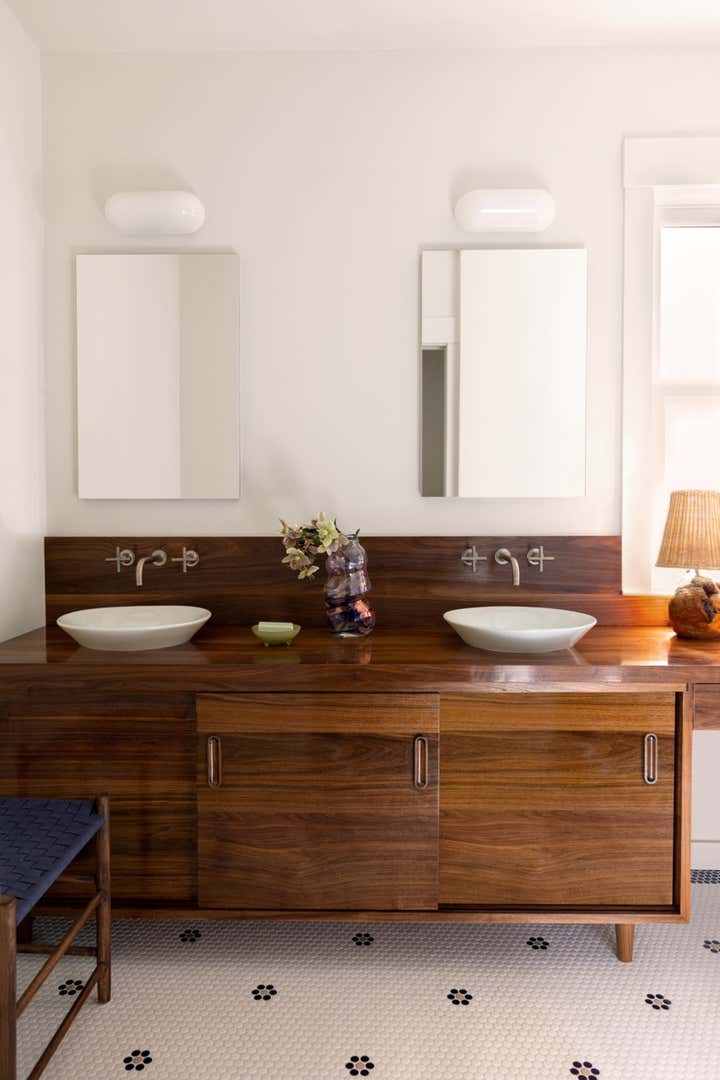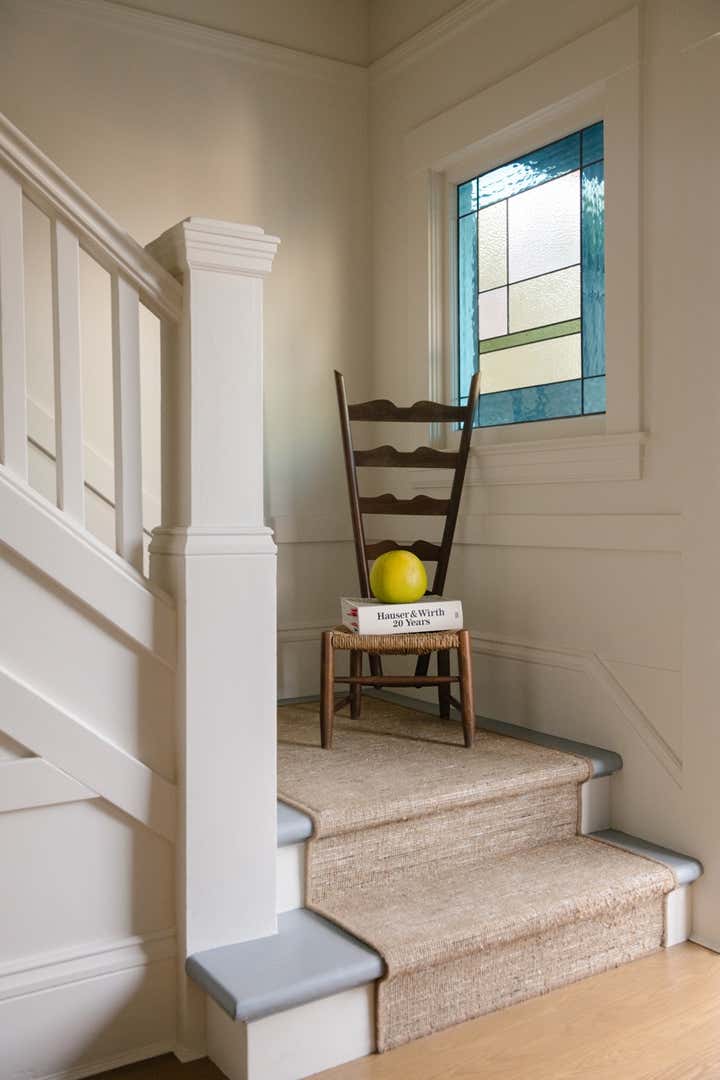 More Projects by Studio AHEAD