Items Similar to Head of an Angel
Want more images or videos?
Request additional images or videos from the seller
1 of 5
About the Item
Procaccini was born in Bologna, but his family moved to Milan when the artist was eleven years old. His artistic education was evidently familial— from his father Ercole and his elder brothers Camillo and Carlo Antonio, all painters—but his career began as a sculptor, and at an early age: his first known commission, a sculpted saint for the Duomo of Milan, came when he was only seventeen years old. Procaccini's earliest documented painting, the Pietà for the Church of Santa Maria presso San Celso in Milan, was completed by 1604. By this time the artist had made the trip to Parma recorded by his biographers, where he studied Correggio, Mazzola Bedoli, and especially Parmigianino; reflections of their work are apparent throughout Procaccini's career. As Dr. Hugh Brigstocke has recently indicated, the present oil sketch is preparatory for the figure of the angel seen between the heads of the Virgin and St. Charles Borrommeo in Procaccini's altarpiece in the Church of Santa Afra in Brescia (ill. in Il Seicento Lombardo; Catalogo dei dipinti e delle sculture, exh. cat. Milan 1973, no. 98, pl. 113). As such it is the only known oil sketch of Procaccini's that can be directly connected with an extant altarpiece. The finished canvas, The Virgin and Child with Saints Charles Borrommeo and Latino with Angels, remains in the church for which it was painted; it is one of the most significant works of Procaccini's maturity and is generally dated after the artist's trip to Genoa in 1618. The Head of an Angel is an immediate study, no doubt taken from life, but one stylistically suffused with strong echoes of Correggio and Leonardo. Luigi Lanzi, writing of the completed altarpiece in 1796, specifically commented on Procaccini's indebtedness to Correggio (as well as the expressions of the angels) here: "Di Giulio Cesare, il miglior de' Procaccini, ammiriamo quivi un'opera fra le sue forse la più correggesca. Rappresenta nostra Donna col Bambino dai santi Latino, Carlo Borromeo e da angioli vagheggiati ridenti inverso di lei, che nel forse per servire a certa grazia ha oltrepassato i limiti del decoro; ma l'armonia del colorito, le mosse gradevoli, il certo brio fanno dimenticare il difetto" (Lanzi, Storia, 1796, II, p. 448). In his important article "L'inizio dell'abbozzo autonomo" (Paragone, 1966) Roberto Longhi drew attention to Procaccini's treatment of oil sketches as autonomous works of art. It is unclear whether the Head of an Angel was so conceived or whether it was intended alone as a preparatory sketch for the finished painting. In any case it is not only a haunting and evocative image, but one that provides a unique insight into the artist's creative process.
Creator:

Giulio Cesare Procaccini

(1574 - 1625)

Dimensions:

Height: 12.25 in (31.12 cm)

Width: 10.25 in (26.04 cm)

Medium:

Movement & Style:

Period:

Condition:

Gallery Location:

Reference Number: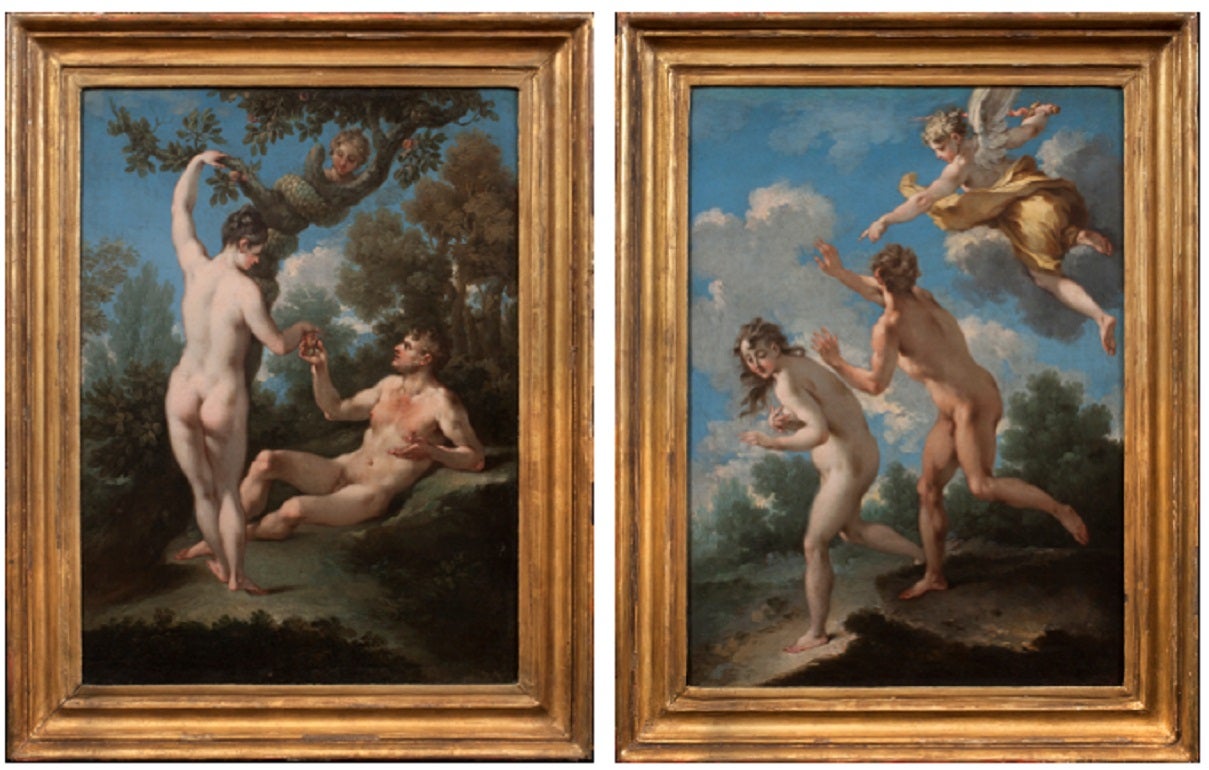 These prestigious sellers are industry leaders and represent the highest echelon for item quality and design.
Established in 1997
1stDibs seller since 2012
16 sales on 1stDibs
Typical response time: 1 to 2 days
Shipping

This item cannot be returned.
More From This Seller
View All
Portrait of a Man

Located in New York, NY

Provenance: with Leo Blumenreich and Julius Böhler, Munich, 1924 Dr. Frederic Goldstein Oppenheimer (1881-1963), San Antonio, Texas; by whom given to: Abraham M. Adler, New York, un...

Category

16th Century Old Masters Portrait Paintings

Madonna and Child with Angels in the Clouds

Located in New York, NY

Provenance: Charles H. and Virginia Baldwin, Claremont, Colorado Springs, Colorado ca. 1907-1934; thence by descent until sold in 1949 to: Charles Blevins Davis, Claremont (renamed Trianon), Colorado Springs 1949 -until gifted in 1952 to: The Poor Sisters of Saint Francis, Trianon, Colorado Springs, 1952 until acquired, 1960, by: John W. Metzger, Trianon, renamed as the Trianon School of Fine Arts, Colorado Springs, 1960-1967; when transferred to: The Metzger Family Foundation, Trianon Art Museum, Denver, 1967 - 2004; thence by descent in the Metzger Family until 2015 Exhibited: Trianon Art Museum, Denver (until 2004) The present work is a spectacular jewel-like canvas by Amigoni, rich in delicate pastel colors, most likely a modello for an altarpiece either lost or never painted. In it the Madonna stands firmly upon a cloud in the heavens, her Child resting on a delicate veil further supported by a cloud, as he gently wraps his arm around his mother's neck. From above angels prepare to lower flowers and a wreath, while other angels and seraphim surrounding the two joyfully cavort. Dr. Annalisa Scarpa, author of the forthcoming monograph on

Jacopo Amigoni

...

Category

18th Century and Earlier Figurative Paintings

Three Angels

By

Domenico Piola the Elder

Located in New York, NY

Provenance: Robert L. and Bertina Suida Manning, New York, until 1996 Private Collection, USA One of the leading artists in Genoa during the second half of the seventeenth century, Domenico Piola came from a successful family of artists, renowned for their many illusionistic ceiling programs throughout Genoese churches and palaces. A prolific draughtsman and painter, Domenico oversaw an extremely productive studio. In addition to his collaborations with numerous other artists, Domenico also provided many designs for book illustrations and prints that circulated throughout Europe, earning him international exposure and high acclaim in his own day. As Dr. Anna Orlando has indicated (written communication), the present work is an early work by Piola, datable from the late 1640s. At this time the young artist came strongly under the influence of Castiglione and Valerio Castello, while admiring the works of Giulio Cesare Procaccini. Piola's works from this period are exuberant and fluid, and the artist's love of portraying children is evident from the angels and putti that populate both his altarpieces and more intimate paintings. The present work depicts

three angels

...

Category

17th Century Baroque Figurative Paintings

St. Vincent Ferrer Preaching to the People of Salamanca

Located in New York, NY

Provenance: Private Collection, New Jersey The present painting depicts Saint Vincent Ferrer preaching from a raised pulpit to a group of seven people seated below him. The saint ...

Category

15th Century and Earlier Renaissance Figurative Paintings

Portrait of a Lady with a Chiqueador

Located in New York, NY

Provenance: Torres Family Collection, Asunción, Paraguay, ca. 1967-2017 While the genre of portraiture flourished in the New World, very few examples of early Spanish colonial portraits have survived to the present day. This remarkable painting is a rare example of female portraiture, depicting a member of the highest echelons of society in Cuzco during the last quarter of the 17th century. Its most distinctive feature is the false beauty mark (called a chiqueador) that the sitter wears on her left temple. Chiqueadores served both a cosmetic and medicinal function. In addition to beautifying their wearers, these silk or velvet pouches often contained medicinal herbs thought to cure headaches. This painting depicts an unidentified lady from the Creole elite in Cuzco. Her formal posture and black costume are both typical of the established conventions of period portraiture and in line with the severe fashion of the Spanish court under the reign of Charles II, which remained current until the 18th century. She is shown in three-quarter profile, her long braids tied with soft pink bows and decorated with quatrefoil flowers, likely made of silver. Her facial features are idealized and rendered with great subtly, particularly in the rosy cheeks. While this portrait lacks the conventional coat of arms or cartouche that identifies the sitter, her high status is made clear by the wealth of jewels and luxury materials present in the painting. She is placed in an interior, set off against the red velvet curtain tied in the middle with a knot on her right, and the table covered with gold-trimmed red velvet cloth at the left. The sitter wears a four-tier pearl necklace with a knot in the center with matching three-tiered pearl bracelets and a cross-shaped earing with three increasingly large pearls. She also has several gold and silver rings on both hands—one holds a pair of silver gloves with red lining and the other is posed on a golden metal box, possibly a jewelry box. The materials of her costume are also of the highest quality, particularly the white lace trim of her wide neckline and circular cuffs. The historical moment in which this painting was produced was particularly rich in commissions of this kind. Following his arrival in Cuzco from Spain in the early 1670's, bishop Manuel de Mollinedo y Angulo actively promoted the emergence of a distinctive regional school of painting in the city. Additionally, with the increase of wealth and economic prosperity in the New World, portraits quickly became a way for the growing elite class to celebrate their place in society and to preserve their memory. Portraits like this one would have been prominently displayed in a family's home, perhaps in a dynastic portrait gallery. We are grateful to Professor Luis Eduardo Wuffarden for his assistance cataloguing this painting on the basis of high-resolution images. He has written that "the sober palette of the canvas, the quality of the pigments, the degree of aging, and the craquelure pattern on the painting layer confirm it to be an authentic and representative work of the

Cuzco school of painting

...

Category

17th Century Old Masters Paintings

Portrait of a Gentleman

Located in New York, NY

Circle of Jacques-Louis David (French, 18th Century) Provenance: Private Collection, Buenos Aires Exhibited: "Art of Collecting," Flint Institute of Art, Flint, Michigan, 23 November 2018 – 6 January 2019. This vibrant portrait of young man was traditionally considered a work by Jacques-Louis David, whose style it recalls, but to whom it cannot be convincingly attributed. Rather, it would appear to be by a painter in his immediate following—an artist likely working in France in the first decade of the nineteenth century. Several names have been proposed as the portrait's author: François Gérard, Louis Hersent, Anne-Louis Girodet (Fig. 1), Theodore Gericault, and Jean-Baptiste Wicar, among others. Some have thought the artist Italian, and have proposed Andrea Appiani,

Gaspare Landi

...

Category

18th Century Old Masters Paintings
You May Also Like
Answer Within

Located in Ibadan, Oyo

Painting Ships in a well-protected tube from Nigeria This work is unique, this is not a print or other type of copy. Accompanied by a Certificate of Authenticity (Issued by the Gallery)

Category

21st Century and Contemporary Old Masters Portrait Paintings

Baroque painter - 17th century figure painting - Santa Maria di Ágreda. - Spain

Located in Varmo, IT

Spanish master (17th century) - Santa Maria di Ágreda. 100.5 x 77.5cm. Antique oil painting on canvas, without frame. - Inscription at the top right: "IVDICA ME DOMINE QVONIAM EGO...

Category

Mid-17th Century Old Masters Figurative Paintings

Early 19th century French figure painting - Napoleon portrait - Oil on canvas

Located in Varmo, IT

French painter (early 19th century) - Portrait of a gentleman (probably Napoleon in exile). 109 x 89 cm without frame, 139.5 x 119.5 cm with frame. Antique oil painting on canvas, ...

Category

Early 19th Century Old Masters Figurative Paintings

Silvestro Noselli (Friulian painter) - 18th century painting - Nobleman Portrait

Located in Varmo, IT

Silvestro Noselli (Raveo 1696 - Udine 1777) - Portrait of Giovanni Leonardo Scala in 1762. 88 x 67 cm without frame, 96 x 75 cm with frame. Oil on canvas, in an

antique carved wooden frame

...

Category

Mid-18th Century Old Masters Portrait Paintings

Biedermeier European painter - 19th century figure painting - Nobleman portrait

Located in Varmo, IT

European painter (late 19th century) - Portrait of a gentleman with coat of arms. 55 x 41 cm without frame, 72 x 57 cm with frame. Antique oil painting on canvas, in a contemporary...

Category

Late 19th Century Old Masters Figurative Paintings

Religious painter (Italian school) - Early 19th figure painting - Virgin Madonna

Located in Varmo, IT

Italian painter (early 19th century) - Mater Dolorosa. 37 x 33 cm without frame, 53 x 48 cm with frame. Ancient oil painting on canvas, in an ancient carved and gilded wooden frame...

Category

Early 19th Century Old Masters Figurative Paintings