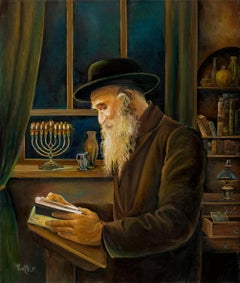 Hadlakat Nerot Chanukah (Judaica)
Design Credit: Samantha Todhunter Design Ltd., Photo Credit: Oliver Clarke.

Dimensions: H 23.63 in. x W 19.69 in.

Design Credit: Lucy Harris Studio, Photo Credit: Francesco Bertocci.

Dimensions: H 23.63 in. x W 19.69 in.

Design Credit: Timothy Godbold, Photo Credit: Karl Simone.

Dimensions: H 23.63 in. x W 19.69 in.
1 of 4
Menucha Yankelevitch

Hadlakat Nerot Chanukah (Judaica)

2017
About
This Judaica painting brings focus to the small Menorah on the windowsill. The mood in this work brings one to understand the holy ritual of lighting the Menorah at the appointed time each year. The simple Jew is connecting to the ethereal glow that the Hanukkah lights bring forth. The colors used for this work are; Horses Neck (Brown), Pavlova (Grey) and Cola (Brown). Menucha Yankelevitch, has dabbled in art from a young age and perfected her natural talent to what she's currently recognized as a well-known Israeli artist. A 5th generation Jerusalemite; Menucha has deeply-rooted in her being the core and pulse of Jerusalem, which is evident in many of her works. Menucha uses various drawing techniques with a wide array of colors. Her drawings are realistic; of recent Menucha has been created abstract textured masterpieces. Menucha paints on sudden inspiration from the beauty of the land that surrounds her. Transferring her visual experiences onto canvas with her precise strokes and colors that bring the streets of Jerusalem to life. Menucha's works have been exhibited all over Israel in private and public showings and is currently being represented by Bleier & Co Gallery, NY, NY.
You May Also Like
The Train Set - British 20's art interior oil portrait boy playing female artist

Located in London, GB

This charming oil painting is by British female artist Agnes L Reid. Painted circa 1920 the painting is of a little boy playing on the floor with his train set, with balloons and a b...

Category

1920s Realist Portrait Paintings

Contemplation - British 1950's art female portrait oil painting female artist

Located in London, GB

This captivating British portrait oil painting is by noted exhibited and listed female artist Alice Mary Burton. Painted circa 1955, the painting is a portrait of a woman gazing out ...

Category

Mid-20th Century Realist Portrait Paintings

Portrait of Susan Isabel Dacre - British exh oil painting of feminist artist

Located in London, GB

A beautiful, colourful British 1920's exhibited oil on canvas portrait painting by Francis Dodd RA and with extensive provenance. The work depicts the Feminist and famous artist Susa...

Category

1920s Realist Portrait Paintings

"My Body My Choice" Oil Painting

Located in Denver, CO

Kirsten Savage's (US based) "My Body My Choice" is an oil painting that depicts a female figure with a bun and boots, gripping her collar while looking towards grey interior wall. ...

Category

2010s Realist Interior Paintings

Artist in his Studio - French 19th century art figurative interior oil painting

Located in London, GB

This lovely French 19th century figurative Impressionist oil painting is by Adolphe Monticelli. Painted circa 1870 the painting depicts a group of seven figures amusing themselves in...

Category

19th Century Realist Portrait Paintings

Mrs Rona Lucas nee Levey -British art 50s interior female portrait oil painting

By

Sir Gerald Festus Kelly (circle)

Located in London, GB

A stunning large British portrait oil painting attributed to Sir Gerald Festus Kelly or his circle. This superb portrait depicts Mrs Rona Lucas nee Levey (1928-2016) who was the seco...

Category

20th Century Realist Portrait Paintings